Known as the land of pearls, Hyderabad's commercial base was once centred upon textiles, handicrafts, gems and jewellery. Hyderabad, today, boasts of a different fortune: Information Technology (IT), IT enabled Services (ITeS), biotechnology and the services sector have grown over leaps and bounds in the city, which is witnessing widespread commercial development across its landscape. Tax benefits, subsidies, ease of conversion of land use and flexible floor space index (FSI) norms have acted as incentives that have spurred growth in the city's economy.

A total of 28 Special Economic Zones (SEZs) were notified in the Greater Hyderabad region as of October 2007, of which 24 are for IT/ITeS. These SEZs are currently in various stages of development, and are distributed in all directions across Hyderabad's periphery. When one considers the enormity of the proposed development in Hyderabad one automatically turns to the ever so important question of infrastructure.

Hyderabad has a proposed international airport with an initial capacity of seven million passengers per annum, a proposed Outer Ring Road (ORR) connecting all its peripheral developments and a proposed metro rail network with an initial capacity of 1.6 million passengers per day. The new airport, Hyderabad International Airport Limited (HIAL), located in Shamshabad far south of the city is due to commence operations on 16 March 2008. The first phase of the ORR is planned to link HIAL to Hyderabad's emerging commercial hub in Gachibowli over a 22 km-stretch. Construction of the metro will commence in 2008 and the project is due to be completed in four years. Exhibit 1 illustrates the proposed ORR, the major junctions along its route, and the distribution of SEZs across the Greater Hyderabad region.

At first the above statements make for impressive reading. Upon investigating further one realises the picture is, infact, not so pretty. HIAL's lifeline for connectivity, the ORR will not dovetail with the airport development as planned. Its completion is unlikely before the end of 2008. The inner city road network is undergoing a makeover, with disheartening results. New flyovers are too narrow to make a significant impact, and bumper-to-bumper traffic has become a way of life. The metro is only in its initial stages of development and will provide no respite to traffic congestion in the short term.  Nevertheless, widespread development in Hyderabad has set the city on to a steady growth track.

So how has this groundbreaking growth in Hyderabad affected the dynamic hotel industry? Occupancy had traditionally been below 70.0%. It is over the years 2003/04 to 2005/06 that marketwide occupancy reached the dizzy heights of 80.0%, before slipping to 73.3% in 2006/07. Average rates had been below the Rs2,000 mark until the year 2000/01. The real eye-opening growth in rates came in the years 2004/05 to 2006/07, when they touched the Rs6,000 mark. The city's growing economy led to inflating hotel demand over these years: a severe demand-supply imbalance resulted.

Table 1 shows Hyderabad's historic market performance. An analysis of these trends shows that growth in average rate one year is a function of the previous year's occupancy. HVS estimates bear testimony to this claim, predicting a rate correction in 2007/08 as a result of declining occupancy in 2006/07. Average rates are expected to grow at 11.0% in 2007/08 as compared to 25.1% in 2006/07. This slow down in rate growth, coupled with still falling occupancy has led to a negligible revenue per available room (RevPAR) growth of 2.5% predicted in 2007/08. The market seems to be facing a stiff challenge.

Exhibit 1 – Hyderabad ORR and SEZ Distribution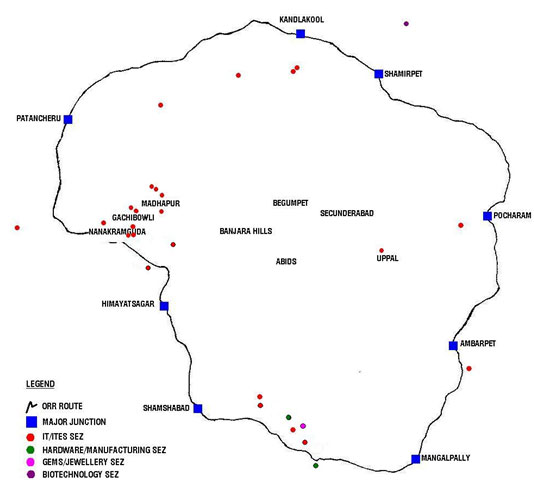 Source: Department of Commerce, Ministry of Commerce and Industry, Government of India, HVS Research

Table 1 – Hyderabad Historic Market Performance


| | | | | | | | | | | | |
| --- | --- | --- | --- | --- | --- | --- | --- | --- | --- | --- | --- |
| | 97/98 | 98/99 | 99/00 | 00/01 | 01/02 | 02/03 | 03/04 | 04/05 | 05/06 | 06/07 | 07/08* |
| Occupancy (%) | 53.4 | 66.0 | 61.3 | 69.1 | 68.0 | 68.9 | 75.9 | 78.7 | 82.0 | 73.3 | 67.7 |
| % Change | - | 23.6% | -7.1% | 12.7% | -1.6% | 1.3% | 10.2% | 3.7% | 4.2% | -10.6% | -7.6% |
| Average Rate (Rs) | 1,646 | 1,579 | 1,867 | 2,316 | 2,414 | 2,541 | 2,774 | 3,772 | 4,870 | 6,091 | 6,763 |
| % Change | - | -4.1% | 18.2% | 24.0% | 4.2% | 5.3% | 9.2% | 36.0% | 29.1% | 25.1% | 11.0% |
| RevPAR (Rs) | 879 | 1,042 | 1,144 | 1,600 | 1,642 | 1,751 | 2,105 | 2,969 | 3,993 | 4,465 | 4,576 |
| % Change | - | 18.5% | 9.8% | 39.9% | 2.6% | 6.6% | 20.2% | 41.0% | 34.5% | 11.8% | 2.5% |
* HVS Estimate
Source: HVS (Hotels in India-Trends and Opportunities 2007)
Hyderabad's hotel market has developed with the Central Business District (CBD) as its focal point. In recent times, however, the peripheral regions of Madhapur and Gachibowli have experienced commercial development and provided impetus to hotel demand growth. A severe lack of accommodation in these areas meant that CBD hotels reaped the benefit. However, CBD hotels are expected to face the heat, as Madhapur and Gachibowli together emerge as micro markets for hotel accommodation.

The shortage of rooms in and around Madhapur has initiated the emergence of a parallel market, which is hampering progress in the CBD. Unbranded serviced apartments and guesthouses abound across the landscape with an estimated 2,000 rooms currently existing in this parallel market. On an average, accommodation here is available for Rs1,000 to Rs2,500. Rooms are neat and well maintained, albeit not by traditional housekeeping methods, and service is as efficient as it can get for the price.

Prominent demand generating companies in Hyderabad such as Wipro and Microsoft generate between 1,500 to 2,000 room nights per month, and branded hotels accommodate only 10.0-15.0% of these room nights. Hotels are booked for foreign guests of senior designation, whereas guesthouses suffice for domestic and foreign professionals who often visit the city for extended periods.

Hotels in Hyderabad are expected to combat the worrying situation by sensitively approaching rate increments, with the aim of retrieving some of the demand lost to the parallel market. To add to the woes of CBD hotels, the existing Begumpet airport will cease commercial activity when HIAL is commissioned. Much of the Airline demand that CBD hotels enjoy will be whisked away and shared with hotels in Madhapur and Gachibowli.

Hyderabad's hotel market has traditionally had a small base from which to grow. Sharp rises in occupancy and average rates are expected to face correction as additional supply enters the market. Approximately 10,000 rooms are expected in the city between 2007/08 and 2012/13, over a base of approximately 2,000. The proposed supply is top-heavy, which implies a significant number of rooms in the luxury and first class hotel segments. The development of branded luxury hotels such as the Four Seasons, Park Hyatt and Trident are expected to create competition at the top-end of the market, exerting downward pressure on rates.  

Graphs 1 and 2 indicate the distribution of proposed supply in Hyderabad by location and market positioning, respectively. Thirty-six hotels that are most likely to enter the market, accounting for 7,854 rooms, comprise the data set. Although most proposed supply is expected in Madhapur and Gachibowli, developers are beginning to seize opportunities elsewhere too. Nanakramguda, Shamshabad, the Sri Sailam Highway and Uppal are futuristic key demand areas.

When considering hotel development in proximity to key demand areas, it is important to understand the nature of demand that is generated and in turn the appropriate product profile. It is likely that an IT/ITeS SEZ will generate demand for hotel accommodation in the form of travelling professionals and senior executives of multinational companies. On the other hand, biotech parks such as those in Genome Valley employ local scientists who do not typically require hotel rooms, but need meeting and conference space for training purposes. In Hyderabad, the opportunity exists for developers to build hotels in various locations, utilizing various price points for their product.

Graph 1 - Proposed Supply by Location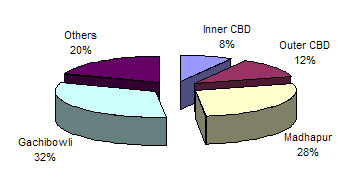 Source: HVS Research
Note:
Inner CBD areas are Begumpet, Ameerpet, Secunderabad and Punjagutta.
Outer CBD areas are Banjara Hills, Jubilee Hills, Abids and Tank Bund.
The group of Gachibowli hotels includes hotels in Nanakramguda.
The group of Others includes hotels in Manikonda, Shamshabad, Falakhnuma, Shamirpet and L.B. Nagar.

Graph 2 - Proposed Supply by Market Positioning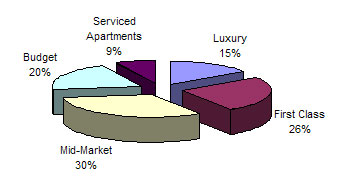 Source: HVS Research

The hotel market in Hyderabad is directly affected by the tussle between infrastructure and development. It will be crucial for hotel supply to enter the market in line with proposed commercial developments. It is also crucial for infrastructure to improve in the city, in order for hotels to achieve optimal performances. SEZs, the Hyderabad International Convention Centre (HICC) and HIAL will not benefit hotels in the city unless they are supported by adequate infrastructure. For example, HICC has a maximum capacity of 6,000 delegates but its facilities are being under-utilised due to poor supporting infrastructure at the existing Begumpet airport.  So how will the Hyderabad market cope in the long term?

If proposed hotels are strategically located and are appointed appropriate market positionings, the Hyderabad market for hotel accommodation is expected to attain a strong performance in the long term. In the short and medium terms it is expected to experience hurdles as additional supply enters the market, commercial developments accelerate their demand generating capacities, and infrastructure development takes place. The performance of the hotel industry is closely linked to that of the city's economy, and hotels in Hyderabad have performed exceptionally well in recent times. Domestic and foreign investors, as well as hotel operators have expressed interest in the market. As long as the city continues to be nurtured in forthcoming years, Hyderabad is expected to continue its metamorphosis into a bustling metropolis and be a hot spot for hotel development.