San Francisco is one of the most popular leisure destinations in the country. In October 2007, the readers of Condé Nast Traveler magazine voted San Francisco the number-two travel destination in the world in the annual Readers' Choice Awards. For 19 of 20 years, and 15 consecutive years, San Francisco has been designated "Best City in the U.S." Its history, the beauty of the city's neighborhoods, and the diversity of ethnicities and cultures make San Francisco an attractive destination.

Although San Francisco is considered one of America's "Big Cities," the city is actually relatively small. Surrounded on three sides by the Pacific Ocean and San Francisco Bay, San Francisco's compact ±46.7 square miles (roughly 125 sq. km.) crowd the tip of the San Francisco Peninsula. This natural geographic boundary limits real estate development and is one of the factors, along with the local social and political climates, that have kept the supply growth of hotel rooms moderate over the past decade. The city of San Francisco, with a reported population of roundly 765,000 in 2007, is part of the San Jose-San Francisco-Oakland Consolidated Metropolitan Statistical Area (CMSA), which had a population of 7.0 million as of the last 2000 Census.
The larger Bay Area economy including the East Bay, Silicon Valley, and South San Francisco has a direct impact in the San Francisco hotel market. Over the past three years, the San Francisco Bay Area has experienced strong economic activity in the high-technology sector driven by high-tech leaders such as Google Inc., which initial public offering price was $85 in August 2004 and surpassed $700 per share at its peak in October 2007 and remained above $400 per share in March 2008; Yahoo Inc., Hewlett-Packard Co., Oracle Corp., and Apple Computer Inc. The Bay Area also hosts a wide range of sectors and companies that strengthen the economic base, companies such as oil giant Chevron Corp. in San Ramon, grocer Safeway Inc. in Pleasanton, and biotechnology pioneer Genentech Inc. in South San Francisco.

The biotechnology sector also continues to expand. The Bay Area, which once was home to just a handful of biotech companies, now has more than 500. The Bay Area is set up to attract other biotechnology companies. In February 2006, Advanced Cell Technology became the first stem cell research firm to relocate its headquarters to California since voters passed the stem cell research initiative, Prop. 71, in 2004. It moved to Alameda. Also, the South San Francisco Genentech facility currently occupies 32 owned and 13 leased buildings that house the R&D, marketing, and administrative activities, as well as bulk manufacturing facilities, a fill and finish facility, and a warehouse. Genentech is committed to leasing an additional three buildings in South San Francisco, which will be occupied in 2008. Biotech in the Bay Area is still in its infancy and has yet to reach high-tech's economic significance.

According to an article published by the San Francisco Chronicle on September 27, 2007, "Bay Area economy, pay, cost of living are at the top of the heap", the pace of job growth in the Bay Area has picked up dramatically in recent years relative to other regions in the nation. A Milken Institute report quoted in this article stated that from 2000 to 2005, the San Jose-San Francisco-Oakland CMSA was at its nadir in terms of the pace of job creation, ranking 197th and 199th respectively among 200 areas examined by the institute. But in the year ending March 2007, the San Francisco area had vaulted to 25th and the San Jose area to 36th.

Due to its diverse business base, mild year-round weather, significant cultural appeal, and large convention center, San Francisco has historically enjoyed an enviable strength in the three dominant lodging market sectors: commercial, leisure, and meeting and group. According to the San Francisco Convention & Visitors Bureau (SFCVB), the city is host to 14 to 16 million visitors, conventioneers, and business travelers annually. The following table illustrates San Francisco's visitor volume and spending figures.
San Francisco Visitor Volume and Spending
Visitor Volume
(Visitors to San Francisco in millions)

2005

2006

% Change

San Francisco Hotel

4.49

4.50

0.2

Private Home in San Francisco

1.22

1.23

0.6

Other Bay Area Locations

5.93

5.93

0.1

Bay Area Residents on Leisure Trips

4.09

4.14

1.2

Total

15.74

15.80

0.4

Visitor Spending
(Visitors spending in billion dollars)

2005

2006

% Change

San Francisco Hotel

$4.53

$4.78

5.5

Private Home in San Francisco

0.86

0.91

5.5

Other Bay Area Locations

0.80

0.84

4.9

Bay Area Residents on Leisure Trips

1.18

1.23

4.5

Total

$7.37

$7.76

5.3
Source: San Francisco Convention & Visitors Bureau
The preceding data indicates a robust visitation expenditure (Note: 2007 data will be released in Spring 2008). While not dramatic, it does continue the upward trend that began in 2003 following the "bottoming out" of visitor volume and spending in 2002. In fact, total visitor spending is at an all-time high.

Hotel Performance
HVS analyzed a Smith Travel Research Trends Report with historical supply and demand data for the city of San Francisco. The data pertain to the hotels in the city that have routinely participated with Smith Travel Research (STR). According to STR, the city of San Francisco contains roundly 268 hotels with approximately 33,900 rooms. Most of the hotels that do not participate with STR are not affiliated with a national brand and contain fewer than 100 rooms. The historical supply and demand data are indicated in the tables that follow.
Historical Supply and Demand Trends (STR)
Year

Occupied Room Nights

% Change

Available Room Nights

% Change

% Occupancy

Average Rate

% Change

RevPAR

% Change

1996

9,442,250

-

12,123,749

-

77.9

$114.58

-

$89.24

-

1997

9,652,121

2.2

12,129,266

0.0

79.6

126.95

10.8

101.02

13.2

1998

9,333,379

(3.3)

11,923,521

(1.7)

78.3

137.77

8.5

107.85

6.8

1999

9,325,635

(0.1)

11,971,639

0.4

77.9

145.43

5.6

113.28

5.0

2000

9,792,614

5.0

12,113,941

1.2

80.8

161.73

11.2

130.74

15.4

2001

8,041,662

(17.9)

12,178,418

0.5

66.0

154.80

(4.3)

102.22

(21.8)

2002

7,829,990

(2.6)

12,504,708

2.7

62.6

135.05

(12.8)

84.56

(17.3)

2003

8,168,775

4.3

12,415,994

(0.7)

65.8

128.47

(4.9)

84.52

(0.0)

2004

8,690,440

6.4

12,377,036

(0.3)

70.2

131.42

2.3

92.27

9.2

2005

8,859,601

1.9

12,060,414

(2.6)

73.5

140.07

6.6

102.90

11.5

2006

9,060,706

2.3

12,216,235

1.3

74.2

153.80

9.8

114.07

10.9

2007

9,348,116

3.2

12,153,412

(0.5)

76.9

164.03

6.7

126.17

10.6

Average Annual Compounded Change

(0.1)

0.0

3.3

3.2

Year-to-Date Through February
2007

1,242,778

-

1,956,794

-

63.5

$156.70

-

$99.52

-

2008

1,316,533

5.9

1,981,752

1.3

66.4

169.25

8.0

112.44
Source: Smith Travel Research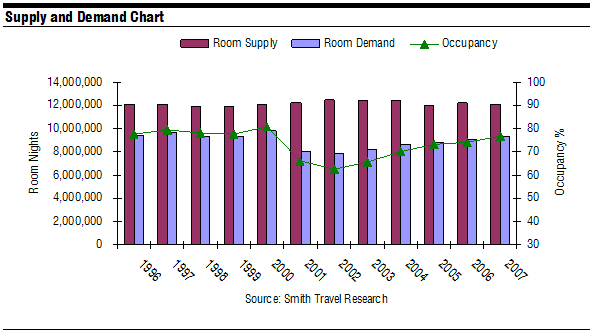 From 2001 to 2003 the San Francisco hotel market experienced a dramatic downturn in occupancy and average rate as a result of the competition by new supply, the uncertainty surrounding the health of the regional and national economies and the country's foreign affairs, weak demand in the lucrative commercial and meeting and group segments, dependence upon third-party Internet booking sites, and the high value of the dollar, compounded by continuing fears regarding the safety of air travel. A turnaround for the local hotel industry began in 2004 as visitation to San Francisco slowly picked up due to the stabilizing international arena and the continuing recovery of the U.S. economy. Citywide average rate grew for the first time since the peak year of 2000, albeit by a modest 2.3%.

The year 2005 marked the revival of the San Francisco hotel market. While supply recorded a decrease of 2.6%, largely due to the closing and/or reconfiguration of a number of properties, citywide demand increased 1.9%, resulting in an increase in occupancy of approximately 3.3 percentage points. In response to the healthy demand increase over the past year, hoteliers decreased their reliance on Internet distribution channels to stimulate occupancy, resulting in a more moderate increase in citywide demand and a 6.6% increase in citywide average rate compared to the previous year. Citywide RevPAR increased by $10.63, or 11.5%.

In 2006, the San Francisco hotel market enjoyed healthy growth in occupied room nights. The overall regional economic growth resulted in a 9.8% increase in citywide average rate compared to the previous year. The regional economic growth was evidenced by the increase in asking rents for office space in San Francisco while vacancy rates declined. The growth in citywide occupancy and average rate contributed to a roughly 10.9%, or $11.17, increase in RevPAR from the previous year.

In 2007, healthy growth in occupied room nights continued in the San Francisco hotel market, resulting in a seven-year high of 76.9% in occupancy. The regional and national economies continued to strengthen, and the Asian and European currencies continue to strengthen (at the expense of the U.S. dollar), which has resulted in an increase in tourism from Asian and European nations—an important demand source for the city of San Francisco. As a result of the overall health of the economy, average rate increased at healthy rates, achieving a record high of $164.03 in the 12-year historical period. Citywide RevPAR increased by $12.10, or 10.6%. Area managers' outlook remains positive. Lodging demand and average rate are anticipated to increase at healthy rates in 2008, demonstrated by the citywide lodging demand increase of 5.9% in the year-to-date period ending February 2008 compared to the same period last year, and average rate increase of 8.0%, indicating no sign of a slowdown.

Hotel Supply
The San Francisco lodging market includes a wide array of hotels, ranging from limited-service, economy-oriented facilities to first-class, full-service hotels; convention hotels; boutique hotels; and luxury hotels. As previously indicated, STR reports that as of year-end 2007, the city of San Francisco contained roundly 268 hotels with approximately 33,900 rooms. San Francisco is home to three boutique hotel companies: Kimpton Hotel Group (11 properties in San Francisco with ±1,960 rooms), Joie de Vivre Hospitality (14 properties in San Francisco with ±1,455 rooms), and Personality Hotels (7 properties in San Francisco with ±745 rooms). In addition to facilities and market orientation, location is a major factor that delineates the lodging market. The principal lodging sub-markets include the Financial District, SoMa (including Yerba Buena and Moscone), Union Square, Nob Hill, U.S. Highway 101 corridor (Civic Center/Van Ness), and Fisherman's Wharf.

A number of hotels have been developed in recent years, while a few additional projects are currently under construction despite the city's high cost of development. The years 2001 and 2002 saw the addition of a significant amount of hotel rooms: in January 2001, the 252-room Holiday Inn Express opened in Fisherman's Wharf; in August 2001, Ian Schrager Hotels completed the conversion and expansion of the 88-year-old Clift Hotel into a 326-room boutique hotel, adding 47 rooms in the process; the 277-room Four Seasons opened downtown in October 2001, as part of a mixed-use development; the 405-room Courtyard by Marriott opened its doors in late October 2001; and the 362-room Omni Hotel opened in February 2002 at the base of Nob Hill along the northern edge of the Financial District. Additions to supply in 2003 included the 240-room Club Quarters in the Financial District and the 252-room Argonaut Hotel in Fisherman's Wharf, a Kimpton hotel and the highest-rated product in the Fisherman's Wharf submarket.

In recent years, additions to supply have been scarce as a result of the recent economic downturn and high barriers to entry. Supply in the downtown boutique hotel market has fluctuated in the past four years due to the reconfiguration of a number of properties. The Hotel Rex was closed from November 2002 through February 2003 as the property was seismically upgraded, and the Shannon Court was closed for half of 2003 in order for the property to be renovated and converted to the Hotel Adagio. Additionally, the closing of the 107-room Juliana Hotel in August 2004 resulted in a decrease in available room nights for the boutique downtown/Union Square hotel market. More-recent boutique property conversions include the Monticello Inn, Cartwright Hotel, and Villa Florence, which were purchased by Larkspur Hospitality in 2006, and the Maxwell Hotel, which was purchased by Personality Hotels in March 2007. These properties are slated to undergo multimillion-dollar renovations planned to be completed in 2008.

Full-service hotel conversions in recent years include the 555-room Hilton San Francisco Financial District Hotel, previously the Holiday Inn Select San Francisco, which closed in June 2005 for extensive renovations before reopening in February 2006; the former 360-room Park Hyatt was acquired by HEI in May 2006 and converted to the luxury Le Meridien San Francisco Hotel; the renovation and rebranding of the Pan Pacific Hotel, a 338-unit hotel purchased by Ashford Hospitality Trust, to a J.W. Marriott hotel in April 2006; and the renovation and rebranding of the Argent Hotel, a 667-unit hotel purchased by Highgate Hotels, to the Westin San Francisco Market Street in April 2007.

Recent additions to supply in the San Francisco downtown area include Joie de Vivre's 199-room Hotel Vitale, located at the corner of Mission and Steuart Streets near the Embarcadero, which opened in March 2005; the 276-room luxury-class St. Regis Hotel, located at the corner of Third and Mission Streets, which opened in November 2005; and the 86-room Orchard Garden Hotel, located at the corner of Bush and Grant Streets, which opened in November 2006. The Orchard Garden Hotel is the first "green" hotel in San Francisco. The 550-room InterContinental Hotel located at 555 Howard Street, proximate to the Moscone Convention Center, opened in February 2008. The hotel features ±43,000 square feet of meeting space, a 130-seat restaurant, and a 24-hour fitness center.
A number of other hotel projects have been proposed in recent years but are being re-evaluated, in due diligence, or speculative at this point. The following table shows these potential changes in supply for the San Francisco lodging market.
Potential Supply Changes
| | |
| --- | --- |
| Proposed Property | Number of Rooms |
| 144 King Street | 134 |
| M31 Hotel | 157 |
| Accor Hotels (two hotels) | 550 |
| Mission Bay Hotel | 500 |
| Old Federal Reserve Building | 86 |
| Hotel SoMa | 75 |
| Two to Four Hotels Treasure Island | 600 |
| Boutique Hotel Presidio | 100 |
| Full-Service Hotel Transbay Terminal | 260 |
| Pacific Telephone Building | 80 |
| Totals/Averages | 3,092 |
A 134-room boutique hotel product has been proposed for a site located at 144 King Street, proximate to AT&T Park. The site is located directly north of San Francisco's Mission Bay redevelopment project. Also, Personality Hotels has an entitlement to construct the 157-room M31 Hotel at the site of a surface parking lot located at Ellis and Powell Streets. Other rumored projects in San Francisco that are considered speculative include the two proposed Accor Hotel projects totaling 550 units at First and Mission Streets; a proposed 500-unit Mission Bay Hotel at Third and Channel Streets; a proposed 86-unit boutique hotel conversion of the historic Federal Reserve building located downtown; the proposed 75-unit Hotel SoMa on Fifth and Townsend Streets; two to four proposed hotels totaling 600 rooms on Treasure Island; a 100-room boutique hotel in the Presidio; a 260-room full-service hotel located at the Transbay Terminal; and the Pacific Telephone Building located on New Montgomery and Minna Streets, which is rumored to be rehabilitated to contain 80 hotel rooms.

Lodging Demand
According to the San Francisco Convention and Visitors Bureau (SFCVB), San Francisco's market mix has historically been based on a "three-legged stool": one-third convention/meetings travel, one-third leisure/consumer travel, and one-third business travel. However, the business travel segment has been shrinking. Between decreased discretionary business travel as a result of the post-September 11 economic downturn, improvements in technology that allow business communication without in-person meetings (such as Internet-based video conferencing and presentations), and a reduction in the number of corporate headquarters in San Francisco, the business travel segment of overnight hotel visitors (who often pay higher rates for lodging because of short booking lead time) dropped from 29% in 1999 to an estimated 23% in 2007. The convention market, making up an estimated 37% of overnight hotel guests in 2007, remains a strong foundation of San Francisco's visitor industry. Layered on top of this is the leisure market, which accounts for 40% of overnight hotel visitors.

Commercial demand in San Francisco is generated by major local businesses, including: The Gap Incorporated's world headquarters, Safeway, AT&T, SBC Communications, Macy's, the U.S. Federal Government, Wells Fargo & Co., Charles Schwab & Co., Levi Strauss & Co., the San Francisco Chronicle, Williams-Sonoma, Inc., and Providian Financial Corp., among others. Many smaller businesses in the San Francisco Financial District include law firms and professional service firms. Primary generators of leisure demand in San Francisco include: Fisherman's Wharf, Union Square, Cable Cars, Alcatraz, Chinatown, North Beach, the Golden Gate Bridge, and the city's numerous museums and galleries.

The Moscone Convention Center is currently the single most important generator of meeting and group room nights in San Francisco. The center opened in 1981 and underwent expansions in 1991, 1992, and 2003. Moscone West, a self-contained facility containing over ±300,000 square feet of exhibit space, ±125,000 square feet of meeting space, and a ±60,000-square-foot ballroom, was completed in June 2003. The meeting and group segment continues to be an important component of the city's demand base. Convention officials indicated that the growth of self-contained meetings and corporate business was negatively affected in 2005 by the labor dispute between the two largest groups, the 14-hotel bargaining group known as the Multi-Employer Group, and the UNITE HERE labor union. However, successful negotiations in August 2006 finally ended the labor dispute, which had loomed over the San Francisco lodging industry for the past three years. Representatives from the SFCVB report that convention bookings indicate strong years in 2008 and 2009, which bodes well for area hotels. Presently the city is witnessing an increase in large corporate conventions. Eight large-scale corporate conventions have been booked for 2008 as opposed to five conventions during 2007.

Fluctuations in visitation trends have also been observed in airport statistics. The Bay Area is served primarily by San Francisco International Airport (SFO) and Oakland International Airport (OAK). The following table illustrates recent airport operating statistics.
Airport Statistics
Oakland International

San Francisco International

Total

Year

Passenger Traffic

% Change

Passenger Traffic

% Change

Passenger Traffic

% Change

2000

10,735,626

-

40,287,832

-

51,023,458

-

2001

11,410,420

6.3

33,944,382

(15.7)

45,354,802

(11.1)

2002

12,819,171

12.3

30,741,660

(9.4)

43,560,831

(4.0)

2003

13,548,363

5.7

28,786,385

(6.4)

42,334,748

(2.8)

2004

14,098,327

4.1

32,247,746

12.0

46,346,073

9.5

2005

14,417,575

2.3

33,394,225

3.6

47,811,800

3.2

2006

14,433,669

0.1

33,581,412

0.6

48,015,081

0.4

2007

14,613,489

1.2

35,790,746

6.6

50,404,235

5.0

Average Annual Compounded Percent Change, 2000-2007

4.5

(1.7)

(0.2)

Year to Date January
2007

1,058,319

-

2,527,036

-

3,585,355

-

2008

991,486

(6.3)

2,686,533

6.3

3,678,019

2.6
Source: Oakland and San Francisco International Airports
In 2007, total passenger traffic increased indicating the overall strength of the regional economy. Several airlines including Air China, Alaska Airlines, Frontier Airlines, JetBlue Airways, Qantas Airways, and United Airlines have increased the number of routes offered or have added new service routes, resulting in an increase in both leisure and commercial travel to the city.

Passenger traffic at Oakland International Airport consistently increased from 2001 through 2007. Oakland International Airport recently underwent two major expansion and roadway improvement projects that were completed in the spring of 2007, which are anticipated to relieve the airport's capacity issues in accommodating more than 14 million passengers and one million tons of air cargo annually.

Airline passenger activity at both San Francisco International Airport and Oakland International Airport support the continued improvement of airline travel, indicating a recovery in both corporate and leisure travel, domestically and internationally. Given the current level of airport activity, convention-center bookings, commercial and leisure demand generators, and hotel infrastructure, the San Francisco market area is poised for continued economic growth.

Current Economic Conditions
The Silicon Valley Venture Capitalist Confidence Index for the fourth quarter of 2007, based on a January 2008 survey of 28 San Francisco Bay Area venture capitalists, indicated 3.54 on a 5-point scale (with 5 indicating high confidence and 1 indicating low confidence), down from the previous quarter's reading of 4.14. This significant drop in Bay Area venture capitalists' confidence indicates an uncertain investing climate in the local high-growth enterprise sector in the coming months. Venture capitalists expressed concern over the volatile credit markets and potential broader economic decline - conditions that may make venture exit opportunities more difficult. However, according to the index officials, an underlying confidence in the long-term health of the venture market remains, particularly in the Bay Area entrepreneurial eco-system.

According to NAI BT Commercial Real Estate, in 2007, the city's commercial real estate market continued to improve from its rebound in 2006. The overall vacancy rate has declined progressively to its lowest year-end mark in the past five years, to 10.2%. NAIBT Commercial Real Estate reports that asking rents for office space in San Francisco jumped 20% to $41.03 per square foot in 2007. Higher office rents and tighter vacancy rates are a result of strong job growth, lack of significant new construction, and building owners who paid top dollars for property. Law firms, taking advantage of favorable office-space market conditions, are becoming the city's most active tenants by renewing their leases and expanding their offices. However, the economic uncertainty resulting from the credit crunch has dramatically slowed San Francisco office investment activity in recent months. Hard-hit financial service firms such as Bear Stearns, Citigroup, Merrill Lynch, Morgan Stanley, JP Morgan, Charles Schwab, and several other mortgage-related companies that occupy large blocks of office space may unload their real estate into the sublease market as conditions worsen.

The increased demand and rents in recent years have brought some new developments into the office market: Tishman Speyer's 559,000-square-foot office building located at 555 Mission Street, and Equity Office's 321,500-square-foot office building located at 400 Howard Street are under construction. Also, Pasadena-based Alexandria Equities will begin construction on a 165,000-square-foot, mixed-use development to include retail, office, and re-configurable research and development space for small start-up biotech companies in the 303-acre, biotech research and development hotbed area known as Mission Bay. Total build-out of the campus is anticipated at ±2.1 million square feet and is currently slated for completion by 2013.

The city's retail sector experienced healthy growth levels. Some stores have opened in the past few years including Zara, Borrelli, Stuart Weitzman Shoes, Lucky Brand Jeans, H&M, and Barneys New York. Additionally, Eddie Bauer returned to the city and opened in the expanded Westfield Centre. In 2004, Forever 21 started the trend of new retailers in the Union Square area with the opening of its ±24,729-square-foot store at Powell and Market Streets; Zara opened its three-level store on Post Street in September 2005; and H&M opened two new stores within blocks of each other, a 33,800-square-foot store on Powell Street and a 10,000-square-foot store on Post Street. Additionally, Barneys New York opened in September 2007 at 48 Stockton Street, one block from the Powell Street Cable Car, with approximately 60,000 square feet of retail space over six floors. Furthermore, the shopping district extends south from Union Square, where Macy's and the Westfield San Francisco Centre are located. Additionally, Bloomingdale's department store opened in September 2006 in the expanded Westfield San Francisco Centre. The 358,000-square-foot department store is Bloomingdale's West Coast flagship. The $410 million Westfield San Francisco Centre project is located between Market and Mission Streets and Fourth and Fifth Streets.

Conclusion
Over the past few years, favorable trends in regional unemployment and office vacancy rates, coupled with increases in convention activity, are key indicators of the strong regional economic climate. With the strengthening of the office market and increasing new-tenant demand, leased office space is expected to eventually return to pre 9/11 occupancy levels over the mid- to long term. Convention demand, which is a large component of the area's economy, is expected to be stronger as a result of the hotel labor union resolution, which settled in August 2006. Airline passenger activity at both San Francisco International Airport and Oakland International Airport support the continued improvement of airline travel, indicating a positive outlook in both corporate and leisure travel, domestically and internationally. Given the current level of airport, convention center, hotel, and office market infrastructure, the subject market area is poised for continued mid- to long term economic growth.

HVS Global Hospitality Services anticipates healthy growth rates in occupancy and average rate for 2008, as, according to STR, area-wide lodging demand has increased, allowing hoteliers to increase average rate growth. Additionally, decreases in regional unemployment and office vacancy rates, coupled with increases in convention activity and air traffic, are key indicators of the strong regional economic climate. Overall, San Francisco is firmly established as a commercial, leisure, and group meeting destination, poised to accommodate strong lodging demand in the near and long term.

About the Authors:
Jaime Law is a Senior Associate at HVS Consulting and Valuation's San Francisco office. He specializes in valuations, market studies, and feasibility reports for various types of lodging and gaming facilities, both in the U.S. and abroad. Prior to joining HVS in May 2005, Jaime held positions with Marriott International and Fairmont Hotels and Resorts. He holds a B.S., Hospitality Industry Management from the University of San Francisco, California.
Jaime can be contacted by email at [email protected], or by telephone at +1 (415) 268-0359.