As the entire world comes to term with the death and destruction caused by the terror strikes in the Mumbai, questions are beginning to emerge on the long term impact of these events on the Indian Hospitality Industry. The hotels targeted are epitomes of luxury and hospitality, and post 26/11 can the industry resurrect itself and reclaim its rightful place in the world of travel and tourism.   

The Indian hospitality industry has been no stranger to adversity. Since 1999, for almost a decade the industry has been witness to a series of domestic and international events that led to negative sentiments towards travel; both for leisure and commercial purposes.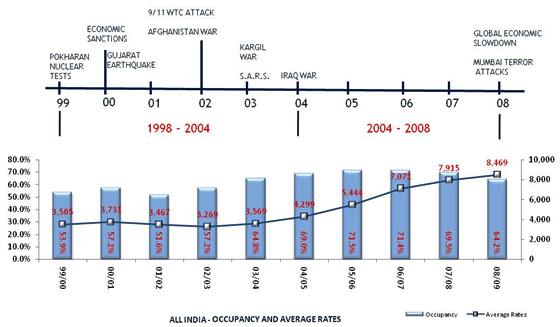 Trend analysis of occupancy and average rates for the industry over the last ten years indicates that while hotel occupancies and rates were under pressure in the immediate short term period post such events; the industry has been successful in effective substitution of key feeder markets, market segment mix and rate re-alignment. During the Five Year period, FY99 to FY04, when the industry was witness to three wars, the worst terror attack in history on 9/11, and the SARS outbreak, the response has been quick and effective resulting in hotels witnessing positive growth both in terms of occupancy and average rates in four out of the five years, the only exception being FY01.

Having been in India for over a decade, HVS has had the opportunity to witness the composition of industry demand dynamics and emerging trends. The fact that a substantial portion of demand within the travel and tourism industry in India is generated domestically needs to be highlighted.  

While the impact of recent events will lead to cancellations from the international travel segments, it needs to be highlighted that foreign tourist arrivals account for less than 5.0% of the total travel and tourism market across star categories. In 2001, post 9/11 and in 2002, post SARS, while international tourist arrivals witnessed a negative growth trend, the outbound tourist market in India decided to travel to leisure destinations within India and was instrumental in helping industry sustain itself through tough times. Once again we at HVS are confident that leisure travel by domestic tourist within India will provide the necessary impetus for demand substitution.

Over the last three years insufficient room availability and high rates had created conditions that were not conducive for high volume, low yield segments such as meetings and conferences, domestic leisure groups, inventive groups etc. At affordable rates, these segments have the capacity to induce substantial room night demand and an aggressive marketing strategy aimed towards these segments will help in substitution of demand lost from the international travel segments.

More-over, the demand-supply imbalance had transformed the industry into a supplier's market and this, naturally, lead to a dramatic rise in room rates in most cities. Companies are finding rates prohibitive for the mid-level business traveler, forcing them to look for more cost-effective alternatives. The mid-level traveler segment generates substantial demand and has comparatively higher average length of stay. Catchment of this business will be available for hotel that are willing to reduce rates and can satisfy the value for money proposition. Post sub-prime, at revised GDP growth forecast of 6.0% to 7.0%, India will still be one of the fastest growing economies in the world and commercial travel will continue providing the necessary base demand. 

In more ways than one, the events in the last 96 hours have had a transformational effect to all of us in the industry. While the entire country stands up to salute the policemen and countless army men who have shown immense courage and resilience to ensure that a bunch of radicals don't succeed in their motives of cultivating fear and killing innocent lives. We would like to appeal the international community to stand united with India in this dark hour and not issue travel advisories against a country that is essentially safe and has always been known for its hospitality and service culture. Acts of categorizing India as "Top 20 Most Dangerous Country to Travel" is ridiculous and this has been testified by innumerous stories of how hotel staff had put their own life at risk to save guests and ensure that their safety is put first. We would also like to appeal to the media to understand the industry dynamics better before they start predicating dooms-day for the industry.