When we talk about "gateway" cities, Brooklyn is the real deal. Immigrants have come to the U.S. through Brooklyn for centuries, and the area's exponential expansion has resulted in approximately 2.5 million residents, 33,000 businesses, 410,000 employees, and a legacy of culture and commerce that continues to send out roots. New York's most populous borough offers lower operating costs and ample commercial and industrial space compared with Manhattan, two factors that have helped promote business growth and demand for area hotels.Downtown Brooklyn hosts New York City's third-largest central business district after Midtown and Downtown Manhattan. Due to its proximity to Lower Manhattan and favorable local and regional mass transit access, Downtown Brooklyn benefits from a valuable position in the New York City area as a competitive office space alternative to New Jersey, Long Island, and Westchester County. The Downtown Brooklyn office market contains more than 11 million square feet of office space.

Commercial and residential developments boomed in Brooklyn following a rezoning initiative in 2004. Since 2006, almost $3.4 billion in private investment has been made in Downtown Brooklyn developments, resulting in over 5,200 residential units, 1,000 hotel rooms, 590,000 square feet of retail space, 236,000 square feet of office space, and an 18,000-seat sports arena 1. Billions of dollars in private investment and $300 million in public improvements are currently underway.

The MetroTech Center was conceived as a means of rejuvenating the downtown area and has generated over $1 billion in new investments over the past decade. Anchor tenants include JPMorgan Chase, Goldman Sachs, Verizon, and the Bank of New York. The complex is integrated with the Polytechnic Institute of New York University, NYC College of Technology, and Long Island University.

Some 300 businesses occupy Brooklyn Navy Yard, representing a wide array of commerce, from filmmaking to ship building. An enclosed 15-acre production facility for Steiner Studios was developed on the site in 2004, creating the largest and most modern movie-making complex east of Los Angeles.
Construction on the 22-acre mixed-use Atlantic Yards Arena and Redevelopment Project started in March of 2010 at an estimated cost of $4.9 billion. The new development encompasses Barclays Center, an 850,000-square-foot sports and entertainment arena that will host the New Jersey Nets; 6,430 residential units; 628,000 square feet of commercial space; 256,000 square feet of retail space; and a 180-unit hotel.
Employment
The following table shows the ten-year unemployment trend for Brooklyn versus the New York-Northern New Jersey-Long Island MSA, the state of New York, and the U.S. as a whole.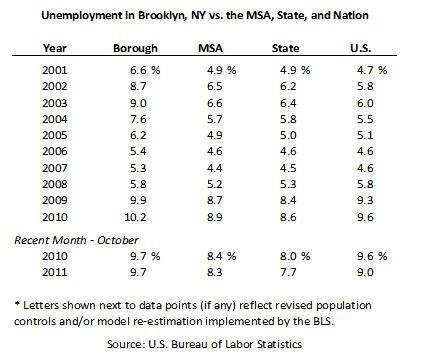 While the numbers show Brooklyn's unemployment to be well above that of the MSA and state, actual job growth paints a different picture. Design and management consulting jobs grew by approximately 20%, architecture jobs by 8%, and accounting jobs by 6% in 2008 2. Brooklyn-based film and television productions increased hiring by more than 50% the same year. The recession stalled employment at the end of 2008 and took a deeper toll in 2009. Unemployment stabilized in 2010, as new housing developments and an expanding restaurant industry reportedly helped create a need for new hires.

Leisure Demand
Downtown Brooklyn lies just a few minutes across the Brooklyn Bridge from Downtown Manhattan; an estimated 150,000 vehicles cross the bridge daily. Its location has made Brooklyn attractive for Manhattan-bound travelers looking to save money. More recently, Downtown Brooklyn has emerged as a tourist destination in and of itself.

Brooklyn Bridge Park, which opened in 2010, was named one of the "World's Coolest New Tourist Attractions" by Travel and Leisure and was heralded as "a key and very promising early step in a larger project that includes the greening of the East River waterfront3 .
Arts and cultural institutions include the Brooklyn Museum of Art, the second-largest art museum in New York City; the Strand Theater, whose expansion is scheduled for completion in 2013; the Brooklyn Transit Museum, which recently re-opened after extensive renovations; the 150-year-old Brooklyn Historical Society; and the Brooklyn Academy of Music. Each of these institutions is known worldwide and together they bring in hotel demand from a wide range of sources.

Lodging Market Overview

 
 Source: HVS
Brooklyn's lodging industry comprises more than 40 hotels and approximately 3,650 rooms—a near doubling of the number of hotel rooms over the past five years. For decades, Downtown Brooklyn offered only one full-service hotel, the Marriott Brooklyn Downtown. But new and proposed high-quality, full-service branded and independent hotels are shifting the balance of lodging options in the borough.
Despite the financial challenges caused by the most recent recession, eight new hotels totaling 788 rooms were developed in the Greater Downtown Brooklyn area in 2010, with seven more hotels totaling 643 rooms in 2011. At least three new hotels are under construction, with several more proposed. The following table represents the new lodging supply pipeline for the Greater Downtown Brooklyn market from 2010 to the present.
Lower land costs versus Manhattan and special tax incentives for new hotel developments have provided the main thrust behind these developments in Brooklyn. It is important to note, however, that room rates for Brooklyn hotels have historically been about 15% below those of comparable hotels in Manhattan, while labor and other operating costs have been on par.
Local hoteliers report that demand levels have strengthened rapidly over the past two years, and the market has largely absorbed the recent influx of new hotels. Increased corporate activity in Downtown Brooklyn has contributed to the rise in demand, as have weddings and other SMERFE-related group functions. Downtown Brooklyn is becoming a popular international tourist destination, and leisure demand is anticipated to keep trending upward in the near future. In addition, the entrance of new high-quality hotels has allowed local hotel operators to increase average room rates over the past year. Rate growth rebounded in 2010 and kept rising for most of 2011. Average rate growth is expected to continue as local hotels regain pricing power in line with the growing commercial and leisure demand in the market.
Conclusion
The recent recession put pressure on the economy of Downtown Brooklyn, but new developments continue to spring up. The interwoven network of commercial and leisure interests in Brooklyn has helped it absorb the brunt of the national downturn, and data show that area hotels have begun to bounce back. Proximity to Manhattan makes Brooklyn an attractive alternative for developers and travelers alike. As economic conditions continue to improve, so do the prospects for a new landscape of hotels in this historic borough.
1 Downtown Brooklyn Partnership
2 Brooklyn Chamber of Commerce

3 "The Greening of the Waterfront." The New York Times Architecture Review. April 1, 2010. http://www.nytimes.com/2010/04/02/arts/design/02bridge.html?pagewanted=all