Military operations have characterized the area known as Albuquerque for centuries, with Spain, Mexico, and later the United States establishing military garrisons. Today, this crossroads city in the American Southwest continues to rely on activity generated by government operations, though the economy and hotel industry have found other sources of sustenance. Multi-cultural attractions and a climate and landscape attractive to filmmakers and tourists have made the city and its surroundings a popular destination for both business and pleasure. The following article looks at the variety of demand generators in Albuquerque and how they've been doing since the recession.

Economic Drivers

During the last five years, the areas to the north, west, and south of Albuquerque International Sunport have experienced significant growth. Rio Rancho, which belongs to the greater Albuquerque MSA, was one of the fastest-growing communities in the country prior to the recession, and in Mesa del Sol, a mixed-use master-planned community in Albuquerque, plans have been laid for more than 37,000 home sites, as well as developments for businesses in the fields of film, solar technology, and finance. Although the recent recession tempered the rate of expansion, Albuquerque's economic foundation remains solid. In 2011, Bloomberg ranked Albuquerque 15th among the most livable cities in the U.S., and Albuquerque also made Forbes' list of "Best Places for Businesses and Careers" last year.

The following table lists the top ten employers in the Albuquerque metropolitan area.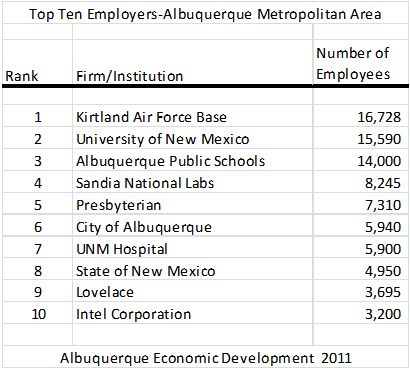 Federal, state, and local governments, along with private contractors and support companies, collectively provide an overwhelming percentage of jobs in the market. Kirtland Air Force Base, Sandia National Laboratories, and other defense-related firms also generate a bulk of demand for area hotels. Kirtland Air Force Base is home of the Air Force Materiel Command's Nuclear Weapons Center (NWC), where responsibilities include the acquisition, modernization, and sustainment of nuclear system programs for both the Department of Defense and the Department of Energy. As a result of the Base Realignment and Closure (BRAC) process, the Air Force Research Laboratory relocated its Battlespace Environment Division from Hanscom Air Force Base in Massachusetts to Kirtland and opened the Battlespace Environment Laboratory there in April of 2011. The opening of the lab reportedly created over 200 new jobs, and the lab will have an annual operating budget of $89 million.

Sandia Science & Technology Park (SS&TP) is a 340-acre, high-tech campus housing 33 companies and more than 2,000 employees. The facility provides for joint research and development opportunities for companies through Cooperative Research and Development Agreements (CRADAs) with Sandia National Laboratories. The SS&TP is expected to create an estimated 6,000 technology-based jobs in the next 10 to 15 years.

The power and efficiency of Albuquerque's economic engine are illustrated in the area's unemployment figures, which have fared far better than those of the nation as a whole over the past ten years. The following table shows unemployment percentages for Bernalillo County, the Albuquerque MSA, the state of New Mexico, and the U.S. from 2001 to 2011.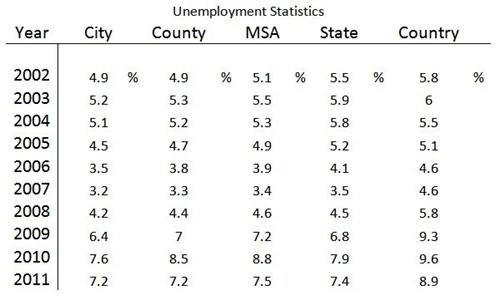 Apart from government-related operations, firms in the private sector, including Intel (which operates a flash-memory and computer processor production plant) and several film and television production companies, have fueled growth in employment and made a major impact on Albuquerque's economy and hotel sector. Albuquerque's attractions as a filming site continue to draw in sizable crews and visitors in need of hotel rooms, with a variety of popular motion pictures and television shows shooting in and around the city. According to the New Mexico Film Office, over $259,800,626 was spent within New Mexico, with $12,390,453 spent on lodging, in fiscal year 2011.

Leisure Attractions

Tourists come to Albuquerque for the dry but hospitable climate, a blend of cultural attractions, and several major events and festivals throughout the year. The city was recently highlighted by TripAdvisor.com as one of 15 "destinations on the rise" and by Hotwire as among the "Top 10 Value Cities" for vacation travel. Albuquerque's International Balloon Fiesta, a world-famous hot-air ballooning event, attracts hundreds of thousands of international spectators and teams every year. In 2011, attendance reached 737,466; numbers from 2010 were even more impressive at 811,484. The Gathering of Nations Powwow draws more than 3,000 participants for North America's largest Native American song and dance competition. The Hispanic Chamber of Commerce reported that, in 2009, the gathering brought in approximately 55,000 attendees from out of state and generated an estimated 70,000 hotel room nights over the nine-day event, contributing to an economic impact of $35 million.

Hotel Performance
Heavy reliance on the military, government, and education sectors keeps the performance of the lodging market in Albuquerque fairly consistent year-over-year. In 2007/08, market-wide occupancy peaked in the mid- to high-60% range. Demand fell with the recession but occupancy returned to the mid- to low-60% level in 2010 and continued at or slightly above that level through 2011. A predominance of per-diem rates and a tightening of budgets during the recent recession kept overall average rate in the market in the low $90 range in 2009 and 2010, with some signs of growth in 2011. Market participants are confident that rates will continue to grow as 2012/13 brings in greater numbers of travelers to Albuquerque, with the extra demand empowering hotels to charge higher rates without sacrificing occupancy.

The following table lists recently opened and ongoing hotel developments in Albuquerque.

Conclusion

A kettle of cultures, abundant sunshine, festivals, and filmmaking feed Albuquerque's leisure-based economy, providing thousands of jobs and bringing in tens of thousands of visitors each year. The government and contractors supply sustenance to the market through defense operations, which have grown over the past several years. New hotel projects need to move forward with care to negotiate the fallout from the recent recession, though with continued investments by both Sandia National Labs and Kirkland Air Force Base, the growth of the film industry in New Mexico, and the overall revitalization of the national economy, the long-term outlook for Albuquerque's hotel industry looks bright.