Phoenix's recession-stricken economy may not be bursting colorfully from the ashes like its mythical namesake, though there are signs of an economic re-emergence in the Valley of the Sun. Overall employment continues to make modest gains, with companies such as Boeing, Honeywell, and Intel providing stability. The hotel industry in Phoenix is likewise in the midst of a moderate recovery, primarily driven by improvements in average daily rate. The following article looks at how Phoenix's economy, office market, and hotel industry have begun to revive.
Employment
Arizona State University released a report in August of 2012 ranking Arizona fourth in the nation in job growth, having realized 2.4% growth from July of 2011 to July of 2012. The rise in employment across Metropolitan Phoenix is even greater, posting 2.9% growth over the same period; only San Francisco, Houston, and Denver exceeded Phoenix's numbers. This is positive news, though the rate of growth still lags behind historical averages. The table below shows unemployment trends for the area over the past decade.

Unemployment in Maricopa County, the Phoenix Metropolitan Statistical Area, Arizona, and the U.S. from 2002 into 2012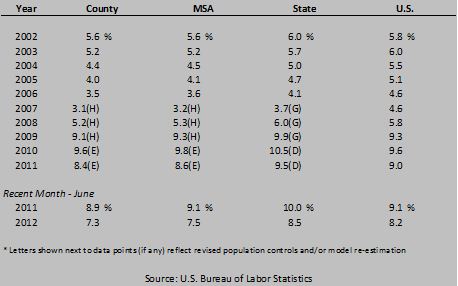 Most of the gains are reportedly in the construction sector and focused in specialty trades related to renovations, but there are recent signs of renewed activity in new builds. The total inventory of available residential real estate in the Phoenix metropolitan area has decreased by almost 25% since August of 2011 and by approximately 50% since 2010, the result of continued population growth, speculative investor purchases, and the evolution of holding strategies. The chart below shows the substantial change in total residential inventory in the Phoenix real estate market.

Trends in Residential Real Estate Inventory in Phoenix: 2010 to August 2012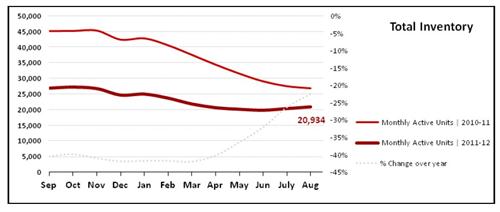 This depleted inventory has encouraged home builders such as Taylor Morrison Arizona to seek out lots to develop; Taylor Morrison has reportedly acquired 700 lots so far this year and has approximately 1,000 lots under contract. These contracts to build new homes and the promise of new residents coming to Phoenix to live and work should boost confidence in the recovery of the local job market.

The Translational Genomics Research Institute (TGen) has created a collaborative hot spot for bioscience and medical research and development, affording the opportunity for numerous smaller companies to work in conjunction with TGen and other entities such as Arizona State University and the Mayo Clinic. Hence, Phoenix's established aerospace and biotechnology industries, along with residential real estate construction, should help the city gear up for its long-awaited recovery.

Office Market
Continued job creation provides crucial nourishment to Phoenix's office market, which had become bloated with new inventory during the boom and left with a substantial surplus in most submarkets following the recent recession. Absorption has been slow, fluctuating over the past several quarters; however, new construction of office space is minimal relative to the overall size of the market. The table below illustrates office inventory, vacancy, and absorption trends in the Phoenix metro area since 2008.
Inventory, Vacancy, and Absorption Rates for the Metro Phoenix Office Market

Though the expansion of office space tapered off in the years following 2008, vacancy has remained high because of substantial negative net absorption, as many businesses either closed or downsized into more cost-effective space. Businesses are returning to the market, though slowly; hence, the amount of total vacant space, which includes both direct and indirect vacancy, is anticipated to remain high in the near term.

Hotel Transactions
Several cornerstones of the Phoenix economy that were shaken by the recent recession have since been reseated, and this includes the hospitality sector. The recent improvements in occupancy and average daily rate at Phoenix-area hotels have motivated many owners to fend off foreclosure proceedings and, if possible, refinance debt to keep their hotels afloat as the economic tide continues to turn toward recovery. Hence, the volume of hotel transactions, driven up during the recession by forced sales of distressed assets, has fallen dramatically so far into 2012. The following table illustrates transactions trends for the Phoenix hotel market since 2000.
Hotel Transactions Trends in Phoenix Metro Area: 2000 to August of 2012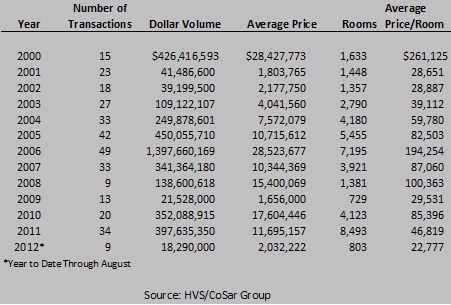 The volume of hotel transactions peaked in 2006, ahead of the recent recession. Hotel transactions also realized a meteoric rise in 2006 in terms of total dollars, amplified by the sales of several area resorts, notably the Arizona Grand Resort & Spa ($206,000,000) and the Westin Kierland Resort & Spa ($392,477,721). Transactions volume declined substantially from 2007 to 2008. Total dollar volume and average price per room fell dramatically in 2009, even as the number of transactions increased; this is because the hotels sold that year were primarily distressed properties. Transactions volume increased again in 2010 and 2011; last year, however, the average price per transaction and the average price per room once more declined, an indication that limited-service distressed properties continued to drive the hotel transactions market in Phoenix. The sale of one resort, the Montelucia Resort & Spa, purchased by KSL for $105,052,220, elevated the total dollar volume in 2011. While the year-to-date 2012 transaction volume is down sharply from that of 2011, this signifies a lack of distressed properties in the pipeline and a potential shift from short-term to long-term, investment-grade holding periods.

Conclusion
Portends of positive economic change are being signaled in all corners of the Phoenix area. Intel recently announced plans to build a new $300-million research and development complex in the Maricopa County submarket of Chandler, and Boeing has won a $97-million contract to build helicopters at its facility in nearby Mesa. The Mayo Clinic has dedicated an additional $130 million to consolidate its cancer program at the clinic's Proton Beam Therapy facility, which is already under construction in northern Phoenix. Direct hotel and motel spending in 2011 nearly rose to the peak levels of 2006 and 2007, and the multimillion-dollar expansions listed above are expected to generate additional room nights and spending in the metropolitan area. The activity in Phoenix's commercial, hospitality, and tourism sectors demonstrates that a recovery is taking hold. If the levels of job growth, tourism, and leisure spending continue to rise, the Phoenix landscape should grow more and more inviting to potential hoteliers.