The economic performance of El Paso, Texas ranked second in the nation in 2011. New developments have pushed population and economic growth, which are in turn creating demand for more new developments. This cycle is still in its infancy following the reset from the recent recession. Here, we look at developments that are notable for El Paso's economy and for area hotels.

Economic engines that helped El Paso through the recession include Fort Bliss, The University of Texas at El Paso, and the Texas Tech University Health Sciences Center. El Paso continues to see tremendous growth, with emerging commercial, industrial, and residential projects throughout the city driving demand to local hotels.

Market Cornerstones

The following table lists El Paso's top employers.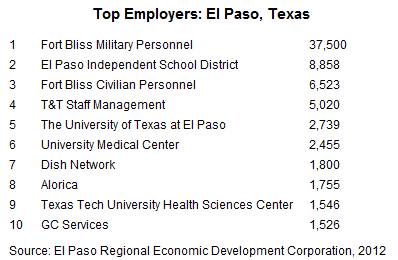 Civilian and military personnel at Fort Bliss total more than 44,000, making the military complex El Paso's largest employer. Fort Bliss has also been a catalyst for continued development in other areas of the city. A $4.1-billion construction boom in El Paso commenced in 2006 with the arrival of the 1st Armored Division and continues to the present day. Despite talk of looming federal cutbacks for defense, Fort Bliss is standing strong. In August of 2012, Fort Bliss announced the development of a new 135-bed Beaumont Army Medical Center, a $946-million project that will replace the aging hospital of the same name when it opens in 2015.
Rising enrollment numbers at The University of Texas at El Paso (UTEP) have brought on the development of numerous campus projects meant to transform UTEP into a tier-one research facility. The Texas Tech University Health Sciences Center and the Paul L. Foster School of Medicine, which opened in 2009, continue to expand. In August of 2012, the Texas Tech University Board of Regents approved an $11-million building for the School of Nursing.

Infrastructure, Retail, and Transportation Developments

Downtown El Paso's redevelopment efforts, which suffered some setbacks from the recent recession, seem to be back on track. MountainStar Sports of El Paso paid a reported $20-million for the San Diego Padres affiliate baseball team, whose pending arrival should significantly increase economic development Downtown. Crews will soon level El Paso's City Hall to make way for a new $50-million Triple-A stadium to host the team; the stadium is expected to open by the start of the 2014 season.

Other Downtown developments now underway include new restaurants, offices, and cityscape beautification projects. In October of 2011, Portfolio.com ranked El Paso the number one market for income growth over the past 25 years, and the boost in personal income has spurred many regional retail developments. The Fountains at Farah will offer 600,000 square feet of outdoor retail space featuring upscale boutiques, name-brand retailers, and restaurants; strip malls under construction throughout the city will also help serve the shopping needs of the market's growing population.

The city council has approved plans for a new 5.2-mile trolley route, which will connect Downtown El Paso to UTEP. Union Pacific is investing $400 million for a new rail facility in nearby Santa Teresa, New Mexico. Construction of the new state-of-the-art station began in June of 2011; the new facility is expected to be fully operational in 2015, with an economic impact exceeding $500 million. These and other projects have helped reduce unemployment in El Paso, which has dropped considerably since 2011. The following table shows unemployment rates in El Paso, the El Paso Metropolitan Statistical Area, the state of Texas, and the nation as a whole.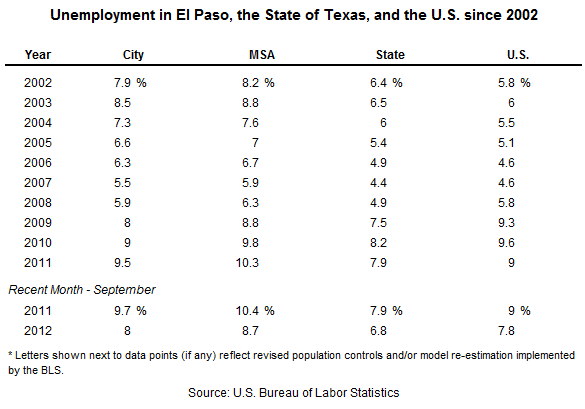 Lodging Market

Since the start of the expansion of Fort Bliss, the El Paso lodging market has also realized tremendous growth in hotel development, with more than 15 new hotels opening since 2006. The following table shows recent supply increases in the El Paso metro hotel market.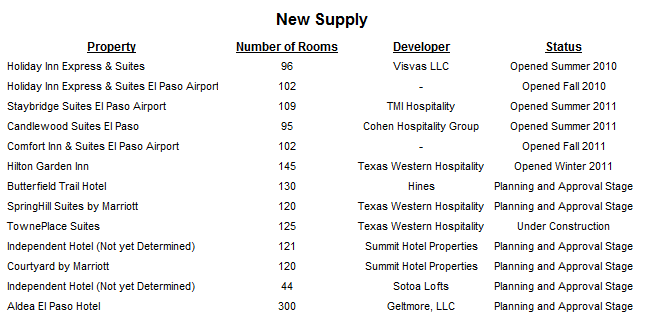 El Paso's economy has diversified and gained strength, which has in turn supported occupancy and average rate gains at local hotels. The resulting RevPAR levels continue to attract the interest of hotel developers. The hotels opened since the summer of 2010 amount to nearly 650 new rooms, and the new hotels under consideration or construction would bring nearly 1,000 more. The recently approved Proposition 3, which will increase the city's hotel occupancy tax rate from 15.5 % to 17.5 % to support the funding of the new downtown baseball stadium, will make El Paso's occupancy tax the highest in the state of Texas; nevertheless, the proposed increase of 2% will only result in an additional average of $1.40 per night based on El Paso's current average daily rate of $70. The new tax increase should not, therefore, do harm to El Paso's reputation as a relatively affordable place to find a hotel room for travelers sourced from the military, leisure, government, and commercial segments of hotel demand.

Conclusion

No longer just a stopover city for travelers through West Texas, El Paso is emerging from the recent recession with more and more to offer. Continually improving its appeal for businesses and families with numerous quality-of-life and economic projects, El Paso should continue to attract hotel investments in the near future. With further population and income-level growth and diminishing unemployment, the new developments on El Paso's horizon should strengthen performance, as well as demand, for the city's hotels.