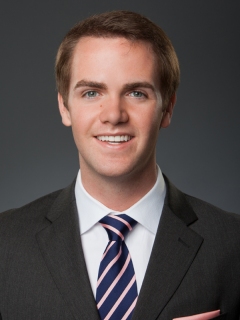 In terms of revolution and resilience, both historically and in the present day, Boston has proven itself the "Cradle of Modern America." Greater Boston's network of more than 100 colleges and universities is anchored by world-class institutes such as Harvard University and the Massachusetts Institute of Technology (MIT). Cutting-edge healthcare and biotechnology research and development initiatives are also paramount to Boston's economy. The city's substantial and diverse range of industries also includes finance, tourism, commercial fishing, food processing, printing and publishing, and government. Boston is a centuries-old powerhouse of industry and innovation, and new developments, along with a strengthening economic foundation, have helped stabilize and energize the city's hotel industry.

Economy Update
Boston's high concentration of medical and research facilities, which constitutes a major economic force in the market, includes Massachusetts General Hospital, Brigham and Women's Hospital, Beth Israel Deaconess Medical Center, Tufts Medical Center, and Boston Medical Center. Massachusetts General Hospital, an affiliate of Harvard Medical School, ranked among the top three hospitals in the nation in U.S. News & World Report's "Best Hospitals 2012-13" in the categories of Diabetes and Endocrinology; Ear, Nose, and Throat; Neurology and Neurosurgery; and Psychiatry.

The financial services sector is also essential to Boston's economy. Boston-based Fidelity Investments helped popularize the mutual fund in the 1980s and has contributed to Boston's reputation as one of the top financial centers in the U.S.; in March of 2013, Fidelity announced a partnership with BlackRock, a global investment firm based out of New York.

The $800-million, 1.7-million-square-foot Boston Convention & Exhibition Center (BCEC), located along Summer Street in the Seaport District, opened in 2004. At present, officials at the Massachusetts Convention Center Authority are proposing a master plan that would add 400,000 square feet of exhibit space and another 125,000 square feet of meeting space to the center, as well as a 1,200-room convention hotel; market participants expect that this project will eventually come to fruition, though no firm decisions have been made. In 2009/10, Boston's John B. Hynes Veterans Memorial Convention Center underwent an $18-million renovation that included security upgrades, the addition of two restaurants, and the installation of more modern equipment suitable for technology and medical conferences. The recent and anticipated expansions of both convention facilities are expected to generate additional revenue for Boston's economy in the coming years.

Boston's well-developed transportation infrastructure includes an international airport, a widespread metro rail system, and major highway projects, all of which contribute to this market's continued strength, expansion, and connection with other markets both in the U.S. and abroad. The breadth of companies in Greater Boston, as well as the city's reputation as a top-tier convention destination, should bolster the area economy and help the market to further recover from the recent recession.

The following table illustrates historical and projected employment, population, and income data for the overall Boston market.

HISTORICAL & PROJECTED EMPLOYMENT, HOUSEHOLDS, POPULATION, AND HOUSEHOLD INCOME STATISTICS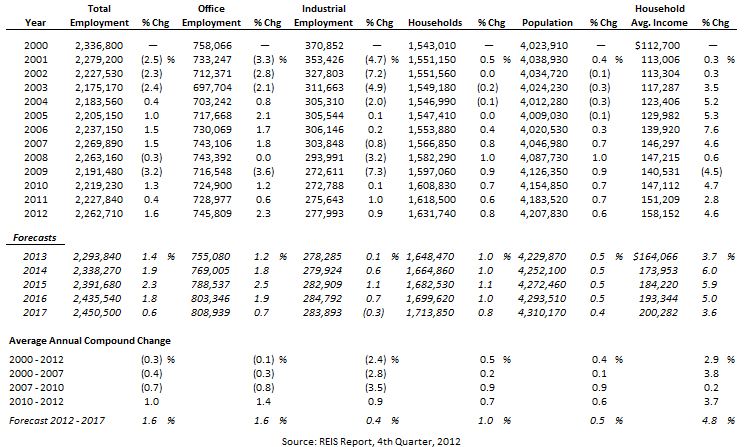 For the Boston market, of the roughly 2,260,000 persons employed, 33% work in office spaces and are categorized as office employees, while 12% are categorized as industrial employees. Total employment decreased by an average annual compound rate of -0.7% during the recession of 2007 to 2010, followed by an improvement of 1.0% from 2010 to 2012. By comparison, office employment reflected compound change rates of -0.8% and 1.4% during the same respective periods. Total employment is expected to expand by 1.4% and office employment by 1.2% in 2013. Total employment is anticipated to improve at an average annual compound rate of 1.6% between 2012 and 2017, and office employment is forecast to improve by an average of 1.6% annually during the same timeframe. The number of households is expected to improve by an average of 1.0% annually between 2012 and 2017. Population is projected to expand during this same timeframe at an average annual compounded rate of 0.5%. Household average income is anticipated to grow by an average of 4.8% annually between 2012 and 2017.

Employment growth forecasts for Boston remain positive, aided by a current information technology boom; as such, income growth is expected to remain strong. While these factors are anticipated to make the area more attractive, concerns about weak population growth, unaffordable housing, and the loss of young workers to other metro areas may impede the area's continued competitiveness.

The following table illustrates unemployment statistics for Suffolk County, the Greater Boston MSA, the state of Massachusetts, and the U.S. from 2002 to 2011.

UNEMPLOYMENT STATISTICS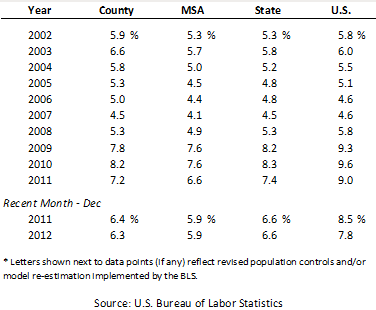 The financial crisis of 2007 and 2008 resulted in heightened unemployment rates in Boston from 2008 through 2010. Unemployment declined substantially in 2011, a trend that has continued through early 2013. HVS interviews and research support an optimistic outlook for the greater metropolitan area going forward.

Office Space Market Update
The following table details Boston's office space statistics, which are an important indicator of the market's propensity to attract commercial hotel demand.

OFFICE SPACE STATISTICS – MARKET OVERVIEW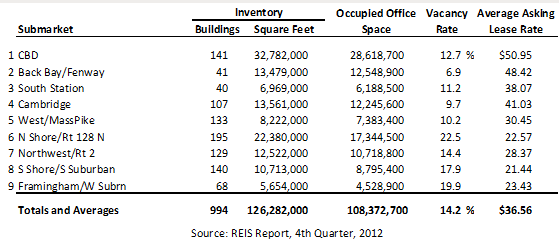 The majority of the Boston market's office space is located in the Central Business District (CBD) and North Shore/Route 128 North submarkets. The resumption of new construction should further increase average asking rents as the entrance of new office space, coupled with the adaptive reuse of older office space as housing, is gradually upgrading the inventory. Aging suburban office campuses remain a weak spot in the market, as more businesses seek to move into the CBD's financial district. As a result, market-wide vacancy rates are expected to decline and average rents are anticipated to increase, albeit moderately.

The following table illustrates a trend of office space statistics for the overall Boston market.

HISTORICAL AND PROJECTED OFFICE SPACE STATISTICS – GREATER MARKET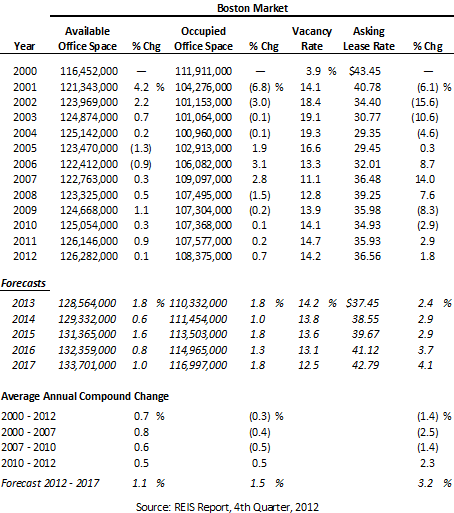 Particularly low office vacancy rates at the turn of the millennia sparked a large increase in office construction early in the last decade. Increases in demand did not keep pace with the additional inventory, and vacancy rates rose to the mid-teens. After a short period of decline, vacancies rose further during the recent recession and thereafter, peaking in 2011. However, vacancy rates declined slightly in 2012; moreover, now that the economy has largely recovered, moderate increases in demand for office space are expected to continue going forward. The Boston market is anticipated to exceed the previous peak in occupied office space by 2015.

Greater Boston continues to serve as an economic hub for New England. Major drivers of demand for commercial office space and hotel rooms include Liberty Mutual, Staples, Raytheon, MassMutual, TJX, EMC, Global Partners, Thermo Fisher Scientific, State Street Corporation, Boston Scientific, and Biogen Idec. Boston is also a major market for numerous pharmaceutical companies, including Genzyme, Pfizer, Novartis, Merck, and Bristol-Myers Squibb. As these and other area companies resume hiring and training efforts, Boston should experience increases in commercial hotel and office-space demand. These industries also serve as major generators of meeting and group demand for hotels, though budget restraints remain for many meeting planners in the post-recessionary period.

Hotel Construction Update
According to HVS research, two new hotels are currently in the pipeline for Boston:

Residence Inn by Marriott Boston Downtown Seaport District
Residence Inn by Marriott Boston Back Bay Fenway
The 120-room Residence Inn by Marriott Boston Downtown Seaport District, scheduled to open in June of 2013, will offer an exercise room, a market pantry, and approximately 455 square feet of meeting space. The $38-million, 175-room Residence Inn by Marriott Boston Back Bay Fenway, also scheduled to open in June, will feature Bar Louie, leasable retail space, an indoor pool and whirlpool, an exercise room, and approximately 500 square feet of meeting space.

The following proposed developments have been approved by the Boston Redevelopment Authority, though no hotel building permits have been issued:

A 250-room Aloft and a 250-unit Element hotel are proposed for a location proximate to the Boston Exhibition & Convention Center (BCEC). The proposed development will include 26,300 square feet of leased retail space and accessory parking.
A 6,500,000-square-foot mixed-use development is currently being developed proximate to the John Joseph Moakley United States Courthouse in Seaport Square; two office buildings for the multi-phase project are complete. Upon completion, the development will include 2.75 million square feet of residential space; 1.4 million square feet of office space; 1.25 million square feet of retail space; 600,000 square feet of educational, civic, and cultural uses; a 500,000-square-foot Courtyard by Marriott; and below-grade accessory parking.
A 177-room Hilton Garden Inn is proposed for a location proximate to Suffolk Downs Park on a former U.S. Navy fuel depot. Upon completion, the hotel will offer the Great American Grill, an indoor pool, an exercise room, a market pantry, and approximately 1,500 square feet of meeting space.
A 243-room hotel is proposed for a location proximate to Downtown Crossing. The proposed development will consist of the rehabilitation of two buildings, the Blake Building and the Armory Building. Upon completion, the hotel will also offer leased restaurant and retail space.
A $500-million mixed-use development is proposed for a location proximate to the existing New Balance headquarters. The New Brighton Landing development will include a 250,000-square-foot headquarters building for New Balance, a 350,000-square-foot sports complex, a 175-room hotel, 650,000 square feet of office space, and 65,000 square feet of leased retail space.
A 153-room Courtyard by Marriott and a 121-unit TownePlace Suites by Marriott are proposed for a location proximate to TD Banknorth Garden. The proposed development will also comprise 213,000 square feet of office space, 36,000 square feet of leased retail and restaurant space, and below-grade accessory parking.
A 505-room hotel is proposed for a location on Congress Street near the BCEC. The proposed development will also include 9,000 square feet of leased retail space and accessory parking.
Additionally, Wynn Resorts and Suffolk Downs, with partner Caesars Entertainment, announced in 2012 preliminary plans for proposed casino developments, each approaching $1 billion, in Greater Boston; however, these proposed developments are contingent upon receipt of a Massachusetts gaming license. In addition to the two Boston proposals, Foxwoods Resort Casino is proposing a casino in Milford. The license is expected to be awarded to a single developer for Eastern Massachusetts by March of 2014.

Outlook on Market Occupancy and Average Rate
Hotel occupancy levels in the Boston market have rebounded since the recession. HVS expects occupancy to strengthen gradually going forward, reflecting levels similar to those just prior to the recession over the course of the next several years. Although proposed new supply is anticipated to satisfy the unaccommodated demand currently in this market, Boston's strong financial, technology, education, and healthcare sectors should help generate enough demand to keep pace with the new supply. Leisure demand in Boston is largely seasonal and driven by the area's wealth of historical landmarks, popular sports events, and universities; therefore, hotels in this market will benefit from aggressive sales tactics to target corporate groups from regional businesses, particularly in the slower winter months. Over the next several years, HVS expects RevPAR to strengthen gradually as hoteliers seek to maintain occupancy while pursuing higher average rates.

Recent Hotel Transactions
The following table summarizes hotel transactions in the state of Massachusetts since April of 2010.

REVIEW OF HOTEL TRANSACTIONS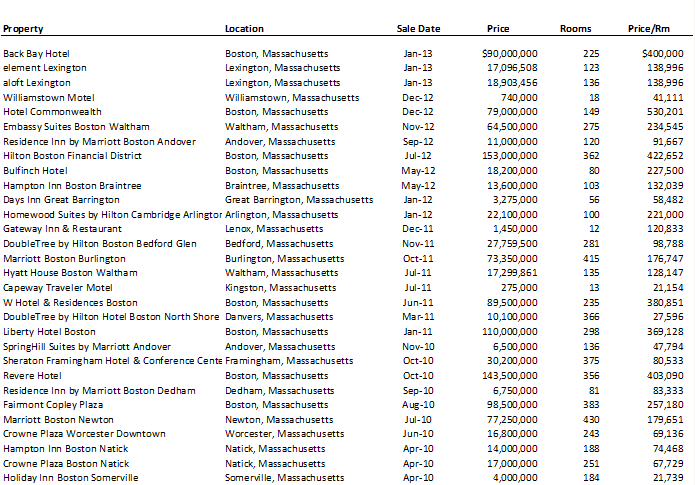 The summary of transactions illustrates a steady pace of hotel property sales across a variety of market segments and acquisition opportunities throughout the last few years. The sales represent acquisitions of stabilized assets by institutional investors, as well as repositioning opportunities for entrepreneurial owner-operators. The table below illustrates historical and forecasted per-room values for Boston hotels.

TEN-YEAR ESTIMATED PER-ROOM VALUES FOR BOSTON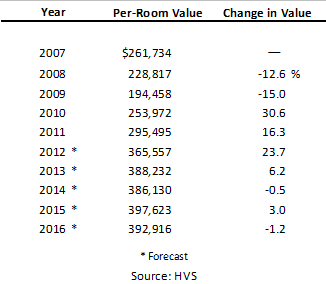 The HVS 2012 U.S. Hotel Valuation Index forecasts moderate growth in Boston's hotel values through 2016. Boston's per-room values declined from 2008 through 2009, but recovered in 2010 and 2011, limiting the upside potential for per-room values through 2016.

Conclusion
Recent trends in hotel performance, proposed developments, and transactions demonstrate the strength and resilience of Boston's lodging industry. The market's future growth is largely dependent on demand generated by the finance, education, healthcare, and technology entities in Boston, all of which have assisted in the market's recovery following the economic downturn. Travel to the market reportedly began to return in force mid-year 2010, and the market has demonstrated a period of gradual growth since then. Boston offers sound opportunities for investors seeking stabilizing assets, as well as selective opportunities for repositioning existing assets and new development.