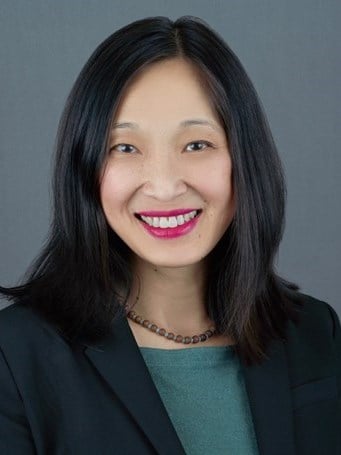 The economy of South Carolina's Greenwood County has evolved from its roots in textile production to large-scale manufacturing, health care, and research and development enterprises. Located southeast of Greenville, the area continues to diversify its economic drivers and hotel demand generators, with attractions ranging from museums and historic mansions to the literally grassroots Festival of Flowers, a major event for gardening enthusiasts nationwide.
The following HVS Market Pulse article looks at the impacts of this diversification on Greenwood's hotel industry.
Key Industries and Business Development
Self Regional Healthcare (SRHC) features cancer, heart, and vascular centers, as well as a women's center and neonatal intensive-care unit. The healthcare facility also offers gastrointestinal and orthopedic services, as well as neurosurgery and neurology. Multimillion-dollar renovations were completed in June 2015, and the facility now features a lobby area comprising a 4,000-square-foot atrium, a modernized cafeteria with flexible space, expanded laboratory facilities, and an enhanced cancer-treatment facility.
Although these upgrades did not result in the creation of new jobs, the modernized and efficient healthcare facility is anticipated to attract more patients from surrounding areas, as well as new residents.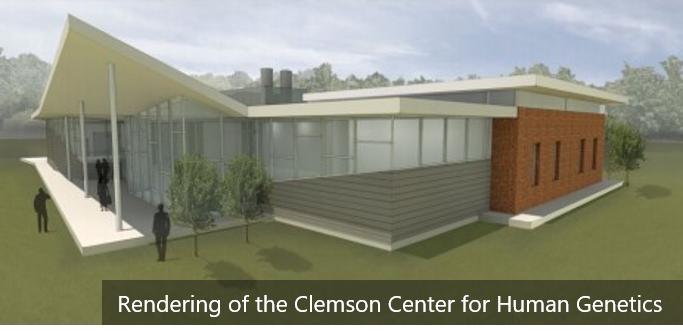 In 2014, SRHC committed to a $5.6-million gift contribution over three years to the Clemson University Center for Human Genetics and the Greenwood Genetic Center. This alliance has culminated in the development of a new 17,000-square-foot Center for Human Genetics (CHG), situated adjacent to the J.C. Self Research Institute at the Greenwood Genetic Center. The new center, slated to open in the summer of 2016, will house research on diagnostics and effective treatments for various health disorders including autism, cancer, diabetes, and heart disease.
The Center for Human Genetics is expected to enhance research capabilities at the institute, broaden Clemson University's doctoral program in human genetics, and create a globally competitive research and development team. The center will also create jobs related to research, manufacturing, and agriculture over the next decade.
Manfacturing
Manufacturing has been a source of growth and challenge in Greenwood County. Greenwood was the worst hit county across the nation in terms of poverty rates in 2011, the result of a dismantled textile industry that left many out of work. Without an interstate roadway, the county is also at a disadvantage for distribution facility developments. However, its convenient location relative to major markets in North Carolina, South Carolina, and Georgia has made the area an important center for manufacturing plants, with several new developments cropping up in the last few years.
In 2012, Capsugel opened its $3-million, 9,600-square-foot Quality Control Laboratory in Greenwood. The lab, which adds to the company's existing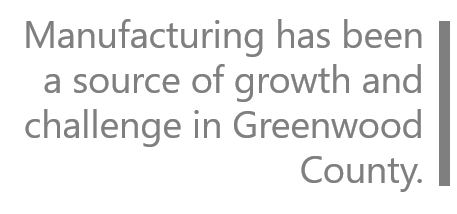 facilities in the area, serves as a global resource for the company's manufacturing sites and research and development laboratories.
In 2014, FUJIFILM Manufacturing U.S.A, Inc., which has maintained a partnership with Greenwood County since 1988, announced that it would invest $50 million over the next ten years to enhance its existing North American manufacturing and distribution headquarters in Greenwood.
Colgate-Palmolive is finishing construction on its $196-million, 525,000-square-foot manufacturing plant, which will operate the liquid hand soap, body wash, and deodorant production lines. The facility is scheduled to be fully operational by year-end 2016 and is expected to create roughly 300 new jobs. Colombo Energy, whose parent company is the Portugal-based Navigator Company, broke ground on its new site in Greenwood in March 2015. The $110-million Greenwood facility, which will convert forest matter into wood pellets as a renewable energy source, is scheduled to open in the third quarter of 2016 and is anticipated to create 70 new jobs.
City and county officials continue to target diversification. In February 2016, CrawlSpaceRepair.com relocated its headquarters from Wixom, Michigan, to a $650,000, 39,300-square-foot facility in Greenwood. County officials are also actively seeking potential tenants for the roughly 140-acre Greenwood County North Industrial Park.
Education
Anticipating growing levels of enrollment, Landers University, which sits in the heart of Greenwood County, is at the tail end of a ten-year revitalization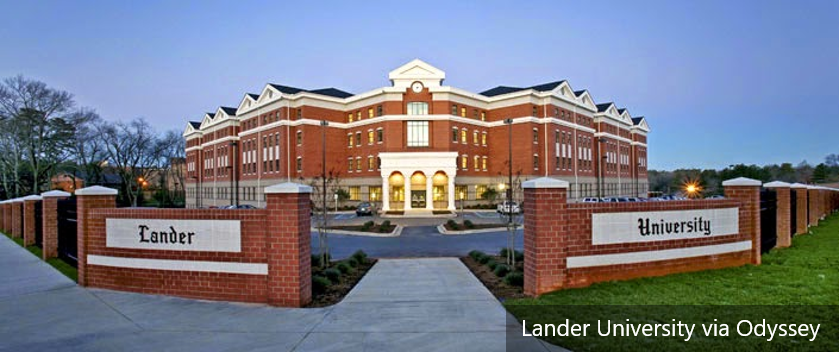 master plan. The 300-bed Centennial Hall was added in January 2006 and an upgraded dining hall reopened in January 2007. In 2011, the 25-acre Jeff May Sports Complex opened, boasting the 950-seat Stephen B. Donley baseball stadium, the Doug Spears softball field, and the Joe Cabri tennis complex featuring twelve courts. Community sporting events are also held at the sports complex.
In January 2013, the University unveiled its new, 6,800-square-foot fitness center, which was converted from the space that had housed its indoor pool. In the fall of 2015, a new, $15-million, 71,000-square-foot residence hall opened, accommodating 208 students and featuring study and social rooms on each floor, as well as a 60-seat multipurpose smart room. Last October, Moran Assembly Plaza began a major renovation that is slated for completion in the summer of 2016.
Piedmont Technical College offers specialized programs such as agribusiness, business information technology, engineering technology, health science, industrial technology, and nursing. Piedmont Technical College has contributed to the continued growth of Greenwood County, as many companies relocate to the area or expand based on the availability of a local labor force with the required specialized skill sets.
Enhancement of Uptown Greenwood
As part of the 2003 Uptown Master Development Plan, the City of Greenwood has undergone phases of beautification efforts for more than a decade, with over $23 million spent to date on investments to create a distinguished city center area.
Unveiled in April 2016, the Uptown Market promotes local and organic produce and provides support and education to local farmers regarding sustainable practices. A 3,600-square-foot interactive water attraction opened at the Uptown Market in May 2016. The multi-jet fountain, which operates by means of a state-of-the-art water recirculation and treatment system, is used not only used for recreation but is also used to promote water conservation and environmental responsibility.
Leisure and Tourism
Lake Greenwood State Park, which is located in the town of Ninety Six in Greenwood County, offers a variety of activities for water enthusiasts. The state park, which features the 11,400-acre Lake Greenwood, attracts birdwatchers, anglers, paddle boarders, and boaters from throughout the region. The park also hosts bass-fishing tournaments and the South Carolina Festival of Flowers Triathlon.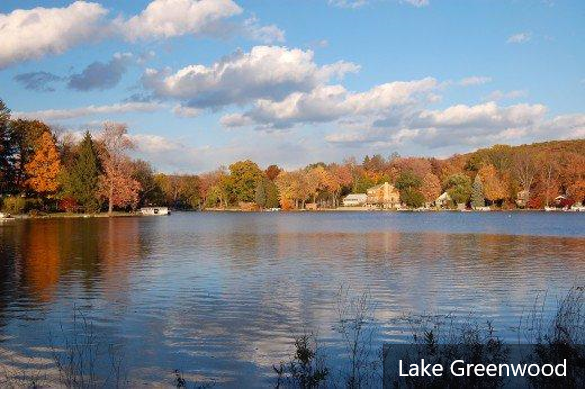 The Drummond Center, which overlooks Lake Greenwood, can accommodate up to 169 people for banquet events. The center is rented for corporate meetings and retreats, as well as SMERFE-related events such as weddings, family reunions, and receptions. The state park also features four picnic shelters, two children's playgrounds, and 125 paved campsites.
Annual events bring a rise in regional tourism to Greenwood County. The South Carolina Festival of Flowers is a four-day event in June that celebrates nature, arts, amateur sports, and cuisine. The 2014 SC Festival of Flowers brought in more than 81,000 visitors and had an economic impact of roughly $3.1 million.
The annual four-day South Carolina Festival of Discovery is held in Uptown Greenwood in July. The festival displays arts and crafts, highlights barbecue dining, and offers the popular "Blues Cruise," which features the music of prominent blues musicians from the Southeast. The economic impact of the 2015 Festival of Discovery was slightly over $2.1 million, a 5% increase over the prior year. Festival attendees traveled from 13 states and contributed roughly 1,600 room nights to local hotels. Additionally, the Catfish Festival is held annually in Ware Shoals over Memorial Day weekend, drawing thousands of visitors to the area.
Amateur, professional, and youth sports also contribute to the economic growth of the Greenwood County area. The Greenwood Country Club hosts amateur golf and tennis tournaments throughout the year. Golf enthusiasts attend the Self Regional Healthcare Foundation Women's Health Classic, part of the Symetra Tour – Road to the LPGA, which has been held in Greenwood since 2013. In 2015, over 15,000 people attended, which contributed to an overall economic impact in excess of $2 million.
The Jimmy Self Golf Tournament is held annually by the South Carolina Junior Golf Association. In addition, the J.C. "Fox" Boozier Sports Complex in the town of Ninety Six, the Larry Traynham Center and Young Park in Ware Shoals, and area high schools host numerous youth baseball, softball, and soccer tournaments.
Residential Development
Commercial development in Greenwood County has spurred growth in the residential communities.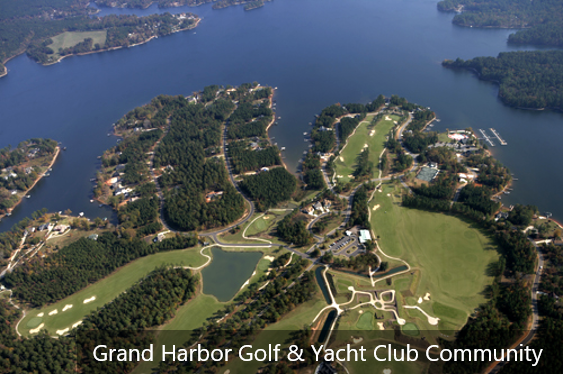 The Grand Harbor Golf & Yacht Club, located in nearby Ninety Six, is a gated community situated on the shores of Lake Greenwood. The community features a yacht club and aquatic center, a Davis Love III-designed golf course, three tennis courts, and an equestrian center. The community of duplexes, cottages, and estate homes is increasing in popularity as a retirement destination.
The 20-year Lake Greenwood Master Plan provides guidance on environmentally conscious uses and preservation of the Lake Greenwood area and its natural resources. A future mixed-use development is anticipated to promote the area as a tourist destination and attract new residents. The neighborhood-scale development will incorporate high-end residential accommodations with retail establishments and dining venues that complement Lake Greenwood and its surroundings. Additionally, an amphitheater or public-gathering venue, as well an upper-midscale to upscale hotel component, are being considered for this development.
Hotel Supply
Of the 655 hotel guestrooms in Greenwood County's inventory as of May 2016, roughly 85% belong to a brand or a major parent company, with the remaining 15% operating as independent hotels. Of the 559 branded rooms, Wyndham Worldwide operates approximately 23% of the current rooms in inventory. Marriott International, Hilton Worldwide, InterContinental Hotels Group, Choice Hotels International, Vantage Hotels, and Red Roof Inn also have representation in the market, ranging from 8% to 15% of total market share.
Eleven Open and Operating Hotels in the Greater Greenwood, South Carolina Area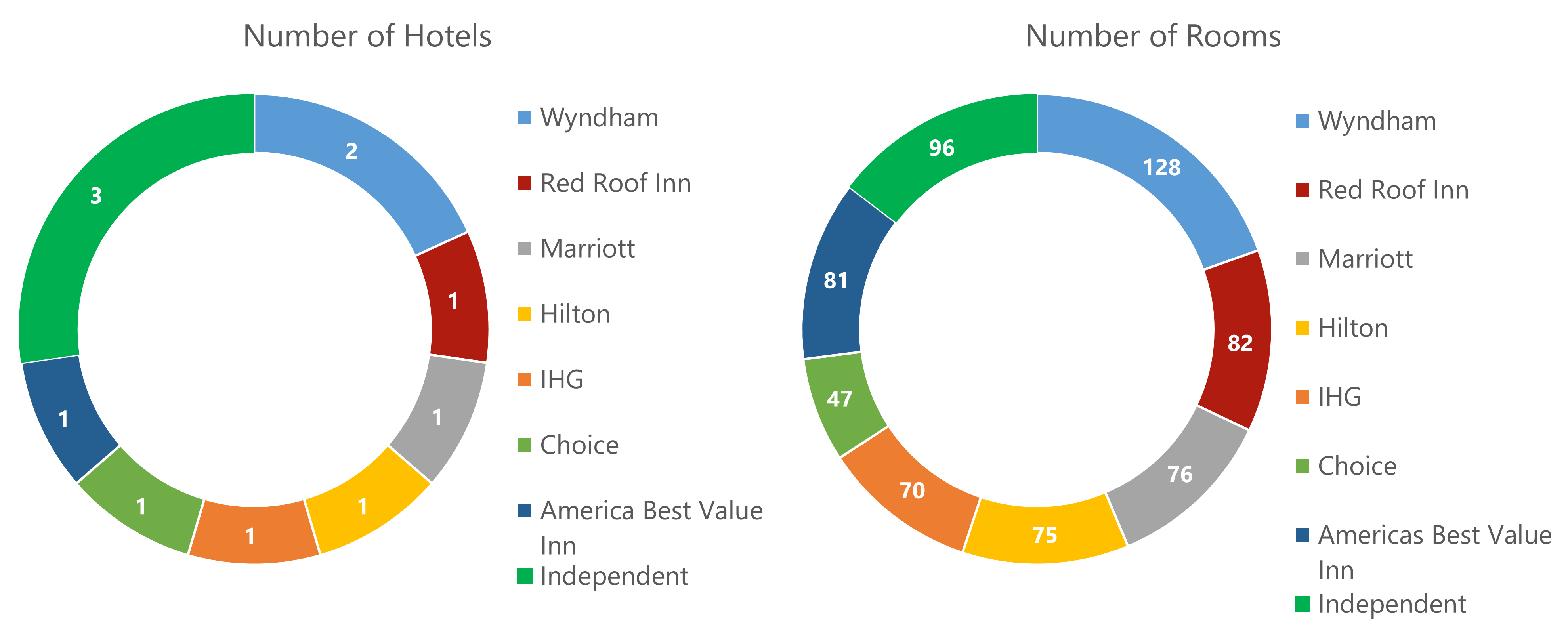 New Supply
An 86-room Holiday Inn Express Hotel & Suites is currently under construction and is slated to open in October 2016. The new hotel, which will be located at 300 North Creek Boulevard, proximate to Greenwood Mall, will boast the brand's latest "Formula Blue" design. Greenwood's existing two-story Holiday Inn Express Hotel & Suites will reportedly be converted and rebranded to either a Best Western or a Country Inn & Suites by Carlson.
Hotel Performance
In recent years, occupancy for Greenwood area hotels has registered in the low- to-mid 60% range, with average daily rates ranging from $79.00 to $81.00. In 2015, robust demand from construction crews and commercial travelers, coupled with an increase in leisure travelers, bolstered occupancy levels to approximately 70% and brought average rate gains of almost $6.00.
Demand growth is anticipated to continue in 2016, supported by the advance of construction projects and ongoing commercial and leisure demand. Additionally, the Center for Human Genetics at the J.C. Self Research Institute, which is scheduled to open in the summer of 2016, is expected to become a major demand generator, with patients (and family and friends), domestic and international medical professionals, and vendors seeking rooms at area hotels.
Outlook
The ongoing diversification of industries in Greenwood County should continue to strengthen the local economy going forward. The revitalization of Uptown Greenwood, company expansions, and research conducted at the Center for Human Genetics, along with local efforts to increase tourism, are likewise expected to generate a higher volume of hotel demand, making for an optimistic outlook for the market going forward.