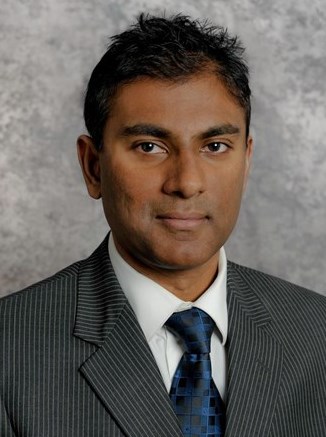 Miami: A Global City
The terms "global city," "world city," "top-tier city," and "alpha city" have been used to describe a metropolitan center that acts as a key node in the global economic system. Global cities are well known to travelers worldwide, with notable urban designs and cultural attractions, major commercial centers, and diverse economic underpinnings generating interest, investment, visitation, and acclaim.

Miami has long been a city of great fame, and in the past decade, the diversity of Miami's industries and economy has made it a veritable alpha city, as well. Miami ranked 30th in the 2016 Global Cities Index (GCI) survey, and 7th among the 12 U.S. cities represented. The GCI metric ranks 125 global cities, measuring 27 metrics across 5 dimensions: Business Activity (30%), Human Capital (30%), Information Exchange (15%), Cultural Experience (15%), and Political Engagement (10%).
2016 Global Cities Index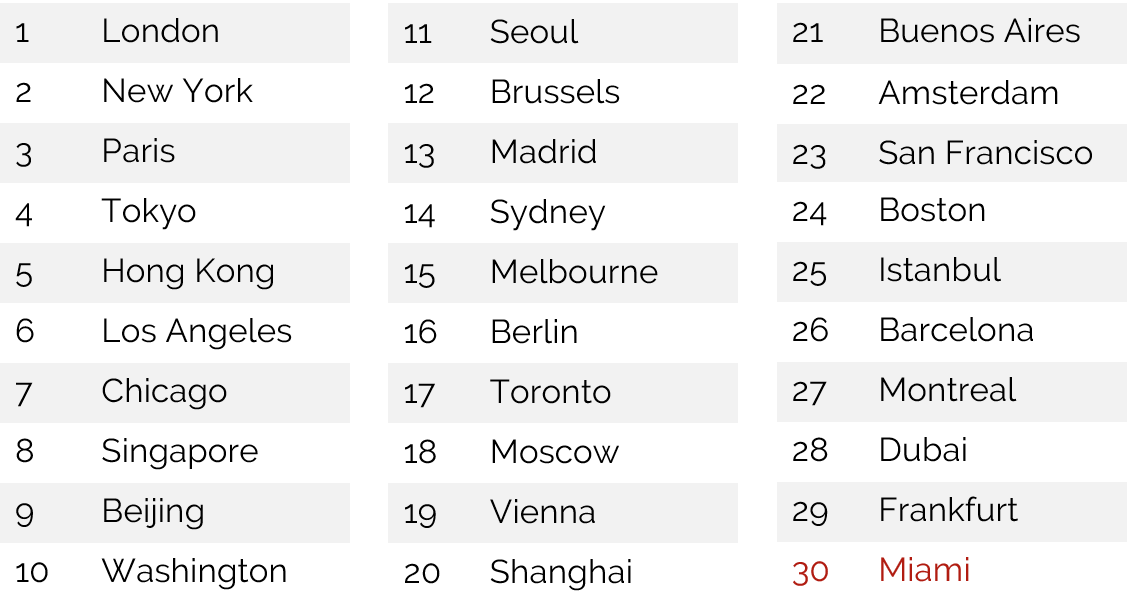 Source: A.T. Kearney Consulting
Several factors make Miami an active center for commerce and business, including the following:
Florida's favorable tax policies: The Tax Foundation ranked Florida 5th among the 50 U.S. states.
Miami's diverse economy: Tourism, real estate development, banking, digital technology, and health care are the cornerstones of Miami's economy, which WalletHub ranked as the 18th most-diversified economy among 350 U.S. cities.
Miami's political, cultural, and geographic positioning: Miami serves as the business hub for many Latin American corporations outside of their home country. The city also enjoys a strategic location relative to vital markets in South America, Central America and the Caribbean.
2016 Ranking of Top U.S. Cities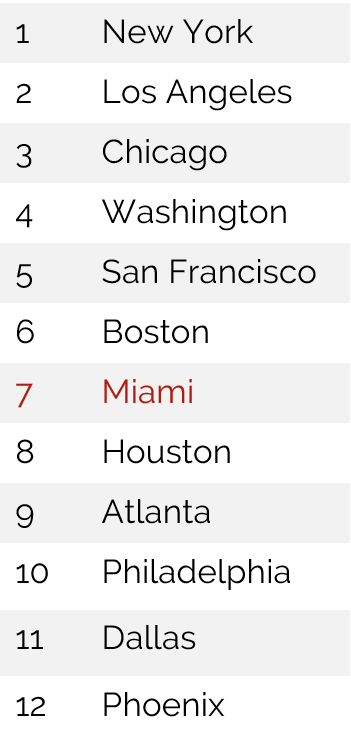 Source: A.T. Kearney Consulting
Miami's Gross Domestic Product
Gross Domestic Product (GDP) measures the annual monetary value of all final goods and services produced within a defined time period. GDP represents the sum of consumption (public and private), government spending, total investment, and net exports (exports minus imports). The measure of GDP is the broadest quantitative measure of the economic output of a region.
Miami Ranks 12th in GDP of Top U.S. Metropolitan Areas (2015, U.S. Millions)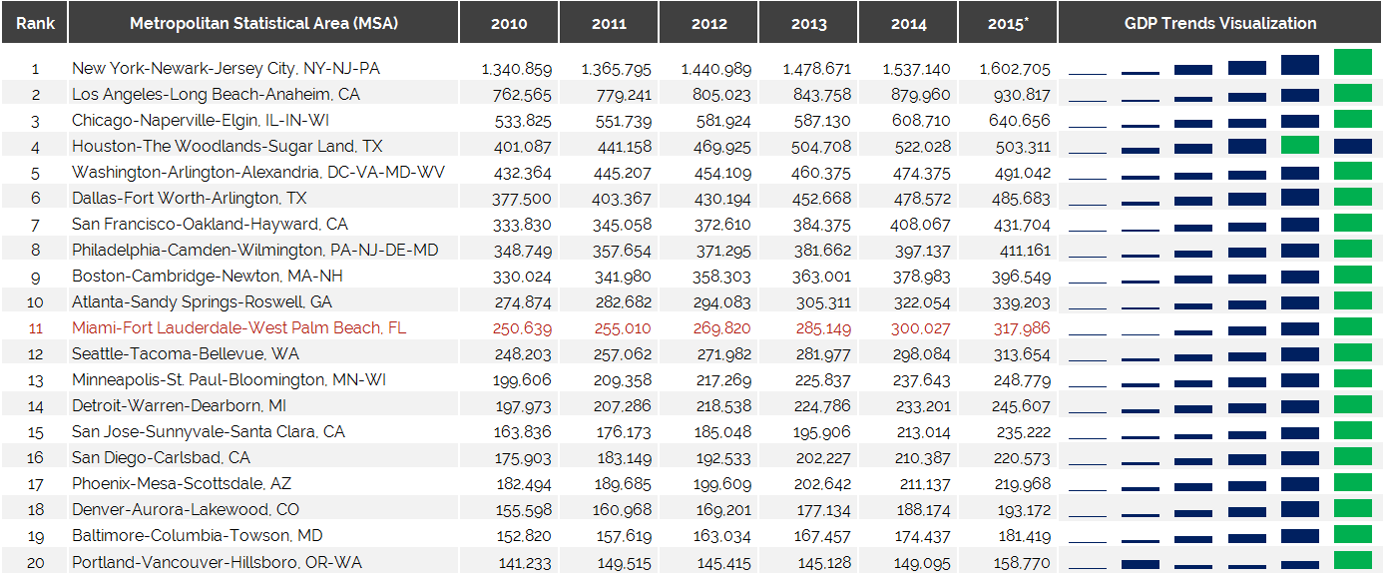 * Advance statistics
Source: U.S. Bureau of Economic Analysis
As of 2014, the last year for which complete data were available, the Miami metropolitan area, which comprises the counties of Miami-Dade, Broward, and Palm Beach, produced an annual GDP of nearly $320 billion. This qualified the area as the 11th highest GDP producer in the U.S.
Miami's Vital Urban Population
As of 2015, more than half of the world's population had migrated to cities. The United Nations estimates that by 2050, urban areas will house over two-thirds of the population worldwide. A study conducted by Professor Gilles Duranton of the University of Pennsylvania's Wharton School established a positive correlation between a city's population and economic growth. Cities with large populations have benefits not available to other small cities, generally including the presence of educational institutions, infrastructure, and the ability to attract highly skilled workers.
The South Florida metropolitan area, as designated by Miami-Fort Lauderdale-Pompano Beach, is the most populous metropolis in the southeastern U.S. and the eighth most populous MSA in the nation. With more than six million residents, the Miami-Fort Lauderdale-West Palm Beach area correlates to strong economic potential, per Professor Duranton's findings.
South Florida's Metro Area Population Tops 6 Million in 2015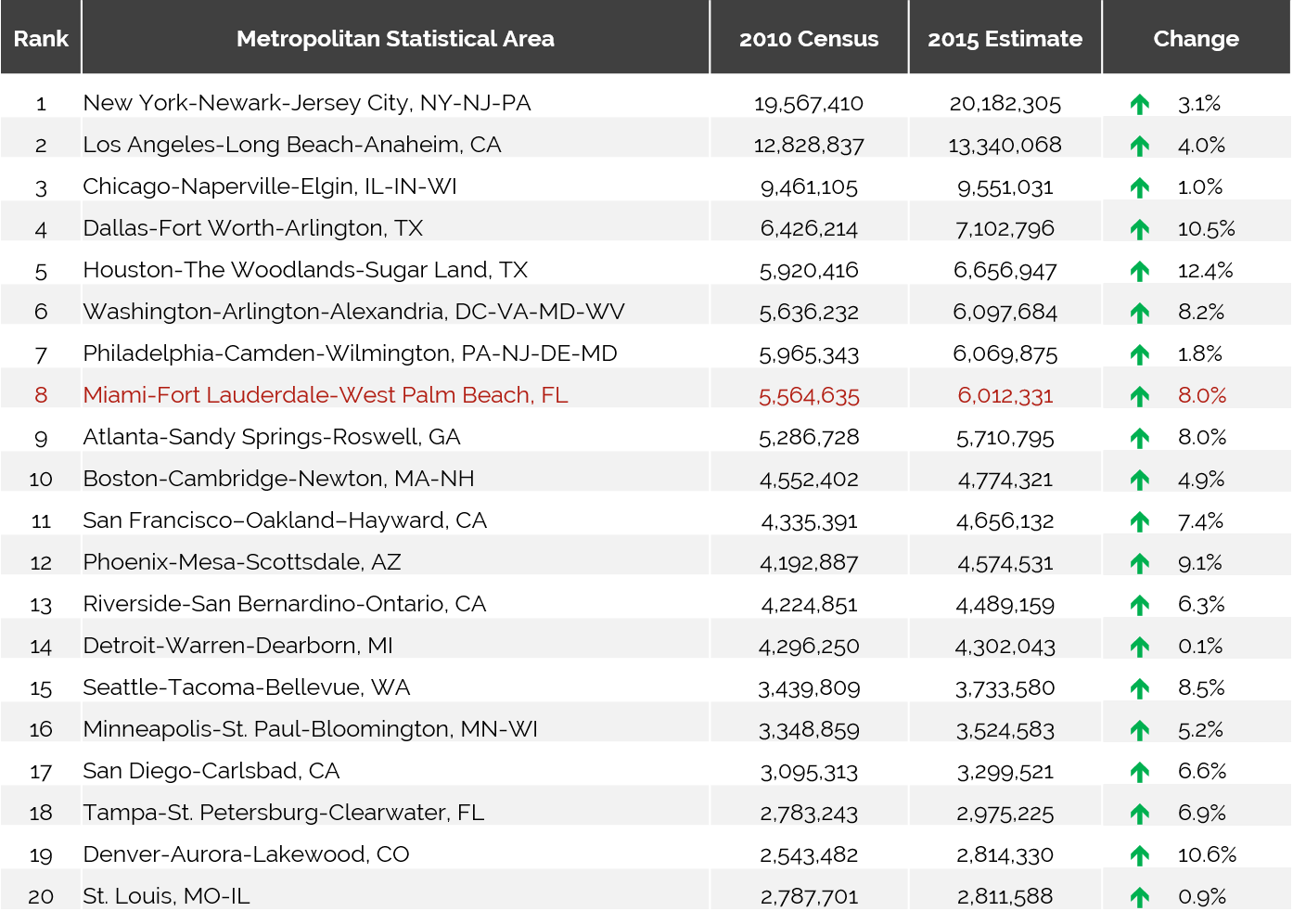 Source: U.S. Bureau of Economic Analysis
Miami's Fortune 1000 Companies
Miami's financial institutions, major international airport, cultural attractions, favorable business climate and cost of doing business, colleges and universities, quality of life, and solid infrastructure have attracted prominent international companies.
Miami Ranks among Top 25 U.S. Markets for Number of Fortune 1000 Company Headquarters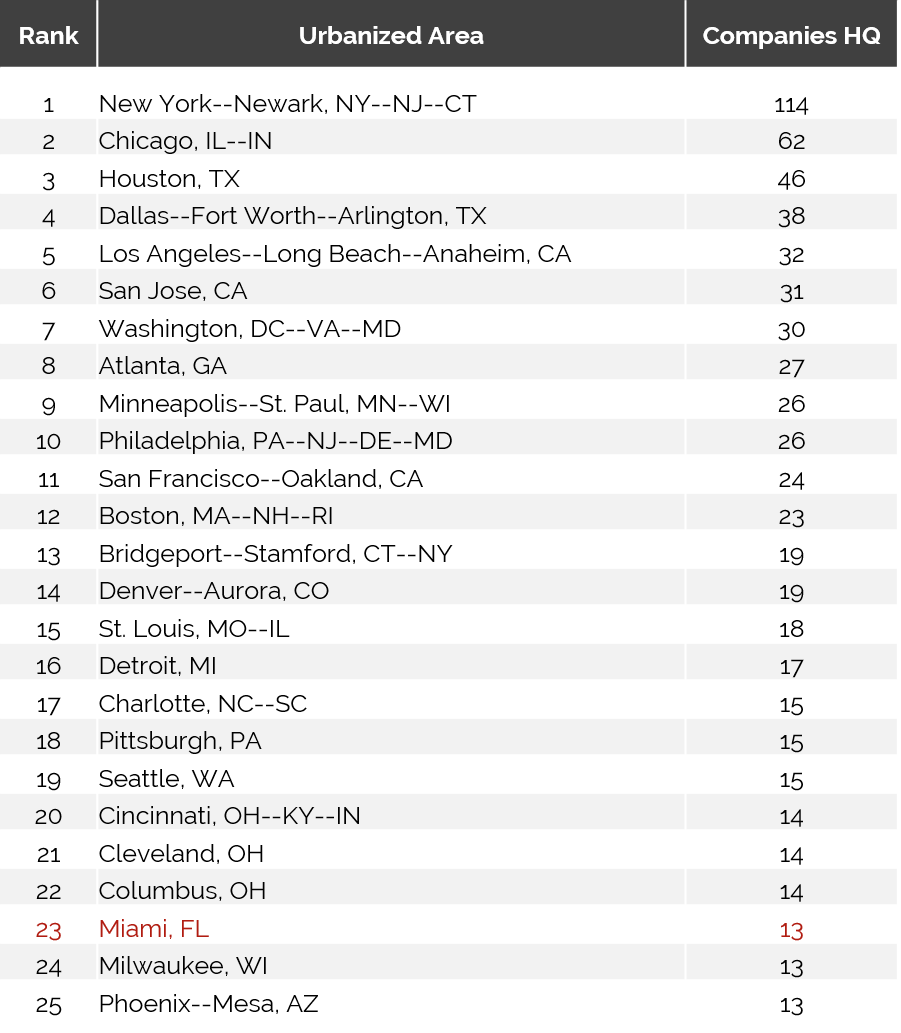 Source: GeoLounge
The greater Miami area hosts the headquarters of 13 Fortune 1000 companies. Based on overall economic indicators, most business professionals expect Miami to move up in this list over the long term.
Miami's Human Capital and Cultural Diversity
Human capital, as defined by the World Economic Forum, is the knowledge and skills embodied in individuals that enable them to create economic value. Human capital is a more important determinant of long-term economic growth than virtually any other factor, with evidence suggesting that a greater concentration of human capital results in increased economic growth and productivity. The U.S. ranks 24th among world nations in the latest 2016 Human Capital Index.
Factoring into the human capital equation is linguistic and cultural diversity, as well as the presence of highly skilled workers. As illustrated in the following chart, Miami has the highest proportion of foreign-born residents among major metropolitan cities in the U.S. Over 70% of Miami's residents hail from multicultural backgrounds, with most highly skilled immigrants from Latin America. Over 50% of the residents of Miami-Dade County speak Spanish, with a substantial percentage of residents who speak Portuguese and French Creole. The greater Miami metropolitan area is also home to nearly 5.6 million people representing 125 countries and 68 languages.
Miami Ranks First in U.S. for Percentage of Foreign-Born Residents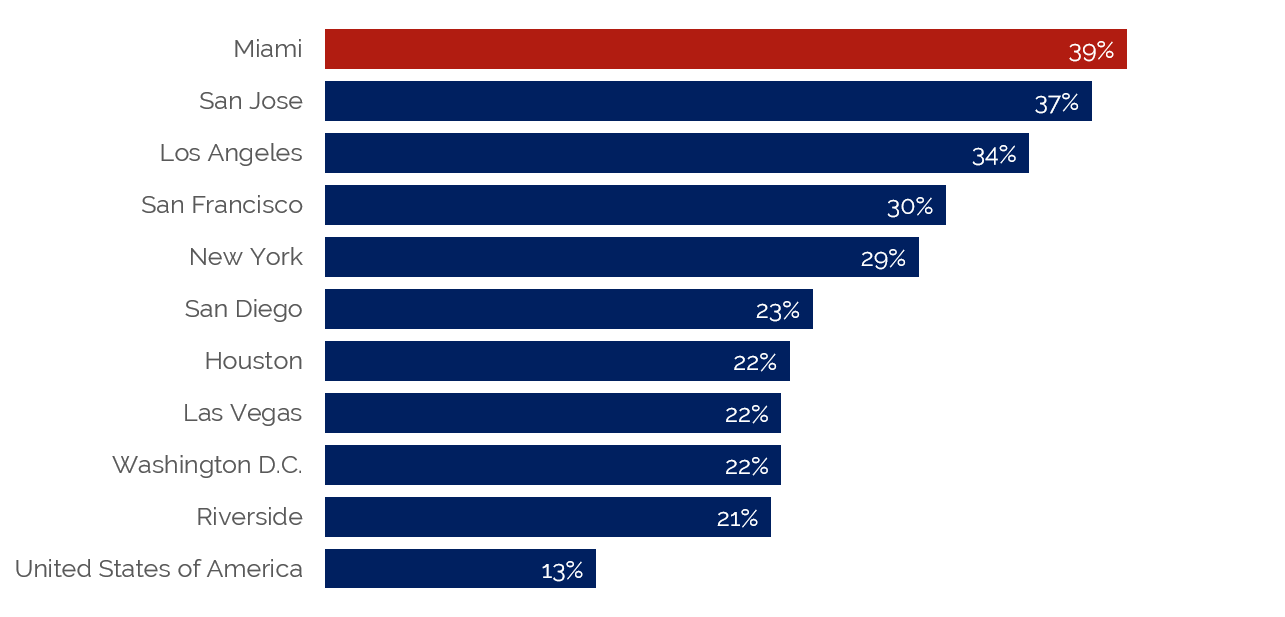 Source: CityLab
U.S. Dollar Versus Other Major Currencies
The flow of foreign capital into the U.S has intensified since the 2008/09 recession, as investors look to the U.S. to act as a hedge in response to depreciating domestic currencies. The following table illustrates the strength of the U.S. dollar's exchange rate versus that of other major currencies worldwide.
Currency Fluctuation of U.S. Dollar versus other Currencies

Source: XE.com
The Brazilian Real and the Argentinian Peso have been included as they are relevant to investments in the Miami market. The Chinese Yuan is not freely traded in world markets, but has been pegged to the U.S dollar.

All other currencies experienced depreciation versus the U.S. dollar from 2008 to 2009. The only exception was the Japanese Yen, which appreciated by 19% during the same period. The U.S dollar has also shown strengthening versus all other currencies in 2015 and 2016 (again, with the exception of the Japanese Yen).
Foreign Investment in Real Estate Assets
A 2016 survey conducted by the Wisconsin School of Business illustrated that the United States provided the most stable environment and the best opportunity for capital appreciation of real estate investments. Miami ranked eighth among U.S. metropolitan cities based on capital inflow for real estate investments.
U.S. Cities Ranked by Foreign Investment in Real Estate

Source: Wisconsin School of Business - James A. Graaskamp Center for Real Estate
Since the 2008/09 recession, buyers from Europe and South America, attracted by the weakness of the U.S. dollar, have brought a resurgence of the real estate market by paying record-breaking prices for property. Political instability in both Venezuela and Brazil has fueled an increase in investments from those regions.
However, a weakening economy and drastic currency depreciation in those regions has reduced purchasing power and slowed the momentum of investments. The further depreciation of foreign currencies is expected to result in a declining number of residential sales. On the other hand, Chinese buyers have continued to increase in number. Causes include the slowdown in the Chinese economy, the anticipated depreciation of the Yuan, China's slowing exports and economic growth, and the country's uncertain political climate, all of which have forced an exodus of capital from wealthy investors.
Central and South American Countries Dominate Residential Real
Estate Investments in Miami-Dade County

Source: Miami Association of Realtors and the National Association of Realtors (NAR), 2015
Airport Trends
Miami International Airport (MIA) ranked 10th nationally and 28th worldwide in 2015 in terms of total annual passenger counts. Approximately $6.4 billion in capital improvement projects at MIA have been approved over the last decade; in addition, plans to transform MIA's Landside Terminal into a nine-story shopping mall with hotel and office space have been proposed. In addition, the Fort Lauderdale-Hollywood International Airport Improvements and Renovations Program (FLLAIR) is expected to cost $2.4 billion. These expansions are the result of increasing demand, a trend that is anticipated to continue.
MIA Ranks among Top Ten U.S. Airports for Passenger Count
Source: Airports Council International - North America
Miami should gain from the recent introduction of direct intercontinental flights from Qatar Airways (Miami to Doha), Etihad Airways (Miami to Abu Dhabi), and Emirates Airlines (Fort Lauderdale to Dubai). A Bloomberg report recently stated that Cathay Pacific is considering adding a nonstop flight from its base in Hong Kong to Miami, as well.
Local business leaders and the Greater Miami Chamber of Commerce have long coveted a direct flight to Asia, with a nonstop flight to China being the preferred destination. Given that no airline operating out of MIA provides direct flight service to Asia, this would potentially bring enormous benefits through enhanced trade and investment with Asia, which currently has a total GDP of over $25 trillion.
Port Statistics
Port Miami is now the only major logistics hub south of Virginia capable of handling fully laden post-Panamax vessels. Port Miami can service cargo vessels up to 22 containers wide, in addition to 9 containers above deck and 11 containers below. More than $1 billion of capital infrastructure projects have transformed Port Miami into a major global gateway. The project is part of a high-stakes competition between major ports located on the east coast of the U.S. to capitalize on the expansion of the Panama Canal.
Port Miami's Recent Renovations Increase Capacity for Total Cargo (Tonnage)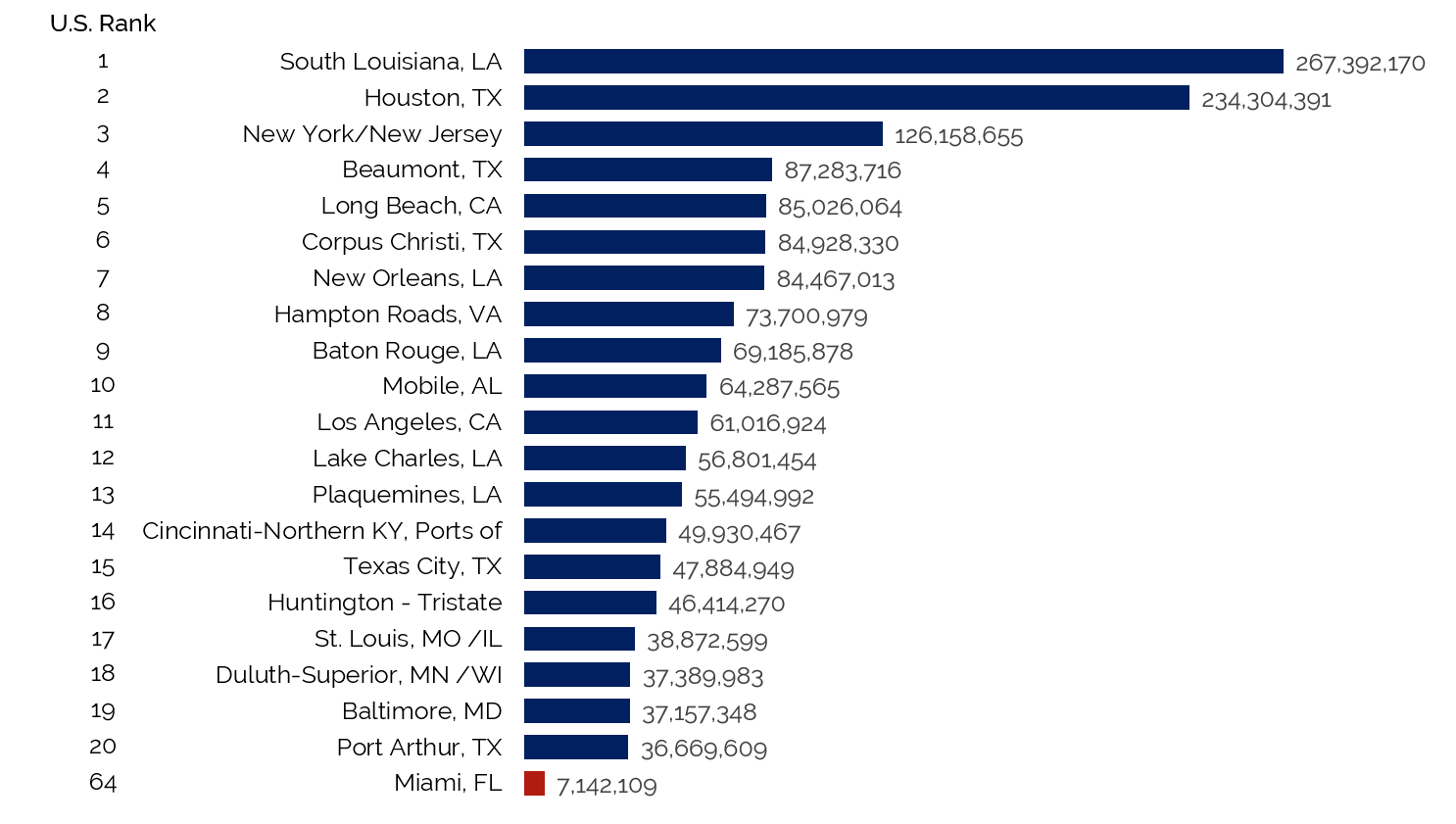 Source: American Association of Port Authorities (2014 – latest available data)
In addition, a combined 8.9 million passengers came through Port Miami and Port Everglades in 2014, far exceeding every other cruise port region in the world. Recognized as the "Cruise Capital of the World," Port Miami has remained the leading cruise and passenger port worldwide for over two decades, with 5 million passengers in the most recent calendar year.
HVI: Miami's Standing among Top U.S. Hotel Markets
HVS's Hotel Valuation Index (HVI) presents a measure of broad hotel market trends based on information on 70 U.S. hotel markets. We have presented a table of year-over-year changes in hotel value measured by price-per-room. The following chart indicates the average rate of change in Miami hotel values at 9.8%. This is well above the national average of 7.5%, another indication of the strength of Miami's hotel market.
Miami Hotel Value Growth Stands above National Average
New Developments
The following lists new developments that have had a major impact on the Miami economy over the past decade.
Brickell City Centre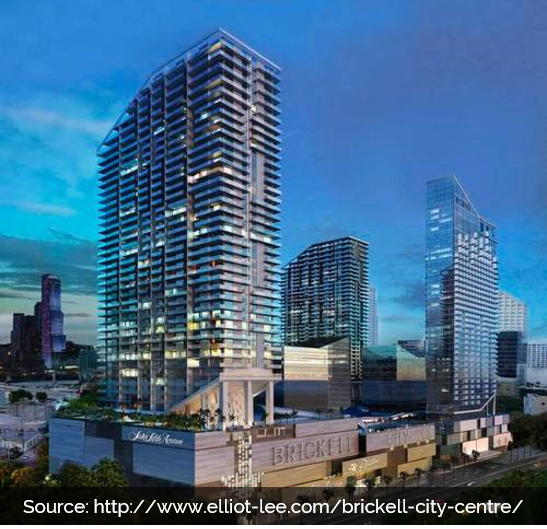 The Swire Group, through its local subsidiary Swire Properties, is the developer of the Brickell City Centre project, a $1-billion, ten-acre, mixed‐use development and the largest private-sector venture of its kind in Miami's history. The project comprises 5.4 million gross square feet and will include a shopping center, two residential towers, a wellness center, serviced apartments, and two office buildings, together with two levels of underground parking. Brickell City Centre will also feature the EAST hotel, a 40-story, 352-key property that opened mid-year 2016.
The Swire Group is a publicly traded company whose holdings include Cathay Pacific Airlines (Hong Kong's largest airline), Swire Hotels, and mixed-use developments such as Pacific Place in Hong Kong and INDIGO in Beijing. Swire also developed Brickell Key, a $1-billion complex located on a man-made island just east of Downtown Miami. With a population of just over 2,100 residents, Brickell Key's main features include high-rise condominiums and the Mandarin Oriental Hotel.
Swire Properties' purchase of land just after the collapse of the real estate market in Miami signaled a vote of confidence in the market, kick-starting the further development of residential and commercial improvements in Miami's Brickell and Downtown areas.
Miami Worldcenter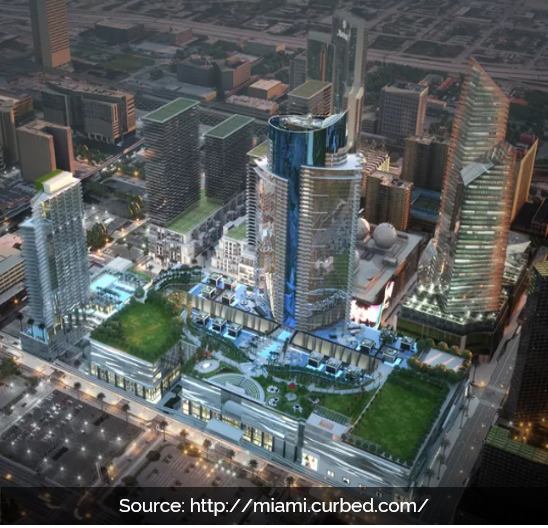 Miami Worldcenter (MWC) is a transformative, mixed-use development located immediately north of Downtown Miami's Central Business District. MWC currently represents the largest real estate project in Miami, with an anticipated 27 contiguous acres of retail, residential, hotel, and institutional uses. The project will include an estimated 450,000 square feet of retail space (including destination dining, European-style outdoor cafés, bars, restaurants, and boutique retail shops), 600,000 square feet of convention space, an 1,800-car garage, 1,700 hotel rooms, and a variety of residential living options. The development will be built at a total cost of $2 billion.
All Aboard Florida

(AAF) is a multibillion-dollar passenger train project that will provide a three-hour connection between Downtown Miami and Orlando. The route's two other planned stops include Downtown Fort Lauderdale and Downtown West Palm Beach. Set to begin service in 2017, AAF is estimated to attract five million visitors annually. Its new "grand central station" will be located adjacent to Miami Worldcenter in Downtown Miami. The station will connect with the existing Metromover and Metrorail systems, creating a truly integrated mass-transit hub.
Conclusions
More than $10 billion in development has recently taken place in Brickell and Downtown Miami, with more projects currently under construction. The completed projects should revitalize and redefine the Brickell/ Downtown Miami market into a safe, pedestrian-friendly epicenter for residences, restaurants, and nightlife venues, creating a 24/7 business, residential, and entertainment hub on par with other top-tier cities in the nation.
Miami is certainly moving up in nearly all metrics, including hotel values, the growth of which currently far outpaces the national average. These trends support an optimistic outlook for Miami's economy and hotel market over the long term.
hostels, condominiums, condominium-hotels, time share developments, restaurants, fractional interest developments, private residence clubs and mixed-use developments
worldwide. His background includes assignments for independently owned hostels and hostel brands in North America and internationally. Shiv earned a Master of Business Administration with a concentration in Financial Services from the University of Florida. He is a CFA Charterholder and member of the CFA Institute. Contact Shiv at +1 (786) 897 8094 or
[email protected]
Based in Miami, HVS Vice President Shiv Ariyakula, CFA, has worked for over a decade on appraisal and consulting assignments for hotels,