Introduction
Reno, "The Biggest Little City in the World," has been rapidly changing over the last decade. Gaming and casinos have taken a back seat to growth in a variety of sectors and industries, including high-tech, health care, education, transportation and distribution, and manufacturing. The growth has been driven by Reno's proximity to California, abundance of developable land, central access to eleven western states, tax and business-friendly polices, skilled workforce, and high (and affordable) quality of life.

With local and national economic growth continuing to accelerate and Reno's hotel market reaching beyond previous occupancy and average rate peaks, developers are again moving to build new, nationally branded, non-gaming hotels in Reno.
A Brief Look Back at Reno's Hotel Industry
Non-gaming hotels in Reno were particularly hard hit by the most recent recession. Demand fell with the declining economy, and the pipeline of new supply delivered an abundance of new hotels.
From August 2006 through September 2009, seven limited-service branded hotels, totaling 693 rooms, opened in Reno. Complicating matters, casino hotels, which have the flexibility of discounted rates, began offering rooms for as low as $20.00 a night. This negatively affected non-gaming hotels, which struggled to capture demand at rates that met the breakeven point for operations.
Business & Industry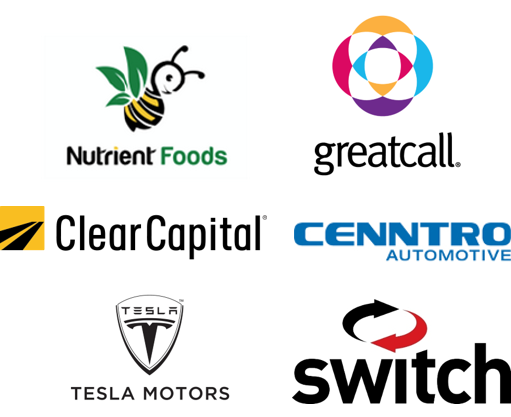 Since the recession, more than 30,000 jobs have been created in northern Nevada. Companies such as GreatCall, Nutrient Foods, Cenntro Automotive, Switch, and Clear Capital have expanded or relocated to the area, bringing the unemployment rate from a high of 14.5% in January 2011 to 4.2% as of December 2016.
Tesla Motors made a highly-publicized announcement to construct its first "Gigafactory" in Storey County, less than a 15-minute drive east of the Reno-Sparks area. Once it operates at full capacity, the facility is expected to employ over 10,000 people.
The "clustering effect" of these individual companies moving to and expanding in the area should drive further growth in jobs, population, and the local economy over the near term.
A study known as the EPIC (Economic Planning Indicators Committee) Report, completed in 2015, forecasts growth in the Reno metro area from 2015 through 2019. According to the EPIC Report, Reno's continually diversifying economy is anticipated to continue to drive growth in the area. The Reno-Sparks metro area is forecast to gain 52,400 new jobs through 2019, bringing the local workforce to more than 400,000. This equates to an annual growth rate of 2.9% per year over the five years. In addition, the population is expected to grow to 638,302 people, an increase of 42,395, by the close of 2019. This represents an annual increase of 1.4% per year, for a total of 7.1% growth over five years.
EDAWN, the Economic Development Authority of Western Nevada, has focused its strategic plan on attracting mid-size manufacturing, logistics, and technology companies, as well as helping local entrepreneurs to grow their businesses. One of the multiple ways this has been done is with the creation of Startup Row, the CUBE at Midtown, and the Reno Collective. Each of these innovative business districts offer shared workspace to foster entrepreneurialism, along with resources from the University of Nevada, Reno, including the Ozmen Center for Entrepreneurship.
Reno Tourism and Meeting & Group Demand
Casinos are still a dominant attraction for tourism and events in Reno, two demand segments that account for the vast majority of hotel bookings in the area. According to the Reno-Sparks Convention and Visitors Authority (RSCVA), approximately 12% of overnight stays are attributed to business and corporate travel in the Reno-Sparks metro area. The remaining 88% come from leisure and meeting/group demand. Hotel sales teams generate a reported average of 60% of total convention business in the market.
The United States Bowling Congress continues to provide a significant amount of meeting and group demand for the market, with major tournaments being held in Reno two out of every three years.
The RSCVA has made great strides over the last decade in repositioning Reno around its outdoor activities, arts and culture, and business innovation. Reno is primarily a drive-to market, although new air routes have come to the market in recent years. According to a 2015 visitors profile study, the demographics of Reno visitors are shifting to greater ethnic and geographical diversity. The study also notes increases in visitors aged 35 to 64 years, with more families traveling to the market.
Existing and Proposed Hotel Rooms in Reno-Sparks
The Reno-Sparks metro area includes 104 hotels with 19,425 guestrooms. The charts below illustrate the breakout of hotels and guestrooms in the four chain scales that currently operate in the market area. There are no hotels in the Reno-Sparks metro area that are considered part of the two highest tiers, upper-upscale and luxury. The Reno-Sparks metro area received no new hotel supply from September 2009 to September 2015. The nearly six-year dry spell coincided with the market's recovery from the 2008/09 recession, following a period of record hotel growth in the years just before.
Percentage of Guestrooms by Chain Scale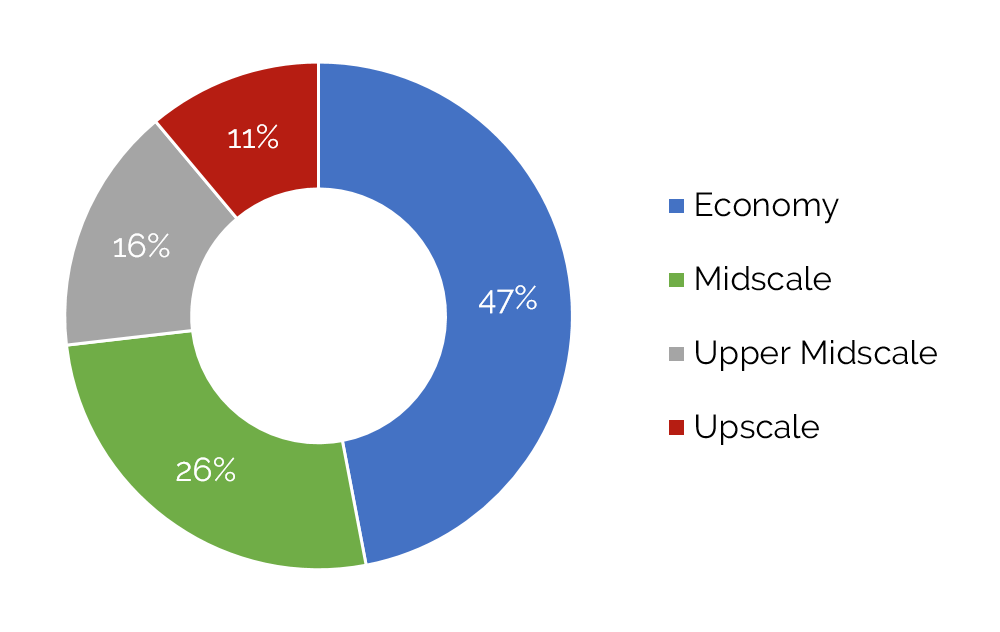 Percentage of Guestrooms by Chain Scale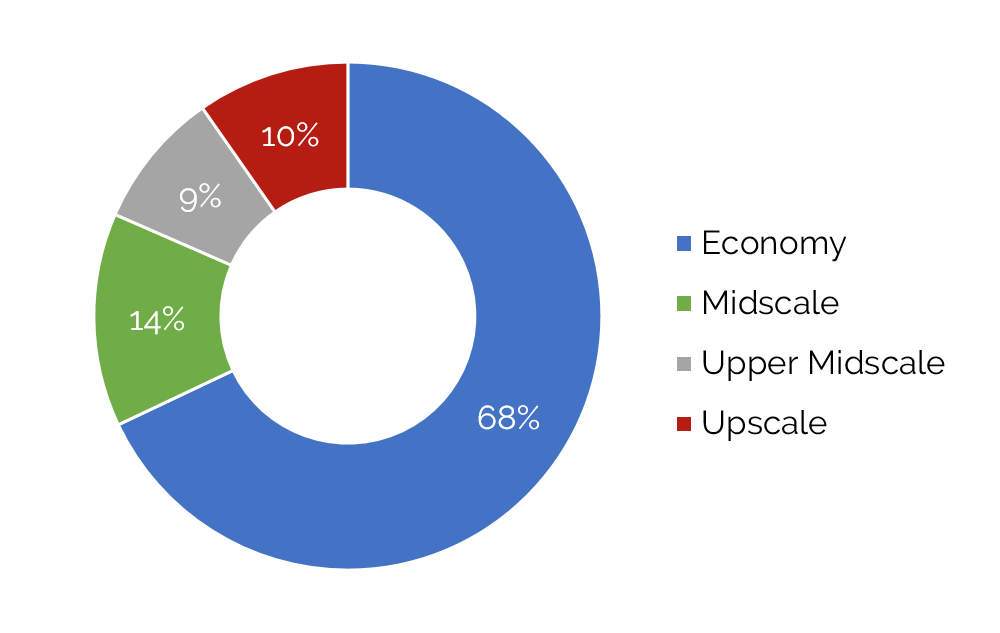 Source: STR
With virtually no new properties vying to compete for rising demand, existing Reno-Sparks hotels have recovered to pre-recessionary occupancy levels, with the market quickly absorbing new hotels over the last two years.
Non-gaming hotels, as shown in the figure below, averaged above 70% occupancy in the City of Reno's 2014/15 fiscal year, which runs from July to June. New hotel development is becoming increasingly feasible in Reno as occupancy and average rate levels rise. A 102-unit Hampton Inn & Suites by Hilton and a 104-unit Residence Inn by Marriott near the Sparks Marina broke ground in April 2017; these two hotels, which are expected to open in 2018, were originally planned prior to the Great Recession. A 125-unit Courtyard by Marriott is anticipated to break ground at the Tahoe Reno Industrial Center, near the Tesla site, in the second quarter of 2017. The addition of new supply, including the 86-unit Hampton Inn & Suites Reno West, was the primary reason for the decline in occupancy in 2015/16. More recently, the 135-unit Courtyard by Marriott Downtown Riverfront opened in August 2016.
Non-Gaming Hotels Report Highest Rates in 2015/16
Source: RSCVA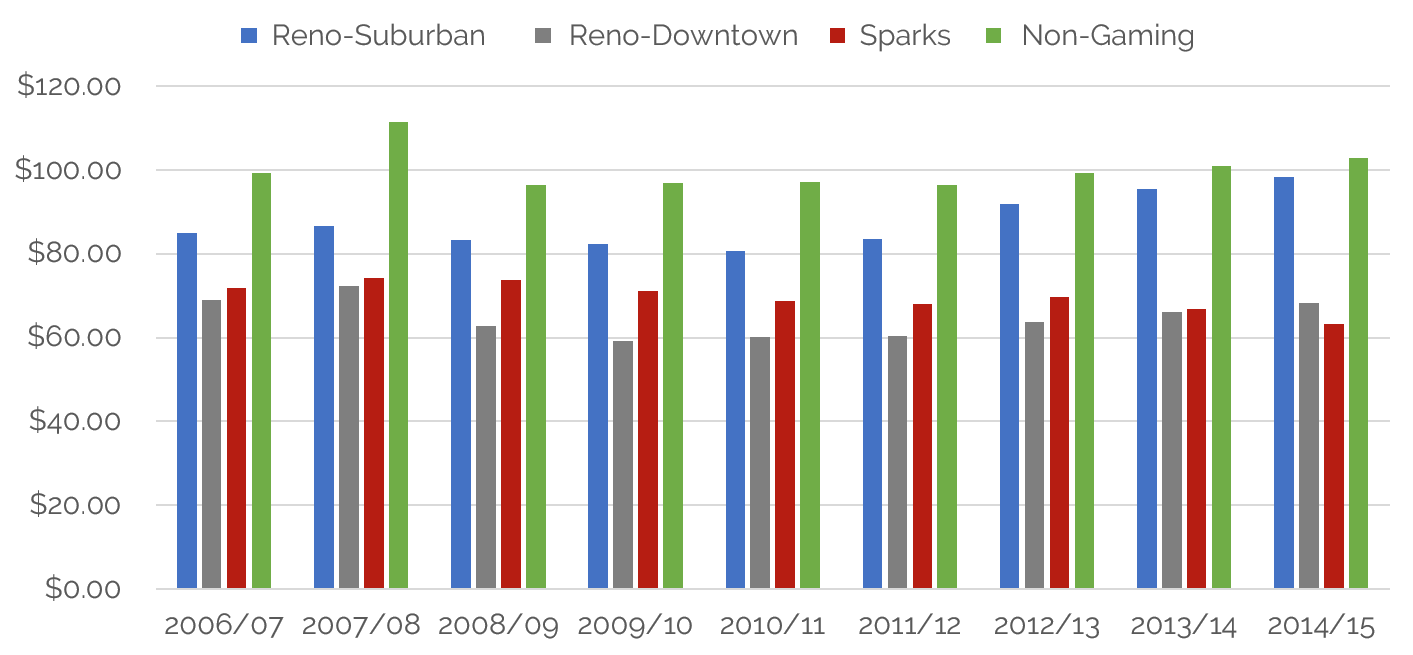 Source: RSCVA
According to HVS interviews with hotel general managers, local developers, and the RSCVA, occupancy and average rates are strong and growth continues for properties in the midscale, upper-midscale, and upscale chain scales.
In the summer of 2016, it was announced that the troubled Siena Hotel & Casino, located along the Truckee River in Downtown Reno, was going to be closed, renovated, and rebranded as a non-gaming, Marriott-branded Renaissance Hotel. The Renaissance is expected to open in April 2017. The Renaissance will be the first upper-upscale property in Reno-Sparks. HVS market research and interviews also found evidence of at least three additional non-gaming hotels under development in the Reno-Sparks market.
Conclusion
While the number of new non-gaming hotels opening over the next five years isn't set in stone, the interest from developers in developing these hotels is crystal clear. Reno-Sparks will likely always be a gaming-centered market in terms of the overall attraction of casinos for leisure travelers. But the wider base of demand in the market is diversifying rapidly, with a multitude of employers and outdoor attractions drawing higher levels of visitation.
As officials at the state and local levels continue to grow targeted sectors and industries in Reno-Sparks, commercial travel should take on a larger share of local hotel demand, boding especially well for the rising number of non-gaming hotels.