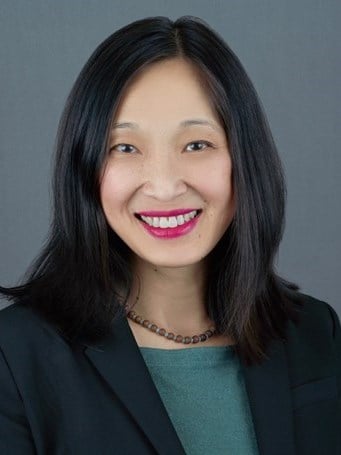 Charlotte, North Carolina, is one of the biggest cities in the southeast, second only to Jacksonville, Florida, by population, and among the top three fastest-growing metro areas in the U.S. Home to two professional sports franchises (the NBA's Charlotte Hornets and the NFL's Carolina Panthers), NASCAR's Sprint Cup and All-Star stock car races, and numerous museums, Charlotte enjoys a strong base of leisure demand. Commercial and meeting/group demand are strong in the city, as well.


The following HVS Market Pulse article details some of the major developments in Charlotte and their impact on the area's hotel industry.
Charlotte Economic Drivers
Finance, technology, and manufacturing, alongside health care and education, serve as the chief economic drivers in Charlotte. Bank of America is headquartered here, and several major entities related to financial services and other industries have projects in the works. Dimensional Fund Advisors will construct its East Coast regional headquarters in South End, a project expected to bring roughly 300 new jobs. AvidXchange recently constructed its 200,000-square-foot global headquarters campus in Uptown Charlotte, and Sealed Air Corporation's $58-million, 380,000-square-foot global headquarter campus just went up near the Charlotte Douglas International Airport. Additionally, JELD-WEN, which already operates an executive office in Uptown Charlotte, will expand to its new, 120,000-square-foot headquarters and training facility in Ayrsley, a mixed-use community located in Steele Creek, just a few minutes southwest of Uptown Charlotte; the build-to-suit development is slated for completion later this year. Expansion projects are also underway or in the planning stages at the University of North Carolina-Charlotte in response to the continued increases in enrollment.
Repeal of House Bill 2 (HB2)
North Carolina House Bill 2 (HB2 or the "Bathroom Bill"), which passed into law in March 2016, took a heavy toll on Charlotte's economy and pipeline of projects and events. In April 2016, PayPal withdrew plans to open a global operations center in Charlotte. Additionally, the Atlantic Coast Conference (ACC) relocated its December 2016 ACC Championship Game, and the NBA relocated the February 2017 All-Star Game, both of which were planned to take place in Charlotte. The bill was repealed on March 30, 2017. As a result, the ACC Football Championship Game will return to Charlotte in December 2017; moreover, the NBA's 2019 All-Star Game will return to Charlotte, as well. Going forward, the repeal of HB2 is anticipated to contribute to commercial, leisure, and meeting/group demand growth in markets across North Carolina.
Charlotte's Lodging Market Performance
During the past three years, hotels in the greater Charlotte area have achieved occupancy levels from the low-to-high 70s. Average daily rates (ADRs) have ranged between $95 and $110, with premium rates in the Uptown and SouthPark submarkets, as well as the Ayrsley and Ballantyne neighborhoods, averaging between $125 and $160.
Robust demand from transient corporate travelers and government contractors, as well as strong meeting and group demand growth and a gradual increase in leisure and tourism, boosted occupancy levels and produced healthy ADR gains from 2014 through late 2016. The overall strong performance of Charlotte's hospitality industry has been primarily attributed to the continual diversification of other industries in the area, which has produced varied pillars of demand.
Hotel Supply In Charlotte
As of May 31, 2017, the Charlotte lodging market comprised 175 hotels totaling 23,184 rooms; 92% of hotel rooms are affiliated with a brand or a major parent company, while the remaining 8% operate as independent hotels (including the Dunhill Hotel, the Duke Mansion, and the Ivey's Hotel).
Of the 21,289 branded hotel rooms, Marriott International (including the recently merged Starwood Hotels & Resorts' brands) operates approximately 29% of the inventory. Hilton Inc., Wyndham Hotel Group, Choice Hotels International, and InterContinental Hotels Group also have substantial representation in this market, ranging between 7% and 19% market share.
Charlotte Hotels are Well Balanced Across Chain Scales and Service Levels

Source: STR
New Supply
Six nationally branded lodging facilities opened in the Charlotte market in 2016, adding 713 guestrooms to the city's hotel inventory, including the Home2 Suites by Hilton Charlotte Airport, the Holiday Inn Express Hotel & Suites Charlotte Airport, the dual-branded Residence Inn by Marriott and Fairfield Inn & Suites by Marriott Charlotte Airport, the Drury Inn & Suites Charlotte Arrowood, and the Home2 Suites by Hilton Charlotte University Area. The Embassy Suites by Hilton Charlotte Uptown, the SpringHill Suites by Marriott Charlotte Uptown, the Hampton Inn & Suites Charlotte/Ballantyne, and the Holiday Inn Express Hotel & Suites Charlotte NE-University Area have opened to-date in 2017, bringing an additional 664 guestrooms to the market.
Of the currently 48 proposed hotel development projects in Charlotte, most are anticipated to feature limited-service offerings.
Majority of Incoming Hotels to be Limited-Service
[1]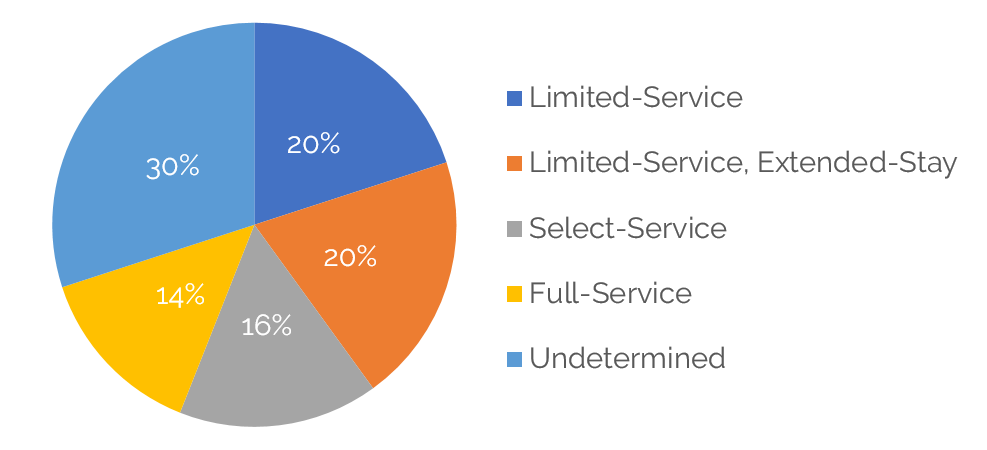 Source: HVS
While the full-service hotel developments are concentrated in Charlotte's Uptown, South End, and SouthPark submarkets, the proposed limited- and select-service hotels are being planned and developed in submarkets throughout the city. Of the total proposed new supply, three lodging facilities are slated to open in 2017, boosting inventory in Uptown and SouthPark by 486 total guestrooms. Meanwhile, site work or construction is underway on nine hotels, which will contribute an additional 1,092 guestrooms to Charlotte's hotel inventory between 2018 and 2019. The remaining 36 projects are in various stages of planning.
Approximately 50 New Hotel Projects Underway in Charlotte

Source: HVS
Commercial and Residential Development
Mixed-use developments featuring office and retail components are currently underway or in the planning stages across Charlotte. These developments are anticipated to generate not only transient corporate hotel demand but also leisure and meeting/group demand for area hotels.
City and county officials have focused aggressively on creating a "live-work-play" environment in Uptown Charlotte, which currently boasts the Charlotte Convention Center, a variety of entertainment venues, and corporate anchors such as Bank of America and Duke Energy.
The 365,000-square-foot 615 South College high-rise office building, adjacent to the Westin Hotel, opened in late May, while the 630,000-square-foot 300 South Tryon office tower in Uptown is scheduled for completion in 2017.
Highly anticipated projects in the planning stages include the 17-acre, multi-phase Brooklyn Village master-planned community in Uptown, which will feature residential and retail components, as well as office towers. The RailYard is a 3.5-acre block in South End that Beacon Partners plans to redevelop into roughly 290,000 square feet of office space and 100 multi-family residential units, with 30,000 square feet of ground-level retail. The 115-acre Riverbend Village mixed-use development is planned for construction in three phases in Northwest Charlotte. Riverbend Village will be anchored by the 78,000-square-foot Harris Teeter grocery store and will boast the $38-million Corning Optical Communications headquarters office, both anticipated to open next year.
Charlotte's increasing popularity and career opportunities have also spurred residential growth. Multi-family residential developments are in the works in all four wards (neighborhoods) within Uptown Charlotte. These include Crescent Stonewall Station, which will be anchored by Whole Foods and offer the convenience of the LYNX Stonewall Light Rail Station. This development is expected to feature one twelve-story, 110-unit apartment tower and one five-story, 340-unit apartment building.
The Ballantyne neighborhood will boast the Waverly, a mixed-use development featuring both single- and multi-family residential units, as well as a variety of retail venues. Meanwhile, the Steele Creek area continues to experience a boom in single-family residential developments.
Rendering of Crescent Stonewall Station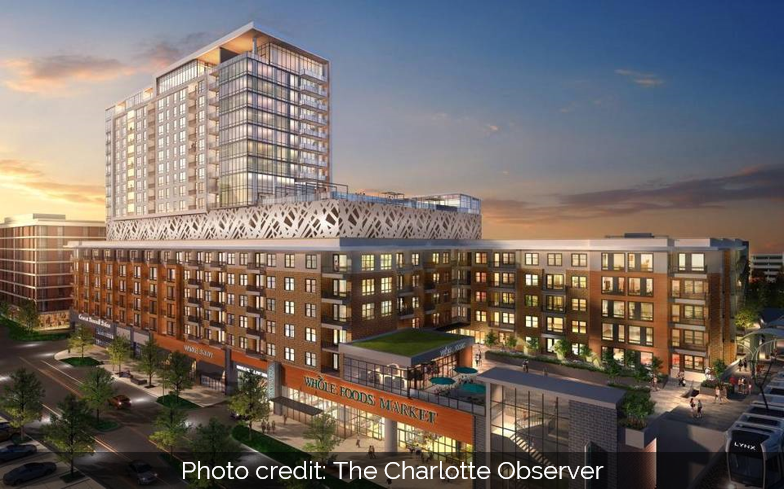 The Future
Prospects appear favorable for the Charlotte hotel market over the next several years. The city's commercial and residential developments are anticipated to fuel continued demand growth from the transient corporate and meeting/group segments, alongside an expected rise in leisure demand.
The ongoing diversification of industries within the Charlotte area should continue to strengthen the local economy. Although overall occupancy is anticipated to decline modestly in the near term with the entrance of new supply in 2017 and 2018, ADR growth is expected to remain strong, thereby maintaining RevPAR growth and strengthening demand fundamentals for the area's hotels.
---
[1] As of the time of writing, brand and service levels remained unconfirmed for 16 of these proposed hotel projects.