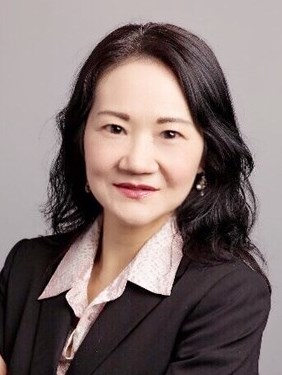 The market is experiencing a period of economic strength and expansion, primarily led by the tourism and leisure industry and the presence of Disneyland and the Anaheim Convention Center, which continue to attract visitors and bolster lodging demand.



Themed Entertainment Association (TEA) Theme Index 2016

Source: Themed Entertainment Association (TEA)
The Star Wars: Galaxy's Edge will open with two anchor attractions: one that gives guests the chance to pilot the Millennium Falcon on a customized secret mission, and another that puts guests right in the middle of a battle between the Frist Order and Resistance. Construction on the 14-acre attraction, which began in April 2016, is slated for completion in early 2019.
Anaheim Convention Center
The Anaheim Convention Center (ACC), which opened 50 years ago, is the largest convention center on the west coast, spanning a total of 1.8 million square feet. Completed on September 26, 2017, the convention center's seventh expansion created 200,000 square feet of additional space.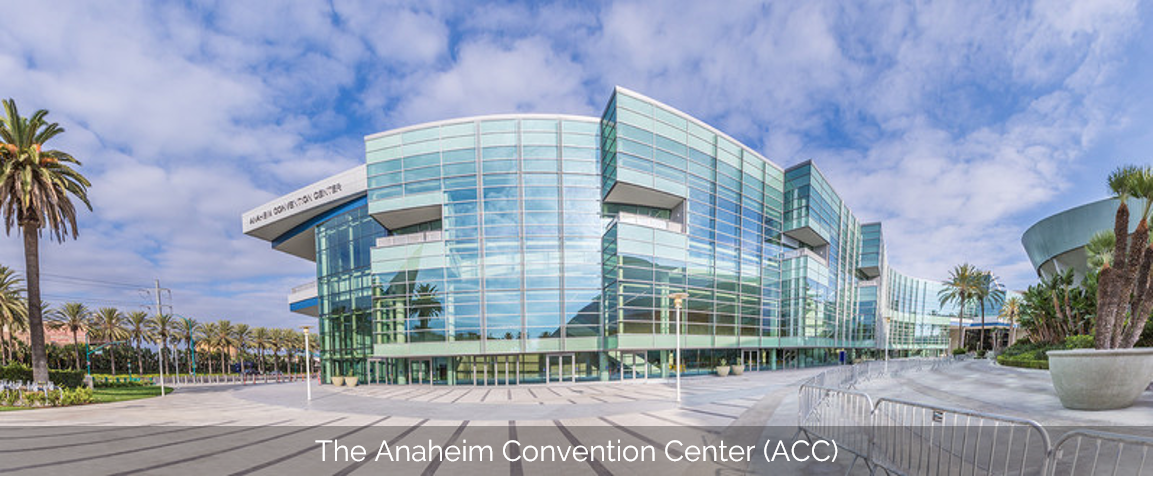 ACC representatives report a strong booking pace associated with the recent expansion and the addition of new hotel supply in the market, which will reportedly allow the convention center to target higher-rated medical and high-tech groups.
LT Platinum Center
The 14.5-acre LT Platinum Center, located near the Honda Center and Angel Stadium, is a mixed-use development project that will include a 200-unit hotel, an urban food market, an entertainment venue, and a town plaza, as well as 400 residential units, upon completion in 2022.
Orange County's First Shipping-Container Food Hall
SteelCraft Garden Grove, to be located on a 1.8-acre lot behind City Hall in Garden Grove, will feature 20 artisanal retailers and restaurants selling goods from cargo containers measuring as long as 40 feet in length. The project is part of a major effort by city officials to revitalize Downtown Garden Grove with destination shops and dining and is scheduled to open in 2018.
Lodging Market Overview
This Anaheim/Garden Grove market spans nearly 160 open and operating lodging facilities. Lodging revenues and transient occupancy taxes have increased year-over-year since 2010/11.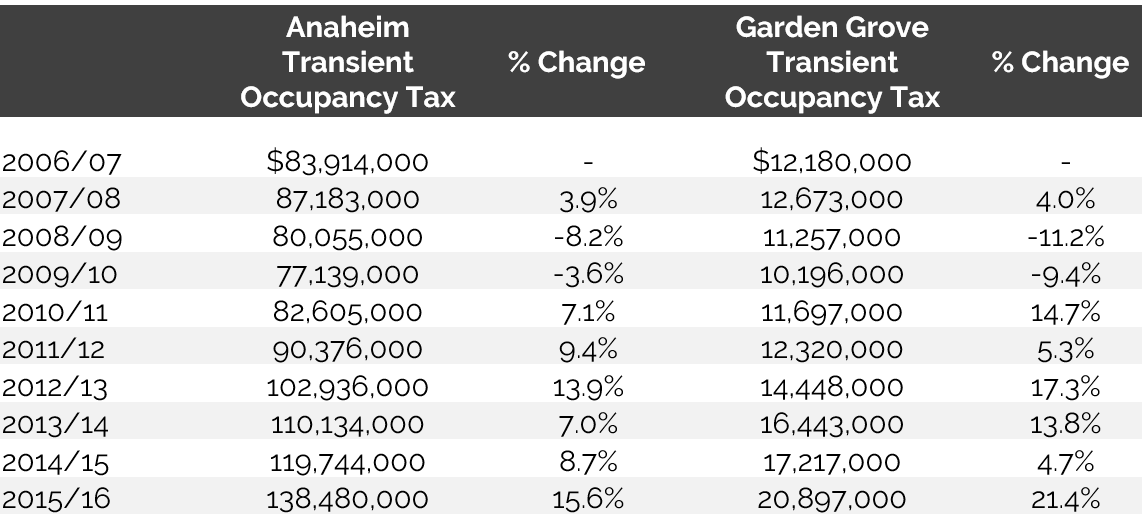 Source: Anaheim and Garden Grove, Annual Financial Report, June 2016
New Supply
Following the success of the addition of "Cars Land" at Disney's California Adventure, the recent expansion of convention center, and in anticipation of the opening of " Star Wars: Galaxy's Edge," several hotel projects throughout Anaheim and Garden Grove have either recently opened or are in various stages of development.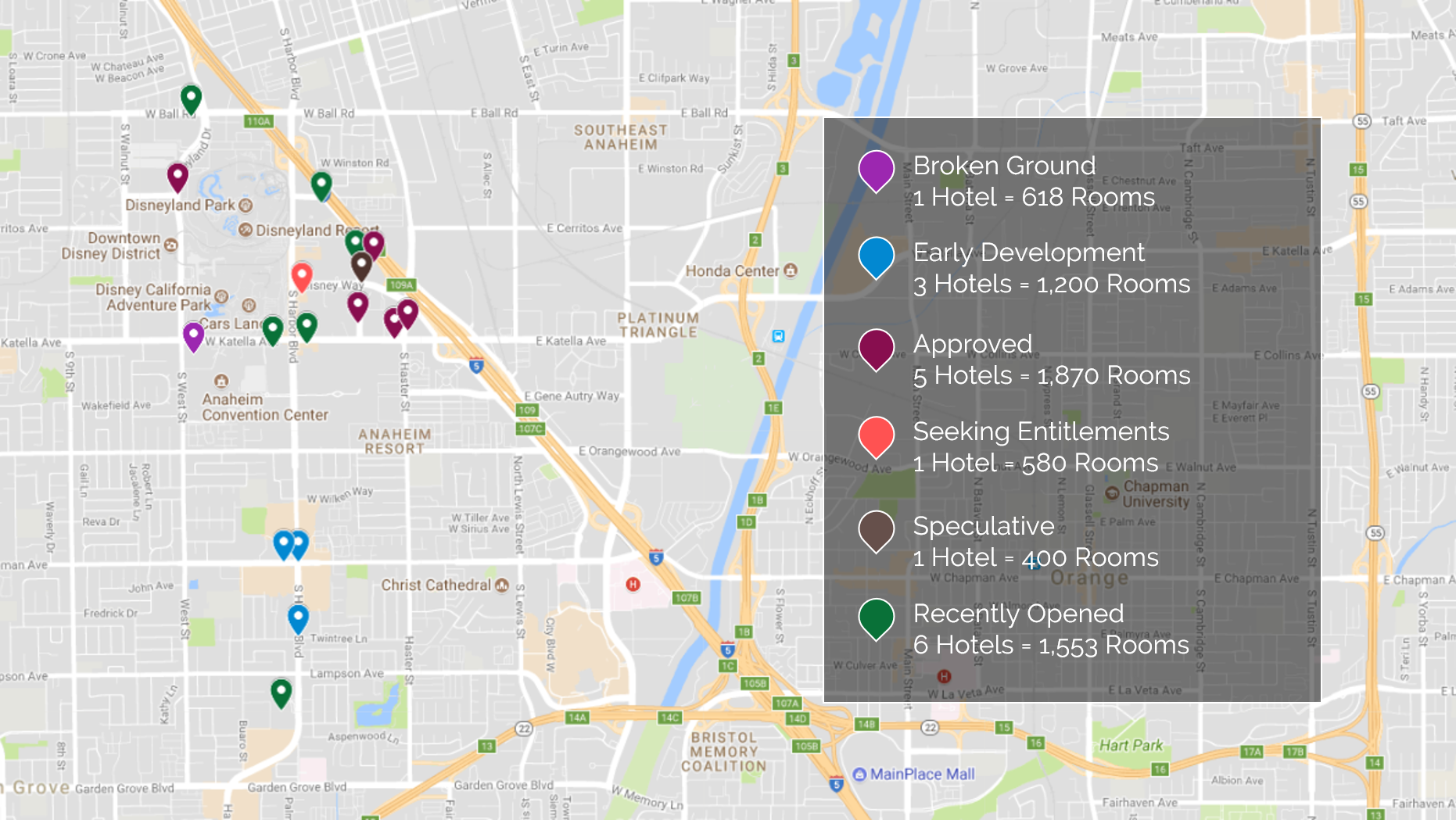 Source: HVS
Recent Transactions
Strong hotel performance and the potential of this market have drawn investors to seek hotels located here. The following table sets forth hotel transactions in the Anaheim/Garden Grove market since 2015.

Source: HVS, RCA
Conclusion
The Anaheim/Garden Grove market is primarily driven by the tourism and leisure industry, with visitation levels continuing to increase. The recent expansion of the convention center is expected to attract new events and visitors, which should positively affect the local economy. Given the area's desirable weather, many tourist attractions (including Disneyland), and the presence of three international airports within 70 miles, the market outlook is positive.