An HVS Quarterly Hong Kong Update
As one of the major pillars of the Hong Kong economy, the tourism sector in 2017 marked a good year given that the number of visitor arrivals bounced back from 2016 and reached 58.5 million, albeit not as strong as the peak at 60.8 million visitors in 2014 and 59.4 million visitors in 2015. Particularly, the fourth quarter recorded the highest number of visitors in three years, thanks to the Golden Week and Christmas holidays that charmed both mainland Chinese and non-mainland-Chinese visitors. Hotels in the city also benefited from the boost in visitor arrivals, where occupancy and average rate both recorded growth.
Visitor Arrivals
To sum up the year of 2017, the city's tourism recovery is reflected in the 3.2% YoY increase in visitor arrivals to over 58 million, an additional 1.8 million over 2016. In particular, the arrivals growth from the Philippines (+13.1%), Japan (+12.6%), and South Korea (+6.8%) underpinned the Hong Kong tourism market.
In the fourth quarter of 2017, Hong Kong recorded its highest number of visitor arrivals in three years. With a strong 6.0% YoY increase, over 15.8 million travellers visited the city compared to 14.9 million in the last quarter of 2016. The top five feeder markets (in order of size) are mainland China (+8.0%), Taiwan (+2.3%), South Korea (+8.2%), the United States (-3.2%), and Japan (4.3%).
Accounting for 75.4% of total visitor arrivals, mainland Chinese visitors registered an impressive 8.0% YoY growth to 11.9 million in the fourth quarter of 2017. The reduced number of negative news about Hong Kong residents' sentiments toward mainland China aided the return of visitors to the city. In addition to the more welcoming atmosphere in the city, the fourth quarter also carried more holidays including the Golden week and Christmas. The Golden week is seven days of Chinese national holiday in October. This year, it overlapped with the mid-autumn festival and prolonged the holiday by an additional day. Mainland Chinese tend to travel during this holiday, and Hong Kong benefited from it when it recorded a 8.3% YoY growth of visitor arrivals in October. Meanwhile, December also attracted 7.2% more Chinese visitors compared to the same period last year to 4.2 million, the busiest month in terms of number of visitors in the fourth quarter.
Besides mainland China, the North Asia market's robust growth of visitor arrivals to Hong Kong was noticed in the fourth quarter of 2017, in which South Korea posted an 8.2% YoY increase to 398,000 and Japan registered a 4.3% YoY increase to 322,000 visitors. The growth is highly driven by the increasing popularity of Hong Kong and Macau among North Asians, along with the rising number of budget flights from South Korea and Japan.
FIGURE 1: HONG KONG VISITOR ARRIVALS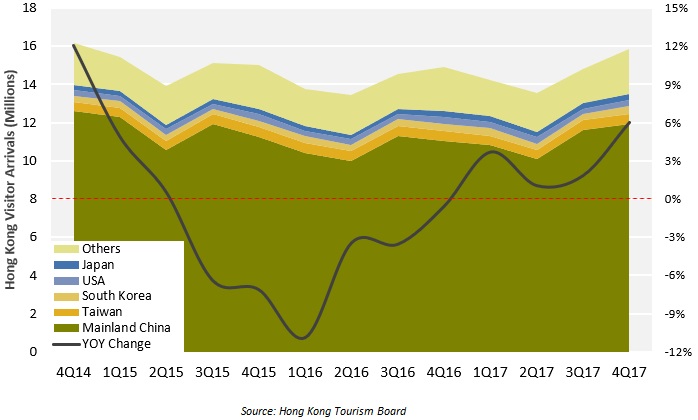 Overnight Visitor Arrivals
In the fourth quarter of 2017, Hong Kong received a 6.8% YoY increase in overnight visitor arrivals to 7.6 million, which is equivalent to 48.2% of the total number of visitors. The top five feeder markets (by order of size) are China (+10.5%), South Korea (+9.1%), the United States (-2.9%), the Philippines (+8.1%), and Japan (+7.2%). Compared to the fourth quarter of 2016, Taiwan fell out of the top five ranking.
Although the Philippines is not one of the top five feeder markets in visitor arrivals, it posts as the fourth largest feeder market in overnight visitor arrivals in the fourth quarter of 2017. Among the rising number of Filipino travellers, 87.5% of them stayed overnight. Its robust growth of 8.1% YoY—equivalent to an additional 16,600 visitors—amounted to 222,000 in the fourth quarter. The growth is to some extent attributable to the increasing Filipino domestic helper demand in Hong Kong, which also provides a reason for Filipinos to travel to Hong Kong to visit friends and relatives.
The decline of overnight visitors from Southeast Asia and South Asia continued into the fourth quarter of 2017, given the slowing regional economies, which encouraged travellers to travel to destinations closer to home, as well as other regional travel destinations such as Taiwan and Japan; both have loosened visa requirements toward Southeast Asia travellers. Explicitly, negative YoY growth of overnight travellers was recorded from India by -13.4% to 67,000, Singapore by -9.6% to 161,000, Thailand by -5.9% to 130,000, and Malaysia by -4.4% to 137,000. Meanwhile, Indonesia saw a marginal increase of 1.7% to 103,000. This can also be attributed to compression from higher-spending source markets, displacing value-oriented travel demand.
FIGURE 2: HONG KONG OVERNIGHT VISITOR ARRIVALS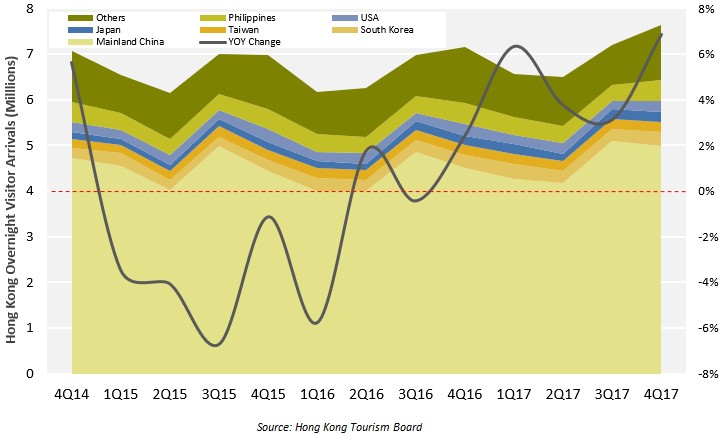 Hotel Sector Performance
Boosted by the robust return of overnight visitors, the Hong Kong hotel market recovered by maximizing occupancy levels while recovering average rate. In the fourth quarter of 2017, hotel occupancy reached its highest record at 93.0%, a one percentage point increase from the same period in 2016. The growth of occupancy is also accompanied by the rising average rate (ADR), which registered a 3.2% YoY growth to HK$1,493. This is the highest ADR the Hong Kong hotel market has witnessed since the third quarter in 2014, before the decline in mainland Chinese tourists to the city. The growth in both occupancy and ADR successfully pushed the city's Revenue Per Available Room (RevPAR) up 4.3% YoY to HK$1,388 in the fourth quarter of 2017.
Particularly, the Medium Tariff hotels segment recorded an impressive 16.0% YoY growth in RevPAR by having a 13.9% increase in ADR to HK$885 and a 1.8% increase in occupancy to 95.0%. Likewise, High-Tariff B hotels also recorded a 6.1% increase in RevPAR to HK$1,179 with a different growth strategy. The increase in RevPAR is entirely driven by ADR, which saw a healthy 6.5% increase to HK$1,273, while trading off on occupancy with a 0.4% decline to 92.7%. This reflects the shift in the demand base among High-Tariff B hotels to less price-sensitive source markets, particularly from North Asia.
On the contrary, the fourth quarter marked the third consecutive quarter that High-Tariff A hotels posted negative growth in RevPAR. With a 2.0% decrease in ADR to HK$2,320, occupancy among High-Tariff A hotels only enjoyed a 1.8% increase to 91.3%, ending with a 0.2% decline in RevPAR. However, this is considered as a rebalance of demand to include more value-oriented segments as supply continued to increase to drive up occupancy.
FIGURE 3: HONG KONG HOTEL MARKET PERFORMANCE (4Q2014-4Q2017)

FIGURE 4: HONG KONG HOTEL MARKET PERFORMANCE (4Q2014-4Q2017)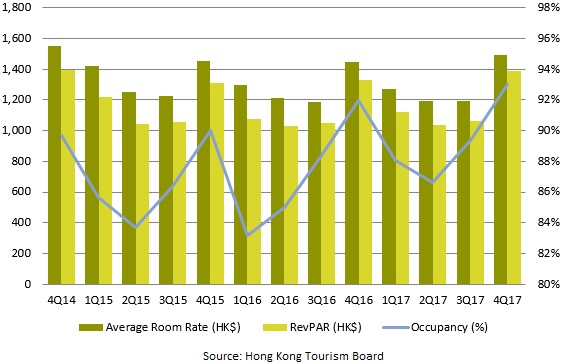 Hong Kong Hotel Sector Performance - Supply
As of 2017, there were 277 hotels and 1,469 guesthouses in Hong Kong, housing a total of 91,000 rooms. This figure reflects solid growth in hotel supply of 4.0% compared to 2016. In particular, High-Tariff A and High-Tariff B hotel rooms expanded at a YoY growth rate of 5.5% and 4.5% to approximately 18,500 and 30,000 rooms, respectively; accounting for 20.6% and 32.9% of total hotel room inventory. In the fourth quarter, The Murray, A Niccolo Hotel in Central (336 rooms) and Emperor Hotel in Wan Chai (299 rooms) were the most notable additions to hotel supply.
Looking forward, a number of long-awaited hotels will be opening in the upcoming years, namely Ocean Park Marriott Hotel (472 rooms), the Rosewood Hotel in Tsim Sha Tsui (413 rooms), Hotel VIC in North Point (671 rooms), and St. Regis Hotel in Wan Chai (129 rooms). Additionally, the opening of the Hong Kong–Zhuhai–Macau Bridge in 2018 and subsequent tunnel from Tuen Mun to Lantau will help to further develop the hotel market in Tuen Mun. Existing properties include the recently opened Pentahotel and the up-and-coming Hotel COZi Resort (430 rooms). With the improving transportation infrastructure that will bring in more travellers, particularly the high-speed rail terminus in West Kowloon scheduled opening in September 2018, we anticipate the hotel supply market in Hong Kong to remain upward and competitive.
FIGURE 5: HONG KONG OVERVALL HOTEL MARKET SUPPLY COMPARISON (2015Q4-2017Q4)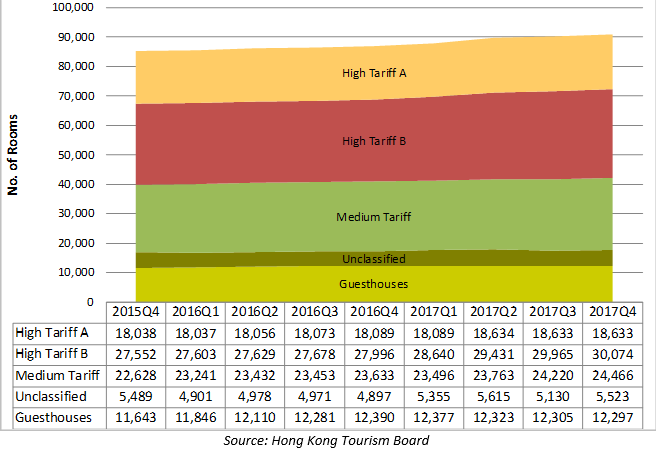 FIGURE 6: HONG KONG OVERALL HOTEL MARKET SUPPLY COMPARISON (2007-2017)