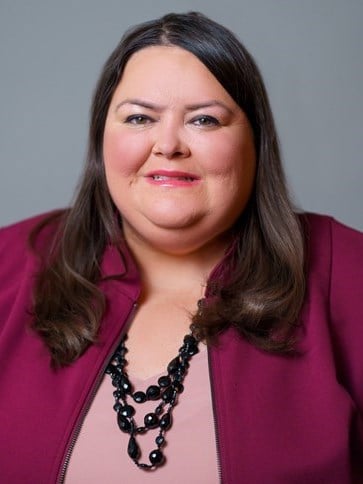 Key Economic Indicators and Lodging Market Overview
Dallas/Fort Worth International Airport (DFW), Love Field Airport, Kay Bailey Hutchison Convention Center, and local employers and headquarters, particularly within the telecommunications, technology, insurance, financial services, and healthcare fields, represent the primary sources of lodging demand in the greater Dallas market. In addition to DFW's status as one of the nation's largest airports, the end of federal flight restrictions at Dallas Love Field in October 2014 has significantly boosted operations out of the airport. The following charts illustrate the passenger statistics through 2017 at the two airports.
Passenger Traffic at DFW and Love Field Airports

Source: Dallas/Fort Worth International Airport, Love Field Airport

The 2016/17 statistics for the Kay Bailey Hutchison Convention Center show a considerable decline in both metrics from the previous year, attributed in part to the center's temporary shutdown to host more than 5,000 Gulf Coast residents in August and September (two of the busier convention months) following Hurricane Harvey.
Convention Center Statistics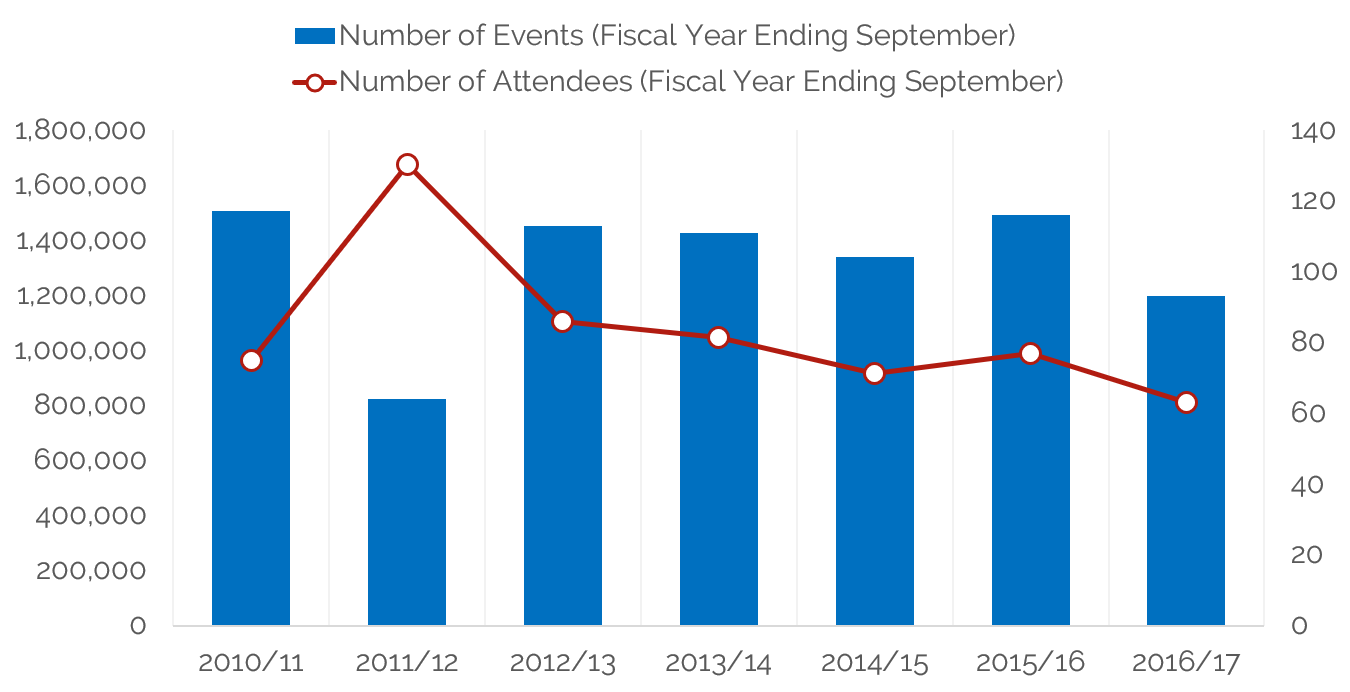 Source: Kay Bailey Hutchinson Convention Center
The Dallas/Fort Worth area continues to be one of the top U.S. metropolitan areas for job growth. Corporate expansion, an abundance of construction activity, and a robust retail sector provide strong employment in the market.
Unemployment Rates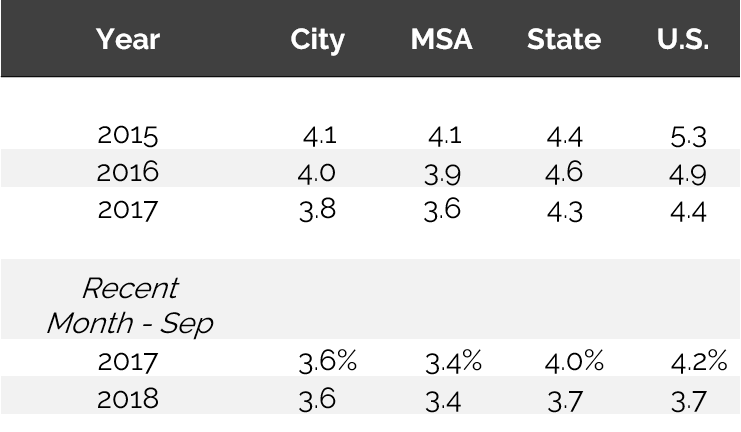 Source: U.S. Bureau of Labor Statistics

Several large suburb cities are major economic drivers in the area and this greater Dallas lodging market. The following data include nine hotel tracts in the Dallas market, generally located east of Dallas/Fort Worth International Airport. The greater Fort Worth area, inclusive of such suburban cities as Grapevine and Arlington, is not included in the data.
Hotel Inventory

Source: HVS, STR
After dipping early last decade, occupancy surpassed the 60% mark from 2005 through 2007; during that same period, average rate (ADR) improved above the rate of inflation year-over-year. The effects of the Great Recession caused occupancy to decline in 2008 and 2009. Occupancy rebounded in 2010 and continued to improve through 2016, reaching a new peak above the 71% mark that year. Year-end 2017 data show occupancy decreasing just over two percentage points, as the effects of new supply were realized. Commercial demand has increased given the strengthening corporate activity, particularly in the northern suburbs. Closer to the nucleus, the Central Business District, West End, Uptown, Victory, and West Dallas areas have benefitted from revitalization efforts, with growth occurring in the high-density residential, office, hotel, and retail/restaurant sectors. While the amount of new hotel development has caused some continued compression, market occupancy remained healthy in the year-to-date period through October, near 70%. ADR rose annually from 2011 through 2017, concurrent with the strengthening economy and high demand levels. The pace of ADR growth slowed in 2017, as increased supply prompted a more competitive environment. Year-to-date data through October 2018 illustrate a stronger increase in average rate, as new, high-quality supply has opened in the market; moreover, the commercial segment remains strong with the existing and growing corporate presence. A modest improvement in RevPAR is expected for year-end 2018, with a roughly one-point occupancy contraction buoyed by an approximate $2 increase in rate.
While the previous key economic indicators offer broad brushstrokes on how lodging demand is influenced in the greater Dallas area, the demand drivers and lodging supply pipeline in each of the area's primary submarkets are diverse, experiencing dynamic change unique to each area.
Downtown
The Downtown area encompasses the Central Business District (CBD) of Dallas, including the Uptown District, Arts District, Government District, Market Center, Design District, West End, Trinity Groves, and Victory Park. The Uptown office market is one of the most desired locations in Dallas due to the abundance of Class-A office space, as well as the revitalization efforts occurring throughout the greater Downtown Dallas area. With a low vacancy rate and the highest rental rates in the Metroplex, the Uptown office market has proven to be a major hub for much of the city's growth and demand. This submarket has become a prime choice for financial conglomerates, high-tech firms, and large law firms. These tenants continue to add jobs and absorb new office space. This activity should, in turn, lead to greater demand for lodging within the Uptown District. AT&T Inc., which is headquartered in the Central Business District of Dallas, is spending $100 million to revamp its four-block Downtown Dallas headquarters campus. The West End is also a focal point of development, including projects such as the Dallas County Records building complex, the West End Market/Factory Six03, the Luminary office project, and the Dallas Holocaust and Human Rights Museum. The Dallas Market Center (DMC) is one of the largest hospitality demand generators in the city; the center hosts some 50 markets annually, attracting more than 200,000 retail buyers. The healthcare and educational sectors are also prominent in the Dallas economy. The $800-million William P. Clements Jr. University Hospital on the UT Southwestern Medical Center campus opened in December 2014, while the new, $1.27-billion Parkland hospital opened in August 2015. In October 2018, a $76-million expansion was announced for Klyde Warren Park; the project will include a 20,000-square-foot pavilion between St. Paul and Akard Streets that will house a sprawling visitor center and event space.
Downtown New Supply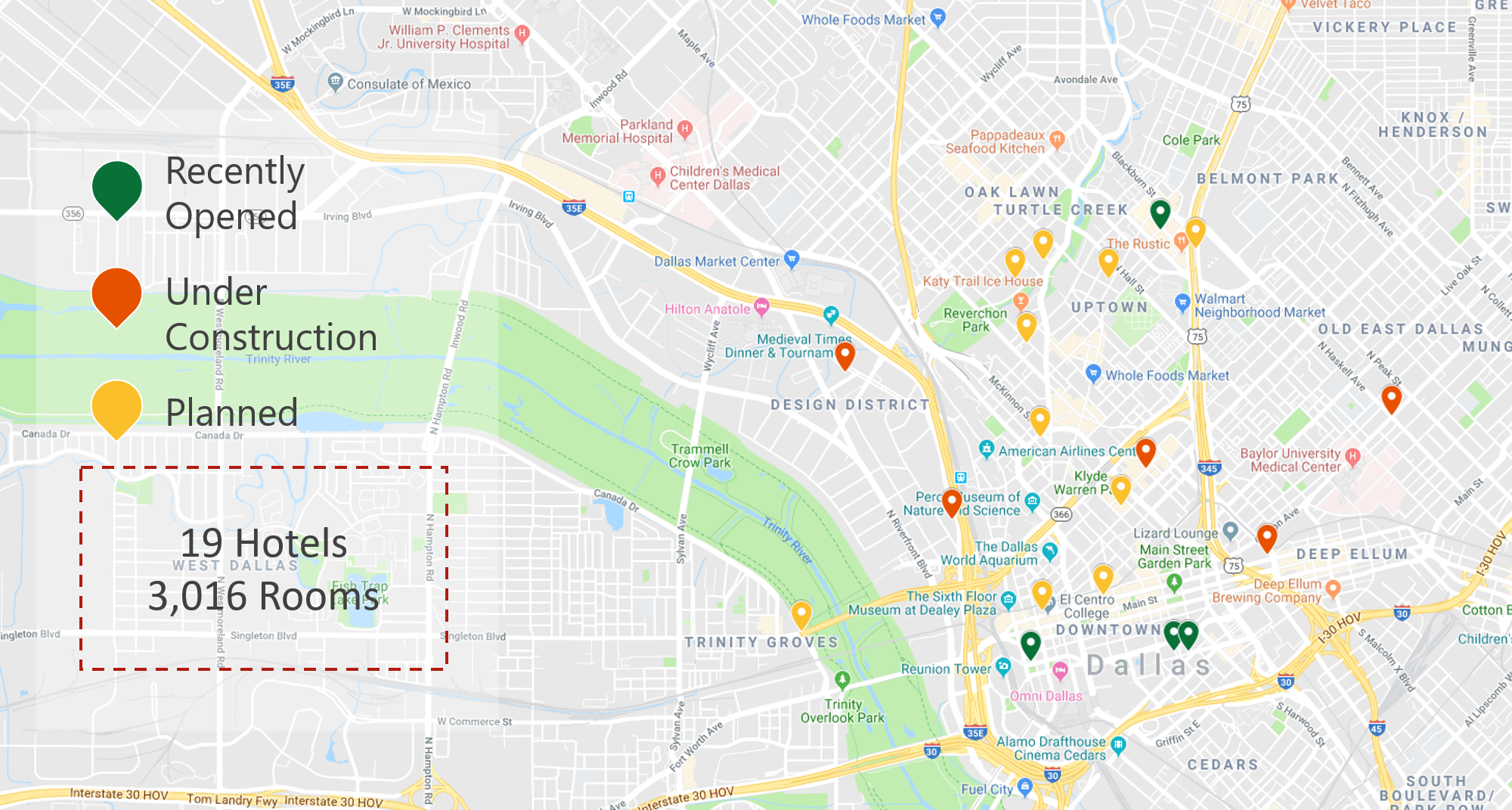 Source: HVS
Irving/Las Colinas/Coppell
Situated strategically in the middle of the Dallas/Fort Worth Metroplex, the Irving/Las Colinas area remains one of the Metroplex's most desirable employment corridors; the market is replete with Class-A office parks. In 2017, McKesson opened a $157-million corporate campus in Las Colinas and, in late 2018, announced that it plans to relocate its headquarters from San Francisco to Irving in April 2019. Also in 2018, Pei Wei Restaurants opened a new corporate headquarters in Irving. Irving and Las Colinas continue to grow with multiple large-scale developments. Within the Las Colinas Urban Center, major developments over the past several years have included the opening of the Irving Convention Center in January 2011 and the Toyota Music Factory in 2018. Furthermore, the 350-room Westin Irving Convention Center Las Colinas is scheduled to open in February 2019. Other developments in the Urban Center include Water Street, a 60,000-square-foot restaurant and retail development that also features 300 luxury residential units that opened in 2018, and North Shore, a planned development that is expected to include over 1,000 residential units and 60,000 square feet of retail space. Numerous other commercial and residential developments are planned throughout Irving and Las Colinas, with key projects including the redevelopment of the former Cowboys Stadium site, the Jefferson Promenade at Las Colinas, and the 65-acre The Terraces at Las Colinas. Moreover, the Hidden Ridge mixed-use development is anticipated to feature 2.7 million square feet of office space, inclusive of the new corporate campus for Pioneer Natural Resources; a 200-room, full-service hotel; 1,200 residential units; and 80,000 square feet of restaurant and retail space, with two acres of parks and green space incorporated throughout the development.
The economic base of the North Irving/Coppell market is balanced by the presence of the Dallas/Fort Worth International Airport and a concentration of corporate office and campuses. Aviation-related industries are prevalent in this area, and the northern airport area is also home to regional operations headquarters for international corporations. CAE has the largest corporate aviation-training center at Dallas/Fort Worth International Airport. DFW Freeport Business Park is home to major multinational corporations, including Nissan Motor Company, American Honda Motor Company, Allstate Insurance, and Federal Home Loan Bank. Located within Foreign Trade Zone 39, this 550-acre international business park is strategically situated between two major highways, with Interstate 635 to the north and State Highway 114 to the south. To the north, the Interstate 635 industrial and commercial corridor (between State Highway 121 to the west and the President George Bush Turnpike to the east) is home to corporations such as Brink's U.S., Samsung, Envoy Air Headquarters, and AAA Texas Headquarters. Growth of this corridor is now largely paced by the ongoing development of Cypress Waters, a 1,000-acre master-planned development in the northeast quadrant of Belt Line Road and Interstate 635 that began in 2013.
Irving, Las Colinas, Coppell New Supply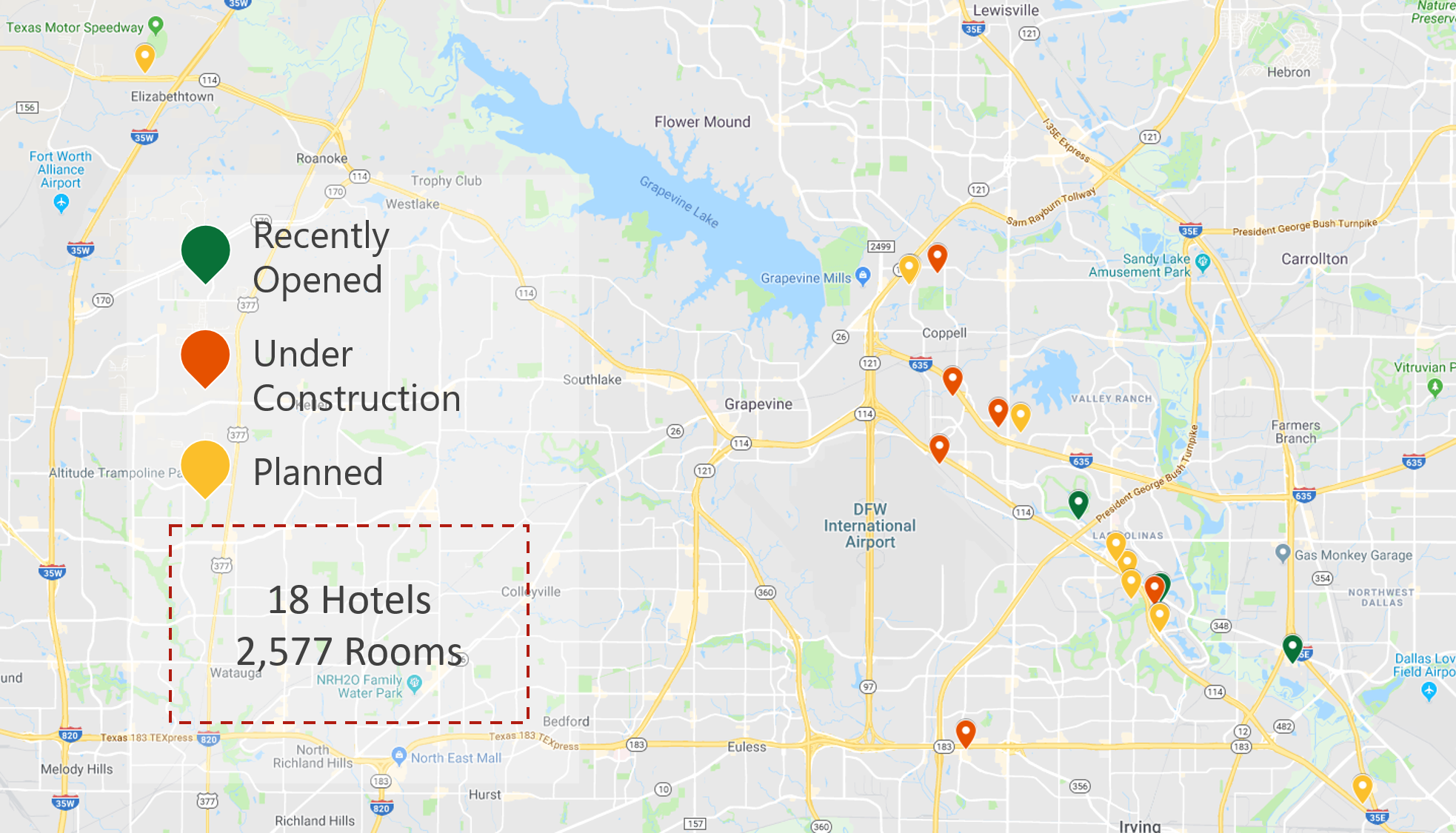 Source: HVS
North Dallas/Addison/East Plano/Richardson
Addison features a unique combination of office towers, upscale shopping, urban residential communities, and nearly 200 restaurants, all within a five-minute drive from anywhere in town. Addison is home to both small start-ups and major corporate headquarters, including Mary Kay Inc., one of the largest direct sellers of skin care and cosmetics. Despite some displacement to the northern suburban submarkets, Addison continues to attract new tenants, and office construction is evident. In 2016, the 200,000-square-foot Tollway Center opened; it houses Maxim Integrated Inc. and Stream Energy. Mid-year 2017, Cawley Partners broke ground on a 240,000-square-foot office building; the six-story tower is the first phase of a two-building project called FOURTEEN555. Construction of the second phase is expected to start in 2019. Houston-based Occidental Petroleum's chemical division has leased about half of the first building, which opened in August 2018. Moreover, Common Desk, a Dallas-based coworking firm, will open a 26,500-square-foot location in the building in the spring of 2019. Alpha + Inwood is a 14-acre mixed-use development at the corner of the streets that comprise its name; an Aloft hotel is being constructed within the development and is expected to open in 2020. Another major catalyst in the area is the $4-billion, mixed-use Dallas Midtown redevelopment project in the Galleria submarket; the project includes the demolition and redesign of Valley View Mall, as well as new office space, residential units, hotels, and entertainment and retail space. To the west of this area, Farmers Branch is experiencing an influx of new hotel development near the intersection of Luna Road and Interstate 635, proximate to the 225-acre, master-planned Mercer Business Park under development.
The Telecom Corridor is generally defined as a 6.5-mile stretch of U.S. Highway 75/North Central Expressway, from Interstate 635 to President George Bush Turnpike, that contains over 25 million square feet of office space. Roughly 600 technology companies have offices within this area. This core group of technology companies has made the Telecom Corridor one of the premier tech areas within Texas and the United States. The $1.5-billion, 186-acre, CityLine mixed-use project at the intersection of North Central Expressway and President George Bush Turnpike houses State Farm's 1.5-million-square-foot, four-building headquarters (last phase completed in 2016) and Raytheon Company's 489,000-square-foot regional offices (completed in 2015); the development also includes a substantial retail component and thousands of apartments. An Aloft hotel opened within CityLine in September 2017. The growth of Class-A office space in the area has spurred many hotel development projects along the President George Bush Turnpike. Moreover, to the north of the U.S. Highway 75/President George Bush Turnpike interchange, a Radisson hotel is under development on the Plano Event Center site.
North Dallas/Addison/East Plano/Richardson New Supply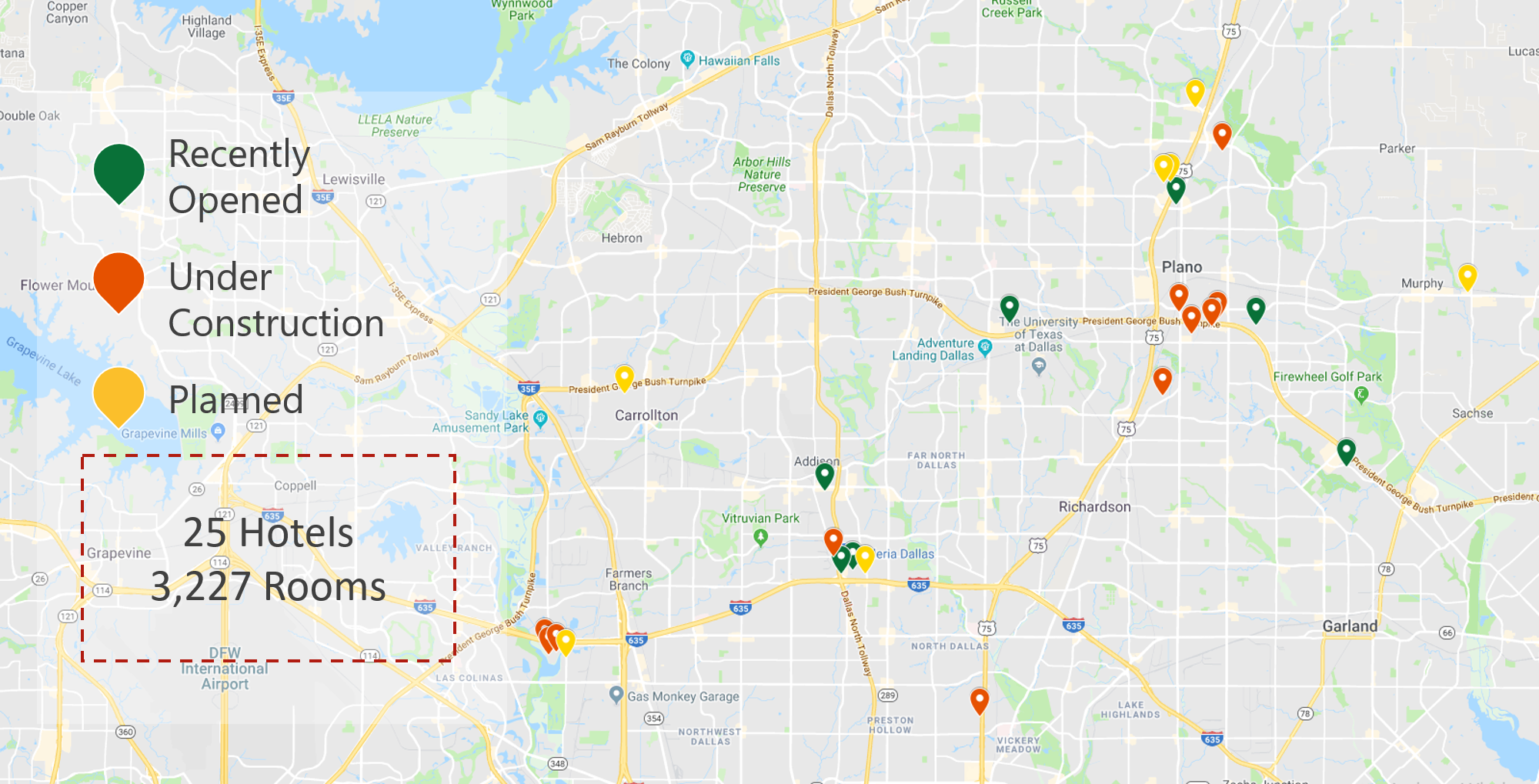 Source: HVS
Northern Dallas Suburbs
The North Dallas area, including Plano and Frisco, benefits from the presence of several large retail corporations, including JCPenney Company, Dr Pepper Snapple Group (DPS), Frito-Lay, and PepsiCo. Headquartered in Plano's Legacy Park, these companies are leaders in their respective fields and represent some of the largest employers in the region. Toyota Motor Company opened its new North American headquarters in Plano in July 2017. The $3-billion, 250-acre Legacy West mixed-use development is a major project in the area; a Renaissance hotel opened within the development in July 2017. In June 2017, Liberty Mutual purchased its high-rise, 1.1-million-square-foot campus in the Legacy West development and, in September 2017, JPMorgan Chase started consolidating its North Texas operations within Legacy West; the project will cost more than $300 million and will move 6,000 employees from throughout the Dallas/Fort Worth Metroplex.
Frisco's "North Platinum Corridor" is widely considered one of the most dynamic concentrations of development in the world; the development area is a one-mile stretch of road along the Dallas North Tollway from the Sam Rayburn Tollway/State Highway 121 in the south to U.S. Highway 380 in the north. The Star in Frisco, which is anchored by the Ford Center at The Star, opened in August 2016. The project is Jerry Jones's vision of a new, state-of-the-art, world headquarters facility for the Dallas Cowboys organization. Frisco Station plans to offer a higher quality of life, improved productivity, and strong community through six individual areas; the first seven-story office building in Frisco Station opened in late 2017. Three hotels of a quad hotel complex are under construction in the development and are expected to open in 2019. Also under construction, The Gate in Frisco is a $700-million, 41-acre, luxury, mixed-use development. Finally, Wade Park is a 175-acre, mixed-use development expected to "bring the best of Uptown Dallas lifestyle to Frisco." Construction started in August 2014, but development has halted on this project because of funding issues. In addition to under-construction hotel projects, such Hyatt Regency Hotel and Conference Center at Stonebriar Centre, other notable developments in Frisco include Hall Park Building 17, Texas Scottish Rite Hospital for Children, and Frisco Park 25 business park. Finally, in December 2018, the PGA of America announced it would move its headquarters from Palm Beach County, Florida, to the northern Frisco; the PGA's 100,000-square-foot global headquarters will anchor a 600-acre development that will also feature two championship golf courses, a short course, a practice area, a clubhouse, a 500-room Omni resort and convention center, and more.
Collin County has been one of the fastest growing counties in the United States for decades. McKinney's location on the periphery of the DFW Metroplex led to the development of low-density residential space throughout the area. McKinney has been able to leverage its high quality of life to attract commercial development. Raytheon operates a major facility in McKinney near the intersection of U.S. Highways 380 and 75. Encore Wire Corporation, another one of McKinney's largest employers, is the second-largest copper manufacturer in the United States. Other large employers include Traxxas, which constructed a $40-million corporate campus in Craig Ranch in 2013. Furthermore, Emerson Process Management operates its 128,000-square-foot headquarters and research and development (R&D) center in McKinney's Gateway development. In more recent news, Independent Bank is nearing completion on a new, $52-million, 165,000-square-foot corporate headquarters in the McKinney Corporate Center at Craig Ranch; the new headquarters is slated for completion in February 2019. In addition to corporate growth, McKinney continues to experience growth within the retail and restaurant sectors, aimed to take advantage of strong business activity. Finally, a resort-style, upper-upscale hotel and conference center has been proposed for development at Craig Ranch.
Allen benefits from a strong retail base stemming from the 2001 opening of the Allen Premium Outlets, which underwent a 125,000-square-foot expansion in early December 2017. In addition to new restaurant, retail, and entertainment developments opening along the U.S. Highway 75 and State Highway 121 corridors, new construction of Class-A office space is occurring. Major projects include One Bethany at Watters Creek; One Bethany East, the first building in the park to open, is a 125,000-square-foot luxury Class-A office building. Tenants for One Bethany East include BossFight Entertainment and Verado Energy. The 145,000-square-foot One Bethany North building, which opened in October 2018, houses NetScout's new regional R&D office. Planning for the third building, One Bethany West, is underway. In addition, major mixed-use developments planned in Allen, including Stacy Green (80 acres), Monarch City (270 acres), and The Strand (135 acres), will feature a complement of Class-A office space. In October 2018, Cyrus opened a new, 346,179-square-foot data center north of Allen Premium Outlets. In 2018, WatchGuard Video and NETSCOUT opened new facilities. Furthermore, educational facilities, such as Allen ISD STEAM Center and Collin Technical Center, are under development. Moreover, construction began in early 2017 on the 301-unit Delta Hotels Dallas Allen & Watters Creek Convention Center; the hotel is scheduled to open in January 2019 and will offer roughly 25,000 square feet of dedicated meeting space, as well as a 40,000-square-foot exhibit hall.
Northern Dallas Suburbs New Supply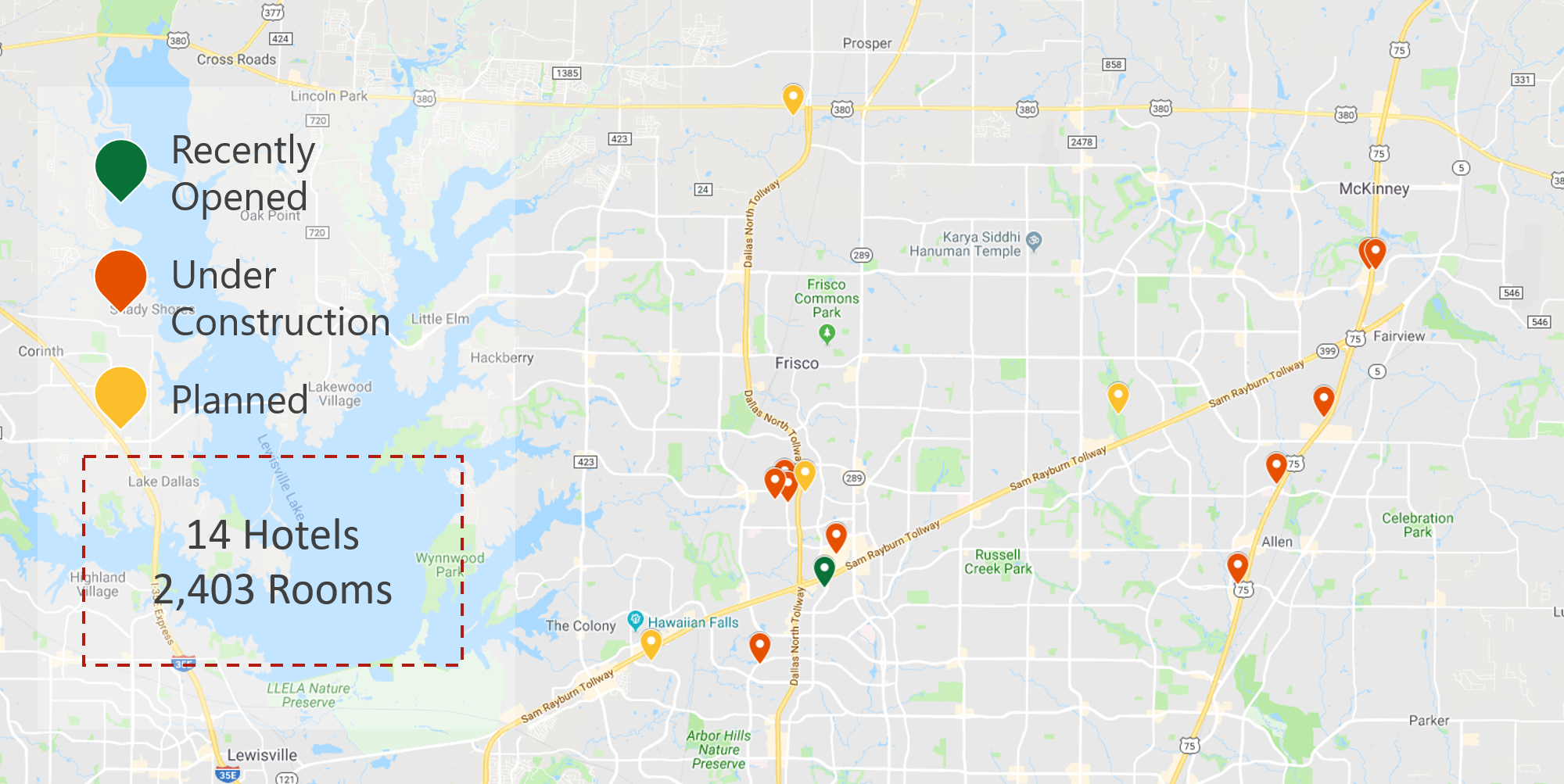 Source: HVS
Conclusion
Overall, demand growth in the greater Dallas area has allowed the influx of new supply to be nearly absorbed, with only a modest correction in 2017. On a market-wide level, average rate has not been compromised by the increased supply, owing to the high quality of new hotels entering the market and increased commercial demand associated with a growing corporate landscape. Revitalization efforts and new construction projects are evident throughout Dallas, and the outlook for the market area is positive.