Featured in this EMEA Hospitality Newsletter - Week Ending 23 January 2009
Scandic Comes Of Age In Finland
Swedish hotel company Scandic is to operate its 21st hotel in Finland: the company has signed a long-term lease with Helsinki-based insurance company Varma Mutual Pension for the 200-room Scandic Vierumäki. The hotel, which is expected to open in spring 2010, is to be built in the sports resort of Vierumäki, in southern Finland, at an investment of €40 million.
A Majestic Move For Peninsula Hotels
The Peninsula Hotels, a subsidiary of The Hongkong and Shanghai Hotels (HSH), is to make its debut in Europe with a Peninsula hotel in Paris, France. HSH has signed a deal in which it will purchase a 20% share (for €100 million) in the hotel's owner Majestic EURL, a subsidiary of Qatari Diar Real Estate Investment Company. The 200-room Peninsula Paris will be located on the site of the former Majestic Hotel, now the Kleber Conference Centre. HSH is to contribute a further €50 million to the refurbishment and redevelopment of the hotel which is expected to open at the beginning of 2012.
Four New Jurys Inns For The UK
Dublin-based budget hotel chain Jurys Inns has got together with its strategic development partner Northern Irish development and construction company McAleer and Rushe to expand its portfolio with another four hotels. Contracts have been signed for sites for a 230-room hotel in Glasgow, Scotland; a 200-room hotel in Newcastle, in northeast England; a 200-room hotel in the port of Portsmouth, in southern England; and a 200-room hotel in the city of Bradford, in the north of England. The hotels are all scheduled to open in 2010. McAleer and Rushe is to invest £90 million in the properties which will be operated by Jurys Inns on long-term turnkey leases.
Europe's First Indigo Hotel Flowers In London
Those stepping off the train at London Paddington will be greeted by a floral scent in the air as 100 m down the road from the railway station is the world's largest hanging basket…and what better to hold up this mammoth floral display than InterContinental Hotels Group's (IHG) first Hotel Indigo to open outside of North America. The 64-room Hotel Indigo London-Paddington, which opened this week, was converted into a hotel from a row of nine Georgian townhouses. However, London's only Indigo will soon be part of a bunch, as IHG has signed a deal with City Estates which will see three more Hotel Indigos blooming in the city by 2012: a 38-room hotel in Cannon Street, a 43-room hotel in Philpot Lane and a 51-room hotel on Kensington Church Street.
The Real Hotel Group Goes Into Administration
The ongoing credit crunch has taken a large bite out of another UK business: after a 34% drop in revenue during the first seven days of 2009 and the suspension of its shares on 13 January, The Real Hotel Group has appointed BDO Stoy Hayward as administrators. The Real Hotel Group owns the Purplehotels brand and it franchises the Quality, Comfort and Clarion brands from Choice Hotels International. Four hotels have closed but the group's remaining 36 properties are trading as normal.
A New Premier Inn For Cardiff
Premier Inn has announced this week that it is to open a hotel on the site of a former British Gas headquarters, Helmont House, in the city of Cardiff, southeast Wales, UK. Premier Inn has signed a 25-year lease for the hotel with Cardiff-based property company Rightacres who acquired Helmont House in 2008 for £12 million. After a refurbishment the new hotel is to open in 2010. This will be Premier Inn's sixth hotel in the Welsh capital.
Kiessling's Corner
The news from Spain by Gabriele Kiessling, HVS Analyst, Madrid. Grupo Pascual is to convert the old Balneario de Cordo in Benifallet (Tarragonna) into a five-star, 91-room luxury hotel with an investment of €45 million. Pierre & Vacances has confirmed that it is to open its first Orion-branded property in Spain: the 96-unit aparthotel is to open in Barcelona (San Cugat del Valles) in June 2010. The Superior Tribunal of Valencia has authorised the construction of an 11-storey hotel in the Botanical Garden of the University of Valencia. The hotel is to be developed by Expo Grupo and Gran Hotel Crystal Palace. Gargallo Hoteles has recently acquired a building in Barcelona for €10.6 million. The company plans to convert the property into a four-star, 100-room hotel.
Absolute Share Price Performance Over the Past Week 15-22 January 2009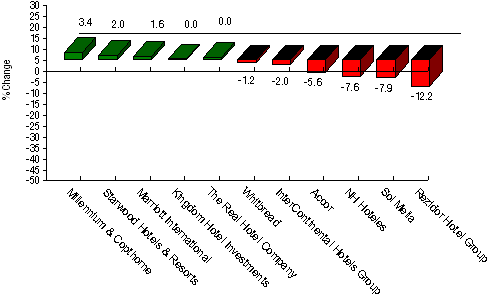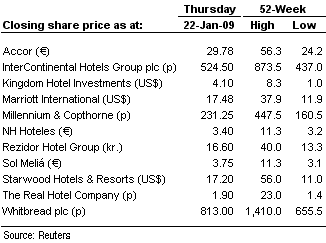 Accor - Accor announced a 25% fall in sales in the fourth quarter of 2008.
NH Hoteles - NH Hoteles hit a 52-week low of €3.38 during the past week.
Sol Meliá - Sol Melia was trading at €3.65 during the past week, 11.1% below its volume weighted price of €4.10.
---
For the latest in the hospitality industry, please visit: http://www.hvs.com. You are also welcome to contact the following personnel.