Featured in this EMEA Hospitality Newsletter - Week Ending 18 September 2009
NH And Hesperia To Integrate Their Hotel Management Businesses
News that is too big for the confines of Kiessling's Corner. So here is Gabriele Kiessling up top to tell us more. NH Hoteles and its Spanish compatriot Hesperia have agreed to integrate their respective hotel management businesses. The objective is to consolidate the hotel management business for both groups, thus maximising synergies of both income and expenditure. The deal will see NH manage 51 hotels currently owned by Hesperia, taking the total number of hotels operated by NH to 400. In return, Hesperia, which already holds a stake of just over 25% in NH, will join the board of NH Hoteles.
The Stafford Hotel In London Is Sold
Britannia Hospitality has acquired The Stafford Hotel for £77.5 million. Daniel Thwaites, the brewer and pub retailer, which confirmed barely two months ago that the hotel was on the market, makes a book profit of some £13 million on the sale. Britannia Hospitality is a wholly owned vehicle of the Egyptian El Sharkawy family, and The Times reports that the family is in talks with Orient-Express Hotels about a contract to manage the 105-room hotel, which stands to the rear of The Ritz, in central London.
More Airport Premier Inns, It's Plain
Whitbread and the Arora Family Trust have no objection to paying to check in at three of London's main airports: the £125 million will be money well spent to see four Premier Inn hotels safely stowed. Heathrow will take two of the hotels: 240 rooms at Terminal 4 and 400 rooms at Terminal 5. Stansted will have a 300-room hotel. The 630-room Premier Inn at the North Terminal at Gatwick will be special in that it will be the first budget hotel in the UK to give direct access to an airport terminal. The lease agreements on each of the hotels are conditional on planning permission being gained and on other consents being secured. If all goes to plan, then the hotels will open from autumn 2011 onwards.
Jumeirah To Manage A Golf And Polo Resort In Morocco
Jumeirah Group has signed an agreement with developer SGTM Immobilier to manage the Jumeirah Marrakech Golf & Polo Resort. The resort lies to the south of the city of Marrakech, in western Morocco, and will open in three phases starting in January 2013. The development will contain three five-star hotels: a golf hotel with 230 rooms and 50 luxury villas; a boutique polo hotel with 100 rooms; and a 300-room hotel with no sporting affiliation.
Millennium & Copthorne Enters Yemen
Millennium & Copthorne has a first hotel in Yemen to manage. The company signed the agreement on the Millennium Gold Mohur Beach Resort Aden with Al Kathiri Investment Group, the hotel's owner. The five-star hotel, which has 124 rooms, overlooks the Gulf of Aden and it will embark on a programme of refurbishment.
Riu To Manage Two Hotels In Turkey
Riu Hotels & Resorts and the Turkish construction company Kaya Holdings have signed an agreement that will see the Riu brand make its first appearance in Turkey. Riu will, from next summer, start managing the Kaya Belek and the Kaya Select: two five-star hotels in the resort of Antalya that belong to the Kaya Hotels & Resorts chain. As a consequence, the 506-room Kaya Belek will add the Riu prefix to its name, while signwriters at the 346-room Kaya Select will be slightly busier as they make room for the prefix ClubHotel Riu.
An Ibis Opens; A Novotel Grows
The first Ibis hotel in Moscow is here; its name is Ibis Moscow Paveletskaya and it has 147 rooms. Moscow is on roughly the same line of latitude as the city of York, in northern England. This excruciatingly tenuous link does though bring forth pleasure from its pain: news that the 124-room Novotel York Centre has finally been granted permission to extend. Work to add 42 bedrooms at a cost of a reported £4.5 million is expected to start early next year.
Kiessling's Corner
AC Hotels has sold the 102-room, three-star AC Som in Barcelona to Invisa Hoteles. AC Hotels will continue to manage the hotel. Kris Hoteles (the hotel chain of Grupo Transhotel) recently opened the 120-room, four-star Kris Parque Astur in Aviles (Asturia). Domus Hoteles is to manage the 138-room, three-star Hotel Robledo in the centre of the city of Gijón. The hotel will be renamed City Express. Domus is also to manage the Ruta Nuevo Molino: a 48-room, three-star hotel in Pancorbo (Burgos) that will take the name Ruta Express. These two hotels take Domus's portfolio to 20 hotels. Grupo Cadarso is to spend more than €5 million on an extensive renovation of the Hotel Fonda España, in Barcelona. The work, which will take a year to complete, is intended to raise the status of the 83-room hotel from two-star to four-star. By (the tireless) Gabriele Kiessling, Analyst, HVS Madrid
All You Need Is The International Hotel Conference
The Fab Four have been remastered, but our own fab four – Russell, Sophie, Tim and Gabi – need no such vocal enhancement as they tune up for what will be their only gig this year as a four-piece: the International Hotel Conference click here in Venice. (Though for this three-day event, Sophie Perret will be assuming the role of The Quiet One, as she is not one of the hundred or so speakers.) Tim Smith will lead off with the number "Asset Evaluation to Increase the Worth of Your Hotel Portfolio" on 22 October. Gabi Baumann will keep the pace going the following morning when she lends her pipes to "Increase Revenue at Your Hotel", before Russell Kett joins the likes of Andrew Sangster and Steven Rudnitsky on stage for the closing number "A View From The Top (Part II)". You ought to get your ticket to Venice, so get back to your finance director now and declare, "Money – that's what I want".
And Finally…A Note From His Master's Voice
Wanted: singers for impromptu a cappella performance. Must have an interest in hotel investment in its broadest sense, be able to read music, have previous a cappella experience, a good sense of humour and require minimal rehearsal. Please contact Russell Kett rkett@hvs.com, giving brief details of your preferred voice/part, some indication of your past choral experience and a telephone number.
Absolute Share Price Performance Over the Past Week 10-17 September 2009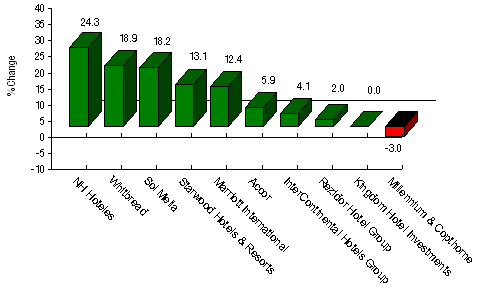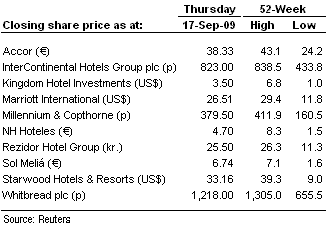 NH Hoteles - The share price, which had risen on the strength of NH's merger with Hesperia, rose further amid speculation that Accor might mount a takeover bid.
Whitbread - UBS placed a 'Buy' rating and raised its target price from 1,100p to 1,325p.
Starwood Hotels & Resorts - JP Morgan had an 'Overweight' rating and raised its target price from US$29 to US$39.
---
For the latest in the hospitality industry, please visit: http://www.hvs.com. You are also welcome to contact the following personnel.