Featured in this EMEA Hospitality Newsletter - Week Ending 13 November 2009
Autograph Signs In
The pages of The Autograph Collection are yet to be filled; but riffle through Marriott International's new book at the end of 2010 and you should see that some 25 hotels have signed. Each signatory is sure to be the better sort of personality – Marriott is seeking independent hotels with "distinctive personalities" in the upper upscale and luxury sectors to take the new brand. And although each hotel is a personality, none will be permitted to indulge in celebrity-style tantrums: each hotel, be it sophisticated urbanite or beach babe, must conform to the brand's high standards and continue to conform if it wants to remain part of the collection.
Doubletree Roots In Romania
The Doubletree by Hilton Oradea is blazing a trail for the Doubletree by Hilton brand in Romania. The scorch marks lead to the northwestern city of Oradea, where the hotel, which is expected to have 147 rooms, will be opening by September 2010. Hilton Worldwide signed the management agreement with Calipso, the owner and developer of the hotel. Calipso is a subsidiary of the Romanian investment company SIF Banat-Crişana. The Doubletree by Hilton brand is certainly 'on fire' in Europe as a whole; since the introduction of the brand to Europe in spring 2008 Hilton Worldwide has opened a total of nine hotels, in the UK, Italy and Slovakia.
Mantis's Prayers Are Answered
Mantis Group has itself a second hotel in London – and its fourth property in the UK – with the purchase, for an undisclosed sum, of the leasehold to The Lord Milner Hotel. Mantis, which has most of its hotels in its native South Africa – acquired the 11-room, five-star boutique hotel in Belgravia from Finisterre Holdings. Mantis Group's other hotel in London, the five-star Draycott Hotel, is only a few streets away.
Five On The Bill For Marriott In The MEA Region
The call went up from the Middle East and Africa region: "Give us five"; Marriott International obliged. A palm-slapping gesture of greeting will be especially appropriate and particularly effusive in Morocco, as the 216-room Marrakech Marriott Palm Golf Hotel will be Marriott International's first hotel in that country when it opens in 2012. Algeria will expect a double-hander as it too welcomes its first Marriott hotels in 2012 – the 227-room Algiers Marriott and the 180-unit Algiers Marriott Executive Apartments – although Ghana can claim the first slap, as its debutant Marriott – the 209-room Accra Marriott – will be open by late 2010. A slap on the back of the sort that greets an old friend will be the more appropriate gesture in Egypt, as when The Old Palace Resort is rebranded as the 294-room Sahl Hasheesh Marriott Beach Resort in 2011 it will be Marriott International's eighth hotel in the country.
Park Grand Bahrain To Open Next Year
Mashtan Hotel Management is reported to be converting the landmark Jashanmal Building in Manama, the capital of Bahrain, into a 120-room, four-star hotel. The hotel is to be managed by Park Grand Hotels, which has signed a contract with Mashtan, as the Park Grand Bahrain. The hotel, in which a reported BD8.5 million (US$22.5 million) has been invested, is set to open in August 2010.
Ibises Hatch In Belfast; More To Be Bred
The first two franchised Ibis hotels to have opened in the UK are also the first two Ibis hotels in Northern Ireland. The 124-room Ibis Belfast City Centre and the 56-room Ibis Belfast Queen's Quarter will be operated by their developer Andras House. Belfast-based Andras House revealed in summer 2007 that it would be spending a reported £50 million on the development of five Ibis hotels in Northern Ireland. Reports suggest the towns of Portrush, Enniskillen and Newry as the likeliest locations for the three other hotels.
Plans For The East Midlands
Passengers can no longer catch a bus from the Southgates depot in Leicester, but developer Applegate Leicester has arrived and early next year you might catch it submitting plans to redevelop the 0.7-hectare site; a four-star or five-star hotel with 150 rooms could be one feature of a mixed-use development. It might be possible to hop on a bus and travel due north from Leicester to Mansfield Woodhouse in Nottinghamshire. Reports suggest that local developer Vital Property has plans to transform the 50 hectares around Park Hall into an 18-hole golf course and a 60-room hotel and convert Park Hall itself into holiday apartments.
Kiessling's Corner
Grupo Hipotels has plans to open a 343-room, four-star hotel in Conil de la Frontera (Cádiz) in 2011. Construction work would start next year should the final licence be approved by the city council. Meanwhile, Sercotel has opened the 82-room, four-star Isla de la Garena and the 41-room, four-star Majadahonda in Madrid and the 202-room, five-star Santa Catalina in Las Palmas, Gran Canaria. All three hotels are managed by Sagatu Asociados Comercial Hotelera. Elsewhere, Abba Hotels recently opened a 136-room, four-star hotel in the centre of Granada. By Gabriele Kiessling, Analyst, HVS Madrid
IHG Reports Its Third-Quarter Figures
"The trading environment remains challenging. We see signs of occupancy stabilising, but rate is still under considerable pressure across the board." So said Andrew Cosslett, the chief executive of InterContinental Hotels Group (IHG), as his company reported its results for the third quarter ending 30 September 2009. Indeed, rate was identified as the main culprit in the fall in RevPAR in the EMEA region of 15.2%. Marketwide RevPAR, coincidentally, was down 15.2% too. Symmetry was also seen in the headline figures, as revenue (US$401 million) and adjusted operating profit (US$124 million) were both down 19% on their respective comparables of a year ago.
Sol Meliá Reports Its Nine-Month Results
Sol Meliá is tempted to put its sun hat on, but is wary of discarding its raincoat in an economic climate in which the Spanish hotelier is willing a "certain optimism" to break through the clouds of its own caution. The tempest that has been raging in the market wreaked predictable havoc on the company's results for the first nine months of 2009. A net profit of €47.5 million was 40.7% down on the previous year's comparable and revenue of €899.9 million was down 9.3% on the previous year's comparable.
Absolute Share Price Performance Over the Past Week 5-12 November 2009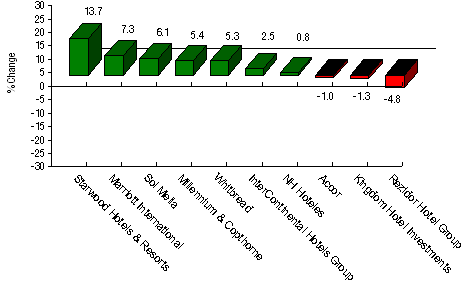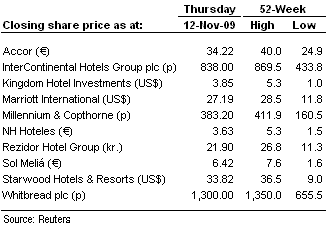 Sol Meliá - ESN-Caja Madrid lowered its rating from 'Accumulate' to 'Buy'.
Millennium & Copthorne - Credit Suisse had an 'Outperform' rating.
InterContinental Hotels Group - Citigroup raised its target price from 970p to 1,080p.
---
For the latest in the hospitality industry, please visit: http://www.hvs.com. You are also welcome to contact the following personnel.