Featured in this EMEA Hospitality Newsletter - Week Ending 4 December 2009
Folio Hotels To Become Part Of A New Portfolio
UK investment business the Akkeron Group has branched out and launched a new hotel company Akkeron Hotels in order to create a portfolio of 150 hotels across the UK. The first step that Akkeron Hotels took to realise this ambition was the acquisition, for an undisclosed nominal amount, of Folio Hotels, which went into administration in 2008 and was rescued by a management buy out. The deal includes Folio's name, its management and the leasehold to eight of its 18 hotel properties across England and Scotland. Of the remaining ten properties, seven have had their management contracts taken back in-house by the Vineyard Group and the management of three are being taken over by the hotels' individual owners.
Hilton Cracks A New Deal In Cracow
Hilton Worldwide pulled on its trusty snow boots this week and headed to the city of Cracow in south Poland. Once there, it signed a franchise agreement with Hotel Zakrzowek for the Hilton Garden Inn Krakow (Cracow). This 154-room hotel is scheduled to open in spring 2010 as the country's first Garden Inn property. It won't be flying the flag solo for long, however, as Hilton has already signed two other deals for Garden Inn hotels in Poland: one in the capital Warsaw and one in the city of Rzeszow in the southeast.
A Trio Of Hamptons For The UK
After its sojourn in Poland, Hilton Worldwide then pulled out its umbrella and headed to England where it plans to open three new Hampton by Hilton hotels. The hotels, which are owned by investment and development company Osborn Securities, are expected to open early in 2010 in the city of Birmingham, in the West Midlands; the town of Braintree, east England; and the town of Shrewsbury, in the west of the country. These hotels will bring the number of Hampton by Hiltons in the UK up to five.
...And One For Germany
You would think that after all this travelling Hilton Worldwide would be in need of a rest, but instead it headed to Berlin, in Germany, where it signed a franchise agreement with Curator Hotelbetriebsgesellschaft mbH Berlin for its first Hampton by Hilton property in the country. This 214-room hotel is expected to open at the end of 2010 and will join its sister property the 591-room Hilton Berlin.
A New Name For Mamaison
If you were looking for a hotel in Central or Eastern Europe you may well have typed the term Mamaison Hotels & Apartments into your Internet browser. Well, in order to avoid disappointment and a fruitless search, you now need to add Mamaison Hotels & Residences to your favourites page as this is the company's new corporate identity. Along with its new name Mamaison also has a brand new website. Mamaison, which currently manages ten properties across Russia, Poland, Slovakia, Hungary and the Czech Republic, plans to increase its portfolio to 35 properties in the next three to four years.
Romanian Hotel Seeks Management Contract
An international management contract is being sought for a 97-room, new build hotel in Bucharest, Romania. Due to open in 2011, the Vendôme Palace & Galerie hotel is currently brandless and seeks a leading global brand and management structure.
Ritz-Carlton To Debut In Israel
The Ritz-Carlton Hotel Company announced this week that it is to open its first property in Israel. The 110-room hotel is expected to open in Herzliya, north of Tel Aviv, in March 2012 and will include 85 residential suites. A total of US$160 million is to be invested in the project, which is co-owned by Israeli real estate company Tidhar and international business leaders Adi Strauss and Irit Strauss.
Absolute Share Price Performance Over the Past Week 26 November-3 December 2009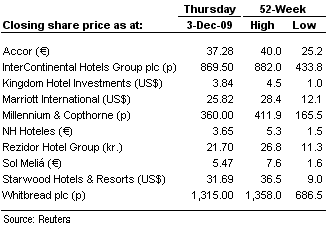 InterContinental Hotels Group (IHG) - Nomura gave IHG a "buy" rating and raised its target price to 960p from 910p.
Accor - Shares rose as Deutsche Bank gave Accor a "buy" rating.
Sol Meliá - Shares fell as Sol Meliá continued with a significant downtrend, decreasing 1.9% on firm volume.
---
For the latest in the hospitality industry, please visit: http://www.hvs.com. You are also welcome to contact the following personnel.