Featured in this EMEA Hospitality Newsletter - Week Ending 29 January 2010
Perm Suits Sheraton
The city of Perm, in western Russia, will wave in greeting to the Sheraton brand when it arrives in 2013. The 250-room Sheraton Perm will be part of a mixed-use development to be built by the Austrian company Strabag. Starwood Hotels & Resorts signed a management agreement on the hotel with Russian real estate company PermGrazhdanStroy Group.
Scandinavian Renaissance Starts In Sweden
The newly opened Renaissance Malmö Hotel is the first hotel in Scandinavia to have the Renaissance brand. The 128-room hotel occupies three buildings dating from the early 1800s in the city of Malmö, in southern Sweden, and is the latest product of a franchise agreement signed by Marriott International and Scandinavian Hospitality Group in 2007. That agreement prescribed the opening of a total of 15 hotels (across a range of Marriott's brands) in Sweden, Norway and Finland by 2013.
To Russia With Loans
EBRD (the European Bank for Reconstruction and Development) is expected to contribute €33.7 million towards the €98.5 million that Russian Hotel Investment (RHI) needs to execute its plans to develop five hotels in Russia. Of that contribution, €27.1 million would be a loan to four subsidiaries of RHI, and the remainder an equity investment in RHI. The hotels, which are destined for the cities of Samara, Krasnoyarsk, Kaliningrad and Yaroslavl, will share a total of 897 rooms and will be managed by Accor under the Ibis and Novotel brands. It was reported last week that the International Finance Corporation was loaning €27.5 million and investing €2.5 million in RHI. Netherlands-based RHI is owned by the Turkish conglomerate Akfen Holding and its compatriots the Kayi Group and Insa Group.
Layia Hospitality Launches Day & Night Hotels
The youthful Layia Hospitality (it was launched in early 2008) is teaming up with the equally fresh-faced CAPM Investment (incorporated in September 2007) to develop five budget hotels designed to appeal to the 'young at heart' traveller. The hotels in the emirate of Abu Dhabi will each take the newborn brand Day & Night, a sister for Layia Hospitality's hotel brand Layia and its serviced apartment brand Living Courts. CAPM Investment is to establish CAPM Hotel Investments Company as the development and operational concern, and is to seek out individual and institutional investors willing to subscribe to the initial required capital of Dh125 million (US$34 million).
Gladen's Tidings
Two new hotels have opened in Barcelona. Grupotel's offering, in which €50 million was invested, is a 90-room, four-star hotel at Gran Vía 678. Best Hotels has opened its fourth hotel in the city. The 142-room, four-star 4 Barcelona, is located in the business district 22@ Barcelona. By Esther Gladen, HVS Madrid
Anna Finds Love In The Interval
At 200 years of age, Anna Grand thought she would never find love in the arms of a leading global provider of vacation services; but she was wrong. This very week, Anna Grand Hotel Vacation Club found herself swept into the arms of Interval International. And so we leave the happy couple to their romance, down on the northern shores of Lake Balaton, in Hungary.
It's A Fractional Life. Not Half!
The Fractional Summit is the largest fractional real estate conference in Europe. This year the experts will have their foot in the door of the London Marriott Hotel Grosvenor Square for two days (18-19 February), during which time they will be addressing such questions as "Mid market fractionals – where are the buyers?" and giving an update on the European fractional ownership marketplace in 2010. HVS Shared Ownership Services is among the sponsors of the conference, and its managing director (EMEA & Asia) Philip Bacon will be taking an active role as both panellist and moderator. Further details are available at www.fractionalsummit.com click here
Absolute Share Price Performance Over the Past Week 21-28 January 2010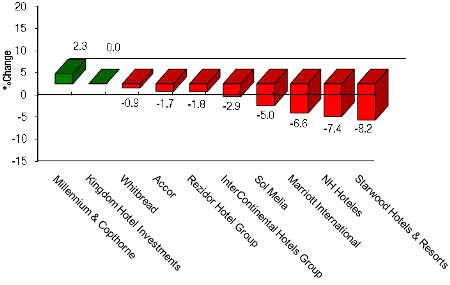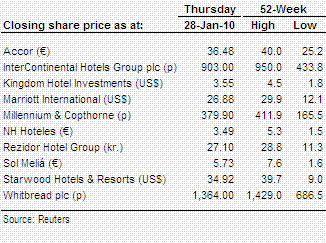 Whitbread - Towards the end of the week Barclays Capital announced it was keeping its 'Overweight' rating and was raising its target price from 1,600p to 1,700p.
Accor - UBS kept a 'Sell' rating but raised its target price from €32.60 to €33.80.
Starwood Hotels & Resorts - KBW had an 'Outperform' rating and raised its target price from US$35 to US$44.
---
For the latest in the hospitality industry, please visit: http://www.hvs.com. You are also welcome to contact the following personnel.