Featured in this HVS EMEA Hospitality Newsletter - Week Ending 5 March 2010
We Open With A Tune
Malaysia and Indonesia are already in tune with the concept of Tune Hotels.com – that of a "five-star sleeping experience at a one-star price". The UK, more specifically London, will be in harmony later this year when a hotel opens in Westminster. Fourteen more hotels in greater London are set to follow this pioneer over the next seven years under an agreement worth a reported £150 million signed by Malaysian conglomerate Tune Group and UK developer and hotel franchisee Queensway Group.
Gravetye Attracts Saphos Hotels
Gravetye Manor has stood in the West Sussex countryside for more than 400 years; thankfully, it did not have to wait nearly so long to be rescued from administration. Just over six weeks were to elapse before fund manager Jeremy Hosking arrived to take ownership of the 18-room hotel on behalf of his new company Saphos Hotels. Gravetye Manor, which was acquired for an undisclosed sum, is affiliated to Relais & Châteaux.
This Is Chardon Crossing The Border
All four of Chardon Management's Holiday Inn Express hotels are in its native Scotland; to boost its collection, the Glasgow-based independent hotel management company revived the tradition of the cross-border foray. Chardon halted at Birmingham, the home of Morethanhotels, and captured without apparent struggle the management contracts to all 12 of the Holiday Inn Express hotels owned and operated by Morethanhotels. The hotels have a combined total of 1,399 rooms. Chardon now manages a grand total of 29 hotels in the UK.
A Second Swiss Courtyard
Marriott International has opened a second hotel in Switzerland with the Courtyard by Marriott brand. The 175-room Courtyard by Marriott Basel, on which catering and services group SV Schweiz has the franchise, stands in the northwestern city of Basel (Basle) and will be a partner for the Courtyard by Marriott Zürich North. Marriott International has a total of five hotels in Switzerland.
Jordanian JW Marriott Billed For 2013
The marriage of the JW Marriott brand with the Jordanian port of Aqaba awaits its consummation; but the consummation devoutly wished for by Marriott International over the last few years could come in 2013: the projected date of opening of the 264-room JW Marriott Hotel Aqaba. The marriage service will be conducted by Beaches for Hotels and Spas, a subsidiary of Arab International Hotels (AIH). AIH has been at Marriott International's side since 1976 and owns Marriott's three existing hotels in Jordan.
YTL Finds Its Muse In The South Of France
YTL Hotels has 11 properties across Asia, among them The Ritz-Carlton and JW Marriott hotels in Kuala Lumpur. Now it is time for the hospitality arm of Malaysian conglomerate YTL Corporation to extend itself to Europe. In June YTL will be opening the Muse, a hotel of 14 suites, each with its own garden, in the resort of St-Tropez, in the south of France.
Gladen's Tidings
Hotusa – Eurostars will open its new hotel Eurostars Executive in the business park area of Barberá de Vallès, in Barcelona, in the first quarter of 2010. The hotel, formerly called Barberá Palace, was acquired by the building company Metrovacesa in 2006 for €53 million, and was originally expected to open in 2008. The four-star hotel has 118 rooms. By Esther Gladen, HVS Madrid
Whitbread's New CEO To Arrive By Candlelight
Who is that circling Whitbread? Why, it's Andy Harrison, the chief executive of easyJet. Whitbread has signalled him to make his initial approach on 1 September, and he will be given clearance to land fully on 25 November 2010, when he will be guided into the chief executive's seat by the light of the 64 candles on Alan Parker's birthday cake; Alan Parker is to retire as chief executive of Whitbread on 25 November, his 64th birthday.
Costa Brings Home The Beans
Andy Harrison was once the chief executive of the RAC but he will find Whitbread in no need of immediate assistance. Far from breaking down, Whitbread found itself running smoothly in the final quarter of its financial year. In a trading update covering the 51 weeks to 18 February 2010 Whitbread reported positive sales growth in all divisions: a trading performance that Alan Parker described as "robust". The Costa coffee chain led the way with like-for-like growth of 9.5%. The Premier Inn hotels recorded a like-for-like increase of 1.7% in the final quarter; total like-for-like sales in the quarter were up 3.0%. Whitbread expects its full-year performance to be in line with its expectations; those results are due on 29 April.
NH Hoteles Announces Its Full-Year Results
NH Hoteles has announced its results for the year ending 31 December 2009. The results show a fall in hotel revenue of 19.1% (like for like) to approximately €1.1 billion and a 64.5% drop (like for like) in hotel EBITDA, which finished on approximately €75.1 million. RevPAR across the company's hotels in Europe was down 19.0% on the previous year's comparable figure, at €44.93.
Hodges Ward Elliott Tops Broker Rankings Again
According to Real Estate Alert, one of America's most respected property industry publications, Hodges Ward Elliott remained the top hotel broker in 2009. The Real Estate Alert rankings are based on sales of US$25 million or more, and this is the third year running that Hodges Ward Elliott have topped the list, following their 2007 landmark market share of 31.8% of brokered transactions. For further information, please contact Charles Human, Managing Director, HVS Hodges Ward Elliott. Tel: 44 (20) 7257 2001.
The Forum For Distress-Relief
Distressed real estate: a heartbreaking sight, and one all too familiar in these troubled economic times. Perhaps you have been confronted by a blubbering mass of brickwork and have turned away, weeping to yourself out of shame at your own helplessness. Take that first step towards conquering your inadequacy and book a ticket to the European Distressed Real Estate Forum (visit www.imn.org/re click here). There are big boys here, and big girls too (and we know they don't cry); they will talk you through your problems in a two-day series of healing seminars and return you to the streets encouraged and confident enough to deal with the next hapless hotel or snivelling store you come across. One of the bigger boys is Russell Kett, the managing director of HVS London, who will be moderating a session on the opening day (25 March) entitled "Distressed Hotels: An Opportunity?"
Final Call For Berlin
How about this for a magnificent seven: Russell Kett, Charles Human, Chris Martin, Tim Smith, Chris Mumford, Philip Bacon and Demetris Spanos. They are riding into Berlin on Monday (8 March), tying up outside the InterContinental hotel and going in to join other sharpshooters for three days of informative conversation at the International Hotel Investment Forum. If you want to ride with them and have not yet booked your ticket then you had better gallop across to www.berlinconference.com. click here
Absolute Share Price Performance Over the Past Week 25 February-4 March 2010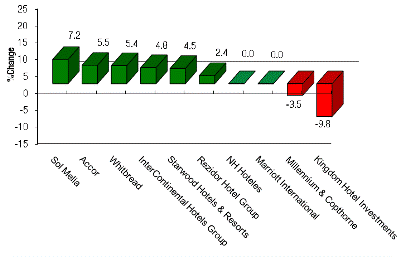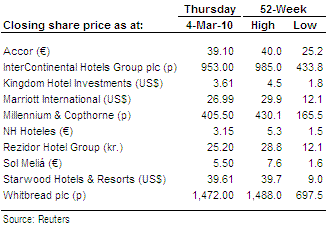 Sol Meliá - Exane BNP Paribas kept its 'Outperform' rating but lowered its target price to €8.0.
Accor - Morgan Stanley had an 'Equal-weight' rating and raised its target price from €35.0 to €37.0.
Whitbread - Seymour Pierce placed a 'Buy' rating. Exane BNP Paribas raised its target price from 1,250p to 1,400p.
---
For the latest in the hospitality industry, please visit: http://www.hvs.com. You are also welcome to contact the following personnel.