Featured in this HVS EMEA Hospitality Newsletter - Week Ending 19 March 2010
Baku Is Fairmont's Latest Flame
One has to expect the odd jet of flame to periodically shoot into the air in Baku; what with all that oil and natural gas about, a sudden flare-up can come as no surprise. What might surprise, though, is three flames currently shooting up from the ground that are permanently 'frozen'; when we find that they are made from metal and glass, then this lack of flicker will come as no surprise either. These flames are the Flame Towers, and Fairmont Hotels & Resorts has warmed to one of them. It will be working with Azerbaijani company Azinko Development on lighting up the tower with the 347-room Fairmont Baku, which Fairmont will manage when the hotel opens in early 2011. The other two towers on the complex are to be devoted to residential and commercial use.
A Hyatt Regency For Rostov
A subsidiary of Hyatt Hotels Corporation has signed an agreement with MKC-RosEvro Development that will see Hyatt manage what is the second hotel in Russia with the Hyatt Regency brand. The 220-room Hyatt Regency Rostov – Don Plaza is part of a mixed-use development in the southern city of Rostov-on-Don. The hotel, which is the third Hyatt hotel in Russia, is scheduled to open in the third quarter of 2011.
Join The K-Stars In Hamburg
Lifestyle Hospitality & Entertainment Group, the Swiss hotel management company that is the name behind the Kameha brand, has launched a brand called K-Stars Living. The mid-market brand promises "urban flair with a sexy, lively atmosphere"; the hotels will be ecologically sound too. A mouthwatering combination, to be sure. Best drool your way over to Hamburg, in Germany, then, where work to build the first hotel is to begin this October. The 167-room hotel is to be built at the Eco City development and is due to open towards the end of 2011.
Painting By Numbers: Cologne Is Number Six
The city of Cologne has welcomed what is the sixth hotel in Germany with the art'otel brand: the 218-room art'otel Cologne. Cologne has had to be patient in its wait to ascend the painted throne on which Berlin, Potsdam and Dresden have sat before: it was 2007 when Park Plaza Hotels announced that Cologne was the next German city in line.
SHUAA Comes Into Land In Jeddah
No private equity hospitality fund had invested in land in Saudi Arabia until SHUAA Saudi Hospitality Fund I did. The fund, which is controlled by SHUAA Capital Saudi Arabia, has acquired, for an undisclosed sum, a plot on the Jeddah Corniche; and on that land, at a cost of an estimated 500 million Saudi Arabian riyals (roughly US$97 million), a tower will rise to 35 storeys. And in that tower will be 250 hotel rooms and 150 serviced apartments that will be managed by Rotana.
Club Joins Interval
Interval International, a provider of vacation services worldwide, has affiliated the Emirates Vacation Club, a private residence club whose 32 luxury units (a mix of one-bedroom, two-bedroom and studio units) are located within the 48-storey Emirates Grand Hotel in the emirate of Dubai.
Hotel To Open At East Midlands Airport
All that burnt aviation spirit wafting around the runway at East Midlands Airport will have its grubby footprint offset by a 'sustainable' hotel that MAG Developments is to build. MAG, which is the property and development arm of Manchester Airports Group, has enlisted the support of hotel investment group Azure Properties, which is to look for a franchisee to operate the 216-room, four-star hotel. The hotel, which is reported to be costing some £22 million, should be ready to open in about 18 months' time.
Gladen's Tidings
NH Hoteles has opened a new hotel in Florence. The 72-room, four-star NH Porta Rossa occupies one of the oldest buildings in Italy, with hospitality records dating back to 1386. Meanwhile, Room Mate is shortly to start work on a new project in Barcelona. The 3,000 m² 65-room hotel, which will occupy a former office building in calle Fontanella, close to Plaza Cataluña, is expected to open in 2011. Acta Hotels Group, which hails from Barcelona, is to take over the management of the 42-room, four-star Room Mate Marina in Valencia. Elsewhere, Playa Sol has bought the Costa Verde hotel in El Arenal, Majorca. The hotel will be Playa Sol's second on the island and it will reopen on 23 April, at the end of the low season. By Esther Gladen, HVS Madrid
One Kingdom In Pursuit Of Another
Kingdom Hotel Investments (KHI) has agreed to the terms of a recommended cash offer to be made by Kingdom Holding Company (KHC) that would see KHC take ownership of the remainder (43.9%) of KHI's shares that it does not already own. The offer price is US$5 a share, that price being a premium of 39.7% on the average closing middle-market price of KHI's shares over the three months to 14 March 2010. The offer values KHI at US$842.9 million.
Kingdom Hotel Investments Reports Its Full-Year Results
Kingdom Hotel Investments (KHI) has reported its results for the 12 months to 31 December 2009. In the challenging trading environment of 2009, KHI saw revenues decline by 12%, to US$246.4 million, and consolidated RevPAR fall by 7%. KHI noted that the decline in RevPAR had slowed in the second half of the year; the company expects to see "mid single digit growth in RevPAR during 2010".
Hail To The Chiefs
The 'alumni chapter' is not as fearsome as it sounds. No Hell's Angels here. Having said that, though, I might suggest you don't dare breathe on Jordan Mendell's Harley; and for goodness' sake don't provoke Michelle Weiss when she has that bicycle chain round her knuckles. Jordan and Michelle, Senior Associates at HVS Hodges Ward Elliott, have each been appointed president of an alumni chapter: Jordan of the Cornell Hotel School's London branch and Michelle of the Great Britain alumni chapter of Ecole Hôtelière de Lausanne.
Absolute Share Price Performance Over the Past Week 11-18 March 2010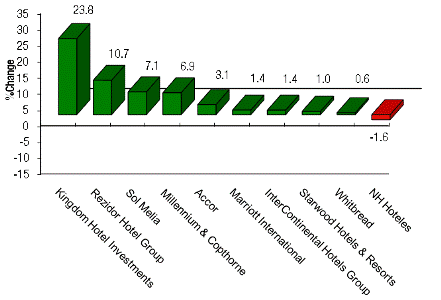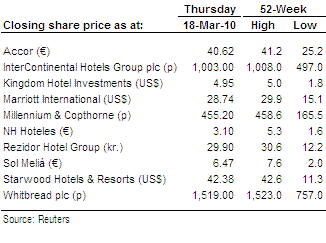 Rezidor Hotel Group - Deutsche Bank raised its target price from kr25 to kr35.
Sol Meliá - Société Générale raised its rating from 'Sell' to 'Buy'.
NH Hoteles - Cheuvreux cut its rating from 'Outperform' to 'Underperform'.
---
For the latest in the hospitality industry, please visit: http://www.hvs.com. You are also welcome to contact the following personnel.