Featured in this HVS EMEA Hospitality Newsletter - Week Ending 29 April 2010
Chief Among Sales
Chief O'Neill's Hotel has been on the market for almost two years and is reported to be the first hotel in Dublin to have been sold for more than two years. An unnamed overseas buyer paid around a reported €8.5 million in cash for the 73-room, three-star hotel, which was once part of the Park Inn chain. Businessman Laurence Byrne was reported to be asking €21 million at the time he put the hotel up for sale.
Scandic Announces Another New Hotel In Finland
Scandic has signed a franchise agreement with Hämeen Valtatieravintolat for a new hotel in Finland. The 67-room Hotel Pumpulienkeli in the town of Forssa, in the south of the country, is to be welcomed into the Scandic family on 1 June 2010 and will be renamed the Scandic Forssa. Once rebranded, this hotel will be Scandic's 29th hotel in Finland.
Another Park Inn For St Petersburg
The Russian city of St Petersburg has its third Park Inn hotel. The 270-room Park Inn Nevsky St. Petersburg has opened to join the 1,200-room Park Inn Pribaltiyskaya and the 840-room Park Inn Pulkovskaya. Rezidor Hotel Group has five other Park Inn hotels in operation elsewhere in Russia, with the promise of many more to come.
Marriott Reopens 47 Park Street
Marriott International has reopened its private residence club 47 Park Street – Grand Residences by Marriott. The octogenarian building in the Mayfair district of London has emerged sprightly at the end of a 12-month period of extensive refurbishment.
Venu Is New From Jumeirah
Jumeirah Group, the luxury hospitality company based in Dubai, is to launch the brand Venu later this year. Venu is to be a contemporary lifestyle hotel brand that is expected to find its feet in locations including the Middle East, northern Africa and eastern Europe. The company said that it was at an advanced stage of negotiation with developers.
Gladen's Tidings
NH Hoteles is reported to be finalising the sale of the Jolly St. Ermin's, in London, to the international investor group Angelo, Gordon & Co., Amerimar Enterprises and Gracemark Investments. The purchase price is a reported £65 million (approximately €75 million). NH considered the listed property, taken over in the acquisition of Jolly Hotels in 2007, to be a non-strategic property, as an investment of €31 million would have been necessary to keep the hotel up to the company's standards. Pierre & Vacances has continued its expansion in Spain by opening its third hotel in the province of Málaga. The 235-unit, four-star former Arcosur Principe Spa will be operated under the name Pierre & Vacances Benalmádena from May. Sol Meliá has opened a luxury five-star Gran Meliá resort on the island of Crete. The resort has 243 rooms, 18 suites and 39 villas, including a presidential suite of 550 m². Sol Meliá now has 13 resorts in Europe and seven in Spain. AC Hotels has opened the AC Atocha, in Madrid. The new property, next to Atocha railway station, has 161 rooms. AC Hotels now has ten hotels in the Spanish capital, and another ten in the community of Madrid. By Esther Gladen, Business and Market Intelligence Analyst, HVS Madrid
Whitbread Reports Its Full-Year Results
In the year to 4 March 2010 Whitbread saw its pre-tax underlying profit rise by 6.6%, to £239.1 million, and its revenue reach approximately £1.4 billion, an increase on the previous year of 7.5%. The chain of Premier Inn hotels saw its revenue rise by 4.7%, to £629.8 million, but regional RevPAR was down by 6.4%. Chief executive Alan Parker said that Whitbread had "performed strongly in the most challenging hotel and restaurant trading conditions for a generation." He added that "While the level of economic recovery remains unclear, the first seven weeks of the financial year have started well".
A First-Quarter Update From Kingdom Hotel Investments
Kingdom Hotel Investments (KHI) has issued a trading update covering the three months to 31 March 2010. In that time, KHI saw system RevPAR rise by 5.6%. The company noted that RevPAR had grown by 29% at the Four Seasons Damascus. The George V, in Paris, returned RevPAR growth of 7.8%.
The Sixth Dean's Leadership Series Is On The Sixth: Hurry!
With just over week to go to the Cornell University hotel school's sixth Dean's Leadership Series now is the time to book your place. The event is to take place at Le Méridien Etoile, in Paris, on Thursday 6 May 2010. This title of this year's panel discussion is Recovery Ahead: Hospitality and Real Estate Investment in the EMEA Marketplace. The series provides a platform for academic and industry leaders to debate the pressing hospitality industry issues of the day. Panellists include Puneet Chhatwal, senior vice president and chief development officer, Rezidor Hotel Group; Marty Kandrac, managing director, Blackstone Group; Kirk Kinsell, president, EMEA, InterContinental Hotels Group; Grace Leo, president and owner, GLA Hotels; Nick Turner, vice president, business development, RCI; and HVS London's managing director Russell Kett. For more information and to register for this event Click here.
Absolute Share Price Performance 22-28 April 2010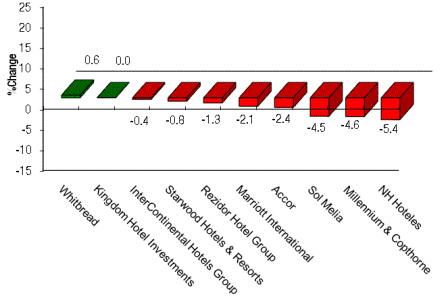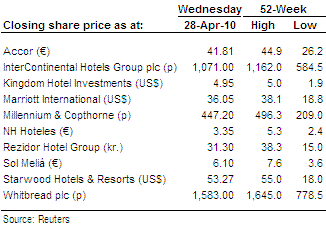 Whitbread - Panmure Gordon placed a 'Buy' rating ahead of Whitbread's results and raised its target price from 1,840p to 1,935p.
Accor - Morgan Stanley kept its 'Equal-weight' rating but raised its target price from €37 to €44.
NH Hoteles - Iberian Equities raised its rating from 'Hold' to 'Buy' but the share price maintained a downward trend.
---
For the latest in the hospitality industry, please visit: http://www.hvs.com. You are also welcome to contact the following personnel.
| | |
| --- | --- |
| Russell Kett, Managing Director | rkett@hvs.com |
| Charles Human, Managing Director – HVS HWE | chuman@hvshwe.com |
| Tim Smith, Director | tsmith@hvs.com |
| Demetris Spanos, Managing Director – HVS Athens | dspanos@hvs.com |
| Hala Matar Choufany, Managing Director – HVS Dubai | hchoufany@hvs.com |
| Christopher Mumford, Managing Director – Executive Search | cmumford@hvs.com |
| Philip Bacon, Managing Director – HVS Madrid and Managing Director, EMEA & Asia – HVS Shared Ownership Services | pbacon@hvs.com |
| Louise Fury, EMEA Hospitality Enews Author | lfury@hvs.com |
| Adrian Jones, EMEA Hospitality Enews Author | ajones@hvs.com |