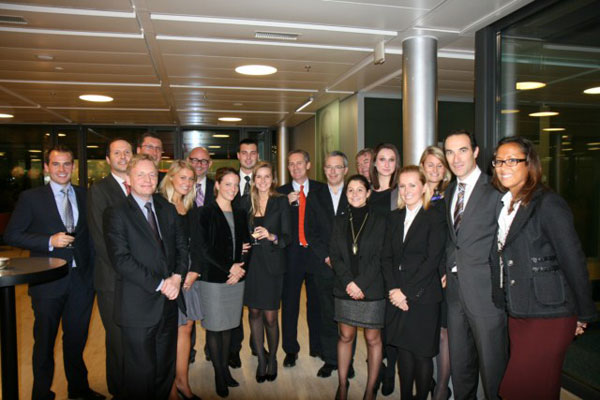 Philip Bacon, Managing Director of HVS Madrid was asked by EHL to help create and organize the latest EHL Strategy Challenge on November 3 at the Ecole hôtelière de Lausanne. The theme this year was "The Future of the Shared Ownership Industry in Europe". 150 EHL students in their final year took part in the challenge. They were tasked with forecasting the future of Timeshare, Branded Residences and Fractional Ownership segments including private residence clubs and destination clubs.

To help kick things off, on 29 September Philip, who has been involved in the shared ownership sector since 1993, was invited by EHL to present an overview of shared ownership business models to the group of final year students. On 3 November, Philip and six other industry experts were involved in evaluating written reports and oral presentations. In addition, they put the students through a rigorous question and answer session about their forecasts.

Apart from Philip, the other six judges were:
Wilhelm Froon, CEO, The Resort Agency
Dimitri Manikis, SVP Business Development, RCI
Richard McIntosh, Managing Director, Hilton Grand Vacations Club EMEA
Christophe Piffaretti, Founder & CEO, Residencium and ex-Managing Director, Kempinski Residences
Preben Vestdam, President, Valhalla Associates
Stephen Wise, Founder & Chairman, The Hideaways Club
The various groups of EHL students reported on their chosen subjects, either in French or in English, showing an impressive depth of understanding taking into account that they had only five weeks to prepare on their reports and meet the challenge. The industry experts were impressed with the students' work as well as by EHL itself.

The jury selected the best management reports in both languages. Several of these reports identified the fact that the industry has not yet fully embraced the online world and that changes are needed on both the property and marketing sides in order to target Generations X and Y. Other value drivers including shorter vacation periods, an increased desire for flexibility and the need for sustainable development were important findings according to the top teams.

A bilingual panel discussion was moderated afterwards by Mr Demian Hodari, EHL Professor of Strategic Management and founder and co-organizer of the event. This panel discussion not only solicited the experts' own opinions about the future of shared ownership in Europe, but also served as an interactive and novel way to provide feedback to the students about their strategic thinking skills as applied to the future of Timeshare, Branded Residences and Fractional Ownership.

The best teams, are now eligible to compete to represent EHL at the 4th annual International Hotel Investment Forum Strategy Challenge as part of IHIF in Berlin next March. These teams must now create an innovative, feasible and profitable shared ownership business model and project concept that fits the team's forecasts for the future of the industry. The team selected to go to Berlin will compete against teams from other European hotel schools.