W London Looking For A New Owner
It was announced this week that the W London – Leicester Square, UK, is to be put on the market for approximately £200 million, ahead of its scheduled opening on Valentine's Day in February. The sale of the freehold property also includes 35,000 ft² of retail space which is to house Europe's first M&M's World shop and 11 residential flats. Northern Ireland-based property development, investment and construction firm McAleer & Rushe bought the project, the former Swiss Centre building, from British Land for £47 million in 2004. Commenting on the sale of the 192-room hotel, a spokesperson for McAleer & Rushe said: "Over recent months, we have had numerous direct approaches from parties interested in buying the building…our priority is to ensure the successful completion of this project on time and on budget."
Cowell Snaps Up Hilton's Fab Four
The Royal Bank of Scotland has sold four Hilton-branded properties in the UK to Cowell Group Investors, a subsidiary of London-based private property company, Marcus Cooper Group, in an all-equity transaction for a reported £130 million. The 334-room Hilton Brighton Metropole, the 170-room Hilton St Anne's Manor, the 181-room Hilton Warwick/Stratford-on-Avon and the 821-room Hilton Manchester Airport will continue to be let to Hilton Worldwide for 11 years, with an option to extend. The sale includes 20 acres of land adjacent to the hotel in Warwick that is zoned for residential use.
New Investment For Travelodge
It was reported this week that budget brand Travelodge will invest £300 million in developing some 35 new hotels in 2011, including a 104-room hotel at Manchester University and a 188-room property in Stratford, London, the main location for the Olympic Games in 2012. Owned by Dubai-based international investment company Dubai International Capital, Travelodge currently has a portfolio of 453 hotels (approximately 30,600 rooms) across the UK, Ireland and Spain.
New Look For London Hotel
A three-star London hotel is to close its doors to undergo a £30 million refurbishment and extension. US-based property company Amerimar Enterprises, London-based Gracemark Investments and US private equity firm Angelo, Gordon & Co jointly purchased the St Ermins Hotel, in Westminster, from NH Hoteles for £65 million in April 2010. After its extensive makeover, the 275-room Grade II-listed hotel will reopen in April this year as a four-star property with 331 rooms, just in time for the Royal Wedding.
Choice's New Brand Bursts Onto The Scene
To celebrate the start of a new year, Choice Hotels Scandinavia has launched its new budget brand: Comfort Hotel Xpress, which is described as a "lifestyle concept targeting price-conscious modern travellers". The 170-room Comfort Hotel Xpress, Copenhagen, in Denmark, is already open and the 180-room Comfort Hotel Xpress, Oslo, in Norway, in due to open by the end of the month.
Two Riverside Hotels For Rezidor
Rezidor Hotel Group has announced that it will open the 223-room Park Inn ExCeL at the ExCeL exhibition centre, London, in 2013. The 20-storey hotel will be 200 m west from the centre's main entrance and will overlook the River Thames. Kurt Ritter, president and chief executive officer of Rezidor commented, "This property will further strengthen the presence and brand awareness of our young and dynamic mid-market brand Park Inn in the UK." Rezidor and Winn Hotel Group have announced the 266-room Radisson Blu Riverside Hotel Gothenburg, in Sweden. The hotel, scheduled to open in the first quarter of 2013, will be situated on the north bank of the Gothia River, a ten-minute drive away from Rezidor's other hotel in Gothenburg: the 349-room Radisson Blu Scandinavia Hotel Gothenburg.
New Hotels For Rotana, And SHUAA
Abu Dhabi-based Rotana has announced six new hotels for the UAE in 2011. This will bring its portfolio to 33 properties in the country. Selim El Zyr, president and chief executive officer of Rotana, commented, "The last few months have seen the hospitality industry in the Middle East and Africa registering positive growth. We see that momentum being sustained as general business conditions improve across the board." Elsewhere in the Middle East, SHUAA Capital Saudi Arabia has signed an agreement (on behalf of SHUAA Saudi Hospitality Fund I) with Abdulla Fouad Holding Company to develop a Rayhaan by Rotana hotel in Dammam, in the Kingdom of Saudi Arabia. The 240-room hotel is the third project announced by SHUAA Saudi Hospitality Fund I in Saudi Arabia to be managed by Rotana. The others are a five-star Rayhaan hotel and a four-star budget hotel, both in Jeddah.
Sharjah's First Ramada Hotel
CHI Hotels & Resorts has recently opened the first Ramada-branded property in the emirate of Sharjah: the 250-suite Ramada Sharjah. Tony Potter, CHI Hotels & Resorts' chief executive officer and managing director, commented, "The opening of the Ramada Sharjah is a red-letter day for CHI as it not only marks our company's first hotel operation in the Emirate [sic], but also our introduction for the first time of the popular and highly-rated Ramada brand to the wonderful city of Sharjah."
A Renovation For The Radisson Blu In Kuwait
It was announced this week that the Radisson Blu Hotel, Kuwait has closed for a year-long renovation. The 200-room hotel, which opened in 1980 as Rezidor Hotel Group's first property outside of Scandinavia, is expected to reopen in 2012 with 194 rooms. Throughout the refurbishment, the hotel's restaurants, meeting facilities and health club will remain open.
Fractional Summit Europe 2011 – Exclusive Discount Offer For HVS Newsletter Subscribers
HVS is pleased to be a Silver Sponsor for next month's Fractional Summit Europe 2011 conference and is delighted to offer subscribers a £100 discount per delegate ticket. Europe's largest business to business fractional property conference takes place over 17-18 February 2011 at the Marriott London, Grosvenor Square. Building on the success of 2010's event, which attracted more than 250 delegates from 23 countries, the Fractional Summit Europe 2011 is the leading industry event bringing together key decision makers, offering a unique opportunity to meet all the key fractional property movers and shakers under one roof. The value of the event is what you learn, who you meet and the business you do. To book tickets and secure your discount, go to www.fractionalsummit.com and insert HVS as the discount code when prompted. This discount offer expires on 31 January 2011.
Accor's 2010 Results
Accor has reported a revenue of €5,693 million from its hotel business for 2010, a 7.4% like-for-like increase on 2009; revenue grew by 9.4% in the fourth quarter of 2010 alone. The group's upscale and midscale hotels achieved a revenue of €3,332 million, a like-for-like increase of 9.0% on 2009. Revenue from economy hotels increased by 6.8% in 2010. Accor has revised its 2010 EBIT target to €440 million, compared to the €400-€420 million previously announced in late October 2010.
Gladen's Tidings
The news from Spain by Esther Gladen, Business & Market Intelligence Analyst, HVS Madrid. The Best Western Santo Domingo hotel, in Madrid, is reported to be leaving Best Western to join Accor under its Mercure brand. Sol Meliá has sold the 437-room Meliá Lebreros hotel, in Seville, for €49.3 million. Sol Meliá will continue to operate the hotel under a 12-year lease contract. Majestic Hotel Group is soon to open its new Majestic Residence: a four-star property with 28 apartments, in Barcelona, opposite the five-star Majestic Hotel & Spa Barcelona. A five-room hotel made using 12 tons of rubbish collected from European beaches has opened in the centre of Madrid. The Beach Garbage Hotel was designed by prestigious German artist Ha Schult.
Absolute Share Price Performance Over the Past Week – 13-20 January 2011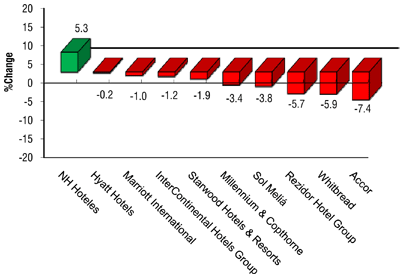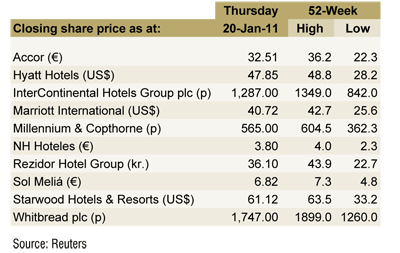 Accor – Nomura gave Accor a "neutral" rating, lifting the share price target to €36.50 from €30.00.
InterContinental Hotels Group (IHG) – IHG hit a year high this week for the 17th time in three months.
NH Hoteles – NH Hoteles decreased 1.4% on high volume falling for a second consecutive day, a two-day fall of 2.7%.
---
For the latest in the hospitality industry, please visit: http://www.hvs.com. You are also welcome to contact the following personnel.
| | |
| --- | --- |
| Russell Kett, Managing Director – HVS London | rkett@hvs.com |
| Charles Human, Managing Director – HVS Hodges Ward Elliott | chuman@hvshwe.com |
| Tim Smith, Director – HVS London | tsmith@hvs.com |
| Chris Martin, Director – HVS Hodges Ward Elliott | cmartin@hvshwe.com |
| Demetris Spanos, Managing Director – HVS Athens | dspanos@hvs.com |
| Hala Matar Choufany, Managing Director – HVS Dubai | hchoufany@hvs.com |
| Christopher Mumford, Managing Director – HVS Executive Search | cmumford@hvs.com |
| Philip Bacon, Managing Director – HVS Madrid and Managing Director, EMEA & Asia – HVS Shared Ownership Services | pbacon@hvs.com |
| Saurabh Chawla, Director – HVS Asset Management and Strategic Advisory | schawla@hvs.com |
| Louise Fury, Editor and EMEA Hospitality Newsletter Author – HVS London | lfury@hvs.com |