Who Said Everyone Goes On Holiday In Europe In August?
Judging by the number of stories in our EMEA newsletter this week, this is far from the truth. Let's hope the deals keep rolling and we'll do our best to keep up with them and report them to you.
The Triumphant Sale Of A Sofitel In Paris
Accor recently announced the sale of the Sofitel Arc de Triomphe in Paris, France, under a sale-and-manage-back agreement. The 135-room hotel is to be sold to a consortium of French private investors for €44 million (€325,000 per room); the consortium has also agreed to finance a renovation of the four-star hotel for €25 million. Accor will continue to operate the hotel, which will remain open during its refurbishment, under a long-term management agreement. The transaction is part of Accor's ongoing 'asset-right' strategy.
From Four To Five In The Garden Of Eden
The Eden Hotel Collection has increased its portfolio of upscale hotels in the UK to five with the purchase of the Brockencote Hall hotel near the town of Kidderminster, in west central England, from Joseph and Alison Petitjean for more than £3 million. The 17-room Victorian country house hotel, which has been owned by the Petitjean family since 1985, will now undergo an extensive renovation to bring it in line with Eden standards.
A Prince Among Motels
German-based chain Motel One is reported to be in talks for its second hotel in Edinburgh. The group announced in April that it will make its debut in the UK next summer with a hotel near Edinburgh's iconic Royal Mile. It is rumoured that Motel One's number two in the city will have 140 rooms and will be developed opposite the iconic Balmoral Hotel on Princes Street in upper-floor space that has lain mainly unused for the past several years.
Hyatt To Have A Regency In Sochi
An affiliate of Chicago-based Hyatt Hotels Corporation has signed a management agreement with Yug – Novy Vek, a subsidiary of Russian real estate company Snegiri Development, for its first hotel in the Black Sea resort of Sochi, southwest Russia. The Hyatt Regency Sochi is already under construction and is expected to open near the end of 2013. Hyatt currently operates two hotels in Russia, in Moscow and Yekaterinburg.
A Mamma Mia Moment For Meliá
Meliá Hotels International has signed an agreement for its third hotel in Italy (its 11th signing so far this year). The Meliá Génova is expected to open under a lease agreement on 4 September 2011 in the city of Genoa, in the northwest of the country. The 99-room hotel previously operated as the Bentley Hotel, part of the Italian-based THI collection chain. The Gran Meliá Roma, the group's fourth hotel in Italy and its second in Rome, is due to open by the end of the year.
Almost 21
Continuing its expansion in Norway, Stockholm-based Scandic recently opened the Scandic Stavanger Forus, near the port of Stavanger in the southwest of the country. Scandic now operates 20 hotels in Norway; next year this number will reach 21 as the 289-room Scandic Ronebu is due to open in Oslo in the autumn.
MGallery Expands In Italy
This week, Accor opened the newest hotel in its MGallery collection: the Kalidria & Thalasso Spa Resort. The 110-room beachfront hotel is nestled amid the pine forest of the Stornara nature reserve, near the city of Castellaneta in southern Italy. Accor now has a portfolio of six MGallery properties in Italy.
It's Gonna Get Hot In London
Burba Hotel Network (BHN) is hosting the first Hotel Investment Conference Europe (Hot.E) at the Park Plaza Riverbank hotel in London, from 6-8 September 2011. BHN is offering a special US "The Debt Ceiling is Raised" promotion for those thinking of attending the event: new delegates that register by 15 August will be able to purchase a place at the conference for a reduced fee of £995, plus VAT, saving a cool £395. HVS London's managing director Russell Kett will be moderating a panel called "The View From The Top – The Owners' Perspective And Outlook For Hotel Investment In Europe" at 2.30pm on Wednesday 7 September. Russell's panellists include Steve Goldman, Starwood Captial; Marty Kandrac, Blackstone; Ian Livingstone, L&R; Anders Nissen, Pandox; and Homi Vazifdar, Canyon Equity. For more information or to book your place click here.
A New Dawn In The Land Of The Midnight Sun
The five Nordic countries have historically been known as regionally focused tourism and investment markets, but with the current debate circulating within the hotel investment community on leases and management agreements will this continue to be the case? Click here to read HVS London's latest article and find out.
A Schengen Romance
Love is definitely in the air in Luxembourg this summer… Frankfurt-based Romantik Hotels & Restaurants has recently opened its first hotel in the country. The 35-room Romantik Hotel Château de Schengen, with its original 13th-century tower, is 30 km from the city of Schengen, on the banks of the River Moselle. Romantik now has a passionate presence in 12 European countries.
A New Hilton In Egypt
When the sun rose over Marsa Abu Dabbab Bay, on Egypt's Red Sea Coast, at the beginning of this week it lit up Hilton Worldwide's newest offering in the country: the Hilton Marsa Alam Nubian Resort. The 370-room beachfront resort, Hilton's 17th property in Egypt, is part of a large mixed-use development which also comprises residential space and conference facilities. "Egypt and our Hilton Hotels & Resorts brand enjoy a long and successful history," said Rudi Jagersbacher, Hilton's area president for the Middle East and Africa. "This is the second hotel we have opened in Egypt this year and we look forward to welcoming tourists from all over the world as they explore the best of what Egypt has to offer," he added.
Kempinski Says Farewell To Tanzania
After five years in Tanzania, Kempinski has confirmed that as of 31 July 2011 it is no longer managing the 182-room Kilimanjaro Hotel Kempinski, in Dar es Salaam, and the 77-room Bilila Lodge Kempinski, in the Serengeti National Park. "I would like to take this opportunity to express my gratitude and thanks to ASB Tanzania for the relationship we have enjoyed in these two international luxury hotels throughout the past five years and we wish them success with the two properties for the future," commented Ulrich Eckhardt, Kempinski's regional president for the Middle East and Africa. "As one era ends another begins," he added. The hotel in Dar es Salaam is now being operated by Hyatt as the Hyatt Regency Dar es Salaam, The Kilimanjaro.
Marriott Debuts In Benin
Marriott International has signed an agreement with SHRL-Benin SA to manage a full-service Marriott Hotels & Resorts-branded hotel in Contou, Benin. The upscale, 200-room, full-service hotel will be Marriott's third Marriott International-branded property in sub-Saharan Africa and will be located on the beachfront close to the Presidential Palace. Ed Fuller, president and managing director of international lodging for Marriott commented, "When opened, we expect the hotel to quickly become the center of business and social life in Contou and to play an important role in the future development of the city as a destination people will want to visit time and again."
A First-Quarter Rise In Revenue For IHG
InterContinental Hotels Group (IHG) recorded an overall revenue of US$396 million for the first quarter of 2011, a 9% rise on the same period in 2010. Operating profit reached US$112 million, an increase of 35% on 2010. RevPAR and average rate in the EMEA region increased by 3% and 1.6%, respectively. (RevPAR grew by 4% for the region excluding Egypt and Bahrain, which were adversely affected by the political unrest in the Middle East.) Revenue for the region rose by 6% to US$95 million and operating profit increased by 10% to US$23 million. IHG signed eight hotels (1,425 rooms) in EMEA during the first quarter. The Crowne Plaza brand accounted for half of these signings.
Good First Half For Millennium & Copthorne
As 2011 kicked off, the hospitality industry was hopeful for a continued recovery from the financial crisis of the past few years. A good performance by Millennium in the second quarter of 2011 has given its half-year results a boost. Profit before tax from January to the end of June rose to £80.3 million, a 60% increase on the same period in 2010. Revenue for the group's hotel operations was £365.8 million, a rise of 5.9% on 2010. RevPAR for the first half of the year reached £60.80, compared to £57.66 for the first six months of 2010. "We further strengthened our financial position in the first half of the year and continue to seek out and analyse investment opportunities that will add value for our shareholders," said Kwek Leng Beng, Millennium's chairman.
Hyatt Nets An Increase In Income Of 48%
Hyatt Hotels recorded a net income of US$37 million in the second quarter of 2011, an increase of 48% on the US$25 million achieved for the same period in 2010. Adjusted EBITDA was US$151 million, an increase of 11.9% on 2010. For US-based Hyatt's international management and franchising business, adjusted EBITDA rose by 22.2% on the same period in 2010. RevPAR for comparable international hotels increased by 9.9%; occupancy fell slightly, but average rate increased by 10.2%. Revenue from the group's international management, franchise and other fees rose by 14.7% in the second quarter and Hyatt added two hotels (278 rooms) to its international portfolio.
A Starry forecast For Starwood
Starwood Hotels & Resorts recorded a net income of US$159 million for the first six months of 2011, an increase of 10.4% on the same period in 2010. Adjusted EBITDA was US$470 million (a rise of 16.5%) and income from continuing operations was US$179 million (a 64.2% increase). RevPAR for the group's international hotels was US$119.24 for the first half of the year, a rise of 21.1% on 2011; average rate climbed 9.3% to US$187.41 and occupancy rose 1.6% to reach 63.6%. Adjusted EBITDA is forecast to be between US$225 million and US$235 million for the three months ending 30 September 2011, and between US$975 million to US$1 billion by the end of the year. "We continue to see strong demand across both business and leisure travellers. This demand fuelled growth across each of our nine distinct and compelling brands," said Frits van Paasschen, Starwood's chief executive officer, fresh from his recent sojourn in China, where he and his senior team recently spent a month immersing themselves in the country.
A Sunny Outlook For Meliá
Meliá Hotels International achieved a revenue of approximately €620 million in the first half of 2011, an increase of 6.8% on 2010. RevPAR rose by 9.1% and EBITDA grew by 8% to approximately €104 million. Net profit for the first six months of the year fell by 13.5%, to €8 million, on the same period in 2010, owing mainly to the effects of exchange rates and differences in the generation of capital gains. Excluding the effects of exchange rates, net profit would be €16 million. Meliá expects a positive third quarter in terms of average room rates and occupancy, on account of strong business in July and the performance of the major European source markets, such as the UK, Germany, France, Italy and Russia, offsetting weak domestic demand for the Spanish chain.
Gladen's Tidings
The news from Spain by Esther Gladen, Business & Market Intelligence Analyst, HVS Madrid. Hesperia has sold its star asset the Hesperia Madrid to Grupo Millenium. Located in the heart of the city's financial district the purchase price is reported to be €80 million. Hesperia has signed a 15-year lease contract with the group, based on an annual net rent of €5 million. The hotel will be operated by NH, of which Hesperia owns 25%.
Absolute Share Price Performance Over the Past Week – 28 July-4 August 2011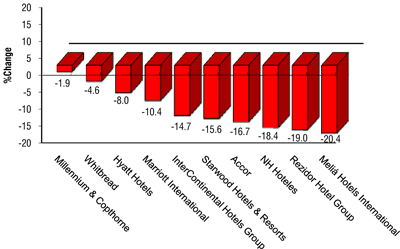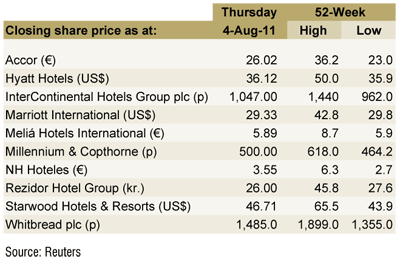 Accor – Accor's five-year Credit Default Swap rose by 0.42 basis points.
InterContinental Hotels Group (IHG) – IHG dropped to a one-month low on firm volume.
Meliá Hotels International – Meliá dropped to a seven-month low during the past week.
---
For the latest in the hospitality industry, please visit: http://www.hvs.com. You are also welcome to contact the following personnel.
| | |
| --- | --- |
| Russell Kett, Managing Director – HVS London | rkett@hvs.com |
| Charles Human, Managing Director – HVS Hodges Ward Elliott | chuman@hvshwe.com |
| Tim Smith, Director – HVS London | tsmith@hvs.com |
| Chris Martin, Director – HVS Hodges Ward Elliott | cmartin@hvshwe.com |
| Demetris Spanos, Managing Director – HVS Athens | dspanos@hvs.com |
| Hala Matar Choufany, Managing Director – HVS Dubai | hchoufany@hvs.com |
| Christopher Mumford, Managing Director – HVS Executive Search | cmumford@hvs.com |
| Philip Bacon, Managing Director – HVS Madrid and Managing Director, EMEA & Asia – HVS Shared Ownership Services | pbacon@hvs.com |
| Saurabh Chawla, Director – HVS Asset Management and Strategic Advisory | schawla@hvs.com |
| Louise Fury, Senior Editor and EMEA Hospitality Newsletter Author – HVS London | lfury@hvs.com |