An American Investment In London
American investment firm Pramerica has bought the oldest purpose-built hotel in London – Pramerica has signed a deal to purchase a 999-year ground lease for the Great Northern Hotel, which opened in 1854 in the city's King's Cross area, from London-based asset management company RAM Group (which owns the 125-year lease to the property) for a reported £12 million. The Grade II-listed hotel is still undergoing redevelopment and it is expected to open with 92 rooms in 2012/13. This acquisition is part of the group's Pramerica UK Ground Lease Fund which has raised £225 million in equity.
Auction Of The Von Essen Portfolio
An auction has been drawing to a close this week for the 28 hotels in the von Essen portfolio after the UK-based luxury hotel group fell into administration in April, defaulting on more than £216 million of debt. Today is the deadline for bids on the hotels, which include Cliveden House, in the county of Berkshire, and the Royal Crescent, in Bath. It is reported that the portfolio is likely to be broken up rather than sold whole.
Travelodge Targets National Parks
Budget hotel group Travelodge has announced plans to spend £135 million developing 37 new hotels, giving priority to locations near Britain's national parks. Travelodge's property team will be focusing their search on areas such as Aviemore (in the Cairngorms National Park), Betws-y-Coed (Snowdonia), Grasmere (Lake District), Skipton (Yorkshire Dales) and Minehead (Exmoor). CEO of Travelodge, Guy Parsons, said, "Traditionally, Britons have opted for a coastal or city break but as more of them explore the UK, they are rediscovering new holiday hotspots and as a result we have seen a significant surge in rural breaks." The budget hotel group, which aims to be operating 1,100 hotels with 100,000 rooms by 2025, has already exchanged on a 62-room hotel above a pub in Glossop, Derbyshire close to the Peak District. Speaking of pubs, Travelodge is also reported to be in discussions with pub firms about buying properties to turn into small hotels. The company is looking to develop its Metro format which will offer 20 to 40 rooms in locations such as The City of London and London boroughs, the UK coastline and major UK cities including Oxford, Bath, Bristol and Edinburgh, to name a few.
Three New Premier Inns For Whitbread
UK-based hotel and restaurant company Whitbread has acquired three leasehold commercial buildings in the county of Yorkshire, north England, and intends to develop a Premier Inn on each site. Hepworth House, former office space, will open as a Premier Inn in 2012 with 131 rooms; the premises on Leeds Whitehall Road will become a newly constructed 130-room hotel and will include office space; and a 107-room Premier Inn is expected to open next year as part of the extension of the Harrogate International Centre.
First Starwood For Adana
Starwood Hotels & Resorts has signed an agreement with Serka Turizm, an affiliate of Istanbul-based construction group Adali Holding, for a new hotel in Turkey. The new-build Sheraton Adana is expected to open in 2013 on the banks of the River Seyhan, in Adana. The hotel, which will be the first Starwood property in the city, will have 237 rooms, including 28 suites and serviced apartments. The deal is part of Starwood's expansion plan to develop more than 65 Sheraton hotels worldwide over the next three years. "Reaching out to new frontiers is a focus of our expansion strategy…Starwood's entrance into this thriving destination further underlies our commitment to continued growth in Turkey," said Roeland Vos, Starwood's president in Europe, Africa and the Middle East.
Mondrian Comes To Europe
Morgans Hotel Group is to open its first Mondrian hotel in Europe. The US-based group is to operate a hotel in Sea Containers House, on London's South Bank area. The owners of Sea Containers House, investment company Archlane Ltd, recently applied for planning permission to refurbish the building and develop it into a mixed-use site containing a 268-room, four-star hotel; a nine-storey office building; and retail and entertainment facilities. The building started life in the 1970s when it was designed as a luxury hotel; however, when construction was completed in the mid-1980s it became office space. It takes its name from previous tenants, Sea Containers Ltd, which occupied the site from 1986 to 2007. Archlane bought the freehold to Sea Containers House in 2004.
Radisson Makes It Two In Warsaw
Rezidor Hotel Group is to open its second hotel in Warsaw and ninth overall in Poland. The Radisson Blu Sobieski is to be re-branded in the third quarter of 2011. The hotel is already undergoing renovation, which is to be completed in 2015 and will leave the hotel with 467 rooms. The property is currently known as Jan III Sobieski Hotel and was recently acquired by Wenaasgruppen. Kurt Ritter, President & CEO of Rezidor, commented: "With now 17 properties, Wenaasgruppen is the largest single owner of Rezidor hotels. We are thankful and delighted to further strengthen our trustful co-operation and also look forward to further developing our portfolio in Poland – a country clearly on the move."
Have You Booked Your Place At The Hottest Event This Year?
There is less than three weeks to go until the first Hotel Investment Conference Europe (Hot.E) so, if you haven't already got a ticket, click here to book your place. Hot.E will run from 6-8 September at the Park Plaza Riverbank hotel in London. The three-day event will feature a series of nine country-focused workshops, highlighting some of the most interesting investment markets in Europe. David Goodger, Director of Tourism Economics, Europe and his colleagues at Oxford Economics will be sharing the current analysis of the impact of the European debt crisis on major economies and the implications for the hotel sector. Global futurist and award-winning speaker Rohit Talwar will also share the findings from the recent Hotels 2020 study. Additionally, a special session will take place on opportunities in the UK and Ireland. The conference will also include presentations, interactive discussions and networking opportunities. HVS London's very own managing director, Russell Kett, will be moderating a leaders' panel at Hot.E. You will be able to catch Russell on Wednesday 7 September at 2.30 pm and his panel comprises Marty Kandrac of Blackstone, Ian Livingstone of L&R, Anders Nissen of Pandox, Steve Goldman of Starwood Capital and Homi Vazifdar of Canyon Equity.
IHG To Land In Southend
A Holiday Inn is to be developed at Southend Airport, in the county of Essex, to the east of London. Construction recently started on the 129-room Holiday Inn Southend Airport, which is expected to open in time for the 2012 Olympic Games. The five-storey hotel will cost £10 million to develop and it will be managed by Glasgow-based hotel management company Chardon Management on behalf of its owner, UK logistics company Stobart Group. Stobart bought the airport in 2008 and then embarked on a programme of development to turn it into a regional hub for London.
A Capital New Venture For Rotana
Rotana announced this week that it is to manage three new properties at Abu Dhabi National Exhibitions Company's Capital Centre development in the UAE. Construction has already started on the four-star, 300-room Capital Centre Rotana and the budget, 300-room Centro Capital Centre, which are expected to open later this year. The four-star, 200-room Capital Centre Arjaan by Rotana will be ready for guests in 2012. Rotana currently operates nine other hotels and resorts in Abu Dhabi.
Follow Russell Kett On Twitter
Those of our readers who cannot wait for their weekly 'fix' of this newsletter can now tune in to London managing director, Russell Kett, as he tweets his way around the world dispensing hotel investment news, occasional advice, gossip and the like. You can follow him at @russellkett.
Absolute Share Price Performance Over the Past Week – 11-18 August 2011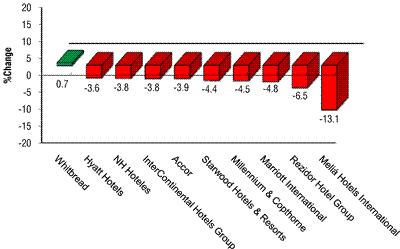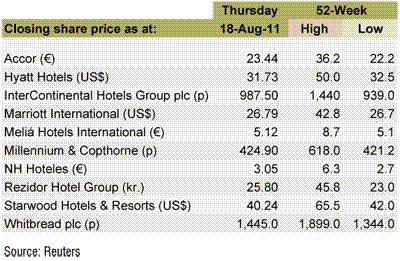 Accor – Deutsche Bank lowered Accor's target price from €40 to €37.
Meliá Hotels International – Meliá's five-year Credit Default Swap rose 11.75 basis points.
NH Hoteles – NH Hoteles weakened below its Moving Average Price.
---
For the latest in the hospitality industry, please visit: http://www.hvs.com. You are also welcome to contact the following personnel.
| | |
| --- | --- |
| Russell Kett, Managing Director – HVS London | rkett@hvs.com |
| Charles Human, Managing Director – HVS Hodges Ward Elliott | chuman@hvshwe.com |
| Tim Smith, Director – HVS London | tsmith@hvs.com |
| Chris Martin, Director – HVS Hodges Ward Elliott | cmartin@hvshwe.com |
| Demetris Spanos, Managing Director – HVS Athens | dspanos@hvs.com |
| Hala Matar Choufany, Managing Director – HVS Dubai | hchoufany@hvs.com |
| Christopher Mumford, Managing Director – HVS Executive Search | cmumford@hvs.com |
| Philip Bacon, Managing Director – HVS Madrid and Managing Director, EMEA & Asia – HVS Shared Ownership Services | pbacon@hvs.com |
| Saurabh Chawla, Director – HVS Asset Management and Strategic Advisory | schawla@hvs.com |
| Louise Fury, Senior Editor and EMEA Hospitality Newsletter Author – HVS London | lfury@hvs.com |