The Malmaison Aberdeen Changes Owners
London-based MWB Group has sold the Malmaison Aberdeen, in northeast Scotland, to CIP Property (on behalf of Citibank International as trustee for Aviva Investors Property Trust) for £16.1 million in cash on a sale-and-leaseback basis. Formerly the Queen's Hotel before it joined the Malmaison brand, the 80-room property is to be leased back to MWB Group on a 35-year lease for an initial annual rent of £1.2 million. The proceeds from this transaction will be used to reduce MWB's debt, which reportedly amounted to £272.1 million on 31 December 2010. The group also completed sale-and-leaseback deals on four of its other hotels last month (in London, Newcastle, Birmingham and Manchester). Richard Balfour-Lynn, the group's chief executive, said, "This fifth sale-and-leaseback is enabling us to reduce Malmaison's debt by more than £100 million which, in today's market, we regard as extremely beneficial."
A Sale For Pandox And Upgrades Galore In The Nordics
Stockholm-based hotel property company Pandox has agreed to sell the 133-room First Hotel Linköping, in southern Sweden, to Centrum Properties for an undisclosed sum. Pandox also announced this week that it is working closely, through its associated company Norgani, with hotel operator Scandic to carry out a three-year upgrade of 40 existing Scandic hotels in the Nordic region. A total of Skr1.6 billion (US$25.2 million) will be invested in the programme. "We're remaining faithful to our roots by strengthening the informal and relaxed atmosphere in the hotels and by creating more social meeting places. We're also refurbishing and redesigning the 40 hotels and 4,000 rooms to meet tomorrow's needs," said Anders Ehrling, Scandic's president and chief executive officer.
The Growth Of The Pujol Portfolio
HVS London Alumnus Hadrien Pujol and his family have added hotel number four to their portfolio of properties in the medieval town of Carcassonne, southwest France. After a year of negotiations, the Pujol family, through its holding company Anonyme Cité Hôtel, purchased the 61-room Hôtel de la Cité from Orient-Express Group for an undisclosed sum. Hadrien, formerly a director at HVS London, will be responsible for the operation of the family's newest asset.
Sandman Enters Newcastle
Canadian company Sandman Hotel Group has chosen the UK to be the location for its first venture outside of Canada. The group plans to open the Sandman Signature Newcastle on the premises of the former Scottish and Newcastle brewery in Newcastle, northeast England, next month. The 175-room hotel will also comprise several self-catering suites. Sandman currently operates more than 40 hotels across Canada and the Sandman Signature Hotels & Resorts chain is its upper-tier brand.
Rezidor Gets Ready For The Ski Season
Rezidor Hotel Group has announced its newest property in Norway. The Park Inn Trysil Mountain Resort is due to open in December 2011 in the Trysil ski resort, southeastern Norway. The 369-room hotel is being developed by construction company Peab and is owned jointly by Peab and resort owner and operator SkiStar. Once open, the hotel will be Rezidor's second property in the resort; the first being the 210-room Radisson Blu Resort, Trysil.
Viceroy's First Hotel In Europe
US luxury hotel management company Viceroy Hotel Group is to make its debut in Europe with a hotel in Turkey. The Viceroy Bodrum is due to open in 2014, with 84 rooms and 166 residences, in the Aegean port of Bodrum, in the southwest of the country. The 32-acre resort is being developed by Bodrum-based Safir Grup. Viceroy currently operates 15 properties across the USA, Mexico, the Caribbean, Asia-Pacific and the Middle East.
Birmingham Gets A New Choice
Global hotel group Choice Hotels International has opened its fourth property in the city of Birmingham, central England: half of the 185-room Norfolk Inn, near the city centre, has been refurbished and rebranded as the 60-room Clarion Collection Birmingham and the other half remains the Norfolk Inn. The Clarion's room count is to increase to 73 with the opening of 13 suites later this year. Choice's three other properties in the city are operated under its Comfort and Quality brands. Choice has a worldwide portfolio of more than 6,100 hotels.
BDL Aiming For 60
Talking to The Herald newspaper, Louis Woodcock, co-founder of hotel management company BDL, revealed the Glasgow-based group's plans to expand its portfolio to 60 hotels by the end of 2012. Mr Woodcock said, "In 2008 it was tough. We kind of knuckled down and got ourselves sorted out. At the same time there were opportunities. There were two ways to go. You either cut your costs and tried to ride the storm or you accepted there was some opportunity and you expanded the size of your team. I think we took the second route, which is to try and grow through it and do a better job." BDL operated around 23 hotels in 2008 and now has a portfolio of 46 branded and unbranded properties. "I would like to be 60 plus by the end of next year," added Mr Woodcock.
Tourists In Space
Some tourists are always looking for new and exciting destinations and those that have already investigated every holiday haven the earth has to offer can now look forward to a trip to the stars. Plans were revealed in Moscow this week for the first hotel in space. Moscow-based Orbital Technologies is constructing the Commercial Space Station, 217 miles above the earth, which is due to open in 2016 and will have room for seven guests in four cabins. Best start stocking up on lottery tickets though as the four-day round trip to and from the station on a Soyuz rocket will cost US$580,000 and a five-day stay close to US$1 million. There is no information available yet on the overall cost of the project, but it is likely to be astronomical!
Accor's 2011 First-Half Results
French group Accor has reported a revenue of €2.9 billion for the first half of 2011, an increase of 4.4% on the same period in 2010. EBITDAR reached €897 million, an increase of 7.4% on 2010. Operating profit before tax and non-recurring items grew by more than 55% to €144 million, and the group's EBITDAR margin rose 1.1 points to 30.2%. By the end of June, Accor had reduced its net debt by €171 million to €559 million. Of the 30,000 new rooms Accor has planned for 2011, almost 13,700 opened in the first six months of the year, 78% of which are under management and franchise contracts.
HVS Is All A Twitter
Russell Kett, HVS London's managing director, has now added tweeting to his list of accomplishments. You can follow Russell at @russellkett. Join Russell on his journey to tweet stardom as he dispenses industry news, events, gossip and even the occasional titbits of wisdom.
Absolute Share Price Performance Over the Past Week – 18-25 August 2011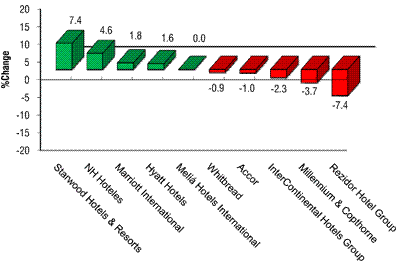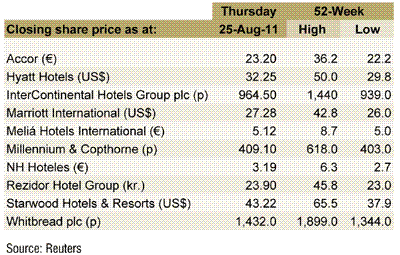 InterContinental Hotels Group (IHG) – Credit Suisse cut IHG's rating to "neutral" from "outperform" and reduced its target price to 1,139p from 1,504p.
Accor – Bryan Garnier kept a "buy" rating on Accor.
NH Hoteles – The Spanish company dipped 0.2% on thin volume.
---
For the latest in the hospitality industry, please visit: http://www.hvs.com. You are also welcome to contact the following personnel.
| | |
| --- | --- |
| Russell Kett, Managing Director – HVS London (@russellkett) | rkett@hvs.com |
| Charles Human, Managing Director – HVS Hodges Ward Elliott | chuman@hvshwe.com |
| Tim Smith, Director – HVS London | tsmith@hvs.com |
| Chris Martin, Director – HVS Hodges Ward Elliott | cmartin@hvshwe.com |
| Demetris Spanos, Managing Director – HVS Athens | dspanos@hvs.com |
| Hala Matar Choufany, Managing Director – HVS Dubai | hchoufany@hvs.com |
| Christopher Mumford, Managing Director – HVS Executive Search (@ChrisMumford) | cmumford@hvs.com |
| Philip Bacon, Managing Director – HVS Madrid and Managing Director, EMEA & Asia – HVS Shared Ownership Services | pbacon@hvs.com |
| Saurabh Chawla, Director – HVS Asset Management and Strategic Advisory | schawla@hvs.com |
| Louise Fury, Senior Editor and EMEA Hospitality Newsletter Author – HVS London | lfury@hvs.com |