RBS Sells Hilton Number Ten
After being on the market for more than a year, the 96-room Hilton Glasgow Grosvenor, in Scotland, has been sold by the Royal Bank of Scotland to an unnamed private investor for £9.45 million. The hotel was part of a portfolio of 11 Hilton properties bought by the bank in 2001; the 319-room Hilton Glasgow is now the only one of these properties that remains unsold.
A New Owner For The W London?
According to The Times, the W hotel on London's iconic Leicester Square could be sold to a Qatari sovereign wealth fund for around £200 million. The newspaper reported this week that a Qatari investment house is ready to exchange contracts on the 192-room hotel.
LaSalle Said Goodbye To The Circus
LaSalle Investment Management has sold The Circus mixed-use development in Manchester, northwest England, to Circus Invest, a private family trust, for £20.1 million. The 1.3-hectare complex includes the 228-room Premier Inn Manchester City Centre (Portland Street), a casino and retail and leisure space. The total income from the development is reported to be £1.3 million per annum.
19 Out Of 28 Ain't Bad
After two rounds of bidding, 19 of the 28 von Essen hotels on the market are now under offer. The hotels will be sold on a subgroup or individual basis to a number of high-net-worth individuals and experienced hotel operators. English entrepreneur Andrew Brownsword has agreed terms for the purchase of four hotels and property tycoons Ian and Richard Livingstone will buy the Cliveden in Berkshire, southeast England, which is the most expensive asset in the portfolio with a guide price of £41 million. The Livingstone brothers have also been named preferred bidder for the Royal Crescent Hotel in Bath, southwest England, which comes with a price tag of £22.5 million. It is reported that Nigel Chapman, who sold von Essen its first four hotels in 2006 for £30 million, has successfully bid for Fowey Hall, in Cornwall; the Ickworth, in Suffolk; Moonfleet Manor, in Dorset; Woolley Grange, in Wiltshire; and the Elms, in Worcestershire; these five hotels have a combined asking price of £27.5 million.
Two Splendid Hotels For Sale
UK-based Splendid Hotel Group has put two unfinished hotel developments in London on the market. Offers in excess of £80 million are being sought for the InterContinental London Westminster, which is partially completed; this 256-room hotel is due to open next summer and the sale will be subject to a 20-year management agreement with InterContinental Hotels Group. Most of the groundwork has been completed for the 280-room Hilton Bankside, which is on the market for more than £35 million, subject to a 25-year management agreement with Hilton Worldwide.
DoubleTree Number Nine For The UK
Hilton Worldwide has opened its ninth DoubleTree by Hilton hotel in the UK. After an extensive refurbishment, the Sheffield Park Hotel, in the city of Sheffield, north England, emerged this week as the DoubleTree by Hilton Sheffield Park. The 95-room hotel is being operated under a franchise license agreement by Sheffield Park Hotel Ltd (with a subsidiary of Hilton Worldwide), and its new manager is Longrose Buccleuch Management Ltd.
Radisson…A Royal Or A Blu?
Rezidor Hotel Group is splitting its Radisson Blu chain into two tiers by giving some of the properties a Royal title. The first hotels to sport the new sub-brand are the 497-room Radisson Royal Hotel in Moscow, Russia, and the 471-room Radisson Royal Hotel in Dubai, UAE, which is one of the JAL hotels that were recently taken over by Rezidor. "These hotels differ from the average Radisson Blu in terms of luxury, and tend to have a higher positioning, unique design and/or some sort of historical affiliation," said Marko Hytönen, Rezidor's vice president in the Middle East.
Hilton To Make Its Debut In Iraq
Hilton Worldwide has signed a management agreement with New York-based real estate company Claremont Group for its first hotel in Iraq. The DoubleTree Suites by Hilton Erbil is expected to open at the end of 2013 in the city of Erbil, the capital of Iraqi Kurdistan. The hotel will comprise 200 serviced apartments. "Erbil's commercial status is increasing year-on-year and the city has a growing reputation as an up-and-coming tourist destination," said Rudi Jagersbacher, Hilton's area president for the Middle East and Africa.
One In Bahrain: A Quartet In The UAE
Kempinski opened its first hotel in Bahrain this week. The 460-room Kempinski Grand & Ixir Hotel Bahrain City Centre comprises two towers, each with a very different style. The Kempinski Grand tower opened its doors on 7 September but the Ixir tower will not be ready for guests until the beginning of October. Additionally, the group also opened its fourth property in the UAE: the 244-unit Kempinski Hotel and Residences Palm Jumeirah, on the crescent of the Palm Jumeirah development in Dubai.
The First Of Three For Marriott In Algeria
Marriott International has made its debut in Algeria, North Africa. The Renaissance Tlemcen Hotel opened this week in northwest Algeria in the historic city of Tlemcen, which was founded during the Roman Empire. The 204-room hotel is owned by Algerian investment company Société d'Investissement Hôtelièr. Marriott has two other properties in the pipeline for Algeria: the 227-room Algiers Marriott and the 180-unit Marriott Executive Apartments Algiers, which are both expected to open in 2012.
Whitbread Releases A Second-Quarter Trading Update
Whitbread has recorded an increase in sales for its Premier Inn chain of 12.5% for the second quarter of 2011. Total sales for all of the group's operations grew by 12.9%. Premier Inn average room rate grew by 3.4% and occupancy rose 0.7 percentage points to 79.2% for the 24 weeks to 18 August. Whitbread also announced this week that it has signed an agreement for long-term debt from US and UK investors under a private placement. The private placement notes of US$210 million and £25 million have been swapped to achieve a total funding of £156.4 million; the private placements are due for repayment between 2019 and 2022. "We are pleased to have agreed further long-term debt financing at attractive rates from both existing and new institutional investors," said the group's finance director Christopher Rogers.
Gladen's Tidings
The news from Spain by Esther Gladen, Business & Market Intelligence Analyst, HVS Madrid. Ítaca Hoteles takes over an independent hotel in Córdoba: located in one of Córdoba's business areas, the 40-room, three-star Ítaca Colón will reopen in a few days. Hotel Senator to open in Marbella: after a long battle with the local authorities, the four-star hotel, next to the Palacio de Congresos in the centre of Marbella, is now due to open; the hotel will have 185 rooms, a restaurant, a spa, a gym and an outdoor pool.
Absolute Share Price Performance Over the Past Week – 1-7 September 2011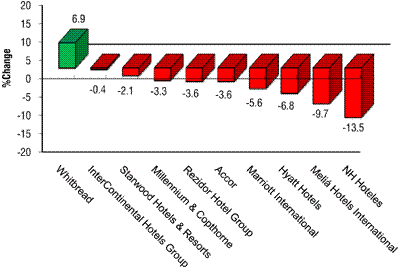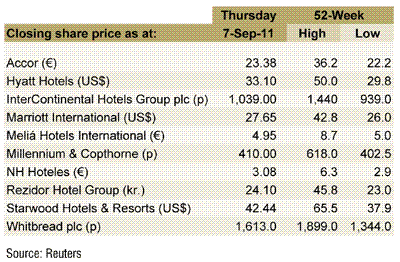 Whitbread – Share prices rose this week as Whitbread announced growth in sales for the second quarter of 2011.
Accor – Share prices fell as Accor hit a year-low for the second time in three months.
NH Hoteles – Share prices fell despite Cheuvreux upgrading its recommendation from "underperform" to "outperform".
---
For the latest in the hospitality industry, please visit: http://www.hvs.com. You are also welcome to contact the following personnel.
| | |
| --- | --- |
| Russell Kett, Managing Director – HVS London (@russellkett) | rkett@hvs.com |
| Charles Human, Managing Director – HVS Hodges Ward Elliott | chuman@hvshwe.com |
| Tim Smith, Director – HVS London | tsmith@hvs.com |
| Chris Martin, Director – HVS Hodges Ward Elliott | cmartin@hvshwe.com |
| Demetris Spanos, Managing Director – HVS Athens | dspanos@hvs.com |
| Hala Matar Choufany, Managing Director – HVS Dubai | hchoufany@hvs.com |
| Christopher Mumford, Managing Director – HVS Executive Search (@ChrisMumford) | cmumford@hvs.com |
| Philip Bacon, Managing Director – HVS Madrid and Managing Director, EMEA & Asia – HVS Shared Ownership Services | pbacon@hvs.com |
| Saurabh Chawla, Director – HVS Asset Management and Strategic Advisory | schawla@hvs.com |
| Louise Fury, Senior Editor and EMEA Hospitality Newsletter Author – HVS London | lfury@hvs.com |