Blackstone Soon To Be Minted
US-based investment firm Blackstone has agreed terms for the acquisition of the Mint Hotel portfolio from the Orr family for a little more than £600 million. According to The Times, the seven Mint hotels are to be run by Hilton Worldwide under a management contract. Blackstone is reported to have funded the purchase with around £230 million of equity, £300 million of senior debt from Deutsche Bank and about £75 million of mezzanine debt from Duet Real Estate Finance.
Former Pavilion Cinema Sold For Development As An Upscale Hotel
Chelsfield Partners and EAD have sold the former Pavilion Cinema on Shepherd's Bush Green, London, to Kosmopolito Hotels International (a subsidiary of Hong Kong-based Far East Consortium International) for development as a new upscale hotel. The property has planning consent, behind the Grade II-listed facade, for a full service hotel. Kosmopolito currently operates 17 hotels across Asia; in Singapore, Malaysia, Johor, Hong Kong, Shanghai, Chengdu and Wuhan. The group owns and manages four brands in different market segments – the upscale Kosmopolito brand, the Boutique Series by Kosmopolito, the four-star business brand Dorsett Regency and its value brand Silka Hotels. The Pavilion in Shepherd's Bush will be Kosmopolito's first hotel in London. HVS Hodges Ward Elliott acted as agents for Chelsfield and EAD.
Blackmore Fund Adds A New Hotel To Its Portfolio
Investment group the Blackmore Fund has acquired the 64-room Ramada Hotel Crewe, northwest England, from Ramacourt Ltd for an undisclosed sum. Once the purchase is completed, the Art Deco-style hotel is to be rebranded as a Holiday Inn Express, under a franchise agreement with InterContinental Hotels Group, and it will be managed by Chardon Management Ltd. The hotel will undergo a conversion to Holiday Inn Express brand standards and its room count is to increase to 70.
The Rise Of Accor's Superbrand
Accor announced this week that it plans to bring all of its economy and budget hotels under one brand. The group's ibis hotels (919 hotels across 51 countries) will stay as they are; however, Accor's All Seasons hotels (138 properties across 13 countries) will become ibis Styles and the group's Etap hotels (518 properties across ten countries) will be rebranded as ibis Budget. The US$207 million rebrand is expected to be completed in 2013 and Accor plans to launch an extensive advertising campaign for its new superbrand next summer. A new pillow-shaped logo has been designed for each of the three ibis brands and all of the hotels will be modernised. As part of its new strategy, Accor has also changed the name of its loyalty programme to Le Club Accorhotels, in order to further emphasise its main brand. "Our objective is to offer a new unique hotel experience with repositioned brands and modern, innovative services," said Denis Hennequin, Accor's chairman and chief executive officer.
A New Park Inn For Tunisia
Rezidor plans to open its third hotel in Tunisia, North Africa. After an extensive renovation, the Hotel Rui Park El Kebir in the town of Hammamet, on the Mediterranean coast, will be rebranded as the Park Inn Hammamet in the second quarter of 2012. The new Park Inn, which is owned by Tunis-based insurance group CARTE, will have 273 rooms and 63 villas.
Hyatt Announces Number Three And Four For Russia
Hyatt International has signed management agreements with Vladivostok-based OJSC Nash Dom-Primorye for two new hotels in Russia. The 217-room Hyatt Regency Vladivostok, Golden Horn and the 218-room Hyatt Vladivostok, Burny are both under construction and due to open in the port of Vladivostok, southeast Russia, in time for the Asia-Pacific Economic Cooperation Summit, which is to be held in the city in autumn 2012. The two new hotels, which will be the first internationally branded properties in Vladivostok, will bring Hyatt's portfolio in Russia up to four; hot on their heels is number five, the Hyatt Regency Sochi, which is currently under development and expected to open in 2013.
IHG Plans To Reach 100 In Russia And The CIS
After its debut in Russia in 1998, with the 154-room Holiday Inn Vinogradovo in Moscow, InterContinental Hotels Group (IHG) currently has 11 hotels (3,397 rooms) in the country and a further five (1,123 rooms) across the Commonwealth of Independent States (CIS). This week, the group has announced that it plans to expand in the region to reach a total of 100 hotels in Russia and the CIS by 2020. "We see a huge opportunity to grow our hotels brands, such as Crowne Plaza and Holiday Inn, in Russia," said Angela Brav, IHG's chief executive officer for Europe. "In Moscow alone, there are just over 9,000 international standard rooms, which is equivalent to around ten per cent of the hotel rooms in London so there is still a terrific opportunity for international hotel operators with a presence here," she added. As part of the expansion, the group plans to bring Hotel Indigo, its new boutique brand, to Moscow and St Petersburg.
Scandic's New Tower Sparkles In Stockholm
Scandic is now the proud owner of the tallest hotel in the Nordic region. The 34-storey Scandic Victoria Tower opened this week in Kista Science City, a business district in Stockholm, Sweden. At 118 m high, the 299-room hotel is also a new landmark for the city – designed by Swedish architect Gert Wingårdh, the hotel's exterior is covered with more than 8,000 triangular-shaped panes of glass, reflecting the light so it shimmers amongst its surroundings. The hotel was developed by Norwegian investor Arthur Buchardt.
Manchester's Radisson Edwardian For Sale
The Radisson Edwardian hotel in the city of Manchester, northwest England, has been put on the market after its owner, Free Trade Hall Hotel Ltd, went into administration at the beginning of August. The 263-room hotel, which is housed in the city's historic Grade II-listed Free Trade Hall, the site of the Peterloo Massacre in 1819, was UK-based Radisson Edwardian Hotel's first hotel outside of London. After the sale, the group will continue to operate the five-star property under a long-term management agreement.
A Premier Development For Londonderry
Whitbread's Premier Inn chain has received planning permission for the construction of a hotel in the city of Londonderry, Northern Ireland. A total of £6 million is to be invested in the 60-room hotel, which will be part of Guernsey-based Orana Group's mixed-use development at the Crescent Link retail park in the east of the city. The hotel is expected to be ready in 2013, in time for Londonderry's City of Culture celebrations, and it will be Whitbread's seventh hotel in Northern Ireland.
Tony Potter To Fly The Eyrie At Corinthia
After five years with Malta-based Corinthia Hotels International, Tony Potter is to relinquish his role of chief executive officer and managing director in January 2012. Mr Potter, who previously spent 18 years working for Hilton, Copthorne and Choice, plans to launch his own company, Braveagle, in March 2012, with offices in Malta, London and, later on, New York. "I have enjoyed my five years with Corinthia and look forward to continuing to making a contribution until the end of this year," said Mr Potter. He added that his new company will focus on "the development of people and making things happen in the broad service and hospitality world."
The Grand Excelsior Docks In Dubai And Muriya Makes Its Hotel Debut
Designed to look like a luxury cruise ship, the Grand Excelsior Hotel – Al Barsha dropped its anchor and swung open its port doors to admit its first guests this week in Dubai, UAE. The 230-room hotel is owned by Dubai-based conglomerate Mohammad Omar Bin Haider Group and is being operated by B&G group. Muriya Tourism Development, a joint venture between Switzerland-based Orascom Hotels and Development (70%) and government-owned Omran (30%), has opened its first hotel project: the 55-room Sifawy Marina Boutique Hotel, which can be found in Jebel Sifah in Oman.
Gladen's Tidings
The news from Spain by Esther Gladen, Business & Market Intelligence Analyst, HVS Madrid. Hotel transaction in Barcelona: earlier this summer, H10 purchased the Boutique Hotel Casanova by Rafael Hotels in Barcelona from Reyal Urbis. The 124-room, four-star hotel is on Gran Via, close to Plaza Cataluña and Las Ramblas. The purchase price was reported to be €25 million. The hotel will be incorporated in the H10 portfolio without any refurbishment as it is only five years old.
Absolute Share Price Performance Over the Past Week – 8-15 September 2011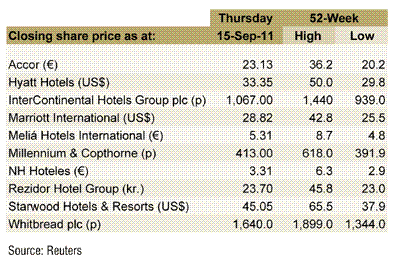 InterContinental Hotels Group (IHG) – IHG rose 6.1% on high volatility and expanding price range.
NH Hoteles – The Spanish company added 2.6% on high volume during the week, rising for a second consecutive day.
Accor – Accor's five-year Credit Default Swap decreased 2.88 basis points, ending a two-day streak of rises.
---
For the latest in the hospitality industry, please visit: http://www.hvs.com. You are also welcome to contact the following personnel.
| | |
| --- | --- |
| Russell Kett, Managing Director – HVS London (@russellkett) | rkett@hvs.com |
| Charles Human, Managing Director – HVS Hodges Ward Elliott | chuman@hvshwe.com |
| Tim Smith, Director – HVS London | tsmith@hvs.com |
| Chris Martin, Director – HVS Hodges Ward Elliott | cmartin@hvshwe.com |
| Demetris Spanos, Managing Director – HVS Athens | dspanos@hvs.com |
| Hala Matar Choufany, Managing Director – HVS Dubai | hchoufany@hvs.com |
| Christopher Mumford, Managing Director – HVS Executive Search (@ChrisMumford) | cmumford@hvs.com |
| Philip Bacon, Managing Director – HVS Madrid and Managing Director, EMEA & Asia – HVS Shared Ownership Services | pbacon@hvs.com |
| Saurabh Chawla, Director – HVS Asset Management and Strategic Advisory | schawla@hvs.com |
| Louise Fury, Senior Editor and EMEA Hospitality Newsletter Author – HVS London | lfury@hvs.com |