The $22 million Tinley Park Convention Center expansion project is now complete. The expanded 120,000-square-foot facility can now accommodate about three-quarters of all conventions and tradeshows held in the United States. This is the only full-service Convention Center in the south and southwest suburbs of Chicago.
Despite the national economic recession, the Village of Tinley Park was able to plan, finance, and complete this major convention center expansion. The project signifies the Village's long-term commitment to the success of their convention and tourism industry.
The state-of-the-art expansion created 22,000 square feet of additional, clear-span, exhibit space, bringing the total exhibit space to approximately 58,000 square feet. The expansion also includes an additional 7,100 square feet of meeting space, which is part of an extensive block of 18 break-out meeting rooms. An additional 450 complimentary parking spaces will be added, bringing the total parking capacity to 1,500 spaces.
HVS provided the feasibility study for the expansion of the convention center as well as development advisory services related to the project and an appraisal of the jointly managed hotel connected to the convention center.
We congratulate Mayor Ed Zabrocki, the Board of Trustees, and the proud citizens and public officials of the Village of Tinley Park on this impressive accomplishment! For more information on the Tinley Park Convention Center, Visit the website www.tinleyparkconventioncenter.net.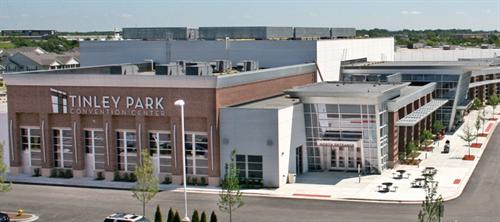 Contact: 
Lori Martin-Beauchamp
HVS Convention, Sports & Entertainment Facilities Consulting
312 587-9900 ext. 14