Ibis London City Sold
AXA Real Estate Investment Managers, on behalf of the Co-operative Insurance Society, has finalised its acquisition of the 348-room ibis London City for £38.35 million from Mangrove Securities. "This acquisition further demonstrates AXA Real Estate's ability to source deals that are specifically tailored to clients' investment requirements," said Huw Stephens, head of UK transactions at AXA.
Hilton Makes It Big In Russia…
After announcing four new hotel signings in Russia this week and a possible further 11 properties in the country as part of a multisite development agreement, Russia now takes top spot in Hilton Worldwide's development pipeline in Europe. The group already has 23 hotels in operation or under development in Russia. The multisite agreement with Osnova Development LLC will add approximately 1,500 rooms to the group's portfolio in the country – at least 11 hotels, mainly Hampton by Hiltons with some Hilton Garden Inns, will be developed in various key locations. The 202-room Hilton Kazan is due to open in Kazan, west Russia, in spring 2014, under a management agreement with Eastfield Kazan LLC. The 432-room DoubleTree by Hilton Moscow Vnukovo Airport, the product of a management agreement with Vnukovo Hotels CJSC, is expected to open in 2013, opposite the airport's main terminal building. A franchise agreement with SINHRO LLC has resulted in the 158-room Hilton Garden Inn Volgograd, which is to open at the end of the year in the port of Volgograd, southwest Russia. Finally, Hilton signed a franchise agreement with Market LLC for the 156-room Hampton by Hilton Volgograd Pfofsoyuznaya, which is due to open at the end of 2013. For those who missed our recent report on Russia, the CIS and Georgia, prepared by the London and Moscow offices of HVS, please click here. You can also download the article in Russian here.
…And Reaches Half A Dozen In The Netherlands
Hilton Worldwide has signed a management agreement with CORPUS Hotel BV for its sixth hotel in the Netherlands. The Hilton Garden Inn Leiden is expected to open in mid 2012 in the city of Leiden, west Netherlands, next to the CORPUS Congress Centre. The 173-room hotel will be the first of its brand in the country.
Adagio To Access All Areas
Back in May, HVS reported that Pierre & Vacances/Center Parcs signed a deal to increase its share in French aparthotel and villa company Citéa to 100%. Pierre & Vacances then ceded its new purchase to Adagio City Aparthotel, its joint venture with Accor. Adagio, which ranges from midscale to upscale properties, has announced this week that it has created a new economy brand by renaming the Citéa properties (mainly located on the outskirts of France's main cities and in secondary cities) as Adagio Access. The group also plans to expand its new brand by opening 20 new Adagio Access properties by 2015.
Fairmont On Its Way To Moscow
Canadian-based Fairmont Hotels & Resorts is to make its debut in Russia. The Pekin Hotel in Moscow, which opened in 1955, is to undergo extensive renovation and will reopen as the 236-room Fairmont Pekin Moscow in 2017. The project is being developed by Russian real estate company HALS-Development.
Renovation At The Ritz
A haunt of the rich and famous, the Ritz Paris is to close next summer for 27 months to undergo a full renovation. The 159-room hotel, on the city's iconic place Vendôme, first opened in 1898 and was last renovated in 1979. The Ritz Paris is owned by Egyptian businessman Mohamed al Fayed. French designer and architect Thierry Despont will be leading the renovation team.
Nikki Beach Number Two For Egypt
US-based luxury lifestyle brand Nikki Beach Hotels & Resorts has signed a memorandum of understanding with Cairo-based developer Egyptian Resorts Company (ERC) to operate and manage a hotel in Egypt. The 100-room boutique hotel will be located at ERC's purpose-built Sahl Hasheesh resort on Egypt's Red Sea coast. Nikki Beach already has one other hotel in the pipeline for Egypt: the 125-room Casa Nikki, Hacienda Bay, which is due to open in 2013.
Hilton To Debut In Lebanon And Waldorf Astoria To Arrive In Dubai
As well as its new signings in Europe, Hilton Worldwide, in partnership with Al Habtoor Group, has also announced three new hotels for the Middle East this week. Two existing hotels in Beirut, Lebanon – the Habtoor Grand and the Metropolitan Palace – are to be rebranded as the 195-room Hilton Beirut Habtoor Grand and the 183-room Hilton Beirut Metropolitan Palace, respectively, at the beginning of 2012. Once open, these will be the first Hilton properties in Lebanon. The two companies have also signed an agreement to bring the Waldorf Astoria brand to Dubai – the 324-room Waldorf Astoria Dubai Palm Jumeirah is expected to open at the end of 2013. The AED1 billion (US$272 million) hotel is already under construction on the emirate's Palm Jumeirah development. It will be the second of its brand in the UAE, following the opening of the Waldorf Astoria Ras Al Khaimah at the end of 2012.
Ascott Number One For Oman
Singapore-based serviced residence business The Ascott Limited (Ascott) has signed a management contract with Omani company Allied Real Estate for its first property in Oman. The 220-unit Somerset Panorama Muscat is due to open in Oman's capital in 2014. Ascott's portfolio currently includes seven properties, under its three brands, in the Middle East. Commenting on the new signing, Ronald Tay, Ascott's chief investment officer, said, "Ascott's growth strategy for the Gulf region is to build economies of scale by securing more management contracts. We will continue to expand our presence in Bahrain, Oman, Qatar and [the] UAE, as well as look for opportunites in Kuwait and Saudi Arabia."
Accor Releases Its Third-Quarter Revenue
Accor has recorded revenue of €4,597 million for the first nine months of 2011, a like-for-like increase of 5.8% on the same period in 2010. Third-quarter revenue also increased by 5.8% like-for-like on 2010, to €1,623 million. Third-quarter occupancy and average rate for upscale and midscale hotels in Europe increased by 2.3% and 1.9%, respectively, resulting in a RevPAR of €67. Economy hotels in Europe recorded a RevPAR of €42, a 5.9% increase on the third quarter of 2010. One of the strongest markets in the third quarter of 2011 was France, with like-for-like increases in revenue of 6.7% and 7.1% in the upscale and midscale segment and economy segment, respectively, owing to an exceptional summer season, particularly in Paris. By the end of September, Accor has opened 28,000 new rooms, 86% of which were through management and franchise contracts. The group has confirmed that its full-year EBIT target is €510-€530 million.
Gladen's Tidings
The news from Spain by Esther Gladen, Business & Market Intelligence Analyst, HVS Madrid. Accor opens Mercure number four in Spain: the four-star Mercure Thalasia Costa de Murcia, in the Murcia region, has 211 rooms, two restaurants, three bars, an outdoor swimming pool, a convention centre, sports facilities and a thalassotherapy centre. Suites Group announces the opening of 18 luxury suites in Madrid: the suites are situated in the centre of the city, not far from the Cibeles fountain. Suites Group's portfolio currently includes three properties in Barcelona.
Absolute Share Price Performance Over the Past Week – 13-20 October 2011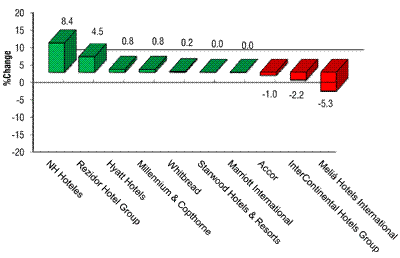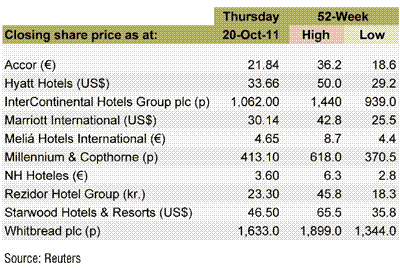 NH Hoteles – Natixis raised its recommendation to "neutral" from "reduce".
Accor – Accor dipped 0.1% on high volume falling for a second consecutive day, a two-day fall of 2.8%.
Meliá Hotels International – The Spanish group's five-year Credit Default Swap decreased.
---
For the latest in the hospitality industry, please visit: http://www.hvs.com. You are also welcome to contact the following personnel.
| | |
| --- | --- |
| Russell Kett, Managing Director – HVS London (@russellkett) | rkett@hvs.com |
| Charles Human, Managing Director – HVS Hodges Ward Elliott | chuman@hvshwe.com |
| Tim Smith, Director – HVS London | tsmith@hvs.com |
| Chris Martin, Director – HVS Hodges Ward Elliott | cmartin@hvshwe.com |
| Demetris Spanos, Managing Director – HVS Athens | dspanos@hvs.com |
| Hala Matar Choufany, Managing Director – HVS Dubai | hchoufany@hvs.com |
| Christopher Mumford, Managing Director – HVS Executive Search (@ChrisMumford) | cmumford@hvs.com |
| Philip Bacon, Managing Director – HVS Madrid and Managing Director, EMEA & Asia – HVS Shared Ownership Services | pbacon@hvs.com |
| Saurabh Chawla, Director – HVS Asset Management and Strategic Advisory | schawla@hvs.com |
| Louise Fury, Senior Editor and EMEA Hospitality Newsletter Author – HVS London | lfury@hvs.com |