A New Owner For The De Vere Village In Birmingham
Isle of Man-based company Earlsky has purchased the De Vere Village hotel in the city of Birmingham, UK, from AXA Real Estate Investment Managers (on behalf of Friends Life Assurance Society) for £12.3 million. De Vere Group will continue to operate the 125-room hotel; the group's lease on the property runs until November 2039.
Six Former Von Essens Sold
Back in September, HVS reported that English entrepreneur Andrew Brownsword had agreed terms for the purchase of four former von Essen hotels in the UK. This week, it was announced that Bath Priory Ltd, which is owned by Mr Brownsword and his wife, has now purchased the 19-room Amberley Castle, the 19-room Lower Slaughter Manor, the 30-room Washbourne Court and the 13-room Buckland Manor, in the south of England, for a reported £32 million. A new company, Brownsword Hotels, has been created to operate the properties. The 32-room Georgian country house hotel Bishopstrow House and Halcyon Spa, in southwest England, has been bought out of administration by Longleat Enterprises, which runs the estate of Alexander Thynn, the 7th Marques of Bath. The sale price has not been confirmed but the hotel was on the market with a guide price of £6 million. The 11-room Samling Hotel in the Lake District, north England, was acquired by a private bidder off a guide price of £6 million.
A Ring A Ding Sale In The South Of England
After purchasing the Bell Hotel in the medieval town of Sandwich, southeast England, in 2005 and investing £3.1 million in refurbishing the property, London-based capital investors Albion Ventures has recently sold the 37-room hotel to brewery and hotel company Shepherd Neame for £3.6 million. This acquisition reportedly brings Shepherd Neame's portfolio of hotels in the south of England up to seven.
Calling All London Hoteliers
HVS Executive Search has had a great response to its 2011 London Hotel Salary Survey, and, at the request of several hotels, has now extended the deadline to 31 October 2011. If you haven't already done so, you can participate in the survey using the following links: to complete the survey online click here, to download the survey in Excel click here and to download position descriptions click here. Participation in the survey is free of charge, absolutely confidential and guarantees that you will receive a complimentary copy of the final report. Now in its eighth year, the report will present salary, bonus and benefits data on more than 30 key executive committee and department head positions; London hotels by hotel category, room count and turnover; and a year-on-year salary comparison. All data submitted will be treated as highly confidential and presented in percentile format. Covering annual base salary and bonus and benefits such as pensions, transport and health insurance, we expect the completed report to be sent to you by late November. If you are completing the report in Excel please send your data to Pooja Vir pvir@hvs.com. We look forward to your participation!
Purple Haze To Descend On St Petersburg
InterContinental Hotels Group (IHG) is bringing its boutique Indigo brand to Russia. The group has signed a franchise agreement with Vega LLC for the Hotel Indigo St Petersburg Tchaikovsky. The 119-room hotel is due to open next summer. IHG also plans to develop an Indigo property in Moscow.
A New Look For Crowne Plaza
Hot on the heels of the completion of a three-year, US$1 billion revamp of its Holiday Inn chain, InterContinental Hotels Group has announced that it is undertaking a global repositioning of its Crowne Plaza brand. The overhaul of the brand is to take place in three phases and is expected to be completed in 2015. Phase one, which is focused on raising product quality and the consistency of the hotels in the Americas, is already underway. Phase two is to be carried out between 2012 and 2013 and will include the launch of a global branded service training programme to increase customer satisfaction. Phase three, from 2013 to 2015, will introduce new brand hallmarks in order to clearly differentiate Crowne Plaza from its competitors. Janis Canon, Crowne Plaza Hotels & Resorts' vice president of global brand management, said, "The Crowne Plaza global portfolio has doubled since 2003 to nearly 400 hotels, and our global pipeline has increased four-fold to 115 hotels. Momentum is building for Crowne Plaza, and the future is bright."
A Howling Good Deal For Meliá
Meliá Hotels International has signed a lease for its second hotel in the city of Wolfsburg, north central Germany. Construction of the Innside Wolfsburg is due to start next year. The four-star hotel is expected to have 219 rooms and, once open, will bring Meliá's portfolio in the country up to 23.
Solís And Capella In Sochi
Solís Hotels & Resorts is to enter the Russian market. The group has signed a management contract for two properties in the mountain resort of Gorky Gorod near Sochi. The 120-room Solís Hotel and the 52-unit Solís Suites are expected to be completed in time for the Winter Olympic Games in 2014. Solís currently has one hotel in Europe, in Ireland, and one in the Middle East, in Qatar. Capella Hotels and Resorts is also planning to move into Gorky Gorod – the 59-room Capella Sochi Hotel is due to open in 2013. This will be Capella's first foray into Europe. Both the Solís and Capella chains were founded by hotelier Horst Schulze, former president of Ritz-Carlton.
Hamburg Accommodates Another Acom
German budget brand acomhotels has signed a lease contract for its second hotel in Hamburg. Construction on the 170-room acomhotel hamburg is due to start in the second quarter of 2012 and is expected to take 14 months. Acom currently has two hotels in Germany, in Munich and Nuremburg, and six in the pipeline, including the 258-room acomhotel hamburg hafencity, which is due to open in the second quarter of 2013.
Viceroy Number One For The Middle East
After taking over the management of the Yas Hotel in Abu Dhabi, UAE, in July, US-based Viceroy Hotels and Resorts has now rebranded the hotel as the Yas Viceroy Abu Dhabi. The 499-room hotel is the group's first property in the Middle East.
Go West In Abu Dhabi
Starwood Hotels & Resorts' Westin brand is to make its debut in Abu Dhabi next month with the opening of the Westin Abu Dhabi Golf Resort & Spa on 1 November, at Abu Dhabi Golf Club. The 172-room hotel is owned by Abu Dhabi-based Tourism Development and Investment Company.
Ritz-Carlton Opens In Riyadh
Ritz-Carlton Hotel Company has opened its first hotel in Saudi Arabia this week: the 493-room Ritz-Carlton, Riyadh, which stands adjacent to the King Abdul Aziz Convention Centre. Commenting on the group's first foray into the country, Herve Humler, Ritz-Carlton's chief operations officer, said, "We have been aggressively seeking the right first location in Saudi Arabia for a number of years, and believe there could be no better place for a Ritz-Carlton than this." Ritz-Carlton currently has nine other properties in operation or under development in the Middle East.
Starwood's Third-Quarter Results
Starwood Hotels & Resorts recorded net income of US$163 million (US$0.84 per share) for the third quarter of 2011, compared to a loss of US$6 million (US$0.03 per share) for the same period in 2010. Adjusted EBITDA was US$241 million, an increase of 18% on 2010. RevPAR for the group's hotels in Europe increased by 20.0% as reported, but RevPAR for Africa and the Middle East fell by 1.9%. "We expect to continue growing faster than the market, both in terms of RevPAR and footprint, thanks to our brand momentum and exposure to rapidly growing markets," said Frits van Paasschen, Starwood's chief executive officer. "In an uncertain world, investors should also note that our balance sheet is in great shape, with net debt below US$1.7 billion," he added. During the third quarter, Starwood signed 24 hotel management and franchise contracts (approximately 6,300 rooms) and opened 19 hotels and resorts (approximately 4,900 rooms).
Rezidor's Third-Quarter RevPAR And Revenue
Rezidor Hotel Group achieved a revenue increase of 6.9% in the third quarter of 2011, to €219.4 million. On a like-for-like basis, revenue increased by 0.1%, owing to a weak performance in the Nordics and renovation works, which offset positive development in other regions. EBITDA was €14.8 million, a fall of almost 20% on the same period in 2010. Like-for-like RevPAR increased by 2.3%; Eastern Europe recorded the biggest growth of 15.3%, driven mainly by a rise in average rate of 11.2%. Commenting on the results, Kurt Ritter, Rezidor's president and chief executive officer, said, "Our RevPAR has developed more positively than the market during the first eight months of the year. The drop in EBIT versus last year is mainly the result of a timing difference in our marketing spending versus last year."
Gladen's Tidings
The news from Spain by Esther Gladen, Business & Market Intelligence Analyst, HVS Madrid. Upgrade of the AC Diplomatic in Barcelona: the four-star hotel will be refurbished and rebranded as the 211-room Renaissance Barcelona Hotel, which is scheduled to reopen in April 2012. The Suites group to open a Splendom Suites in Barcelona: the 11 modern one- and two-bedroom apartments are located in the centre of the city, close to Plaza Cataluña. Each one of them is between 45 m² and 80 m²; some of the units have balconies, others, a terrace. The opening is scheduled for November. Luabay continues its expansion: part of the Orizonia Group, Luabay recently opened its fifth hotel in Playa Fañabé, Tenerife: the four-star, 303-room Luabay Costa Adeje. Luabay has also added the former Hotel Esmeralda in Majorca to its portfolio; this hotel will now be refurbished and adapted to the company's brand standard. New four-star project in Benalmádena, Málaga: the four-star all-inclusive Hotel Venettia, a replica of the Italian city of Venecia, will be located within the Holiday World complex with 585 apartments and more than 2,300 beds. The resort will also include seven restaurants and meeting space for more than 2,000 delegates. The developer of the project, Grupo Peñarroya, is planning another two four-star hotels in the same location. New hotel project for Motril, Granada: Hoteles Almuñécar will invest around €12 million in the construction of the new four-star, 150-room Hotel Victoria, Playa Granada. The property will be developed over 7,500 m², close to a golf course. The opening is scheduled for 2014.
Absolute Share Price Performance Over the Past Week – 20-27 October 2011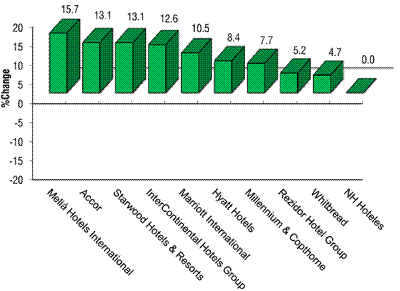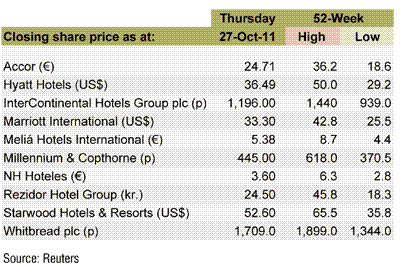 Accor – Accor strenghtened above its 50-day Exponential Moving Average Price.
Meliá Hotels International – Meliá's five-year Credit Default Swap rose above its Moving Average Spread.
NH Hoteles – NH added 3.3% on firm volume, ending a two-day streak of losses.
---
For the latest in the hospitality industry, please visit: http://www.hvs.com. You are also welcome to contact the following personnel.
| | |
| --- | --- |
| Russell Kett, Managing Director – HVS London (@russellkett) | rkett@hvs.com |
| Charles Human, Managing Director – HVS Hodges Ward Elliott | chuman@hvshwe.com |
| Tim Smith, Director – HVS London | tsmith@hvs.com |
| Chris Martin, Director – HVS Hodges Ward Elliott | cmartin@hvshwe.com |
| Demetris Spanos, Managing Director – HVS Athens | dspanos@hvs.com |
| Hala Matar Choufany, Managing Director – HVS Dubai | hchoufany@hvs.com |
| Christopher Mumford, Managing Director – HVS Executive Search (@ChrisMumford) | cmumford@hvs.com |
| Philip Bacon, Managing Director – HVS Madrid and Managing Director, EMEA & Asia – HVS Shared Ownership Services | pbacon@hvs.com |
| Saurabh Chawla, Director – HVS Asset Management and Strategic Advisory | schawla@hvs.com |
| Louise Fury, Senior Editor and EMEA Hospitality Newsletter Author – HVS London | lfury@hvs.com |