From Manager To Owner In Manchester
After being put on the market in September, the Radisson Edwardian hotel in Manchester has been purchased by Edwardian Group, the parent company of Radisson Edwardian Hotels. The hotel is reported to have been acquired for more than the £37.5 million asking price, with financial backing from HSBC. Edwardian Group, which took on the operation of the 263-room hotel in 2004, now owns 12 of the 14 properties in its portfolio of Radisson Edwardian hotels across London, Manchester and Guildford, in England.
The Greenway Hotel & Spa Finds Eden
The Greenway Hotel & Spa near the town of Cheltenham, southwest England, has become the seventh former von Essen hotel to find a new owner. The 17-room hotel, once an Elizabethan Manor house, was purchased by Eden Hotel Collection off a guide price of £3.5 million, bringing the group's portfolio of hotels across England to six.
Top Verbier Ski Hotel For Sale
HVS Hodges Ward Elliott (HVS HWE) has been appointed by Matterhorn Capital to offer for sale the Hotel Rosalp, a landmark property in the top Swiss resort of Verbier. The property, which includes a hotel, an adjoining apartment building and a separate chalet, benefits from having full consent to be partially redeveloped to create a true luxury ski hotel, the first of its kind in Verbier. The consented scheme has a total built area of 4,500 m², on a land plot of 2,820 m². In addition to more than 20 luxury hotel suites, the development will contain two restaurants, a bar, a large terrace, an extensive wellness spa and two prime retail units. For further information, please contact Philipp Klohr of HVS HWE.
Wyndham's Got A Second Turkey In The Oven
Wyndham Hotel Group enjoyed its recent first foray to Turkey a lot – so much so that less than a month after it revealed plans to make its debut appearance in the market, the US-based group has signed a franchise agreement with Reisler Deri Sanayi Ve Ticaret Limited Siketi for its second hotel in the country: the 211-room Wyndham Istanbul Kalamis Marina, which is due to open in 2012 on the Asian side of the city.
Starwood Reaches New Heights In The UK
Starwood Hotels & Resorts' mid-market Aloft brand made its first appearance on English shores this week with the opening of the Aloft London ExCeL. The hotel, owned by Abu Dhabi National Exhibitions Company, can be found next to the ExCeL conference centre, at the heart of London's docklands, with 252 loft-inspired guest rooms.
Rezidor Picks Up Another Slice Of Turkish Delight
Now that it has emerged from a 12-month renovation, the former Taksim hotel in the port of Mersin, southern Turkey, is to be rebranded as the Radisson Blu Hotel Mersin before the end of the year. The 246-room hotel is housed at the top of the 52-storey Mersin Tower, Turkey's second-tallest building. Commenting on the latest addition to the Radisson Blu portfolio, Kurt Ritter, Rezidor Hotel Group's president and chief executive officer, said, "Turkey is an important growth market for us – the country has a strong economy and ambitious development plans. We look forward to further strengthening our portfolio in this emerging region."
New Trends In Hospitality Recruitment
According to HVS Executive Search, hoteliers are investing more in getting recruitment right. Hotel companies are increasingly using professional recruitment companies to head-hunt management staff in order to minimise the risk of hiring the wrong person. Additionally, HVS Executive Search has reported that demand through its London and Moscow Offices has now grown beyond the traditional confines of chief executive and board level positions as companies put more emphasis on recruiting quality staff at all rungs of the organisational ladder. "Hoteliers are now employing us to draw up a shortlist of candidates for less senior roles than they would have done before in areas such as operations, sales and marketing, finance and development," said Chris Mumford, managing director of HVS Executive Search's London office. "This growing demand is for a highly focused style of recruitment that relies on our knowledge of the market and our ability to lure talented individuals that would be a good fit for the organisation. Difficult market conditions have prompted hotel companies to invest more in recruitment for a higher success rate," he added. For more details contact Pooja Vir.
Scotsman Hotel Group In Administration
Sadly the curtain has fallen for the final time on The Scotsman Hotel Group, which reportedly has debts of £50 million. Administrators were called in after talks broke down between Lloyds bank and the company's owner, Sheikh Mohamed Bin Issa Al Jaber, who bought the group in 2006. The Scotsman portfolio includes three townhouse hotels in Edinburgh, Scotland; Leeds, England; and Paris, France.
HVS Named IHIF's Management Consultant Of The Year
"If you can meet with Triumph and Disaster and treat those two impostors just the same." Easy for you to say, Mr Kipling. HVS spends a lot of time and effort recruiting and training the best and brightest people in the hotel industry, and in turn those people work hard to produce excellent, high-quality consultancy work. We tell them how wonderful they are, but it is always nice to see their effort, hard work and dedication lauded in a public forum. As some of our readers already know, HVS was announced as Management Consultant of the Year at the International Hotel Investment Forum (IHIF) Awards, earlier this week. Chairman of the judging panel Andrew Sangster, editorial director of Hotel Analyst, said, "HVS is hugely active in the market and has gained a lot of market share. It wasn't just HVS's professional knowledge that the judges were impressed with, but the company's integrity when dealing in high pressure situations." The awards celebrate the achievers in the European hotel investment community and were voted for by several thousand senior figures in the European hotel industry following a shortlist drawn up by two judging committees. Russell Kett, managing director at HVS London, commented that the HVS team is delighted to receive this award. "It has been an exceptional year for us with a number of high-profile transactions and assignments, and it is a real team effort by all our European offices and divisions," he added.
JW To Come To Bahrain
Marriott International is bringing its JW Marriott brand to Bahrain. The group has signed a management agreement with Khaleejcapita, a joint venture between Qatar-based Business Trading Company and Bahrain-based Remza Investment Company, for the JW Marriott Manama, Bahrain Hotel. The 50-storey hotel tower will be part of the US$2.5 billion Bahrain Bay development. It is scheduled to open in 2016 with 274 guest rooms and 102 residences. Marriott currently has two other hotels in operation in Bahrain and two more in the pipeline due to open in 2012 and 2013.
Hyatt Makes It Big In Abu Dhabi And Jumeirah Towers Above The Rest
This week, Hyatt Hotels and Resorts opened the biggest Park Hyatt the world has seen so far. With 306 rooms, the Park Hyatt Abu Dhabi Hotel and Villas resides on the edge of a nine-kilometre stretch of beach on Saadiyat Island, 500 metres off the coast of Abu Dhabi. The hotel, which is owned by Abu Dhabi National Hotels, is Hyatt's first property in Abu Dhabi; it won't be flying the Hyatt flag solo for long, however, as it will soon be joined by the 189-room Hyatt Capital Gate Abu Dhabi, which is due to open by the end of the year. Dubai-based Jumeirah Group also opened its first property in the emirate this week: the 382-room Jumeirah at Etihad Towers. At 280 metres high, the development also includes 199 serviced residences.
Rocco Forte's First Middle Eastern Adventure
Nearly five years after it announced that it was on its way to Abu Dhabi, Rocco Forte Hotels has now officially arrived – The luxury group launched its first hotel in the Middle East this week in the UAE's capital: the 281-room Rocco Forte Hotel Abu Dhabi. UAE conglomerate Al Farida Investments Company, in conjunction with Tourism Development & Investment Company, developed the 11-storey hotel. "We invested about AED700 million (US$190 million) in the hotel and we hope this will pave the way for future developments and completion of our second phase which is estimated at AED300 million (US$81 million) for [the] Rocco Forte Residence and office tower," said Sheikh Hamed bin Ahmad Al Hamed, chairman of Al Farida Investments Company.
A Third-Quarter Revenue Increase For Hyatt
Hyatt Hotels Corporation recorded a revenue increase of 3.3% for the third quarter of 2011, compared to the same period in 2012. Adjusted EBITDA was US$135 million, an increase of 21.6% on the US$111 million achieved in the third quarter of 2010. Net income was US$14 million (US$0.08 per share), a decrease of more than 50% on 2010. RevPAR at comparable owned and leased hotels rose by 9.2% during the third quarter of the year. "We continue to generate strong interest in our brands and we are excited about opening managed hotels in India, China and Tanzania during the quarter. We believe we remain well poised for future opportunities as we have maintained significant liquidity following a bond offering and the amendment of our revolving line of credit during the quarter," said Mark S Hoplamazian Hyatt's chief executive officer. Hyatt added 26 hotels to its portfolio during the third quarter of 2011.
Gladen's Tidings
The news from Spain by Esther Gladen, Business & Market Intelligence Analyst, HVS Madrid. Premium Suites Hotels opens AKO Suites in Barcelona: the 28 recently finished apartments are located in the centre of the city, on calle Diputación. The 45 m² units each offer a four-star hotel service, and an indoor pool is expected to open soon on the upper floor of the building. The company has invested around €10 million in the building. Accor to open a Mercure in Burgos: the 50-room, four-star property will be the fifth of its brand in Spain. Another Holiday Inn for Madrid: Rafael Hoteles has agreed a franchise contract with InterContinental Hotels Group (IHG) to convert its Rafaelhotel Pirámides, in La Latina, into the second Holiday Inn in the city. The 93-room hotel will be adapted to IHG standards and will open soon.
Absolute Share Price Performance Over the Past Week – 27 October-3 November 2011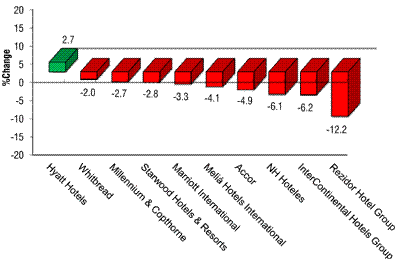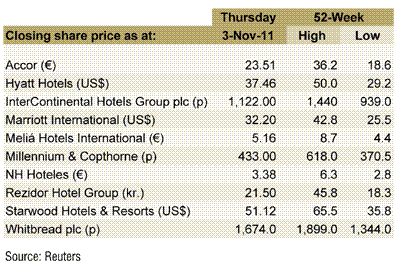 Meliá Hotels International – Meliá weakened below its Moving Average Price.
NH Hoteles – Share prices fell in four out of five days during the last week, a five-day fall of 4.7%.
InterContinental Hotels Group (IHG) – IHG dropped 3.5% on high volatility.
---
For the latest in the hospitality industry, please visit: http://www.hvs.com. You are also welcome to contact the following personnel.
| | |
| --- | --- |
| Russell Kett, Managing Director – HVS London (@russellkett) | rkett@hvs.com |
| Charles Human, Managing Director – HVS Hodges Ward Elliott | chuman@hvshwe.com |
| Tim Smith, Director – HVS London | tsmith@hvs.com |
| Chris Martin, Director – HVS Hodges Ward Elliott | cmartin@hvshwe.com |
| Demetris Spanos, Managing Director – HVS Athens | dspanos@hvs.com |
| Hala Matar Choufany, Managing Director – HVS Dubai | hchoufany@hvs.com |
| Christopher Mumford, Managing Director – HVS Executive Search (@ChrisMumford) | cmumford@hvs.com |
| Philip Bacon, Managing Director – HVS Madrid and Managing Director, EMEA & Asia – HVS Shared Ownership Services | pbacon@hvs.com |
| Saurabh Chawla, Director – HVS Asset Management and Strategic Advisory | schawla@hvs.com |
| Louise Fury, Senior Editor and EMEA Hospitality Newsletter Author – HVS London | lfury@hvs.com |