Longleat Picks Up A Second Von Essen
After buying the 32-room Bishopstrow House and Halcyon Spa out of administration at the end of October, Longleat Enterprises has acquired another former von Essen hotel for an undisclosed sum: the 21-room Homewood Park Hotel & Spa, just outside the city of Bath in southwest England. Other sales in the UK this week include the Winston Hotel on the Gower Peninsula, south Wales, which was bought out of administration by hoteliers Paul and Catherine Heffron, who now intend to rebrand the 17-room property over the next few months.
Radisson Blu On Its Way To Belgrade
Rezidor Hotel Group has announced that it will be making its first appearance in Serbia in the fourth quarter of 2013 with the opening of the Radisson Blu Hotel Belgrade in the country's capital. The 236-room hotel, which is already under construction, is being developed by Austrian-based Soravia Group, alongside Erste Bank Group and the European Bank for Reconstruction and Development, as part of a mixed-use development that will also include an office tower.
Hilton To Give Europe's Seventh Heaven To Amsterdam
Hilton Worldwide has signed an agreement with Dijkhuis Vastgoed Management BV for its seventh Waldorf Astoria hotel in Europe. The Waldorf Astoria Amsterdam will open in 2013 as the first of its brand in the Netherlands. The 94-room hotel is to be housed across six canal-side buildings in central Amsterdam. "Waldorf Astoria Hotels & Resorts is experiencing great growth momentum in Europe…we are particularly pleased to see growth in Amsterdam, which is one of Europe's most popular tourist destinations," said Patrick Fitzgibbon, Hilton Worldwide's senior vice president of development in Europe and Africa.
Armani Opens In Milan
After making its debut in the world of hospitality last year in Dubai, Armani Hotels & Resorts opened its second hotel this week in Italy's second-largest city, Milan, renowned worldwide for its fashion and design industry. The 95-room Armani Hotel Milano is located within a palazzo at the heart of the city. The hotel is part of the ongoing collaboration between Armani and Emaar Properties PJSC. The duo aim to open at least ten Armani-branded hotels around the world by 2020.
Chill Out With Marriott In Siberia
Marriott International opened its first hotel in the Russian region of Siberia this week. The 208-room Courtyard by Marriott Irkutsk City Center is located in the city of Irkutsk, on the Angara River, in eastern Siberia. "We are excited to enter new destinations like Siberia and see great potential for further expansion of our Courtyard by Marriott brand here in Eastern Europe," said Amy McPherson, Marriott's president and managing director in Europe. "This is also the first branded hotel in Irkutsk, an important energy hub of Europe," she added. Marriott now operates 14 hotels across Russia, six of which are Courtyard by Marriott properties.
Hilton's Minty Fresh Trees And Gardens
Hilton Worldwide is to rebrand and operate the Mint Hotel portfolio, which was acquired by Hilton's owning company, US-based investment firm Blackstone, for more than £600 million in September. The former Mint properties across the UK and the Netherlands will be transformed into the DoubleTree by Hilton Amsterdam Centraal Station, the DoubleTree by Hilton London – Tower of London, the DoubleTree by Hilton London – Westminster, the DoubleTree by Hilton Manchester Piccadilly, the DoubleTree by Hilton Leeds City Centre, the Hilton Garden Inn Glasgow City Centre, the Hilton Garden Inn Bristol City Centre and the Hilton Garden Inn Birmingham Brindleyplace. The deal will increase Hilton's portfolio to more than 100 properties in the UK and more than 220 across Europe.
A Foremost Expansion
Berlin-based Foremost Hospitality has taken over the Weststadt-Boarding Apartments in the city of Essen, western Germany. The 22 apartments, housed on the penthouse level of the 153-room Holiday Inn Express Essen, are to undergo refurbishment and will be renamed Essen City Suites. Under a license from InterContinental Hotels Group, Foremost is planning to expand further with 14 more hotels in Germany by 2016.
Rezidor's Airport Adventures
Rezidor's Park Inn by Radisson brand is it to make it debut in the Netherlands. The new-build 150-room Park Inn by Radisson Amsterdam Schiphol is due to open in the third quarter of 2012 in a former office building at Schiphol-Rijk business park. Chalet Group, which is investing in the hotel, is reported to be looking for more hotel opportunities in northwest Europe in which it can team up with Rezidor. Once open, this will be Rezidor's third hotel overall in the country; the group already operates the Radisson Blu Hotel, Amsterdam and the Radisson Blu Hotel Amsterdam Airport. Additionally, Rezidor opened its newest hotel in the UK this week: the 218-room Radisson Blu Hotel, East Midlands Airport, near the city of Derby in England. Despite being blu, with an Energy Performance Certificate rating of 2, this hotel is the greenest in Rezidor's European portfolio.
Two New Park Plaza Hotels For Croatia
Park Plaza Hotels is to renovate and rebrand two Arenaturist properties in Croatia, on the Istria Peninsula. After an extensive €25 million renovation, the 241-room Park Plaza Histria Pula and the 385-unit Park Plaza Verudela Pula will open in May 2012. Park Plaza became a shareholder in Croatian hospitality company Arenaturist in 2008, and subsequently signed an agreement to manage the group's portfolio.
Two New Ibis To Flock To Berlin
Accor is reportedly planning to develop two new hotels in Berlin, Germany. An ibis hotel and an ibis Budget property are to be housed in a ten-storey complex in the city's Schöneberg district. The two hotels, which will be linked to each other at ground level, will total 351 rooms and are expected to open in spring 2013.
A DoubleTree For Burundi?
It is rumoured that Hilton Worldwide is planning to open a hotel in Burundi, east central Africa. It was reported this week that the former 106-room Novotel in the country's capital, Bujumbura, is to undergo an estimated US$21.6 million renovation and will be transformed into a 138-room DoubleTree by Hilton. The IFC is said to be investing US$5.5 million in the project, its 100th hotel investment in Africa.
Mövenpick Moves Into Ghana
This week, Mövenpick Hotels & Resorts officially made its debut in Ghana, West Africa. After being completely rebuilt, the former Ambassador Hotel, owned by the Government of Ghana, is now operating as the 260-room Mövenpick Ambassador in the capital Accra. This is the group's first hotel in West Africa.
IHG's Third-Quarter Results
InterContinental Hotels Group (IHG) recorded total revenue of US$467 million for the third quarter of 2011, an increase of 11% on the same period in 2010, and operating profit rose by 33% to US$153 million. Global RevPAR grew by 6.4% for the quarter. Revenue for the EMEA region rose by 22% to US$128 million; RevPAR and average rate for the region increased by 3.6% and 2.8%, respectively. IHG opened ten hotels (1,072 rooms) in EMEA during the third quarter of the year and signed 11 properties (1,601 rooms). The group's overall net debt was US$644 million, a drop of US$157 million on 2010. "We have established firm foundations for high quality growth which we will deliver through driving market share, growing margins and investing behind the growth of our brands and our people. The economic environment continues to be uncertain, but we remain confident in our future due to our resilient business model, robust balance sheet and powerful brand portfolio, combined with low medium term supply growth in many markets," said Richard Solomons, IHG's chief executive.
The First Nine Months For Meliá
Meliá Hotels International reported an increase in its accumulated RevPAR of 9.3% for the first nine months of 2011. Revenue and EBITDA decreased by 0.7% and 18.3%, respectively, due to lower capital gains of €36.6 million from January to September 2011, compared to €93.2 million for the same period in 2010. However, third-quarter 2011 RevPAR grew 10.0%, and RevPAR at Spanish resort hotels rose dramatically by 15.8%. The group has restated its aim to reduce its net debt by the end of 2011 to less than €1,000 million, and announced that it is currently in the process of revaluing the company assets.
Gladen's Tidings
The news from Spain by Esther Gladen, Business & Market Intelligence Analyst, HVS Madrid. New NH in 22@Barcelona: NH Hotels has opened a new hotel in Barcelona. The 129-room, three-star NH Diagonal Center is located in the city's 22@Barcelona district. The group now has a portfolio of 28 properties in the Catalan capital.
Absolute Share Price Performance Over the Past Week – 3-10 November 2011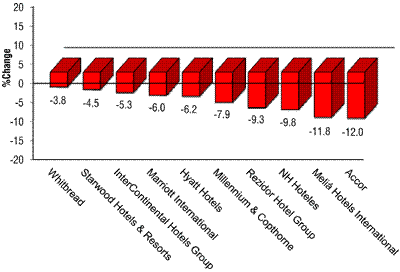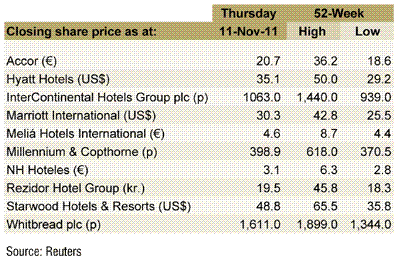 InterContinental Hotels Group (IHG) – IHG weakened below its Moving Average Price.
Accor – Accor's five-year Credit Default Swap fell by 0.47 basis points.
NH Hoteles – Despite a fall in share prices at the end of the week, NH Hoteles rose 3.9% from a 14-day low.
---
For the latest in the hospitality industry, please visit: http://www.hvs.com. You are also welcome to contact the following personnel.
| | |
| --- | --- |
| Russell Kett, Managing Director – HVS London (@russellkett) | rkett@hvs.com |
| Charles Human, Managing Director – HVS Hodges Ward Elliott | chuman@hvshwe.com |
| Tim Smith, Director – HVS London | tsmith@hvs.com |
| Chris Martin, Director – HVS Hodges Ward Elliott | cmartin@hvshwe.com |
| Demetris Spanos, Managing Director – HVS Athens | dspanos@hvs.com |
| Hala Matar Choufany, Managing Director – HVS Dubai | hchoufany@hvs.com |
| Christopher Mumford, Managing Director – HVS Executive Search (@ChrisMumford) | cmumford@hvs.com |
| Philip Bacon, Managing Director – HVS Madrid and Managing Director, EMEA & Asia – HVS Shared Ownership Services | pbacon@hvs.com |
| Saurabh Chawla, Director – HVS Asset Management and Strategic Advisory | schawla@hvs.com |
| Louise Fury, Senior Editor and EMEA Hospitality Newsletter Author – HVS London | lfury@hvs.com |