Good News For Greece
Greece is going through a tough time, but Rezidor Hotel Group has some positive news this week! The group intends to open its first hotel in the country in mid December. The existing 152-room Athens Park Hotel is to be rebranded as the Radisson Blu Park Hotel Athens, increasing Rezidor's presence in Europe, the Middle East and Africa to 65 countries. A renovation is planned for the hotel next year. "Despite the recent crisis and still challenging times in Greece, hotels in the capital city Athens perform well. We are glad to arrive in the country and that we are able to further strengthen the development of our core, upper upscale brand Radisson Blu in South East Europe," commented Kurt Ritter, Rezidor's president and chief executive officer.
Steigenberger Reaches Six In Berlin
Steigenberger Hotel Group is to open its sixth hotel in Berlin. Construction of the 340-room hotel is to start in autumn next year and is expected to be completed in the first half of 2014. The Frankfurt-based group will operate the hotel on a 20-year lease under its Steigenberger Hotels and Resorts brand. The hotel's developer, Vienna-based PORR Solutions, is investing €75 million in the project. Steigenberger currently has three hotels in operation in Germany's capital city and two in the pipeline for 2012 and 2013.
An Italian Job For Park Inn By Radisson
This month will see the opening of Italy's first Park Inn by Radisson property. The 138-room Grand Hotel Milan Malpensa in Milan, which reopened in May this year after an extensive renovation, is to be transformed into the Park Inn by Radisson Milan Malpensa. Once open, this will be Rezidor's second hotel in the city overall, alongside the 250-room Radisson Blu Hotel, Milan. "We are delighted to bring our dynamic mid-market brand Park Inn by Radisson to Italy. We also further strengthen our position as one of Europe's largest airport hotel operators – with now over 8,400 rooms in operation and under development, and a portfolio which includes major hubs like London Heathrow, Amsterdam Schiphol and Frankfurt," said Kurt Ritter, Rezidor's president and chief executive officer.
Sheraton Number Two For Moscow
Starwood Hotels & Resorts has signed an agreement with Russian company Otdelstroy-Invest for its second Sheraton-branded hotel in Moscow, Russia. The ten-storey, 333-room hotel is due to open at the beginning of 2014 as part of the Skypoint Business Park, 800 metres from Sheremetyevo Airport's international terminal, bringing Starwood's portfolio in the Russian capital to four hotels overall.
Marriott Gets Residential In The UK
Hot on the heels of the debut of Marriott International's Residence Inn brand in Europe last month, the group has now opened its first in the UK: the Residence Inn Edinburgh. The107-room hotel, a product of a management agreement between Marriott and Gladedale Ventures Ltd, a subsidiary of Dunfermline-based property developers Gladedale Group, is part of the new 19-acre mixed-use Quartermile development in Scotland's capital.
Motel One On Its Way To London
It was reported this week that German group Motel One has signed an agreement for its first hotel in London. A 258-room property is rumoured for development close to the Tower of London, and is slated to be opening in 2014. The budget brand currently has two other hotels in the pipeline for the UK, in Edinburgh, Scotland.
Interstate To Make Its Mark In Hungary
US-based independent hotel management company Interstate Hotels & Resorts has signed a long-term management agreement for its first hotel in Eastern Europe. The 136-room Four Points by Sheraton Kecskemet in the city of Kecskemet, central Hungary, is due to open in 2013 as part of a mixed-use project involving the redevelopment of an existing office building by KESZ Industrial Park Real Estate Management. The deal represents Interstate's 28th contract in Europe and the company now has a presence in ten countries outside the USA.
Jumeirah Living It Up In London
Dubai-based Jumeirah Group recently signed a management agreement to operate the Grosvenor House Apartments on Park Lane in London. The 133 apartments, to be renamed the Grosvenor House Apartments by Jumeirah Living, are to be undergoing a refurbishment and internal rebuild before opening. Jumeirah currently has two hotels in the UK capital, but this is its first serviced residence product in the city.
A Foremost Expansion Part Two
Following on from last week's news that Berlin-based Foremost Hospitality has taken over Weststadt-Boarding Apartments which will undergo refurbishment and be renamed Essen City Suites, it has since been confirmed that Foremost has also taken over the 153-room Holiday Inn Express Essen in the same building. Martin Bowen, InterContinental Hotels Group's associate vice president for development in Germany said, "Foremost Hospitality HIEX GmbH is a fantastic partner for IHG in Germany. Holiday Inn Express is one of the fastest growing midscale hotel brands. Now more than ever, guests are looking for hotels which combine value with comfort making Holiday Inn Express a great choice now and in the future."
Rotana Times Two For Oman
Abu Dhabi-based Rotana Hotel Management Corporation plans to make its debut in Oman by the end of 2012 with a five-star resort hotel in the port of Salalah, in the south of the country. The 400-room Salalah Rotana Resort & Spa is the product of a strategic alliance between Rotana and Egyptian conglomerate Orascom. Additionally, the group already has hotel number two in the pipeline: the 300-room Centro Sohar which is expected to open in the city of Sohar, in the north of Oman, in early 2013.
Rezidor Royalty In Dubai
Rezidor Hotel Group officially opened the Radisson Royal Hotel, Dubai in the UAE this week. The 471-room hotel is one of two former JAL Hotels properties that Rezidor signed management agreements for in July.
Ibis Budget Number One In Morocco
French group Accor has opened the world's first ibis budget hotel in the port of Tangier, northern Morocco. Formally an Etap, the 121-room ibis budget Tangier is the first of 518 Etap/Formule 1 hotels across 17 countries to be converted to the new ibis budget brand – three more are expected to open in December: the ibis budget Grenoble Sud Seyssins, in France; the ibis budget Leysin, in Switzerland; and the ibis budget Bonn Süd Königswinter, in Germany.
Gladen's Tidings
The news from Spain by Esther Gladen, Business & Market Intelligence Analyst, HVS Madrid. Pabisa incorporates Orlando Aparthotel in Majorca: The 73-unit three-star aparthotel in Playa de Palma is close to the company's three other properties in the area. The reopening after refurbishment is scheduled for February 2012. Louvre Hotels plans expansion in Spain: The international hotel company is considering introducing two or three four-star properties into the Spanish market in 2012. The hotels are planned to be operated under the Golden Tulip brand.
Absolute Share Price Performance Over the Past Week – 10-17 November 2011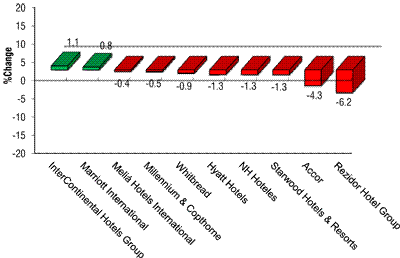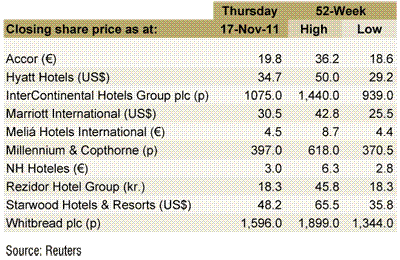 NH Hoteles – The Spanish group dropped to a one-month low on average volume.
Meliá Hotels International – Meliá weakened below its Moving Average Price.
Accor – Accor's five-year Credit Default Swap rose 1.25 basis points.
---
For the latest in the hospitality industry, please visit: http://www.hvs.com. You are also welcome to contact the following personnel.
| | |
| --- | --- |
| Russell Kett, Managing Director – HVS London (@russellkett) | rkett@hvs.com |
| Charles Human, Managing Director – HVS Hodges Ward Elliott | chuman@hvshwe.com |
| Tim Smith, Director – HVS London | tsmith@hvs.com |
| Chris Martin, Director – HVS Hodges Ward Elliott | cmartin@hvshwe.com |
| Demetris Spanos, Managing Director – HVS Athens | dspanos@hvs.com |
| Hala Matar Choufany, Managing Director – HVS Dubai | hchoufany@hvs.com |
| Christopher Mumford, Managing Director – HVS Executive Search (@ChrisMumford) | cmumford@hvs.com |
| Philip Bacon, Managing Director – HVS Madrid and Managing Director, EMEA & Asia – HVS Shared Ownership Services | pbacon@hvs.com |
| Saurabh Chawla, Director – HVS Asset Management and Strategic Advisory | schawla@hvs.com |
| Louise Fury, Senior Editor and EMEA Hospitality Newsletter Author – HVS London | lfury@hvs.com |