Oman Reserves A Hotel In Hungary
Omani sovereign wealth fund the State General Reserve Fund (SGRF) has completed its acquisition of the Four Seasons Hotel Gresham Palace in Budapest, Hungary, from Irish developer Avestus, formerly known as Quinlan Private. The sale price is undisclosed, but it is rumoured that the hotel changed hands for no more than €40 million. Four Seasons Hotels and Resorts will continue to operate the 179-room hotel, which is housed in a landmark Art Nouveau building overlooking the River Danube, on the Pest side of the city. The building dates back to 1906, when it opened as the foreign headquarters of the London Gresham Life Assurance Company; it was converted into a Four Seasons hotel in June 2004. "We see the hotel as a premier asset in the Budapest market, a market that is in the right phase of the RevPAR/valuation growth cycle, which has the potential to yield significant upside over the longer term," said a representative for SGRF.
It's All Serene In Dar es Salaam
Kenyan-based TPS Eastern Africa Ltd, the holding company of Serena Hotels, has reportedly purchased the Mövenpick Royal Palm Hotel in Dar es Salaam, on the Indian Ocean, Tanzania, from Mövenpick Hotels & Resorts for an undisclosed sum. The 230-room hotel is the group's first property in the city; it will be rebranded as the Dar es Salaam Serena Hotel at the beginning of next month, bringing Serena's portfolio of hotels in Tanzania up to ten.
A Baker's Dozen For Rezidor In Russia
Rezidor Hotel Group currently operates 12 Park Inn by Radisson hotels in Russia across nine cities; this week, the group announced hotel number 13 for city number ten. The Park Inn by Radisson Petrozavodsk is due to open in 2013 in Petrozavodsk, northern Russia. The 180-room hotel, owned by Russian real estate and development company Piter Concern, will be the first branded property to open in the city, and its signing brings the number of Park Inn by Radisson guest rooms in Russia to 6,000 in operation or under development.
A Trio Of Hampton by Hiltons For Sale
A portfolio of three Hampton by Hilton hotels in England has been put on the market after the hotels' owner, Osborn Securities (Hotels) Ltd, fell into administration. Hilton Worldwide operates the 90-room Hampton by Hilton Birmingham/Star City, the 76-room Hampton by Hilton Braintree and the 75-room Hampton by Hilton Shrewsbury under long-term management contracts.
Marriott's Vacation Ownership Business Goes Solo
Marriott International has completed the spin-off of its vacation ownership business, Marriott Vacations Worldwide Corporation; now that the process is finished, equity shares in the new company are being distributed tax-free to Marriott International shareholders. Under its 'asset light' strategy, Marriott is now focusing on its hotel management and franchising business – 99% of the group's properties are now operated under long-term management contracts or franchise agreements. Commenting on the split of the two business models, Bill Marriott, the group's chairman and chief executive officer, said, "Today is a milestone. We are tremendously grateful for the business our colleagues built in the vacation ownership industry, and with the spin-off, we know that our timeshare brands being operated by Marriott Vacations Worldwide will be in the best hands with a company whose culture was 'built by Marriott'.
A French Connection For China
Louvre Hotels Group has signed a partnership with Shanghai-based Jin Jiang International Holdings Company, resulting in an alliance between Louvre's Campanile brand and Jin Jiang International's budget chain of two-star and three-star hotels across China, Jin Jiang Inn. The partnership will cover 15 Campanile hotels in Paris, Bordeaux, Lyon, Marseille and Nice (the French cities most visited by Chinese tourists) and 15 Jin Jiang Inn hotels in Shanghai, Xi'an and Beijing (the most popular destinations for French visitors to China). The participating hotels will provide brochures in Chinese and French, French and Chinese products and cuisine, plus many other services. "We welcome this partnership that will enable Louvre Hotels Group to actively participate in the rapid expansion of Chinese tourism in France. It provides a formidable opportunity to share our expertise with a major player in the hotel industry in China, a strategic region for us that offers strong growth potential in both the leisure and business travel segments," said Pierre-Frédéric Roulot, Louvre's chairman. "By adapting to the habits of the respective customers of our two brands, we will further improve customer experience," added the chairman of Jin Jiang Inn, Xu Zurong.
More Meliá For The UK
Meliá Hotels International announced this week that it has plans to expand in the UK. The Spanish group currently operates one hotel in the UK, the 581-room Meliá White House Hotel, facing Regent's Park in London, and its second hotel in the UK capital, the 173-room ME London, is due to open next year. The group is in the process of identifying opportunities in other key cities across the UK. "Our research shows that Manchester, Birmingham, Edinburgh and Dublin all support our strategy for growth among our business and luxury travel," commented Romano Campione, Meliá's area director of sales and marketing for EMEA.
New Lease Of Life For An Empty Edinburgh Building
UK-based mutual life insurance and pensions company Royal London has lodged a planning application with the City of Edinburgh Council to convert the former headquarters of Scottish Life (purchased by Royal London 11 years ago) in Edinburgh, Scotland, into a 103-room hotel. The building, opposite the city's Harvey Nichols department store on St Andrew Square, has been unused for three years.
A Beautiful View In Dammam
Jordan-based hotel management group Amlak Hotels & Tourism Investment Company has signed a management agreement with Al Ghunaim Holding Group for its first hotel in Saudi Arabia. A Belle Vue-branded hotel is expected to open in the city of Dammam in the first quarter of 2012. The 86-room hotel will be housed in a six-storey tower on King Khaled Street. This new signing brings Amlak's portfolio of hotels in the Middle East up to three.
Mövenpick Number Nine For Saudi Arabia
Mövenpick Hotels & Resorts has opened its ninth property in Saudi Arabia: the Mövenpick Beach Resort Al Khobar, which is an all-villa hotel in Al Khobar, in the east of the country. The 36-villa hotel is owned by Eastern Rehab Company for Tourism Investment.
StayEasy Comes To Lusaka
South African group Southern Sun has opened its second hotel in the city of Lusaka, central Zambia. The 130-room StayEasy Lusaka can be found in the city's Levy Business Park. This is the eighth hotel to open in Africa under Southern Sun's StayEasy budget brand.
Gladen's Tidings
The news from Spain by Esther Gladen, Business & Market Intelligence Analyst, HVS Madrid. 13 new hotel projects for Barcelona in 2012: according to Gremi d´Hotels, Barcelona will have 13 new hotels next year. Seven of them will be located in Ciutat Vella, the city's Old Town. Upgrade to four-star superior for Hotel Alexandra in Barcelona: after an investment of €3 million, the hotel's owner, Diagonal Hoteles, can now call it four-star superior. The hotel has been completely refurbished and has 26 additional rooms. 22 new rooms for the Mandarin Oriental in Barcelona: 22 new guest rooms will be created in a building adjacent to the hotel, which will then have a total room count of 120. The opening of the new rooms is scheduled for 2013.
Absolute Share Price Performance Over the Past Week – 17-24 November 2011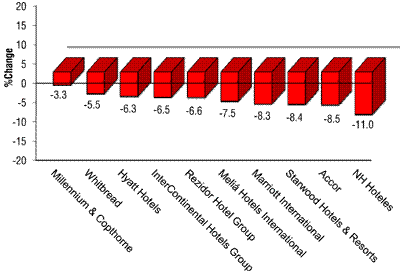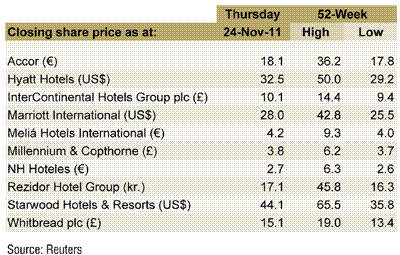 Millennnium & Copthorne – During the past week, Millennium hit a year-low for the second time in one month and the tenth time in three months.
InterContinental Hotels Group (IHG) – IHG weakened 2.2% on high volume, falling for a fourth consecutive day, a four-day fall of 3.0%.
Accor – HSBC gave Accor an "underweight" rating and a share price target of €17.
---
For the latest in the hospitality industry, please visit: http://www.hvs.com. You are also welcome to contact the following personnel.
| | |
| --- | --- |
| Russell Kett, Managing Director – HVS London (@russellkett) | rkett@hvs.com |
| Charles Human, Managing Director – HVS Hodges Ward Elliott | chuman@hvshwe.com |
| Tim Smith, Director – HVS London | tsmith@hvs.com |
| Chris Martin, Director – HVS Hodges Ward Elliott | cmartin@hvshwe.com |
| Demetris Spanos, Managing Director – HVS Athens | dspanos@hvs.com |
| Hala Matar Choufany, Managing Director – HVS Dubai | hchoufany@hvs.com |
| Christopher Mumford, Managing Director – HVS Executive Search (@ChrisMumford) | cmumford@hvs.com |
| Philip Bacon, Managing Director – HVS Madrid and Managing Director, EMEA & Asia – HVS Shared Ownership Services | pbacon@hvs.com |
| Saurabh Chawla, Director – HVS Asset Management and Strategic Advisory | schawla@hvs.com |
| Louise Fury, Senior Editor and EMEA Hospitality Newsletter Author – HVS London | lfury@hvs.com |