Barclays Gives The Gift Of Finance To Firmdale
Barclays Corporate is to provide £188 million to London-based Firmdale Hotels to fund the group's expansion. In particular, the deal will help finance the development of a 92-room hotel at Ham Yard in London's Soho district; this project is expected to be completed in 2013. It was also announced that Barclays, which has worked with Firmdale for the past 14 years, will refinance all of the group's existing facilities for a term of three to five years. Commenting on the agreement, Firmdale's finance director, Malcolm Soden, said, "Having already provided development finance for five of our hotels over the years, Barclays has once more stepped up to the plate and enabled our new Ham Yard development to progress." Firmdale currently owns six hotels in London and one in New York. Additionally, the group bought the 37-room Dorset Square Hotel, in London, out of administration in May, and, after a refurbishment, this hotel is due to reopen in spring next year.
Accor Lightens Its Load In Poland
Accor has sold the Mercure Warszawa Fryderyk Chopin in Warsaw, Poland, to Polish company Echo Investment for €31 million. The 250-room hotel is now to be redeveloped into office space. As part of its asset management programme, the group also announced that in total it has disposed of €100 million of assets in Poland over the course of 2011, all of which will cease to operate as hotels as they were presenting operating performances and technical characteristics below Accor's standards.
The Scotsman's Saviour
Last month HVS reported that administrators had been called in for the Scotsman Hotel Group, after talks broke down between Lloyds bank and the company's owner, Sheikh Mohamed Bin Issa Al Jaber. Sheikh Mohamed bought the group in 2006, and it has emerged this week that he has now repurchased the company out of administration for an undisclosed sum. It is rumoured that the Sheikh is now planning to invest £65 million in the portfolio, which comprises three townhouse hotels in Edinburgh, Leeds and Paris.
A New Hotel For Servigroup
Spanish chain Servigroup has acquired the Sol Galúa hotel on La Manga del Mar Menor in the region of Murcia, Spain, from Meliá Hotels International for €12 million. The 177-room hotel has now been rebranded as the Servigroup Galúa. This deal brings Servigroup's portfolio to 16 hotels across Spain.
Deck The Halls In Derbyshire
A private owner has purchased the Callow Hall hotel near the town of Ashbourne in Derbyshire, central England, off a guide price of £2.25 million. The Grade II-listed, 16-room hotel, which dates from the middle of the 19th century, is the 17th former von Essen hotel to be sold out of the 26-strong portfolio that went into administration earlier this year.
Ritz-Carlton Takes A Twirl In Vienna
Ritz-Carlton Hotel Company is to make its debut in Austria next year with a hotel in Vienna. The 202-room Ritz-Carlton, Vienna, which is housed in two adjacent 19th-century palaces on the city's Schubertring, is due to open in the second quarter of 2012. The new opening will bring Ritz-Carlton's presence in Europe to nine countries. The hotel is owned by an investor represented by Kazakhstan-based private equity firm Verny Capital, which also acquired the 334-room Ritz-Carlton Moscow in May this year.
Morgans Gets A Slice Of Turkey In Time For Christmas
Morgans Hotel Group has signed a management agreement for a Mondrian hotel in Turkey. The Mondrian Istanbul is expected to open in 2012 in Istanbul's Old City. Morgans is to contribute US$10 million towards the development and it will have a 20% ownership interest in the venture that owns the property. Once open, the 128-room hotel will become the seventh of its brand in the group's portfolio. Morgans currently operates two Mondrian-branded hotels in the US and it has signed three other management contracts during the past year for Mondrian hotels in Doha (Qatar), Nassau (Bahamas) and London (UK).
Hilton Dares To Be Squaire In Frankfurt
Hilton Worldwide has opened two hotels at Frankfurt Airport. But this opening has a twist, as, for the first time in Hilton's European portfolio, both properties are adjacent to each other in the same building: the nine-storey office development, THE SQUAIRE, above the airport's railway station. Guests at the 249-room Hilton Frankfurt Airport and the 334-room Hilton Garden Inn Frankfurt Airport will be able to access the airport by a pedestrian skywalk. Hilton now operates five hotels in Frankfurt.
A Love Story: Moscow And InterContinental Reunited
After an absence of ten years, InterContinental Hotels Group's (IHG) luxury InterContinental brand has returned to Russia with the opening of a hotel in Moscow. The 203-room InterContinental Moscow Tverskaya is part of a new mixed-use complex in the city centre. IHG now has seven hotels in operation in Moscow and 13 in total across Russia.
A Mint Exchange In London
After Amsterdam's Mint became a DoubleTree by Hilton hotel last week, the two Mint Hotel properties in London have become the first of seven in the UK to be rebranded by Hilton: the 583-room DoubleTree by Hilton London – Tower of London and the 460-room DoubleTree by Hilton London – Westminster. The other five hotels (in Birmingham, Bristol, Glasgow, Leeds and Manchester) are to be rebranded in 2012.
"Lean On Me" Says Hyatt Hotel In Abu Dhabi
Hyatt Hotels Corporation has opened its second property in Abu Dhabi, UAE. The 189-room Hyatt Capital Gate Abu Dhabi occupies the top 16 floors of the iconic "leaning tower of Abu Dhabi", the Capital Gate building, which is owned and was developed by Abu Dhabi National Exhibitions Company. With its westward incline of 18 degrees, more than four times that of the Leaning Tower of Pisa, the 160-metre-high tower has made it into the Guinness Book of World Records as the "World's Furthest Leaning Manmade Tower".
Algeria's First Courtyard Is On Its Way
Courtyard by Marriott has signed a management agreement for the Courtyard by Marriott Setif, in the city of Setif, northeast Algeria. The 198-room hotel, owned by Prom-Bati SPA, will be part of the Park Mall mixed-use complex when it opens in 2014. Marriott has one hotel in operation in Algeria, the Renaissance Tlemcen, which opened this year in the northwestern town of Tlemcen, and a further four in the pipeline for Algiers (the Algiers Marriott, the Algiers Marriott Executive Apartments, the Courtyard by Marriott Algiers and the Residence Inn by Marriott Algiers).
Missoni On A Mission To Mauritius
Rezidor Hotel Group's Missoni brand is on its way to Mauritius. It's due to arrive in 2014, when the Hotel Missoni Mauritius is scheduled to open on the island's south coast, overlooking the village of Baie du Cap. The 80-suite development is owned by Boigue Développement.
Gladen's Tidings
This morning the London office of HVS was filled with a bright golden light as an angel appeared from on high, well, from Madrid actually – our very own angel, Esther Gladen, Business & Market Intelligence Analyst, HVS Madrid, brought tidings of the latest news from Spain. BlueBay Group has launched a new business line focused on the urban segment named BlueCity: under this new brand, the group will open its first hotel in Toledo. The opening of the future BlueCity Toledo, a five-star hotel with 86 rooms, is scheduled for January 2. Construction on the third Travelodge in Madrid has already started: the hotel will be called Travelodge Julián Camarillo and will offer 98 rooms.
In The Twelve Months Of 2011 HVS Brought To You…
…news of many transactions and new hotels! Here is a round-up of the past year in our last newsletter of 2011. In January, Accor sold its 49% stake in Group Lucien Barrière for a total of €268 million and the Barclay brothers acquired a controlling stake in the Maybourne Hotel Group for an estimated £75 million. Come February, US-based Strategic Hotels & Resorts entered into an agreement to sell its leasehold interest in the 192-room Marriott Champs-Elysées in Paris to an undisclosed buyer for €39.7 million. March saw Invesco Real Estate purchase a portfolio of five hotels in Germany and Austria for approximately €170 million from NH Hoteles. As the first flush of spring arrived, Cedar Capital led the acquisition of seven InterContinental-managed hotels in Europe for approximately €450 million. In the month of May, The Ascott Ltd acquired SNC Costes (owner of the 83-room Hotel Costes K, in Paris) for €65 million. Halfway through the year, Sol Meliá decided to change its name to Meliá Hotels International and 26 former von Essen hotels were put on the market having fallen into administration. In July, Accor entered into talks to sell its catering business, Lenôtre, for an enterprise value of €75 million. In August, amid the hazy heat of a Parisian summer, the Sofitel Arc de Triomphe was sold to a consortium of French private investors for €44 million. September saw Blackstone agree terms for the acquisition of the Mint Hotel portfolio for a little more than £600 million, and the Barclay brothers achieved full ownership of the Maybourne Hotel Group. As autumn rolled around, Capital Hill bought the iconic Sanderson and St Martins Lane hotels in London for £192 million. November was a special month for Amsterdam, as it got its very own Waldorf Astoria. And lastly, in December, Accor sold its 52.6% stake in Hotel Formula 1 to Southern Sun for €28 million and then went on to buy Mirvac Hotels & Resorts for €149 million.
Festive Greetings From HVS
Dear readers, alas there will be no newsletter next week but we shall be back on Friday 6 January 2012. Season's Greetings to you all from all of us here at HVS London. We hope you will have a wonderful Christmas and a prosperous New Year.
Absolute Share Price Performance Over the Past Week – 15-21 December 2011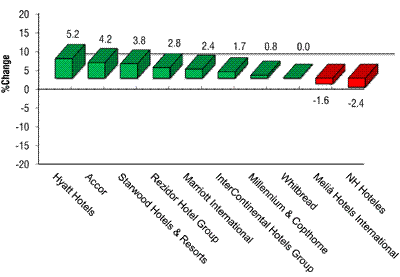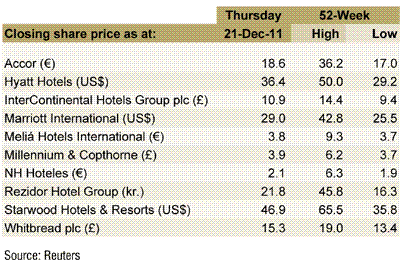 Accor – Accor gained 4.5% on high volume during the past week, a four-day rise of 11.6%.
Millennium & Copthorne – Millennium strengthened 0.5% on weak volume.
InterContinental Hotels Group (IHG) – IHG rose 1.4% on high volatility and expanding price range.
---
For the latest in the hospitality industry, please visit: http://www.hvs.com. You are also welcome to contact the following personnel.
| | |
| --- | --- |
| Russell Kett, Managing Director – HVS London (@russellkett) | rkett@hvs.com |
| Charles Human, Managing Director – HVS Hodges Ward Elliott | chuman@hvshwe.com |
| Tim Smith, Director – HVS London | tsmith@hvs.com |
| Chris Martin, Director – HVS Hodges Ward Elliott | cmartin@hvshwe.com |
| Demetris Spanos, Managing Director – HVS Athens | dspanos@hvs.com |
| Hala Matar Choufany, Managing Director – HVS Dubai | hchoufany@hvs.com |
| Christopher Mumford, Managing Director – HVS Executive Search (@ChrisMumford) | cmumford@hvs.com |
| Philip Bacon, Managing Director – HVS Madrid and Managing Director, EMEA & Asia – HVS Shared Ownership Services | pbacon@hvs.com |
| Saurabh Chawla, Director – HVS Asset Management and Strategic Advisory | schawla@hvs.com |
| Louise Fury, Senior Editor and EMEA Hospitality Newsletter Author – HVS London | lfury@hvs.com |