HVS is pleased to announce that Russell Kett, Managing Director of HVS in London, has been presented with a special "Lifetime Achievement Award" as one of the world's most distinguished and respected hotel advisors – by the Hospitality Professionals Association for Finance, Revenue Management and IT (HOSPA, formerly BAHA) . Kett received the award – only the fourth ever given -by the UK's leading educational organization for professionals involved in financial management, revenue management and IT within the hospitality industry.
In the presence of more than 220 guests at the 2011 HOSPA Annual Christmas Awards Luncheon – held at the Grosvenor House, Park Lane, London, Kett, a former Chairman of BAHA (1988-1994), received the award in recognition of his 'outstanding commitment to improving Best Practice in Hospitality Financial Management.'
Commenting on Russell Kett's award, HOSPA Chief Executive Carl Weldon said: "It was a great honor and privilege for HOSPA Chairman Paul Dukes and me to present Russell – a Fellow of HOSPA – with this well deserved award. He is one of the world's great hotel professionals to whom BAHA owes an enormous debt of gratitude. His tremendous belief in the Association and his commitment to its development and success in promoting financial 'best practices' – right from its inception in 1969 and subsequently as BAHA Secretary, Chairman and Councilor – has been a major contributory factor over the past 40 years to our current success, and our re-branding as HOSPA.
"Russell's time as BAHA Chairman from 1988 to 1994 was one of the most productive in the Association's history," continues Weldon. "For example, our membership increased by 50%; the Association became truly educational with the introduction of our highly successful Education and Training Programme (ETP) for Finance, and the Continuing Professional Development (CPD) programme with Oxford Brookes University; the Association's 25th Anniversary Dinner in 1994 attracted a then record 300 attendees; and BAHA launched its groundbreaking 'Recommended Practice on Valuation of Hotels' publication."
HVS President and Founder Steve Rushmore also added, "We are so proud of Russell and the work of our HVS London team. Just recently the London office of HVS was also acknowledged as the Management Consultant of the Year at the International Hotel Investment Forum (IHIF) Awards. The awards celebrate the achievers in the European hotel investment community and were voted for by several thousand senior figures in the European hotel industry following a shortlist drawn up by two judging committees. The Management Consultancy of the Year Award is given to the consulting firm that demonstrates the best value-added work around hotel investment such as merger and acquisition advice, feasibility work and market assessment. Factors taken into consideration were the ability to overcome unique challenges, creative solutions to problems, and value enhancement to clients as well as work that contributes to the wider hotel investment community. Congratulations again, Russell."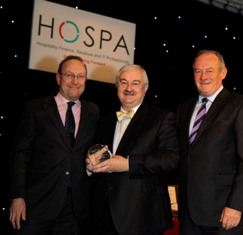 Russell Kett – Managing Director of leading hotel advisory firm, HVS, and a former Chairman of BAHA (1988-1994) – receiving the special HOSPA 'Lifetime Achievement Award' from HOSPA Chief Executive Carl Weldon (left); and HOSPA Chairman Paul Dukes (right)
Contact:
Leora Lanz
Director of HVS Sales & Marketing Services
+1 (516) 248-8828 ext. 278