Featured in this HVS EMEA Hospitality Newsletter – Week Ending 27 January 2012
Pandox Loses The Luosto
Stockholm-based hotel property company Pandox announced this week that it has sold one of its assets in Finland. The Scandic Luosto, in northern Finland's Lapland region, has been purchased by North Europe Tours OY for a price marginally above book value. The hotel, close to the slopes of the Luosto ski resort, comprises five guest rooms and 54 log cabins.
Not One, Not Two, But Three Marriotts For Sochi
Since the announcement that it will host the 2014 Winter Olympic and Paralympic Games, the Russian city of Sochi has become a hotspot for development. Marriott International has now become the latest hospitality company to add to the city's hotel room stock by signing franchise agreements with NBB Development CJSC for three hotels in the area. The 150-room JW Marriott Sochi Golf Resort is expected to open at the beginning of 2014. The 398-room Marriott Krasnaya Polyana Hotel is scheduled to open near the end of 2013 in the Gorky Gorod ski resort. The 345-room Courtyard by Marriott Sochi Plaza will be part of a mixed-use project planned for a former hotel building in Sochi city centre and is also due to open at the end of 2013. All three hotels are to be managed by Interstate Management Services. Marriott currently has a presence in five cities across Russia, but these will be its first properties in Sochi.
Malmaison On Its Way To Dundee
MWB's Malmaison chain plans to open a hotel in Dundee, Scotland's fourth-largest city. The group has completed an agreement to lease for a 91-room property which is to be developed on the site of the former Tay Hotel. Investment in the hotel is reported to be around £15 million, and it will be part of the Dundee Central Waterfront Development, a £1 million regeneration of the city's historic waterfront. Work on the hotel is expected to start in spring 2012 and once open, in May 2013, it will bring Malmaison's portfolio of hotels across the UK up to 13.
Marriott Takes The AC Brand To France
Marriott International is planning to open its first new AC Hotels by Marriott property since the joint venture with Spanish hotel group AC Hotels was launched last year. The hotel also marks the brand's debut in France and will be joining more than 80 AC Hotels by Marriotts throughout Spain, Italy and Portugal. The 143-room Hôtel Elysée Palace in Nice will be rebranded as the AC Hotel Nice and is due to open in early 2013, following an extensive renovation. The hotel will be operated under a management agreement with SNC Hoche Promotion. Antonio Catalan, president and founder of AC Hotels by Marriott said, "We are very proud to announce the first AC Hotels by Marriott in France; the first new hotel to be added since the joint venture. We are looking forward to continuing to expand into new markets and adding new hotels to our portfolio."
Nod Off In Newcastle
After making its debut in Cardiff, Wales, three years ago, UK budget brand >b>Sleeperz Hotels has now added property number two to its budding portfolio: the 98-room, six-storey Sleeperz Newcastle, which opened this week in the city of Newcastle, northeast England. Its guests might be getting a good night's rest, but there'll be no sleeping for this London-based group, however, as it is planning to develop a network of hotels across city centres in the UK. According to the group's chief executive, David Myers, hotels in London and Liverpool are in the pre-planning stage and further sites are being considered in Birmingham and Bristol.
Award For Upcoming Nikki Beach Resort
Nikki Beach Hotels & Resorts' first hotel in the Middle East, the Nikki Beach Resort & Spa at the man-made Pearl development in Qatar, isn't due to open until June 2012, but it has already won an award! The American Academy of Hospitality Sciences has presented the 47-unit US$45 million resort with the AAA 5 Star Diamond Award for Best Design for a Boutique Beach Resort in the Middle East. "This award reflects our team's commitment to excellence in every aspect of our resort operations," said Sary Arab, chief operating officer of Nikki Beach EMEA Hotels & Resorts. The resort was designed by Singapore-based award-winning architects eco.id.
One Week To Go Until The SHOW
If you haven't made plans yet to attend the first of the Shared Holiday Ownership Workshops, then now is the time. HVS Madrid is sponsoring the workshops, which will be taking place in key cities in Europe over 2012. The first event is on Monday 6 February at the Ceylan InterContinental, Istanbul, in Turkey. "We have secured a significant number of prominent speakers who will address the opportunities and challenges facing the shared holiday ownership and mixed-use sectors today. We will offer direct access to decades of experience and expertise from the industry experts representing all aspects of project development and operation, from strategic planning and feasibility to product design, legal structures, identifying your target market, setting up a successful marketing and sales programme and establishing an operating platform," said Philip Bacon, managing director of HVS Madrid and HVS Shared Ownership Services. For more information visit www.showorkshops.com.
Gladen's Tidings
The news from Spain by Esther Gladen, Business & Market Intelligence Analyst, HVS Madrid. New Vincci for Barcelona to open soon: at present, the new Vincci Bit is undergoing a €45 million refurbishment, undertaken by Grupo Rosales, the hotel's owner. The 177-room, four-star hotel will be operated under a lease agreement.
Absolute Share Price Performance Over the Past Week – 19-26 January 2012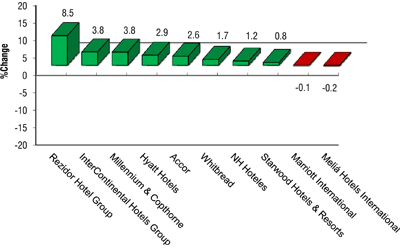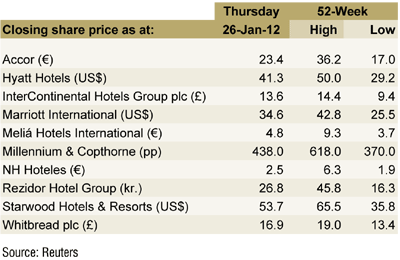 Millennium & Copthorne – Millennium strengthened above its Exponential Moving Average Price.
InterContinental Hotels Group – UBS cut IHG's rating to "sell" from "neutral".
Meliá Hotels International – Meliá fell 1.9% from a 14-day high.
---
For the latest in the hospitality industry, please visit: http://www.hvs.com. You are also welcome to contact the following personnel.
| | |
| --- | --- |
| Russell Kett, Managing Director – HVS London (@russellkett) | rkett@hvs.com |
| Charles Human, Managing Director – HVS Hodges Ward Elliott | chuman@hvshwe.com |
| Tim Smith, Director – HVS London | tsmith@hvs.com |
| Chris Martin, Director – HVS Hodges Ward Elliott | cmartin@hvshwe.com |
| Demetris Spanos, Managing Director – HVS Athens | dspanos@hvs.com |
| Hala Matar Choufany, Managing Director – HVS Dubai | hchoufany@hvs.com |
| Christopher Mumford, Managing Director – HVS Executive Search (@ChrisMumford) | cmumford@hvs.com |
| Philip Bacon, Managing Director – HVS Madrid and Managing Director, EMEA & Asia – HVS Shared Ownership Services | pbacon@hvs.com |
| Saurabh Chawla, Director – HVS Asset Management and Strategic Advisory | schawla@hvs.com |
| Louise Fury, Senior Editor and EMEA Hospitality Newsletter Author – HVS London | lfury@hvs.com |
| Lesley Parrott, Junior Editor and EMEA Hospitality Newsletter Author – HVS London | lparrott@hvs.com |