Edwardian's Latest Feature
Radisson Edwardian Hotels has purchased Leicester Square's Odeon site and has planning permission to open a 245-room hotel. The hotel will mark the group's third in the square and will join the 60-room Radisson Edwardian Leicester Square and the 127-room Radisson Edwardian Hampshire. It is understood that the group paid approximately £100 million for the site which is to be redeveloped as a hotel, 33 residential properties, five restaurants and a two-screen cinema. Robert Morley, director of Edwardian Group, said, "The purchase of this site is one of the most important acquisitions for London and we see this as another jewel in our crown. Not only will it be a landmark development for the capital but it will create upwards of 400 jobs. This is what our group is all about – investment in potential, creation of jobs and a huge vision for the future." Of the group's 14 hotels, 12 are in London with the other two hotels in Manchester and Guildford. All except the Guildford hotel are owned by the company.
Hyatt's Hat-Trick
Hyatt has announced that it has entered into an agreement with Naseel Holding to manage three new hotels in the Kingdom of Saudi Arabia. The addition of these hotels will bring the total number of Hyatt hotels under development in Saudi Arabia to six. There is currently just one Hyatt-branded hotel in Saudi Arabia: the Park Hyatt Jeddah – Marina, Club and Spa which opened in 2009. Peter Norman, senior vice president – acquisitions and development for Hyatt International – Europe, Africa and Middle East said, "Expanding the number of Hyatt-branded hotels in the Kingdom of Saudi Arabia will be a significant step towards our goal of being the preferred brand for global travellers." The 240-room Hyatt Regency Jeddah should open in the second half of 2015, the 275-room Park Hyatt Riyadh is due to open in the fourth quarter of 2015 and the 400-room Grand Hyatt Jeddah is expected to open in early 2016.
Mövenpick Reaches 100
Mövenpick Hotels & Resorts is planning to make its first appearance in Paris, France. The group has signed a management agreement to take over operations of the Courtyard by Marriott Paris Neuilly as of January 2013. To complement its new brand, the hotel is to undergo a multimillion-euro renovation in 2013 and an increase in guest rooms from 242 to 282. The hotel will remain open during its refurbishment, which is expected to be completed in 2014. Additionally, the newest Mövenpick on the block will also be the 100th hotel to be managed by the group (including hotels under development and existing properties).
Marriott's Three For Europe
After having unveiled a new prototype for its Courtyard by Marriott brand in Europe last November, Marriott International has announced three new hotels that are to join its European portfolio and be among the first to debut the brand's new design. The 120-room Courtyard Le Bourget, France is due to open in 2013 under a management agreement with Le Relais de Segur SNC; the 175-room Courtyard Gdynia, Poland is expected to open in 2014 under a franchise agreement with Scandinavian Hospitality Management as part of a mixed-use waterfront development in central Gdynia; and the 170-room Courtyard Amsterdam Atlas Park, the Netherlands is also expected to open in 2014 under a franchise agreement with Scandinavian Hospitality Management. These hotels will join the Courtyard by Marriott Aberdeen and the Courtyard by Marriott Cologne which are both scheduled to open in 2013 and will also debut the new design.
Thompson Hotels Makes UK Debut
US group, Thompson Hotels, has made its UK debut with the 85-room Belgraves in London's Belgravia. The luxury hotel is a joint venture with Hong Kong-based Harilela Group and claims to combine British hospitality with an American bohemian attitude. Jason Pomeranc, co-owner of Thompson Hotels said, "We're finally ready to open our doors to London. Belgraves is a truly creative collaboration which will have a huge impact on Londoners and international travellers alike." HVS was pleased to have advised Thompson Hotels.
Three More For Worldhotels
Frankfurt-based independent luxury hotel collection Worldhotels has added three new properties to its portfolio: the 72-apartment Lux11 and the 84-room Weinmeister in Berlin, Germany, and the 100-room Designhotel Elephant Prague in the Czech Republic which are all owned by Berlin-based hospitality management company Chambers Group. Worldhotels now has a network of 500 hotels in 250 destinations across 65 countries.
Budget Firm Continues To Travel Across The UK
Budget brand Travelodge has announced that it plans to open 41 new properties during 2012, adding 3,610 rooms to its portfolio of hotels across the UK, Ireland and Spain. Eleven of the new hotels will be in London. "Despite the ongoing tough economic climate, Travelodge is continuing to open hotels at a faster rate than anyone else and create much needed jobs, which is exactly what the British economy needs right now," said Guy Parsons, the group's chief executive.
A River View For Le Méridien In Turkey
Starwood Hotels & Resorts' Le Méridien brand made its debut in Turkey this week with the opening of the Le Méridien Istanbul Etiler on the city's European side, overlooking the Bosphorus. The 34-storey hotel has 259 rooms, suites and serviced apartments and it is the first Le Méridien hotel in Europe to be built from scratch.
Macdonald Hotels & Resorts Makes History
Macdonald Hotels & Resorts has taken over the management of the privately-owned, 48-room Haycock Hotel in Wansford, Cambridgeshire. The three-star, 16th-century property which was reportedly a resting place for Mary Queen of Scots on her way to her execution and also once visited by Queen Victoria, is to be operated as a Macdonald Associate Hotel. However, the hotel will retain the Haycock name and its owner Judith Carter will continue to be involved with the property's management. Chris Gillet, managing director, Macdonald Hotels Management Services, commented that the hotel has impressive and modern conference facilities and that "these factors, combined with its geographical location make the Haycock an excellent strategic fit for Macdonald Hotels & Resorts". Macdonald Hotels & Resorts currently operates more than 40 four-star and five-star properties throughout the UK and Spain.
Dubai Debut For Mercure
Accor has opened its first Mercure-branded hotel in Dubai: the 184-room Mercure Gold Hotel Al Mina Road Dubai. Christophe Landais, managing director, Accor Middle East said, "We are delighted to add the franchised Mercure Gold Hotel Al Mina Road Dubai to our network of 19 Mercure properties in the Middle East which is also our first Accor hotel to open in 2012." At the heart of Al Mina Road's district and close to Sheikh Zayed Road and Jumeirah Beach Road, the hotel is in an ideal location for both business and leisure travellers.
First St. Regis For Middle East
Starwood Hotels & Resorts has announced the opening of the first St. Regis hotel in the Middle East, the St. Regis Saadiyat Island Resort, Abu Dhabi. The resort, which has 377 guest rooms as well as 33 St. Regis-branded villas, 259 St. Regis-branded residences and a retail and entertainment complex called 'The Collection', is owned by Tourism Development & Investment Company. Paul James, global brand leader of St. Regis Hotels & Resorts, said, "We are thrilled to debut The St. Regis Saadiyat Island Resort as the first of three St. Regis hotels due to open this year in the Middle East."
InterContinental In The City
InterContinental is introducing a new luxury hotel and residences to Doha: the 58-storey InterContinental Doha The City. General Manager, David Todd, said, "Our name reflects the style and ambience of the hotel itself and our prime location, in the heart of financial and diplomatic districts of the exclusive West Bay area, will ensure that InterContinental Doha The City mirrors the bold ambitions of the surrounding city."
Gladen's Tidings
The news from Spain by Esther Gladen, Business & Market Intelligence Analyst, HVS Madrid. Barceló Avenida in Bilbao to be taken over by InterContinental: The new Holiday Inn Bilbao, which boasts 201 rooms and more than 1,400 m² of meeting facilities, will be run under a franchise contract and is scheduled to open in March 2012. Meliá has opened its new resort in Benidorm: The Meliá Villaitana, which comprises a four- and five-star resort with more than 450 rooms, has recently opened its doors. The property will be operated under a lease agreement with the owners. AC by Marriott to take over the Tryp Iberia in Las Palmas: The Tryp Iberia will soon be operated under the flag of AC Hotels. The four-star property offers 297 rooms and is located in the capital of Gran Canaria.
Absolute Share Price Performance Over the Past Week – 26 January-2 February 2012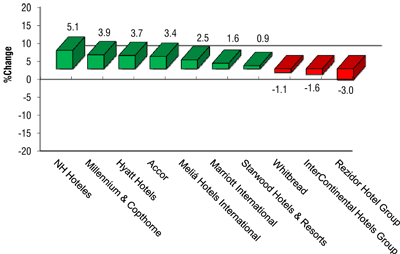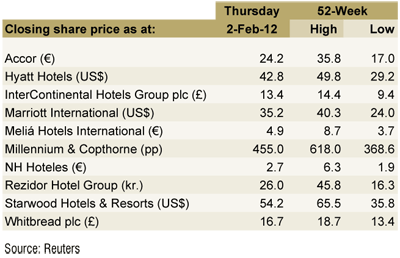 InterContinental Hotels Group – IHG added 3.3% on thin volume, ending a three-day streak of losses.
Accor – Nomura has resumed coverage of Accor with 'reduce' recommendation and a share price target of €42.
Meliá Hotels International – Rose 1.0% on firm volume, ending a three-day streak of losses, monthly rise of 16.0%.
---
For the latest in the hospitality industry, please visit: http://www.hvs.com. You are also welcome to contact the following personnel.
| | |
| --- | --- |
| Russell Kett, Managing Director – HVS London (@russellkett) | rkett@hvs.com |
| Charles Human, Managing Director – HVS Hodges Ward Elliott | chuman@hvshwe.com |
| Tim Smith, Director – HVS London | tsmith@hvs.com |
| Chris Martin, Director – HVS Hodges Ward Elliott | cmartin@hvshwe.com |
| Demetris Spanos, Managing Director – HVS Athens | dspanos@hvs.com |
| Hala Matar Choufany, Managing Director – HVS Dubai | hchoufany@hvs.com |
| Christopher Mumford, Managing Director – HVS Executive Search (@ChrisMumford) | cmumford@hvs.com |
| Philip Bacon, Managing Director – HVS Madrid and Managing Director, EMEA & Asia – HVS Shared Ownership Services | pbacon@hvs.com |
| Saurabh Chawla, Director – HVS Asset Management and Strategic Advisory | schawla@hvs.com |
| Louise Fury, Senior Editor and EMEA Hospitality Newsletter Author – HVS London | lfury@hvs.com |
| Lesley Parrott, Junior Editor and EMEA Hospitality Newsletter Author – HVS London | lparrott@hvs.com |