Life's A Beach In Dubai
Dubai-based Jebel Ali International Hotels (JAIH) has reportedly acquired a 341-room beach-facing hotel in Dubai Marina's Jumeirah Beach Residence development for more than US$100 million. The purpose-built property, bought from Abu Dhabi-based Das Holdings, will be owned and operated by JAIH, whose portfolio includes the Jebel Ali Golf Resort and Spa, the Hatta Fort Hotel and the Oasis Beach Tower. Although not yet named, the new four-star hotel is expected to open this October. David Thomson, JAIH's regional general manager, said, "We really believe it is going to do extremely well; we imagine occupancies in the 80s pretty much year-round. We see Dubai going from strength to strength on the leisure side." He also revealed that JAIH is planning to invest a further US$20 million plus in the property.
Landmark Hotel Sold In Leeds
The 103-room Ramada Hotel Leeds North in the suburb of Seacroft, to the east of the city of Leeds, north England, has been sold on behalf of Kirstie Provan and Mark Fry of Begbies Traynor, the joint administrators of Millgreen View Securities Ltd, for an undisclosed sum. It was bought by Britannia Hotels, a privately owned hotel chain, which has a portfolio of 37 hotels across the UK. The hotel, which has been renamed the Britannia Leeds Hotel, is considered a local landmark, as it incorporates the remains of the old Seacroft Windmill. "We are delighted to add this hotel to our portfolio," said Alex Langsam, managing director of Britannia Hotels. He also added that the group "will be carrying out a programme of refurbishment and adding extra bedrooms".
A Second InterContinental For Russia
InterContinental Hotels Group has signed a management agreement with Petersburg City for its second InterContinental hotel in Russia, on the same day it held an opening ceremony for the InterContinental Moscow Tverskaya. The 173-room InterContinental St Petersburg is expected to open in 2016, as part of the city's ten-hectare mixed-use Europe Embankment development. Construction of the hotel is due to start in 2013.
Meliá Makes It Four In Italy
Spanish group Meliá Hotels International has announced that it will open the doors of its fourth hotel in Italy during Easter. The 116-room Gran Meliá Rome Villa Agrippina will join Meliá's current properties in the country: the Meliá Roma Aurelia Antica, the Meliá Génova and the Meliá Milano. The new five-star hotel will become the group's flagship hotel in Italy.
Choice Chooses Paris…Again
Choice Hotels Europe has announced its second Clarion Collection hotel in Paris: the Clarion Collection Etoile Saint Honore, joining the Clarion Collection Hotel Opera Pavillion. Centrally located in the heart of the city's 8th arrondissment, the four-star property has 85 recently renovated rooms and suites.
Patron Capital Looking To Invest In Hotels
Private equity firm Patron Capital has made it known that it is looking to provide financial backing for hotels, having reportedly raised €2.3 billion (US$2.9 billion) from institutional and high-net-worth investors in Europe and the USA since its launch in 1999. Patron completed two major deals in 2011: the acquisition of 26 primarily three-star hotels from the administrators of Jarvis Hotels, and the backing of Halcyon Hotels and Resorts' purchase of seven luxury family hotels from the former von Essen portfolio. Josh Wyatt, Patron's director of hospitality and leisure, commented, "With a successful track record in the hospitality sector and a strong in-house hospitality team – combined with a strong, liquid fund – we are able and willing to support and underwrite hotel investments."
New Belle For Belfast City
Hotel developer Andras House has been granted planning permission to build a 130-room hotel in Belfast city centre. The firm, owned by Lord Rana, already owns a number of hotels in the city. The new hotel, which will be operated by Accor, will be built on a site at St Andrews Square, off Great Victoria Street, which is currently used as a car park.
One Out Of Three Ain't Bad For Abu Dhabi
Starwood Hotels and Resorts' St. Regis brand has made its debut in the Middle East with the opening of the St. Regis Saadiyat Island Resort, in Abu Dhabi, UAE. Located on the island's beachfront, 500 metres off the coast of Abu Dhabi, the resort has 377 guest rooms, 33 branded villas and 259 branded residences; additionally, a mixed-use retail and entertainment complex is to open in stages at the resort throughout 2012. This is number one of a trio of St. Regis properties expected to open in the region this year (the St. Regis Doha, in Qatar, is due to open on 28 February and the St. Regis Abu Dhabi will open its doors on 1 May). "As one of the world's economic hubs, Abu Dhabi has become a new 'must' on today's global Grand Tour, and St. Regis is inimitably positioned to cater to the needs of these global travellers," said Paul James, global brand leader for St. Regis Hotels & Resorts.
A Harmonious Venture For Tune Group
Malaysian-based conglomerate Tune Group, which includes Tune Hotels, now has a strong presence in both the UK and Malaysia and this week it has announced further expansion. The group has formed Tune Middle East, a joint venture with Qatari businessman Mohammed Al-Saad. Headquartered in Qatar, the new office will enable the group to launch its brands in the region, and, according to one of Tune Group's co-founders, Tan Sri Tony Fernandes, it intends to venture immediately into hospitality and financial services. "Tune Middle East will be the nucleus for our expansion in Qatar and the Middle East. With a total population of over 40 million among the Gulf Cooperation Council countries alone, the Middle East is a vibrant market for Tune to tap into and we look forward to building our business here," added Mr Fernandes.
The Departure Of Steigenberger's CEO
Steigenberger Hotels' chief executive officer, Arco Buijs, is to step down from his role by mutual consent. His contract, which is due for renewal mid year, will not be extended and he will leave the company at the end of this month. The 'differing strategic views with regard to the future development held by Arco Buijs and the Supervisory Board' have been cited as the reason for Mr Buijs' departure. Matthias Heck, the group's current chief financial officer, will take on Mr Buijs' responsibilities until further notice.
Marriott's 2011 Fourth-Quarter And Full-Year Results
Marriott International recorded adjusted net income of US$159 million for the fourth quarter of 2011, an 18% increase on 2010. Fourth-quarter RevPAR for worldwide comparable systemwide properties increased by 5.9% on the same period in 2010. Adjusted revenue was US$3.4 billion compared to US$3.2 billion in the fourth quarter of 2010, and adjusted EBITDA rose by 12% to US$316 million. Adjusted net income for the full year totalled US$475 million, a 23% improvement on 2010, and the group achieved a full-year adjusted EBITDA of US$992 million. "Our system has never looked better," said Bill Marriott, the group's chairman and chief executive officer. "We opened 210 properties with nearly 32,000 rooms during the year, including 80 hotels flying our new AC Hotels by Marriott flag in Europe," he added. Marriott expects to open approximately 30,000 rooms in 2012, most of which are already under construction or undergoing conversion from other brands.
A Soar In Fourth-Quarter 2011 Net Income For Hyatt
Hyatt Hotels Corporation achieved an adjusted EBITDA of US$143 million in the fourth quarter of 2011, an increase of 21.2% on the US$118 recorded for the same period in 2010. Fourth-quarter net income grew to US$52 million (US$0.31 per share), compared to US$6 million (US$0.03 per share) in 2010. The group added seven properties to its portfolio during the last three months of 2011. "We are pleased to see sustained transient business travel around the world in the fourth quarter. Demand from this segment was the primary driver of our results in 2011," commented Mark S Hoplamazian, Hyatt's president and chief executive officer.
Revenue Rises At IHG
InterContinental Hotels Group (IHG) increased its revenue by 9%, to US$1.7 million, in 2011. Global RevPAR rose by 6.2%, whilst average rate and RevPAR for hotels in Europe increased by 2.9% and 4.7%, respectively. A total of 37 hotels (6,167 rooms) opened in Europe last year and 38 hotels (5,779 rooms) were signed. For January 2012, global RevPAR grew by 6.0%. "Looking ahead, in spite of considerable uncertainty in the Eurozone, IHG is well positioned globally to benefit from positive long-term industry trends and, in particular, growing demand in emerging markets," said the group's chief executive, Richard Solomons.
Gladen's Tidings
The news from Spain by Esther Gladen, Business & Market Intelligence Analyst, HVS Madrid. Garden Hotels adds a new hotel in Majorca to its portfolio: the reopening date for the 126-room Hotel Costa Verde in Arenal is April 2012. Eurostars Ramblas to open this week in Barcelona: the 55-room, four-star hotel is housed in two historic buildings on Las Ramblas. The four-star, 42-room Eurostars Rio Douro Hotel & Spa is also due to open soon in Castelo de Paiva, Portugal. Carlson Rezidor Hotel Group invests €60 million in the Radisson Blu hotel in Gran Canaria: the Radisson Blu Resort, Gran Canaria is located near the former fishing village of Arguineguín. The hotel, which is expected to open soon, will have 189 guest rooms, two restaurants, swimming pools, a spa, several tennis courts and meeting space. A new Hilton Garden Inn for Seville: the 142-room hotel is scheduled to open in June with several meeting rooms, a gym and a business centre.
Absolute Share Price Performance Over the Past Week – 9-16 February 2012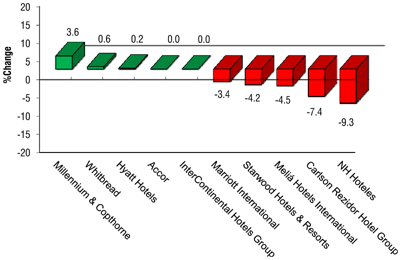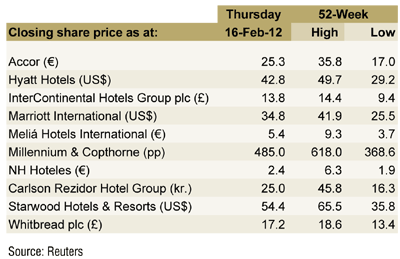 Accor – Accor hit a six-month high on firm volume.
InterContinental Hotels Group (IHG) – IHG dropped 2.1% on high volatility during the past week.
NH Hoteles – NH ended a three-day streak of losses despite share prices falling on last week.
---
For the latest in the hospitality industry, please visit: http://www.hvs.com. You are also welcome to contact the following personnel.
| | |
| --- | --- |
| Russell Kett, Managing Director – HVS London (@russellkett) | rkett@hvs.com |
| Charles Human, Managing Director – HVS Hodges Ward Elliott | chuman@hvshwe.com |
| Tim Smith, Director – HVS London | tsmith@hvs.com |
| Chris Martin, Director – HVS Hodges Ward Elliott | cmartin@hvshwe.com |
| Demetris Spanos, Managing Director – HVS Athens | dspanos@hvs.com |
| Hala Matar Choufany, Managing Director – HVS Dubai | hchoufany@hvs.com |
| Christopher Mumford, Managing Director – HVS Executive Search (@ChrisMumford) | cmumford@hvs.com |
| Philip Bacon, Managing Director – HVS Madrid and Managing Director, EMEA & Asia – HVS Shared Ownership Services | pbacon@hvs.com |
| Saurabh Chawla, Director – HVS Asset Management and Strategic Advisory | schawla@hvs.com |
| Louise Fury, Senior Editor and EMEA Hospitality Newsletter Author – HVS London | lfury@hvs.com |
| Lesley Parrott, Junior Editor and EMEA Hospitality Newsletter Author – HVS London | lparrott@hvs.com |