A Viennese Waltz For WertInvest
WertInvest Group, ran by Austrian entrepreneur Michael Tojner, is buying the InterContinental Vienna, in Austria, from a Lebanese investment firm led by businessman Toufic Aboukhater for a reported £50 million. The 458-room hotel, which opened in 1964, was part of a portfolio acquired by Mr Aboukhater last year from Morgan Stanley. The deal is expected to close in the second quarter of 2012. After the transaction has been completed, WertInvest and InterContinental Hotels Group plan to renovate and modernise the hotel.
Invesco Invests In Eindhoven
Invesco Real Estate has acquired a hotel in the Netherlands for its second dedicated hotel fund, bringing the fund's portfolio up to 23 mid-market hotels (more than 5,000 rooms) across Europe. The real estate investment manager purchased the 206-room Holiday Inn Eindhoven, in the south Netherlands city of Eindhoven, under a sale-and-leaseback deal with Hampshire Hospitality for €22.5 million. This is the second hotel Hampshire has sold under a sale-and-leaseback deal over the past couple of weeks.
Leonardo Picks Luxury In Switzerland
Leonardo Hotels, the European division of Israel-based Fattal Hotels, has signed a management contract for the Alden Luxury Suite Hotel in Zürich, Switzerland. The hotel, which is housed in a listed building, opened in 1895 and underwent a full renovation in 2004. Leonardo Hotels intends to run the five-star property as a stand-alone hotel and it will keep its current name. "We are proud to have the privilege of managing the Alden Luxury Suite Hotel," said Daniel Roger, Leonardo Hotels' general manager for Europe. "The hotel stands for contemporary luxury and has a very special charm, which we hope to further reinforce with a new style of management and lots of new ideas," he added.
Hilton Goes Supersize In Birmingham
The city of Birmingham in England's Midlands region is to be the home of the largest Hampton by Hilton property outside of the USA. The 120-room hotel, which will be operated by Sanguine Hospitality, is due to open on 1 May 2012 and will become the second of its brand in the city, alongside the 90-room Hampton by Hilton Birmingham/Star City. The building housing the new hotel, Cumberland House, is a former derelict office building on Broad Street; the total cost of the conversion and renovation, which started in 2010, is £30 million. Once the new addition opens its doors, Hilton Worldwide will have nine Hampton-branded properties in operation in the UK and a further four in the pipeline.
Advice Is A Mighty Powerful Thing
Get the popcorn ready as on 3 April 2012 HVS Executive Search is launching a short film called The Power of Advice. Nine months in the making, the film follows 20 leading personalities from the hospitality industry through Hong Kong, London, New York and Las Vegas as they delve into the importance of mentorship, listening skills, empathy and objectivity when getting and giving advice. Visit www.powerofadvice.com to watch a trailer of the film. For more information on the venture contact HVS Executive Search's marketing director, Pooja Vir, at pvir@hvs.com.
A Suite Opening In Scotland
A new hotel will be arriving in Edinburgh this May. The four-suite Atholl, at 11 Atholl Crescent in the centre of the city's New Town, will offer an in-room dining service overseen by legendary chef Albert Roux. The luxury hotel is owned by Edinburgh-based development group Carlton City Ltd and operated by Inverlochy Castle Management International, which manages a portfolio of eight properties across Scotland.
Foremost Bringing Two New Budget Hotels To Nuremburg
In a joint venture with Hilton Worldwide, Berlin-based Foremost Hospitality is to develop a Hampton by Hilton property in Nuremburg, southeast Germany; this will be the group's first Hampton by Hilton hotel. In addition, the development will also include Foremost's ninth Holiday Inn Express Inn hotel. The 80-room Hampton and the 124-room Express will be housed in a building owned by GBI AG adjacent to Nuremburg's main railway station. Construction is due to start in June 2012 and both hotels are expected to be ready in November 2012. Further franchise agreements have also been made for Foremost to develop Hampton by Hilton hotels in Hamburg and Frankfurt.
Ramada Gets An Encore From Newcastle
More than a year after signing an agreement with Quays Hotels Ltd, Wyndham Worldwide has now opened its first managed Ramada hotel in the UK. Construction of the 200-room Ramada Encore Newcastle-Gateshead in the city of Newcastle, northeast England, started in February 2011 and cost £15 million to complete.
The Return Of The Ampersand
The Ampersand Hotel in west London is almost ready to reopen after undergoing a multimillion pound renovation and refurbishment. The 111-room hotel first opened in 1888 and is one of London's original Victorian hotels. The bell on the reception desk is due to starting ringing again this July. The new design of the hotel's interior, carried out by London-based architects and designers Dexter Moren Associates, took its inspiration from the hotel's local surroundings in South Kensington and the area's famous museums.
A New Premier In The City
Whitbread has signed a deal with privately owned property investment and development management business Beltane Asset Management for a new Premier Inn hotel in the City of London. The 184-room hotel, which is being developed by Beltane as a developer turnkey deal, is to be converted from office space. Premier Inn will hold a 35-year lease for the property and the chain is investing more than £25 million in the hotel's development. "Having selected Whitbread as our preferred partner for the scheme, we are delighted to have now successfully secured planning. We have developed a strong relationship with Whitbread and are confident that this will be the first of many transactions we will be able to do together. With six assets in London, we remain highly acquisitive and have significant investor support for further purchases this year," said Jonathon Chenery, a partner at Beltane.
Address Hotels Spreads Its Wings
Emaar Hospitality Group, the hospitality and leisure arm of Emaar Properties, has signed a management agreement which will see its Address Hotels + Resorts brand make its debut in Egypt. The Address Marassi Golf Resort & Spa will be a low-rise project with 79 guest rooms and 50 serviced residences constructed around an 18-hole golf course. It is to be developed in the Mediterranean resort of Marassi, on Egypt's north coast. The 1,544-acre resort is being developed by another Emaar Properties' subsidiary, Emaar Misr. Address Hotels + Resorts currently runs five hotels in Dubai. The Egyptian project is the start of the brand's expansion outside the emirate. "We will continue to build on this development momentum through potential expansion to other key markets across the Middle East, North Africa, South Asia, China, Europe and the USA," said Mohamed Alabbar, chairman of Emaar Properties.
A Second St. Regis For The Middle East
Starwood Hotels and Resorts' St. Regis brand has made its first appearance in Qatar with the opening of the St. Regis Doha. With 266 guest rooms and 70 suites, this hotel has become Starwood's second St. Regis property in the Middle East and its third hotel overall in Qatar.
Al Hokair Plans To Expand Its Own Brand
Al Hokair Group plans to reflag half of its managed hotels under its own brand, MENA Hotels & Resorts, by 2013. The Saudi Arabian group currently has a portfolio of 28 hotels in the GCC countries, operating under several international brands – including Golden Tulip, Holiday Inn and Novotel – and MENA Hotels & Resorts. Most of the 14 hotels to be rebranded will be in Saudi Arabia, and Al Hokair plans to invest US$40 million in converting the properties. The group also plans to further expand its MENA Hotels & Resorts chain by adding more than 3,000 rooms to its development pipeline, raising the number of upcoming rooms to 10,000 by 2014. "We will continue to work in partnership with hotel brands like Golden Tulip, Novotel and Hilton Garden Inn, but the focus for Al Hokair Group has moved to developing MENA Hotels & Resorts, our hotel management company which was established in 2008," said Fadi Mazkour, the brand's director.
A Touch Of Mandarin For Morocco
Mandarin Oriental has signed a long-term management agreement with Park Palmeraie SA for its first resort in Morocco. The Mandarin Oriental, Marrakech is due to open in Marrakech's Palmeraie area in 2014. The resort's main building will house seven suites, each with its own rooftop swimming pool, and 54 individual villas and riads will be developed in the landscaped grounds.
Gladen's Tidings
The news from Spain by Esther Gladen, Business & Market Intelligence Analyst, HVS Madrid. Servigroup announces the reopening of its new beachfront property the Hotel Galúa in La Manga del Mar Menor: the group purchased the hotel, in the Murcia region, for €12 million from Meliá Hotels International last December. The hotel has 177 rooms and it has been refurbished and adapted to the company's brand standards. Asur Hoteles has taken over the management of the Hotel Metropol Alcalá in Madrid: the property has 58 rooms, a restaurant, a spa and meeting facilities.
Absolute Share Price Performance Over the Past Week – 22-29 March 2012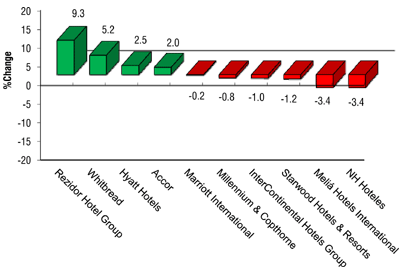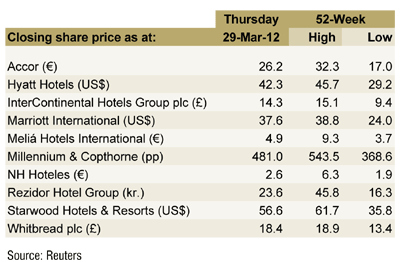 Accor – Société Générale upgraded Accor to "buy" from "hold" and increased its share price target to €31 from €28.
InterContinental Hotels Group (IHG) – IHG dipped 0.5%, falling for a third day, a three-day fall of 1.2%.
NH Hoteles – NH slumped 6.9%, a three-day fall of 10.1%.
---
For the latest in the hospitality industry, please visit: http://www.hvs.com. You are also welcome to contact the following personnel.
| | |
| --- | --- |
| Russell Kett, Managing Director – HVS London (@russellkett) | rkett@hvs.com |
| Charles Human, Managing Director – HVS Hodges Ward Elliott | chuman@hvshwe.com |
| Tim Smith, Director – HVS London | tsmith@hvs.com |
| Chris Martin, Director – HVS Hodges Ward Elliott | cmartin@hvshwe.com |
| Demetris Spanos, Managing Director – HVS Athens | dspanos@hvs.com |
| Hala Matar Choufany, Managing Director – HVS Dubai | hchoufany@hvs.com |
| Christopher Mumford, President, EMEA – HVS Executive Search (@ChrisMumford) | cmumford@hvs.com |
| Philip Bacon, Managing Director – HVS Madrid and Managing Director, EMEA & Asia – HVS Shared Ownership Services | pbacon@hvs.com |
| Saurabh Chawla, Director – HVS Asset Management and Strategic Advisory | schawla@hvs.com |
| Louise Fury, Senior Editor and EMEA Hospitality Newsletter Author – HVS London | lfury@hvs.com |