Four Hotels In The Netherlands Sold
PPHE Hotel Group has signed a share purchase agreement to acquire the remaining 50% interest in four hotels in the Netherlands from a fully owned subsidiary of Tel Aviv-based Elbit Imaging Ltd for €26.5 million, including €23 million in cash, 700,000 shares and a deferred consideration of up to €1.5 million to be paid on the fourth anniversary of the transaction. Before the deal, PPHE and Elbit held equal shares in the 342-room Park Plaza Amsterdam Airport, 306-room Park Plaza Victoria Amsterdam, 120-room Park Plaza Utrecht and 105-room art'otel Amsterdam, which is due to open later this year, and PPHE managed the properties. Under the terms of the transaction, which is to close by the end of May, PPHE has also acquired Elbit's 50% share in the hotels' bank loans.
Not One…
The 45-room Royal Crescent Hotel in Bath, southwest England, is one of three former von Essen hotels to gain a new owner this week. London-based privately owned investment firm Topland Group has purchased the Grade I-listed hotel for a reported £18 million. The hotel is housed in two 18th-century buildings on the city's iconic Royal Crescent.
…Not Two…
Hotelier Nicholas Dickinson, who founded Luxury Family Hotels with Nigel Chapman, has re-entered the UK hotel market with the purchase of the 26-room Congham Hall in Norfolk, east England, a former von Essen hotel that was on the market for £2.5 million. "I had always intended to return to running hotels here and I expect that this will be the first of several in the UK," said Mr Dickinson, who has spent the last six years in Portugal developing and opening the Martinhal Beach Resort & Hotel on the Algarve.
…But Three
Seasons Holidays has bought Seaham Hall in Durham, northeast England. The 20-room former von Essen hotel was on the market for £5 million, but it is rumoured that its new owners paid less than the asking price. Out of the 27 von Essen properties placed into administration, only two now remain unsold, Ston Easton Park near Bath in southwest England and Sharrow Bay in the Lake District in the north of the country.
Pentahotels Coming To Prague
A little more than three weeks since it acquired three hotels in Germany, HPI Hotelbesitz GmbH has purchased a hotel in the Czech Republic. The Frankfurt-based group has bought the freehold of the ibis Praha Karlin, in Prague, for an undisclosed sum. HPI intends to renovate the 226-room hotel to bring it in line with the brand standards of its sister company, Pentahotels. The hotel will be rebranded later this year when the work is complete but in the meantime Accor's ibis brand will continue to manage the property.
Hotel To Get A Laura Ashley Makeover
High street clothing and home furnishings chain Laura Ashley has acquired the 49-room Edgwarebury Hotel in the village of Elstree, north of London, for £5.8 million from Corus Hotels, whose parent company, Malayan United Industries, is a major shareholder in Laura Ashley. The Tudor-style property is to be relaunched later this year as a boutique hotel showcasing Laura Ashley's furnishings and design service. The sale reduces Corus Hotels' UK portfolio to nine properties.
A Southbank Sale
An upcoming Hilton hotel in London's Southbank area hasn't even been built yet but it already has a new owner. The development, which is currently under construction, has been purchased by Kenyan-born entrepreneur Shiraz Boghani for an undisclosed sum. The 281-room hotel is expected to be ready in the fourth quarter of 2013.
Scotland's Second Indigo Now Open
InterContinental Hotels Group has opened its second Hotel Indigo property in Scotland. The Hotel Indigo Edinburgh is housed in an 18th-century listed building (originally five residential properties) at the heart of Edinburgh's Old Town. The 60-room hotel, owned by Sojourn Hotels, joins its sister property the 94-room Hotel Indigo Glasgow.
Marriott May Sell Its Editions
Marriott International is considering selling its three Edition hotels to fund an expansion of the brand. "We already have interested buyers," said Arne Sorenson in a recent interview. "We're willing to put in more money to expand Edition," added Mr Sorenson, who is set to replace Bill Marriott as chief executive officer at the end of the month. Marriott would continue to operate the properties after the sale.
Plus Two For Best Western
Best Western has opened two new hotels in the UK under its Best Western Plus chain: the newly built 216-room Best Western Plus Maldron Hotel in Cardiff, Wales, and the 112-room Best Western Plus Park Grand London Heathrow Gateway in Greater London, which is due to open on 15 May 2012. The two new additions bring the group's Best Western Plus portfolio in the UK up to 18.
Go Downtown In Doha With MGallery
Accor is to take its MGallery brand to Qatar for the first time. The group has teamed up with Msheireb Hospitality to develop a 215-room MGallery hotel in Msheireb's 31-hectare Msheireb Downtown Doha regeneration project in the city's historic centre. The hotel is currently in the design phase and is expected to open in 2015.
easyHotel Jets Into Johannesburg
Africa's first easyHotel is to open later this year in Johannesburg, South Africa. Work is due to start next month on the 120-room easyHotel Rissik Street, which is being developed over three floors of the city's former Stuttafords department store, and it is expected to open in November. The budget hotel will be the first fruit of a 20-year master franchise agreement between easyHotel and African conglomerate Lonrho, which will see a total of 50 easyHotels open across the continent by 2016.
A Kingsgate And A Copthorne For Doha
Millennium & Copthorne recently signed agreements with Al Sraiya Holding for two new hotels in Doha, Qatar: the 140-room Kingsgate Hotel Doha, which opened in January, and the 130-room Copthorne Hotel Doha, which is due to open this May. These new properties bring Millennium's portfolio in Qatar up to three; the group's first hotel to open in the country was the 226-room Millennium Hotel Doha, which is also owned by Al Sraiya Holding. This number won't stay at three for long, however, as Millennium will soon be opening its first serviced apartment property in Qatar. This 63-unit property is to be followed by a 394-unit Millennium Executive Apartments in the first quarter of 2013.
Absolute Share Price Performance Over the Past Week – 29 March-4 April 2012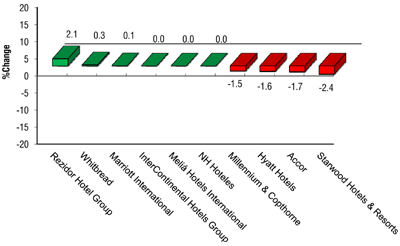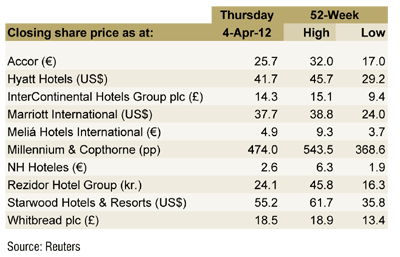 InterContinental Hotels Group (IHG) – IHG decreased 1.1% on weak volume, ending a two-day streak of rises.
NH Hoteles – NH fell 0.2% on low volume for a second consecutive day, a two-day fall of 3.1%.
Accor – Accor's five-year Credit Default Swap fell below its Moving Average Spread.
---
For the latest in the hospitality industry, please visit: http://www.hvs.com. You are also welcome to contact the following personnel.
| | |
| --- | --- |
| Russell Kett, Managing Director – HVS London (@russellkett) | rkett@hvs.com |
| Charles Human, Managing Director – HVS Hodges Ward Elliott | chuman@hvshwe.com |
| Tim Smith, Director – HVS London | tsmith@hvs.com |
| Chris Martin, Director – HVS Hodges Ward Elliott | cmartin@hvshwe.com |
| Demetris Spanos, Managing Director – HVS Athens | dspanos@hvs.com |
| Hala Matar Choufany, Managing Director – HVS Dubai | hchoufany@hvs.com |
| Christopher Mumford, President, EMEA – HVS Executive Search (@ChrisMumford) | cmumford@hvs.com |
| Philip Bacon, Managing Director – HVS Madrid and Managing Director, EMEA & Asia – HVS Shared Ownership Services | pbacon@hvs.com |
| Saurabh Chawla, Director – HVS Asset Management and Strategic Advisory | schawla@hvs.com |
| Louise Fury, Senior Editor and EMEA Hospitality Newsletter Author – HVS London | lfury@hvs.com |