Featured in this HVS EMEA Hospitality Newsletter – Week Ending 13 April 2012
A New MGallery In The UK
Accor Hotels is soon to launch its second MGallery hotel in the UK, in Bath. The Grade I-listed Francis Hotel is due to open its doors and 98 bedrooms to guests on 28 May following a reported £6 million refurbishment. Jonathan Sheard, managing director operations for MGallery and Mercure hotels, commented, "The opening of our second MGallery hotel in just six months is further evidence of Accor Hotels' commitment to growing the MGallery collection in the UK." The collection debuted in the UK in October 2011 with the opening of the St Ermin's Hotel in St James, London.
A Devonish Legacy
Hotel management company, Legacy Hotels and Resorts, is set to add its first golf resort to its more than 30-strong portfolio in the form of the newly named Legacy Highbullen Hotel and Resort in Chittlehamholt, Umberleigh, Devon. The owners of the 32-room property, H&P Neil, have appointed Legacy to fully operate the resort and improve performance in preparation for its sale. Chief Executive of Legacy, Andy Townsend, said, "I am confident we can gain some momentum during our time at the helm of the business, having already increased forecast occupancy year on year for the summer months in excess of 24%, which has to be good both for the operation but also the local community within which the resort operates."
A New Premier In London
Whitbread plc is set to open a brand new 165-room Premier Inn in London Ealing on the third of next month. General manager of Premier Inn London Ealing, David Groves, commented, "The hotel is ideally located for those looking for a great value weekend break as the area has so much to offer. It will also be extremely convenient for business travellers looking for accommodation in the town centre." Premier Inn currently has more than 600 hotels nationwide with more than 46,000 rooms across the UK and Ireland.
A New Millennium In South Africa
Millennium & Copthorne MEA has announced its first hotel in sub-Saharan Africa. The hotel group has signed a management agreement with Serengeti Industries for a 250-room lifestyle resort in the South African coastal town of Ballito, north of Durban. The property, which is currently under construction and is expected to open in 2014, signals the group's interest in the African market.
A Landmark Returns
The St. George Hotel, once an East Jerusalem landmark, has officially reopened its doors after having been closed for more than a decade. The hotel, now known as the St. George Landmark Hotel, is in partnership with Jordan's Landmark Hotels which will manage the refurbished 130-room, five-star hotel. Following an investment of more than US$10 million from Jerusalem Tourism Investment Company (JIT), a subsidiary of, Palestine Development and Investment Company (PADICO), the hotel has been open for business since February, but the official opening was not until this week in the presence of the main owners. JIT and PADICO bought the rights from the original owners, the Qutub family, to renovate, refurbish and run the hotel for 20 years.
A Second Sofitel In Agadir
French luxury hotel brand, Sofitel Luxury Hotels, has announced its second hotel in the bay of Agadir, Morocco: the Sofitel Agadir Thalassa Sea and Spa. Joining the Sofitel Agadir Royal Bay Resort, the new hotel has 125 rooms and 49 suites. Robert Gaymer Jones, CEO of Sofitel Worldwide, commented, "I am delighted to welcome this new flagship hotel to our network of Sofitel Thalassa Sea and Spa establishments. The Sofitel Agadir Thalassa Sea and Spa offers the best of today's thalassotherapy offer paired with Sofitel's inimitable standards and is incontestably the new well-being reference in Morocco."
Rezidor Makes It Four In Tunisia
Carlson Rezidor Hotel Group has announced its fourth hotel in Tunisia: the Park Inn by Radisson Sousse. The 234-room hotel is currently undergoing a full renovation and is due to open in autumn 2013. The group already operates a Radisson Blu and a Park Inn by Radisson hotel in Djerba and has another Park Inn by Radisson hotel under development in Hammamet. Kurt Ritter, president and CEO of Rezidor, commented, "We strongly believe in the Tunisian market, and aim to support the tourism sector that is stabilising again after the Arab Spring. The country offers a fascinating culture, a favourable climate, and proximity to many European feeder markets."
Hilton Barcelona Soon To Reopen
Following a six-month, €23 million renovation project, the Hilton Barcelona is set to reopen its doors in May. Located in the heart of the city's financial district, the hotel will offer 289 newly refurbished rooms and 14 suites. Frank Breuker, general manager of the Hilton Barcelona, said, "We're looking forward to welcoming guests to experience the hotel's new look this summer. The refurbished Hilton Barcelona is going to impress business travellers, leisure travellers and local residents alike with modern technology and facilities throughout the hotel and the spirit of Barcelona ever present in the local flavours used in our restaurant or the amazing design of our new lobby." This project is part of a three-year US$3 billion plan of significant property renovations currently underway across the global portfolio of Hilton Hotels & Resorts.
Gladen's Tidings
The news from Spain by Esther Gladen, Business & Market Intelligence Analyst, HVS Madrid. Jumeirah to open its first hotel in Spain and Europe: The five-star luxury Jumeirah Port Soller Hotel & Spa is now scheduled to open on 27 April. The resort is located in Port Sóller, Majorca and offers 120 rooms and suites, a spa and health club, two restaurants, several bars, two pools, terraces, a kids' club and other facilities. Opening of Rezidor's new Radisson Blu resort in Gran Canaria scheduled for June 2012: The resort is in the coastal village Arguineguín in the southwest of the island and boasts 189 luxury rooms, suites and apartments. Its facilities include a restaurant, a pool, a spa, a kids club, a tennis court and several meeting rooms.
Absolute Share Price Performance Over the Past Week – 5 April to 12 April 2012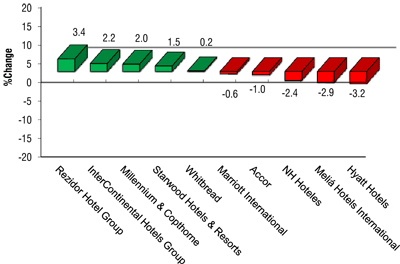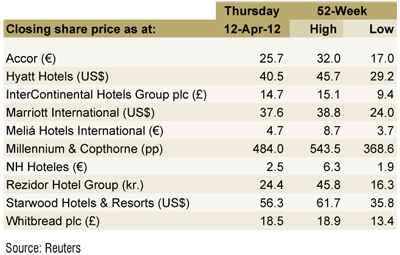 NH Hoteles – NH closed at 6.7% below VWP but at a 30.3% premium to the 52-week low.
Accor – Accor strengthened above Moving Average Price.
Meliá Hotels International – Meliá closed at 9.1% below VWP but at a 27.2% premium to the 52-week low.
---
For the latest in the hospitality industry, please visit: http://www.hvs.com. You are also welcome to contact the following personnel.
| | |
| --- | --- |
| Russell Kett, Managing Director – HVS London (@russellkett) | rkett@hvs.com |
| Charles Human, Managing Director – HVS Hodges Ward Elliott | chuman@hvshwe.com |
| Tim Smith, Director – HVS London | tsmith@hvs.com |
| Chris Martin, Director – HVS Hodges Ward Elliott | cmartin@hvshwe.com |
| Demetris Spanos, Managing Director – HVS Athens | dspanos@hvs.com |
| Hala Matar Choufany, Managing Director – HVS Dubai | hchoufany@hvs.com |
| Christopher Mumford, President, EMEA – HVS Executive Search (@ChrisMumford) | cmumford@hvs.com |
| Philip Bacon, Managing Director – HVS Madrid and Managing Director, EMEA & Asia – HVS Shared Ownership Services | pbacon@hvs.com |
| Saurabh Chawla, Director – HVS Asset Management and Strategic Advisory | schawla@hvs.com |
| Lesley Parrott, Junior Editor and EMEA Hospitality Newsletter Author – HVS London | lparrott@hvs.com |