LaLiT Coming To Light Up London
Indian company Bharat Hotels has acquired the Lambeth College building in London, UK, for an undisclosed sum. The Delhi-based group plans to develop the building into a luxury boutique 70-room hotel which will be operated under its LaLiT brand and is expected to be ready within the next three years. This will be the group's first hotel project in Europe and its second outside of India; it currently has a hotel under development in Koh Samui, Thailand. Bharat has nine hotels under its luxury LaLiT brand in operation and plans to increase this number to 17 by 2015. The group is also developing a mid-market LaLiT Traveller brand, with 25 hotels planned by 2015. The first of its LaLiT Traveller properties is to open in the city of Jaipur, northwest India, this summer.
Qatar Branches Out To Sardinia
Qatar Holding has acquired Smeralda Holding, the owner of luxury resorts on the Italian island of Sardinia, at a reported cost of €600 million. An agreement for the purchase has been signed with Colony Capital, owned by American property mogul, Tom Barrack, who bought the portfolio in 2003 for €290 million. As a result of the deal, Qatar Holding gains four luxury hotels totalling 372 rooms: the Hotel Cala di Volpe, the Pitrizza Hotel, the Hotel Romazzino and the Cervo Hotel. The transaction also includes other real estate assets, such as the Porto Cervo Marina, the Porto Cervo Shipyard and the Pevero Golf Club. The hotels will continue to be managed by Starwood Hotels and Resorts Worldwide. Ahmad Mohamed Al-Sayed, managing director and chief executive officer of Qatar Holding, said, "We are happy to have agreed terms for the acquisition of this established portfolio of luxury assets in Sardinia. We intend to continue supporting the ongoing development programme which will see Costa Smeralda strengthen its position as a top luxury resort destination."
Once, Twice, Three Times In Istanbul
Carlson Rezidor Hotel Group has opened its latest hotel in Istanbul. The Radisson Blu Hotel Istanbul Asia is situated on the Asian side of the city in the residential and high-rise business area of Atasehir. Sporting 195 guest rooms and suites, this hotel marks the group's third offering in Turkey's largest city, joining the Radisson Blu Conference & Airport Hotel, Istanbul and the Radisson Blu Bosphorus Hotel.
Pandox Sells Hotel In Stockholm
As part of the ongoing processing of a portfolio of 73 hotels from its acquisition of Norgani Hotels, hotel property company Pandox has sold the 190-room ibis Stockholm Hägersten for a reported SKr112 million (US$16.6 million). Purchased by private equity firm Sveafastigheter through a joint venture with hotel asset manager Midstar and Cologne-based hotel operating partner Event Holding, the hotel has become the 17th property in Sveafastigheter's Fund III. In 2010, the fund bought Accor's local operating company, renamed Norse Hotels, along with 14 hotels; the ibis Malmö and ibis Nyköping were both acquired in 2011 and the consolidation of the fund's portfolio continues with this latest sale. Anders Nissen, chief executive officer of Pandox, said, "Since the acquisition of Norgani in November 2010, five non-strategic hotels have been sold, and new leases with related investment programmes have been entered into for more than 40 hotels."
Hilton Enters Lebanon In Style…
…Hilton Hotels & Resorts has made its debut in Lebanon with two hotels in Beirut. Owned by UAE-based Al Habtoor Group and following a five-month conversion plan, the 183-room Hilton Beirut Metropolitan Palace and the 195-room Hilton Habtoor Grand are now officially operating as Hilton-branded hotels. Both hotels will still undergo moderate renovation work until autumn 2012. The adjacent hotels are situated in the Sin El Fil district of Beirut, a key residential and retail area easily accessible to the Mediterranean coastline and popular skiing resorts in Lebanon's mountain region. Rudi Jagersbacher, president of the Middle East and Africa region at Hilton, said, "Beirut is a cosmopolitan melting pot of culture and attractions and I'm delighted Hilton Worldwide now has a presence in this dynamic, colourful city. Today's announcement underpins our confidence and commitment in the Middle East and is another step towards our goal of establishing a hotel in every key city in the region." The openings take the number of hotels operated by Hilton Worldwide in the Middle East and Africa to 55. The company also has a further 39 properties in the pipeline in the region including hotels in Saudi Arabia, Uganda, Cape Verde, Nigeria, Jordan, the UAE, Egypt and Qatar.
Dolce To Renovate and Rebrand Hotel In France
Dolce Hotels and Resorts is set to launch the Dolce Hotel Vittel in the renowned spa destination of Vittel in northeastern France. Having signed a long-term agreement to manage the hotel, currently known as the Hotel des Thermes, Dolce is due to reopen it in summer 2013 following a refurbishment and expansion. The 111-room hotel will be the hospitality management company's third property in France and seventh in Europe overall. Dolce Hotels and Resorts' newly appointed managing director for Europe, David Anderson, will oversee the restoration of the hotel from the company's new European headquarters in central London. Mr Anderson said, "Expansion in Europe is a prime focus for Dolce in the years ahead. The beautiful spa town of Vittel is the quintessential spot for our newest locale. Leisure, group and business travellers can all look forward to a relaxing destination where they can recharge and reconnect."
Changes At The Top In Jumeirah
After ten years as chief executive officer of Jumeirah Group, Guy Crawford will be retiring this June. "We are immensely grateful to Guy Crawford for his tireless and energetic contribution to Jumeirah. He will leave behind an enduring memory of his tremendous passion for the business as well as a huge appetite for the unexpected challenge," said Gerald Lawless, Jumeirah's executive chairman. Jumeirah also announced this week that Nicholas Clayton has been appointed as chief operating officer. Nicholas will be joining Jumeirah from the Viceroy Hotel Group, where held the role of president and later chief executive officer. Nicholas has previously worked for Ritz-Carlton and Mandarin Oriental.
HVS Dubai Presents The 2012 Middle East Hotel Survey
Following an exciting year full of peaks and troughs, HVS Dubai is excited to announce the 2012 Middle East Hotel Survey, the Impact of the Arab Spring, which will be released shortly. Featuring more than 370 hotels and 104,000 hotel rooms spread across 45 cities, the survey reinforces and builds upon its reliability and reputation as a key benchmarking index in the Middle East. Additionally, HVS Dubai is to participate in the 2012 Arabian Hotel Investment Conference (AHIC), which takes place next week from 28-30 April at the Madinat Jumeirah in Dubai. HVS Dubai's managing director Hala Matar Choufany will form part of the advisory board, which will discuss current industry opportunities and challenges. AHIC, which is the region's leading conference focused on hotel and tourism investment, is expected to attract more than 600 industry leaders from 42 countries. Click here for more information or to register for the event.
Grant Hearn To Retake The Helm At Travelodge
A former chief executive of Travelodge, Grant Hearn is set to resume the position he gave up two years ago and replace the current chief executive, Guy Parsons. Additionally, a former chairman of the group, Keith Hamill, will also be resuming the role he held between 2003 and 2010. Commenting on the changes, Grant Hearn said, "During recent discussions regarding our financial restructuring, the board has expressed their wish for me to lead the business once again. Clearly, as recently has been said, there cannot be two captains running a ship and as a result Guy has decided to leave the company." Guy Parson's commented, "I have been privileged to be the company's chief executive for the past two years and I am proud of all that we have achieved in that time. I would like to thank the management and staff of Travelodge for their support and I wish the business well for the future." Travelodge, which is owned by Dubai International Capital, has had a difficult year resulting in the company being taken over by two American hedge funds in February this year, allowing it to avoid entering administration. Nonetheless, Travelodge recently opened its 500th hotel near the new Olympic Stadium in Stratford, east London.
A New Name For Southern Sun
South African company Tsogo Sun Holdings plans to consolidate its gaming and hotel subsidiaries under one name. The group's hotel division Southern Sun Hotel Group will now operate under the Tsogo Sun name; however, some of the group's luxury hotels will keep the Southern Sun brand. "This will enable us to fully leverage and properly position our key intangible assets, namely our brands, under the proudly South African Tsogo Sun brand," said Tsogo Sun's chief marketing officer, Rob Collins.
First-Quarter Growth In Revenue For Accor
Accor reported a consolidated revenue of €1.4 billion for the first quarter of 2012, a like-for-like increase of 4.5% on the same period in 2011, reflecting sustained improvements in RevPAR, with rising average room rates in all segments, and a record expansion of 56 hotels (7,720 rooms) during the first three months of the year (90% of which are under management and franchise agreements). Revenue for the group's upscale and midscale hotels increased like-for-like by 3.6%, to €781 billion, and economy hotels outside of the USA achieved a like-for-like rise in revenue of 5.4% on 2011, reaching €437 billion. One of the key markets in Europe was Germany, with like-for-like revenue rises of 3.1% and 3.9% in the upscale and midscale and economy segments, respectively. Accor has confirmed that it plans to open 40,000 new rooms in 2012.
A Good Start To The Year For Marriott
Marriott International achieved a first-quarter net income of US$104 million, an 18% increase on 2011. Total revenue was more than US$2.5 billion in the first three months of 2012. Worldwide comparable system RevPAR increased by 6.8% on the same period last year and average rate rose by 3.5%. The group's development pipeline increased to 115,000 rooms during the first quarter of 2012 and it opened 24 hotels (3,234 rooms). "Results were terrific in the first quarter of 2012," said Arne Sorenson, Marriott's president and chief executive officer. "Our balance sheet continues to be in great shape. With strong cash flow, we are investing in our business while returning significant cash to our shareholders through dividends and share repurchases," he added.
Gladen's Tidings
The news from Spain by Esther Gladen, Business & Market Intelligence Analyst, HVS Madrid. Pierre & Vacances increases its portfolio on the Costa Brava: Its new 42-apartment resort is expected to open in Estartit in May. New hotel to open in Barcelona: the opening of the Hotel Andante is scheduled for June. The 134-room hotel, on Avenida Drassanes, is owned by Spanish developer La Llave de Oro. Fontecruz Hoteles opens a property in Lisbon: Spanish company Fontecruz Hoteles has opened its newest hotel in Lisbon, Portugal. The group has invested €20 million in the purchase and refurbishment of the property, which it also operates. After signing an agreement with Marriott International, the Hotel Fontecruz Lisboa is now part of the Autograph Collection. Former NH Hoteles property in Madrid taken over by h2: Hoteles h2 has taken over the 124-room, four-star property, in the Mercamadrid area, under a lease agreement.
Absolute Share Price Performance Over the Past Week – 13-19 April 2012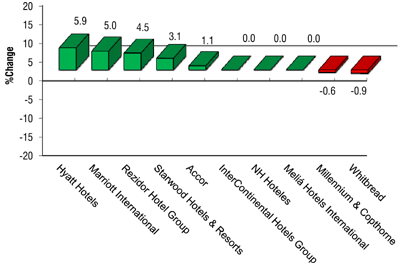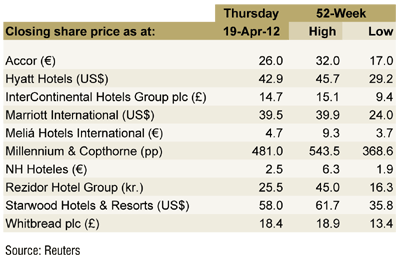 Accor – Accor were given a "hold" rating by S&P Equity Research.
NH Hoteles – NH rose 6.9% on high volatility and expanding price range.
Millennium & Copthorne – Millennium strengthened above its 50-day Eponential Moving Average Price.
---
For the latest in the hospitality industry, please visit: http://www.hvs.com. You are also welcome to contact the following personnel.
| | |
| --- | --- |
| Russell Kett, Managing Director – HVS London (@russellkett) | rkett@hvs.com |
| Charles Human, Managing Director – HVS Hodges Ward Elliott | chuman@hvshwe.com |
| Tim Smith, Director – HVS London | tsmith@hvs.com |
| Chris Martin, Director – HVS Hodges Ward Elliott | cmartin@hvshwe.com |
| Demetris Spanos, Managing Director – HVS Athens | dspanos@hvs.com |
| Hala Matar Choufany, Managing Director – HVS Dubai | hchoufany@hvs.com |
| Christopher Mumford, President, EMEA – HVS Executive Search (@ChrisMumford) | cmumford@hvs.com |
| Philip Bacon, Managing Director – HVS Madrid and Managing Director, EMEA & Asia – HVS Shared Ownership Services | pbacon@hvs.com |
| Saurabh Chawla, Director – HVS Asset Management and Strategic Advisory | schawla@hvs.com |
| Louise Fury, Senior Editor and EMEA Hospitality Newsletter Author – HVS London | lfury@hvs.com |