Russian Millionaire Soon To Be Seen In Morrisons
Ireland's National Asset Management Agency has sold the 141-room Morrison Hotel in Dublin to Russian millionaire Yelena Baturina for €22 million. The hotel opened in 1999 and was previously owned by Irish hotelier and developer Hugh O'Regan before it fell into administration in 2010. Yelena, whose other investments include hotels in Russia, Austria and the Czech Republic, outbid 70 other interested parties for the hotel. The sale marks her entry into the Irish property market.
Fancy A Hotel In Barcelona Or London?
After emerging from a £30 million extension and refurbishment, the St Ermin's Hotel in London has been put on the market for £150 million by its owners, New York-based investment firm Angelo, Gordon & Co; US real estate development, investment and management company Amerimar Enterprises; and London-based real estate group Gracemark. The 331-room hotel is operated by Accor and is part of its MGallery collection. Also up for sale this week is Barceló Hotels & Resorts' Barceló Raval in Barcelona, Spain. Barceló has invested €35 million in the 186-room hotel, which opened in 2008, and it is reportedly on the market for €40 million.
Rezidor Has Georgia On Its Mind
Rezidor Hotel Group has announced that it plans to develop its third hotel in Georgia; the group currently operates Radisson Blu properties in the Black Sea port of Batumi and the capital Tbilisi, and a new Radisson Blu is now planned for the village of Tsinandali in the province of Kakheti, eastern Georgia, which is known for its estate and 19th century vineyards and botanic gardens. The Radisson Blu Resort Tsinandali is expected to open in 2014 with 100 rooms. "We are delighted to add a rare vintage to our growing collection of contemporary resorts," said Kurt Ritter, Rezidor's president and chief executive officer.
From Stately Home To Hotel In Southeast England
Planning permission has been granted to transform a Grade II-listed mansion near the town of Leatherhead, in southeast England, into a luxury, five-star, 48-room hotel development. London-based property firm Longshot purchased Cherkley Court, the former home of Lord Beaverbrook, in April 2011 for £20 million and lodged planning permission with Mole Valley District Council last December. Work is expected to start this autumn on the 19th century estate, which is set in 380 acres of land. The development will also include a members only golf course.
Motel One To Motor Into Newcastle
Motel One already has its UK debut planned for the end of this year in Edinburgh, Scotland, as it has two hotels under development in the city. And now the Munich-based operator is also bringing its budget design brand to the northeast of England. Motel One has reportedly agreed lease terms with Lugano Property Group for a 222-room hotel in the city of Newcastle. Subject to planning approval, construction is due to start on the £12-13 million property in October and it is expected to open in spring 2014.
Permission For Kick Off Granted
Former footballer Gary Neville plans to open a hotel near Old Trafford in Manchester, northwest England, the grounds of Manchester United Football Club, Gary's former club. Trafford Council has granted planning permission for a three- to four-star, 139-room hotel, despite opposition from Old Trafford. The club reportedly supported the application initially, but now objects for various reasons and it is thought that the club has its own plans for hospitality facilities in the area. The hotel, which will also include a restaurant and a retail outlet, is expected to cost £20 million to develop. The project is a joint venture between Gary and Old Trafford Supporters Club and it is slated to open in time for the 2014/15 football season.
Boutique Hotel Industry Descends On London
Next Monday, industry professionals will be converging at Altitude London for the 2012 Boutique Hotel Summit. Only a few tickets remain for the conference so if you haven't already booked your place click here. The summit won't just include informative talks, intriguing panel discussions and business card swapping…be prepared for some top class entertainment as British singer-songwriter Kristyna Myles will be performing at the event in her capacity as ambassador for Centrepoint – the summit's chosen charity. Come along to meet HVS London's chairman Russell Kett who is moderating the last panel of the summit, HVS London director Tim Smith who is co-presenting one of the opening sessions and Chris Mumford, HVS Executive Search's president for the EMEA region, who is also leading one of the sessions.
A DoubleTree Duo For Doha
Hilton Worldwide has signed a management agreement with Al Rayyan Tourism Investment Company, a wholly owned subsidiary of Qatar-based Al Faisal Holding, for two DoubleTree by Hilton hotels in Doha, Qatar. The 145-room DoubleTree by Hilton Doha – Al Sadd and the 52-storey, 240-unit DoubleTree Suites by Hilton Doha are both scheduled to open in 2014 and bring Hilton's development pipeline in Qatar up to five hotels. The group currently operates one hotel in Qatar: the recently opened 309-room Hilton Doha.
Pullman Signs Up For Saudi Arabia
Accor has signed an agreement to introduce its Pullman brand to Saudi Arabia. The French group has formed a partnership with Kuwait-based Munshaat Real Estate Projects Company to operate the Zamzam Pullman Makkah (formerly the Zamzam Grand Suites) in the city of Mecca. The 1,315-room hotel is to undergo an extensive renovation, which is due to start this month, to bring it in line with Pullman brand standards. Accor currently operates four Pullman hotels in the Middle East and has a further two in the pipeline.
Two New Marriotts To Shine In Ethiopia
Marriott International has signed a management agreement with Addis Ababa-based developer Sunshine Construction that will see it make its debut in Ethiopia, northeast Africa. The group plans to open two hotels in Addis Ababa. The 97-unit Marriott Executive Apartments is due to open in 2014 at a cost of US$33 million. The 215-room Courtyard by Marriott hotel is estimated to cost US$38 million to develop and is scheduled to open in 2015. Sunshine Construction is currently in the process of building both hotels and it is estimated that the deal will inject ETB1 billion (approximately US$56 million) into the local economy. Marriott is the third US hospitality group to enter the Ethiopian market, following Hilton Worldwide and Starwood Hotels & Resorts.
Meliá and NH Report Good First-Quarter RevPAR Performance
Meliá Hotels International recorded a rise in RevPAR of 7.2% for the first quarter of 2012; this increase was aided by a 10.2% increase in average room rate. Excluding capital gains, Meliá's EBITDA margin improved by 65 basis points. RevPAR for hotels in the EMEA region, excluding Spain, grew by 3.1%. France was the highest performer with a 15.6% increase in RevPAR. The group's hotels in Spain suffered during the first three months of the year on account of the rise in unemployment, stagnant consumption and the late Easter holiday this year. However, reservations so far point to a good summer season. During the first quarter of the year, the group added six properties to its pipeline of 34 hotels (10,959 rooms), 87% of which are outside Spain. After having announced the successful refinancing of 100% of the firm's debt in April, NH Hoteles reported a like-for-like growth in recurring EBITDA of 25% to €3.5 million in the first quarter of 2012. While quarterly revenues fell by 4.2%, the firm improved its GOP margin by reducing operating expenses by 5.1%. NH expects to further increase earnings during the second quarter of 2012, with RevPAR growth estimates of up to 3%. During the first three months of 2012, NH signed four new hotel management agreements (for 474 rooms).
Gladen's Tidings
The news from Spain by Esther Gladen, Business & Market Intelligence Analyst, HVS Madrid. Palma is positioning itself as an urban destination: Majorca's capital wants to differentiate itself from the rest of the island and the typical beach holiday destination image. The marketing plan for Palma for 2012 and 2013 includes the positioning of the city as "The Urban Beach City". Barceló targets a portfolio of four- and five-star hotels only: during the last two winter seasons, Barceló has invested a total of €5.5 million in the Hamilton Menorca, positioning the hotel as a holiday destination in summer and as an urban hotel in winter, in order to avoid seasonality. At present its portfolio only includes six three-star properties; all of the others are in either the four-star or five-star categories. A new face for two of Magaluf's aged properties: in June, Meliá Hotels International plans to open the refurbished Beach House and Sol Wave House, which together with five other properties will form the new Calvia Beach Resort holiday complex. The opening of Sol Wave House includes the repositioning of the Hotel Royal Beach with its new international surf centre and its refurbished apartments, which will be operated as an aparthotel and a condohotel.
Absolute Share Price Performance Over the Past Week – 10-17 May 2012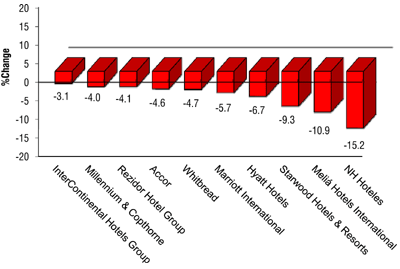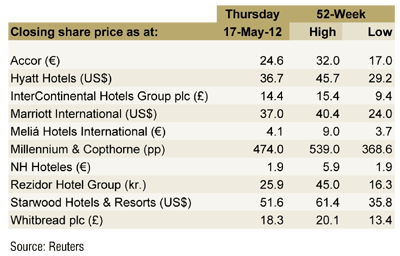 Meliá Hotels International – Exane BNP Paribas cut Meliá's rating from "neutral" to "underperform".
NH Hoteles – UBS gave NH a "buy" rating and cut its share price target to €3.50 from €4.50.
InterContinental Hotels Group (IHG) – IHG dropped 2.3% on high volatility.
---
For the latest in the hospitality industry, please visit: http://www.hvs.com. You are also welcome to contact the following personnel.
| | |
| --- | --- |
| Russell Kett, Chairman – HVS London (@russellkett) | rkett@hvs.com |
| Charles Human, CEO – HVS London | chuman@hvshwe.com |
| Tim Smith, Director – HVS London | tsmith@hvs.com |
| Chris Martin, Director – HVS Hodges Ward Elliott | cmartin@hvshwe.com |
| Demetris Spanos, Managing Director – HVS Athens | dspanos@hvs.com |
| Hala Matar Choufany, Managing Director – HVS Dubai | hchoufany@hvs.com |
| Christopher Mumford, President, EMEA – HVS Executive Search (@ChrisMumford) | cmumford@hvs.com |
| Philip Bacon, Managing Director – HVS Madrid and Managing Director, EMEA & Asia – HVS Shared Ownership Services | pbacon@hvs.com |
| Saurabh Chawla, Director – HVS Asset Management and Strategic Advisory | schawla@hvs.com |
| Louise Fury, Senior Editor and EMEA Hospitality Newsletter Author – HVS London | lfury@hvs.com |