Bought And Sold At The Same Time
A wholly owned subsidiary of PPHE Hotel Group completed the acquisition of a two-acre site in west London this week for £6 million. At the same time, it also finalised the sale of the site to an unnamed buyer under a sale-and-leaseback deal for £7 million (at an initial rent of £306,500 a year). The terms of the deal mean that PPHE has to obtain planning permission for a 158- to 162-room hotel on the site by 14 December 2012, or it will be required to repurchase the site for approximately £7.6 million. The group has received £3 million from the deal and the remaining £4 million will be paid after planning permission for the project has been granted.
Chelsfield To Sell Two Hotels
London-based real estate firm Chelsfield Partners has put two hotels in the UK capital on the market for around £170 million. Both hotels are run by the full service business-oriented Club Quarters chain. Chelsfield has owned the 203-room Club Quarters, Gracechurch and the 265-room Club Quarters, St. Paul's for more than five years.
Dream Deal For Insomniacs
The UK-based Big Sleep budget hotel brand has been put on the market for £6.6 million. The chain, set up by entrepreneur Cosmo Fry (an heir of the Fry chocolate family) in 1999, includes three hotels across England and Wales. The 81-room Big Sleep Hotel in the Welsh capital, Cardiff, has a price tag of £2 million; the 60-room Big Sleep Hotel in the town of Cheltenham, southern England, can be yours for £3 million; and the 50-room Big Sleep Hotel in the seaside resort of Eastbourne, on England's south coast, will cost you £1.6 million. "There is plenty of mileage left in the Big Sleep concept and we are hoping a bigger chain will recognise this as an opportunity to acquire a bespoke hotel brand with a proven track record," said Fry.
City Or Beach
Swissôtel Hotels & Resorts couldn't decide whether to give Turkey a new beachfront hotel or a city break location so it decided to go for both. This week, the Zürich-based group has announced plans to operate two new properties in southwest Turkey near the city of Bodrum, on the Aegean Sea. First to open, in 2013, will be a beach resort in the seafront town of Turgutreis, 20 km from Bodrum city centre. The resort will include 66 guest rooms in a two-storey hotel, 72 residences, various food and beverage outlets, a Pürovel spa and other leisure facilities. The following year, the group will open a 56-room hotel in the hills above Bodrum. This project will also have 45 private residences, three restaurants and a Pürovel spa. Çabdas Holding is the owner and developer of both hotels. Swissôtel currently operates three hotels in Turkey but these will be its first properties in Bodrum.
Two New Radisson Blus And A Park Inn
Rezidor Hotel Group has announced three new hotel developments this week. The group has signed a deal with Moscow-based Hotel Development CJSC for its second Radisson Blu hotel in Kiev, Ukraine, seven years after it made its debut in the city with the 255-room Radisson Blu Hotel, Kiev. The 163-room Radisson Blu Hotel Kyiv Podil will be located in the historic centre of Kiev and is due to open in the fourth quarter of 2012, bringing Rezidor's portfolio in the country up to five. Rezidor also plans to open its 12th hotel in Saudi Arabia – the 170-room Park Inn by Radisson Riyadh Al Sahafa is expected to open in the capital in 2014. It will be Rezidor's second Park Inn property in Saudi Arabia and the first of this brand in Riyadh. Lastly, the group revealed details of its first hotel in Ivory Coast, West Africa. The Radisson Blu Hotel Abidjan Airport is due to open in the third quarter of 2014 in Abidjan, the country's fourth largest city. The 252-room hotel is owned by Cesse Kome of Ste Koira Investment.
CEO Turnover On The UP
A biennial tracking study co-authored by HVS Executive Search's Chris Mumford (President EMEA) and Thomas Mielke (Associate Director) has shown that the turnover of CEOs amongst the world's largest hotel companies doubled in 2011, compared to 2009, with 12% of companies now being led by a new chief executive. However, the study also highlights that the choice of CEOs is becoming more conservative in the sector, with internal promotions more common, or appointments from within the hotel industry. The biennial CEO monitor tracks succession rate, as well as the profiles and demographics of outgoing and incoming CEOs. The largest company in the top 50 is InterContinental Hotels Group (with 4,437 properties), while MGM Resorts International is the smallest (with 17 properties). A previous study showed that an average of five companies in the top 50 changed their CEO each year. The onset of the economic downturn in 2008 saw this rate spike to seven changes, then drop to just three in 2009 as boards opted for stability. A further rise in 2011 demonstrates that as companies become increasingly stable and see the beginnings of economic improvement they are prepared to make major business changes such as appointing a new CEO. "As we look ahead to the next two years we anticipate that changes will largely be driven by economic conditions; a company with financial stability and an aggressive growth strategy requires a different leadership skill set to one in survival mode," said Chris Mumford. Click here to read the survey in full or for more information contact pvir@hvs.com.
Queen Honours Leading Hoteliers
It was delightful to see that the husband and wife team of Kit and Tim Kemp, who together have turned Firmdale into one of the most impressive boutique hotel companies in the country, perhaps the world (given their outstanding property in New York – the Crosby Street Hotel), and Patrick Dempsey, managing director of Whitbread Hotels & Restaurants whose company turned in a most impressive set of first-quarter results this week (see below), received 'gongs' in last weekend's Queen's Birthday Honours List. Many congratulations from all of us at HVS – it was good to know that you were honoured in this, the Queen's Diamond Jubilee year.
Millennium & Copthorne's First Hotel In Georgia
Millennium & Copthorne (M&C) Middle East and Africa has recently signed a management agreement for the operation of a hotel in Tbilisi, Georgia. The five-star, 220-room hotel, which is being developed in the old Imeli building, the former Institute of Marxism and Leninism, is expected to be ready by mid 2014. The project is owned by Dhabi Group Georgia and it marks M&C's entry into the Georgian market. M&C also announced this week that it has appointed John Chang as chief financial officer of Millennium & Copthorne Hotels. Mr Chang previously worked for a Singapore real estate company. He takes up his new position with immediate effect.
London To Host The Hotel Investment Conference Europe 2012
Is now the time to invest in Europe's hotel industry? If you would like to know the answer to this question, book a place at this year's Hotel Investment Conference Europe (Hot.E), which will include sessions such as the Money Hall session track, offering delegates the opportunity to take part in interactive discussions with the leading lenders and equity sources, focused on who has the money and for what type of deals, and the Country Hall session track, which will focus on the investment opportunities in France, Germany, Greece, Ireland, Italy, Poland, Russia, Scandinavia, Spain, Turkey and the UK. Hot.E is a unique two-day interactive networking programme focused on debt, equity and deal-making in Europe. The conference will be held on 20-21 September 2012 at the Park Plaza Riverbank London. Speakers at this year's event include HVS London's Charles Human (CEO), Russell Kett (Chairman) and Sophie Perret (Associate Director). HVS Hodges Ward Elliott is pleased to be one of the event's sponsors. For more information or to register for Hot.E 2012, visit www.burba.com.
Hard Rock On Its Way To Abu Dhabi
Hard Rock International is bringing its Hard Rock Hotel brand to the Middle East for the first time. The US-based group has signed an agreement with Aabar Properties for the development and management of the 378-room Hard Rock Hotel Abu Dhabi in the UAE, which is due to open in 2014. The group currently has 14 hotels in the Americas and Asia, and other projects in the pipeline include Hard Rock International's debut in Europe with a hotel in Hungary.
Four Seasons On Jumeirah Beach
Four Seasons Hotels and Resorts has got together with real estate and investment firm Bright Start LLC to bring a Four Seasons resort to Dubai. The Four Seasons Resort Dubai at Jumeirah Beach is expected to open in the middle of 2014 on an 11-acre site along the Arabian Gulf. The 237-room resort is being developed by Dubai-based H&H Investment and Development, a real estate development, investment and management company. Four Seasons used to have a presence in Dubai with the Four Seasons Golf Club Dubai Festival City; however, in January this year it announced that it was no longer operating this property. The Jumeirah property will mark Four Seasons' return to the market; additionally, it also has a hotel for the UAE's capital, Abu Dhabi, in its pipeline.
Morgans To Make Its Debut In Morocco
Morgans Hotel Group has formed a partnership with Ahmed Bennani, a Moroccan entrepreneur, and Hivernage Collection that will see it make its debut in North Africa with two hotels in Marrakech, Morocco; 15-year management agreements have been signed for a 73-room Delano property (the world's second Delano hotel and the first Delano-branded hotel outside of the USA), which is scheduled to open in September 2012, and a Mondrian hotel which is expected to open at the end of 2013.
Accor Invests In Its Future
Accor has announced this week that it intends to invest £5 million in employee training and create 3,500 new jobs in the UK over the next three years, confirming its commitment to providing learning and development support to its existing and future employees in the UK. The French group has revealed its new Académie Accor campus in London, which is housed in the Novotel London West; the teaching facilities at the training centre (the first of its kind in the UK) will ensure staff development and career progression. Accor also announced a partnership with Babcock to further develop its Management Apprenticeship Programme. This year, the scheme will employ 100 18-24 year olds and give them on-the-job training which will lead to a nationally recognised qualification. Additionally, the group's Student Placement Internships scheme has been formalised. This scheme will provide 100 paid 12-month placements each year to students on UK hospitality courses. Also as part of its investment in training, Accor has launched an "in to work" programme called Hospitality Futures with the charity Springboard. The programme will provide 25 unemployed people between the ages of 18 and 24 with a starting job in the hospitality industry. The candidates will undergo a nine-week course including five weeks of classroom training and on-the-job experience; Accor has stated that it aims to find every participant in the programme a job.
A First-Quarter Rise In Sales For Whitbread
Whitbread recorded an increase in total sales of 13.9% for the first quarter of 2012. Premier Inn sales increased by 12.4% and like-for-like RevPAR grew by 3.0%. Occupancy for the chain rose to 76.2% and average rate increased by 1.3%. A total of 3.3 million Premier Inn room nights were sold in the first three months of the year, an increase of 11.0% on the same period last year. "Our consistent investment in product quality and customer experience has helped our strong brands to outperform their competitors," said Andy Harrison, Whitbread's chief executive. "Our plans for profitable growth are well established, supported by our strong balance sheet, and we plan to open 4,200 Premier Inn rooms, eight joint site restaurants and 350 new Costa stores this financial year, creating an additional 3,500 UK jobs," he added.
Gladen's Tidings
The news from Spain by Esther Gladen, Business & Market Intelligence Analyst, HVS Madrid. The Hacienda Zorita Wine Hotel & Spa, a former Dominican monastery in the region of Salamanca, is now one of 15 hotels in Spain affiliated to Small Luxury Hotels of the World. The five-star property has 40 rooms and suites, a restaurant and a wine spa.
Absolute Share Price Performance Over the Past Week – 14-21 June 2012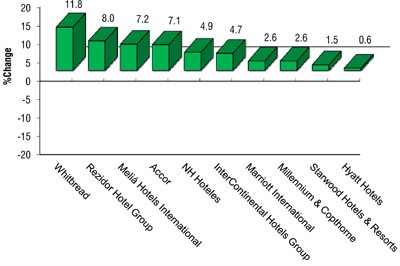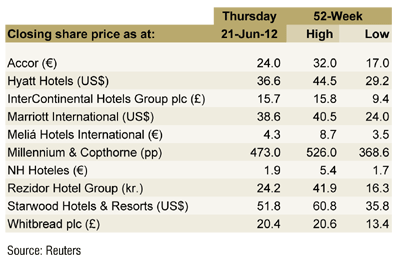 Whitbread – Share prices rose as its Costa Coffee chain continues to power ahead with double-digit sales growth, boosted by expansion in fast-growing emerging markets.
Starwood Hotels & Resorts – The group announced that 100 hotels are to be developed in China.
Marriott International – Marriott announced that it is to invest US$2 billion in overseas expansion.
---
For the latest in the hospitality industry, please visit: http://www.hvs.com. You are also welcome to contact the following personnel.
| | |
| --- | --- |
| Russell Kett, Chairman – HVS London (@russellkett) | rkett@hvs.com |
| Charles Human, CEO – HVS London | chuman@hvshwe.com |
| Tim Smith, Director – HVS London | tsmith@hvs.com |
| Chris Martin, Director – HVS Hodges Ward Elliott | cmartin@hvshwe.com |
| Demetris Spanos, Managing Director – HVS Athens | dspanos@hvs.com |
| Hala Matar Choufany, Managing Director – HVS Dubai | hchoufany@hvs.com |
| Christopher Mumford, President, EMEA – HVS Executive Search (@ChrisMumford) | cmumford@hvs.com |
| Philip Bacon, Managing Director – HVS Madrid and Managing Director, EMEA & Asia – HVS Shared Ownership Services | pbacon@hvs.com |
| Louise Fury, Senior Editor and EMEA Hospitality Newsletter Author – HVS London | lfury@hvs.com |