Katara Hospitality Buys Four Hotels In France
US-based Starwood Capital has reportedly agreed to sell four hotels in France (part of the Concorde Hotels & Resorts chain) to Qatari hotel and resort owner, manager and developer Katara Hospitality for an undisclosed sum. The properties in question are the five-star, 409-room Hôtel Martinez in Cannes; the four-star, 950-room Hotel Concorde La Fayette in Paris; the five-star, 177-room Hôtel du Louvre, also in the French capital; and the five-star, 188-room Hotel Palais de la Méditerranée in Nice. Katara Hospitality is currently embarking on a grand expansion plan; the group aims to own 30 hotels and resort complexes in Qatar and internationally by 2016 and a further 30 over the following 14 years. Katara Hospitality was previously known as Qatar National Hotels. The group's new name, Katara, is derived from the ancient name given to the Qatar peninsula around 150 AD by the Greek astronomer and cartologist Claudius Ptolemy.
A Hand Picked Hotel
Privately owned and managed UK hotel group Hand Picked Hotels (HPH) has agreed to purchase the three-star, 78-room Bailbrook House Hotel in the city of Bath, southwest England, from London-based real estate investment and advisory company Delancey for an undisclosed sum; although it is rumoured that HPH is paying less than the asking price of £6.95 million. HPH plans to invest £7 million in a two-year refurbishment of the Grade II-listed property, which dates from the early 19th century. Julia Hands, chairman and chief executive of HPH, commented that "Bailbrook House has enormous potential and we will be using our extensive experience of working with listed properties to deliver a sensitive refurbishment that will enhance its heritage". The hotel will remain open during the refurbishment and when the work is completed it will become part of HPH's collection. The sale speeds up Delancey's departure from the hotel market; it sold a hotel in Jersey last year and its remaining hotel asset, the 64-room Bovey Castle in the county of Devon, is currently on the market.
Swissôtel Steps Up Its Presence In Russia
Swissôtel Hotels & Resorts has signed a management agreement with Riviera Tower Ltd that will see the Zürich-based company open it first hotel in the city of Kazan in south Russia (Russia's eighth largest city in terms of population) and its fourth hotel in the country overall. The 211-room Swissôtel Riviera Tower Kazan is expected to open in 2016 in the 54-storey, mixed-use Riviera Tower development. "The new hotel in Kazan will join the two de luxe hotels we plan to open in Sochi in 2013 and our existing hotel in Moscow [the 233-room Swissôtel Krasnye Holmy], and represent a perfect addition to what we feel is a key Eastern European market," said Meinhard Huck, Swissôtel's president.
A Third Tune For London
Malaysian group Tune Hotels has opened its third budget hotel in London, the 137-room Tune Hotel – Paddington, and number four, the 217-room Tune Hotel – Kings Cross, is due to open next month in Swinton House, a former office building in north London. The group is on target to open 1,500 rooms in the UK capital by 2016. It also plans to expand further into the UK with the opening of a 179-room hotel in Edinburgh, Scotland, this December.
Marriott Brings JW To Baku And Two New Hotels To Riyadh
Marriott International made its debut in Azerbaijan this week with the opening of the JW Marriott Absheron Baku in Azerbaijan's capital and largest city, on the Caspian Sea. The 243-room hotel is operating under a management agreement with Yeni Absheron Oteli LLC. "A dynamic and cosmopolitan city…Baku is the perfect location to showcase our JW Marriott brand in Eastern Europe," said Amy McPherson, Marriott's president and managing director for Europe. Marriott also recently opened two new properties in Riyadh, Saudi Arabia: the 117-unit Marriott Executive Apartments Riyadh, Makarim and the 286-room Courtyard Riyadh Diplomatic Quarter, which bring its portfolio in the city up to four hotels.
A New Chapter Begins In The UK
Chapter Hotels, which was set up by Hong Kong-based Swire Properties Hotel Holdings in order to create a collection of provincial UK hotels, opened its second property this week: the 59-room Magdalen Chapter, which is located near to the cathedral in the city of Exceter in Devon, southwest England. The hotel, previously owned by Alias Hotels, formerly operated as the Hotel Barcelona before Swire purchased it in 2006. Swire owns three other hotels in the UK: the 61-room Montpellier Chapter, in Cheltenham, which opened last year as the first of the Chapter brand; the 71-room Hotel Seattle in the south coast resort of Brighton; and the 75-room Avon George Hotel in the city of Bristol, which is reportedly to become the group's third Chapter hotel following the completion of a conversion.
A Third In Moscow And A First In Corsica
Rezidor Hotel Group has announced plans to open its third Park Inn hotel in Moscow in the third quarter of 2012. The Park Inn by Radisson Odintsovo Greater Moscow will be located in the city's Skolkovo district, known as Russia's "Silicon Valley". The 122-room hotel will be the closest internationally branded property to Vnukovo Airport. This week, Rezidor also made its debut on the Mediterranean island of Corsica. The Radisson Blu Resort & Spa opened on Agosta Beach near the town of Porticcio, on the west coast of the island. The 170-room hotel is owned by Groupe Ollandini.
A Super Brand For Saudi Arabia
Wyndham Hotel Group has signed a master franchise agreement with Riyadh-based Saudi Automotive Services Company (SASCO) to bring its budget Super 8 brand to the Middle East. A total of 20 hotels are to be developed across Saudi Arabia over the next five years. "Super 8 is a convenient and trusted highway hotel brand, which makes it ideal for the long highways and the volume of car journeys in this market," said Wyndham's regional vice president for the Middle East and Africa, Bani Haddad. Super 8 currently operates in Canada, the USA and China, but plans are also underway to bring it to Europe, with development agreements in place for ten hotels in Poland and eight in Germany.
Elaf Embarks On A Journey Of Construction
Saudi travel and tourism conglomerate the Elaf Group has announced that it has started the construction of four new hotels in Saudi Arabia for an investment of SAR400 million (US$106.6 million). The Elaf Bakkah and the Elaf Al Kawthar in Mecca, the Elaf Galleria in Jeddah and an as yet unnamed hotel in Medina are all scheduled to open between 2012 and 2014. Elaf currently operates ten hotels across the kingdom and its seventh Mecca hotel is due to open soon.
Three New Cristals To Crop Up In Saudi Arabia
Cristal Hotels and Resorts currently manages two hotels in the Middle East in Abu Dhabi and has properties in the pipeline for Lebanon and Iraq. It has now established a division in Saudi Arabia, Cristal KSA, as it embarks on a major expansion in the region. The group has announced that it has signed management agreements for three hotels in Saudi Arabia. The 150-room Cristal Siyaha Hotel and the 270-room Cristal Amaken Hotel are both scheduled to open in Riyadh in 2013 and 2014, respectively. The 190-room Crystal Himmah Hotel is due to open in 2015 in Dammam.
New Hiltons For North And South Africa
Hilton Worldwide announced the development of three new hotels in Africa this week. The group has signed a management agreement with Alderney Establishment which will see it bring its Conrad brand to the South African market for the first time. The Pezula Resort & Spa in Knysna, in the country's Western Cape Province, is scheduled to be rebranded as the Conrad Pezula Resort & Spa this November. The resort comprises 78 suites housed in detached villas. Hilton also signed an agreement with Inveravante Group for two hotels in Tangier, Morocco. The 182-room Hilton Tanger City Center Hotel & Residences (which will also include 68 residential apartments) and the 323-room Hilton Garden Inn Tanger City Center will both be part of the 23-hectare mixed-use Tanger City Center project. The hotels are Hilton's first properties in Tangier. The Hilton hotel is due to open in spring 2015, whilst the Hilton Garden Inn property is scheduled for completion in December 2014, and once open it will become the first of its brand in North Africa.
Absolute Share Price Performance Over the Past Week – 21-28 June 2012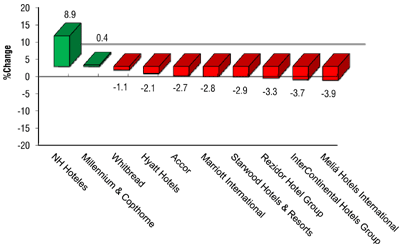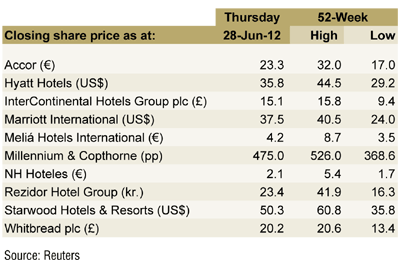 NH Hoteles – NH hit a one-month high over the past week.
Millennium & Copthonre – Morgan Stanley gave the group a "buy" rating with a 630p share price target, citing the company's strong balance sheet and exposure to Asian markets.
Meliá Hotels International – Meliá dropped 5.5% on high volatility.
---
For the latest in the hospitality industry, please visit: http://www.hvs.com. You are also welcome to contact the following personnel.
| | |
| --- | --- |
| Russell Kett, Chairman – HVS London (@russellkett) | rkett@hvs.com |
| Charles Human, CEO – HVS London | chuman@hvshwe.com |
| Tim Smith, Director – HVS London | tsmith@hvs.com |
| Chris Martin, Director – HVS Hodges Ward Elliott | cmartin@hvshwe.com |
| Demetris Spanos, Managing Director – HVS Athens | dspanos@hvs.com |
| Hala Matar Choufany, Managing Director – HVS Dubai | hchoufany@hvs.com |
| Christopher Mumford, President, EMEA – HVS Executive Search (@ChrisMumford) | cmumford@hvs.com |
| Philip Bacon, Managing Director – HVS Madrid and Managing Director, EMEA & Asia – HVS Shared Ownership Services | pbacon@hvs.com |
| Louise Fury, Senior Editor and EMEA Hospitality Newsletter Author – HVS London | lfury@hvs.com |