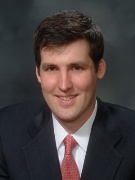 July 8, 2012
: HVS, the leading global hospitality services and consulting organization founded by Steve Rushmore in 1980, announced today that Stephen Rushmore, Jr. has been promoted to CEO and President. In this capacity Stephen's focus is to manage the global operations of the company, its offices and services. Stephen joined the firm in 2002 and has been instrumental in growing the company and building business applications to better support the needs of HVS clients. He is state-certified as a licensed appraiser, and lectures about hospitality valuation throughout the world.
Stephen also recently earned his MAI designation from the Appraisal Institute. He has worked diligently to complete the requisite course work, passing exams, and submitting a required project. In obtaining the MAI designation, Stephen has demonstrated a commitment to advanced education, higher ethical standards, and the growth of HVS. A 1996 graduate of the Cornell Hotel School, Stephen is married, has two children and resides in Rye, New York. He enjoys "authentic regional eats" and is the founder of Roadfood.com, which was established in 2000. He is also an avid skier and instrument-rated pilot.
Steve Rushmore, Founder of the company, is now Chairman of HVS. He will continue to travel to all the offices around the globe in search of new opportunities to further expand the offerings and reach of HVS.
Contact:
Leora Lanz
Tel: +1 (516) 248-8828 ext. 278